Course Highlights & Why Python Course in Coimbatore at FITA Academy?
FITA Academy provides the best Python training institute in Coimbatore that focuses on real-world Python programming applications.
The extensive academic programme offered by FITA Academy satisfies the needs of Python developers everywhere.
The training program provides learners with a flexible schedule. You have the option of enrolling in offline or live online classes.
Weekday and weekend classes are offered at your convenience. Fast-track classes are also offered for effective and quick learning.
Live projects and interactive lessons are included in the Python course in Coimbatore to make it easier to put theoretical ideas into practice.
Following the completion of each module or topic, tests and sample assignments are made available.
The curriculum was specifically developed to meet all industry needs.
Additional information about certification examinations and job opportunities in the field is also provided.
With a network of over 1,500+ small and medium-sized businesses, Python Training in Coimbatore has a strong placement assistance system.
Read more
Upcoming Batches
| | | | |
| --- | --- | --- | --- |
| 23-09-2023 | Weekend | Saturday (Saturday - Sunday) | |
| 25-09-2023 | Weekdays | Monday (Monday - Friday) | |
| 28-09-2023 | Weekdays | Thursday (Monday - Friday) | |
| 30-09-2023 | Weekend | Saturday (Saturday - Sunday) | |

Classroom Training
Get trained by Industry Experts via Classroom Training at any of the FITA Academy branches near you
Why Wait? Jump Start your Career by taking the Python Training in Coimbatore!
Instructor-Led Live Online Training
Take-up Instructor-led Live Online Training. Get the Recorded Videos of each session.
Travelling is a Constraint? Jump Start your Career by taking the Python Online Course!
Have Queries? Talk to our Career Counselor
for more Guidance on picking the right Career for you!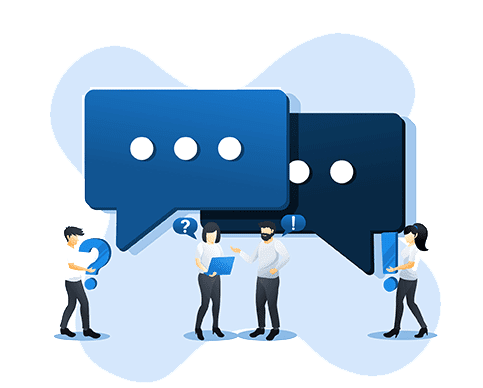 Trainer Profile
The skilled experts at FITA Academy have over 8+ years of real-life work experience in the field.
Mentors for our Python Course in Coimbatore have spent the majority of their career training, working, and collaborating on projects utilising Python programming.
They combine live, practical training with projects that provide students with extensive knowledge of various concepts.
In order to encourage student-centred sessions, the classes are held in small batches at our Python Classes in Coimbatore for optimal interactions.
Our trainers keep an eye on each learner's conceptual and practical understanding and provide them with the guidance they need.
To keep the students up to date with the techniques, they incorporate the most recent platforms, libraries, and packages into the curriculum.
The syllabus of Python Training in Coimbatore is updated by our instructors to reflect the most recent techniques and tools in Python programming and its certifications.
Features
Real-Time Experts as Trainers
At FITA Academy, You will Learn from the Experts from industry who are Passionate in sharing their Knowledge with Learners. Get Personally Mentored by the Experts.
LIVE Project
Get an Opportunity to work in Real-time Projects that will give you a Deep Experience. Showcase your Project Experience & Increase your chance of getting Hired!
Certification
Get Certified by FITA Academy. Also, get Equipped to Clear Global Certifications. 72% FITA Academy Students appear for Global Certifications and 100% of them Clear it.
Affordable Fees
At FITA Academy, Course Fee is not only Affordable, but you have the option to pay it in Installments. Quality Training at an Affordable Price is our Motto.
Flexibility
At FITA Academy, you get Ultimate Flexibility. Classroom or Online Training? Early morning or Late evenings? Weekdays or Weekends? Regular Pace or Fast Track? - Pick whatever suits you the Best.
Placement Support
Tie-up & MOU with more than 1,500+ Small & Medium Companies to Support you with Opportunities to Kick-Start & Step-up your Career.
Python Certification Training in Coimbatore
About Python Certification Training in Coimbatore at FITA Academy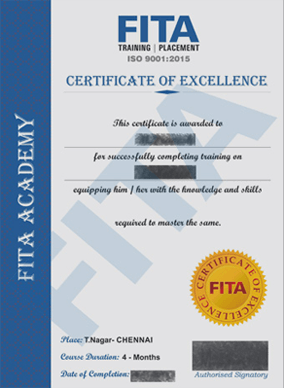 Python Certification Training in Coimbatore
As the need for Python programmers grows, obtaining a Python certificate might help you stand out from the rest, especially since there is an increase in the community of developers, programmers, and other professionals seeking top jobs. A Python certification not only demonstrates to potential employers that you have the requisite skills but it also shows them that you are truly eager to learn more. Therefore, after you get a Python certification, you will be able to demand a higher income and more esteemed employment. Simply put, obtaining a Python certification improves your standing as an authority.
When applicants successfully complete the Python Training in Coimbatore, they are given a certificate of completion. A majority of organisations accept this certificate as evidence of your expertise in this area. In general, those with certifications typically make more money than their non-certified counterparts. This certificate verifies the knowledge and abilities you acquired during your course period. Obtaining at least one of these certificates leaves a strong and positive impression during interviews.
FITA Academy offers two levels of certification for its Python Course in Coimbatore to ensure a comprehensive learning program. The two levels are as follows:
Level 1:Advanced Python programing language
Level 2: Expert Python with Django framework
In addition to gaining a greater understanding of Python programming, obtaining these qualifications increases the aspirant's chances of being hired by a global MNC. For further information, speak with your trainer or get in touch with our FITA Academy team through our official page.
Have Queries? Talk to our Career Counselor
for more Guidance on picking the right Career for you!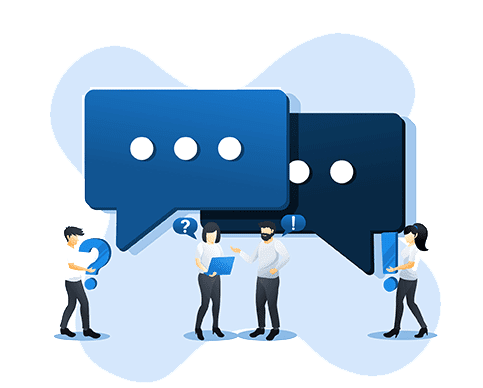 Job Opportunities After Completing Python Course in Coimbatore
Python developers are in high demand in India. Python careers offer several opportunities for beginners. If you have the proper mindset, Python Classes in Coimbatore at FITA Academy can help you a lot in your profession. It can help you in acquiring strong programming and problem-solving foundations. Python has a lot of easy and direct syntaxes, which are simple to understand.
People in roles such as programming, business intelligence, data science, software testing, computer graphics, web development, engineering, analytics, and big data would benefit greatly from this course. Many fresh graduates, college students, and enthusiasts of computer science might profit from this course to advance their careers in this language.
There are over 100,000+ job openings for Python-related job roles in multiple job portals, and this may vary with time. This flexible programming language is used by IT powerhouses like Google, IBM, Netflix, and others to build precise and clear applications.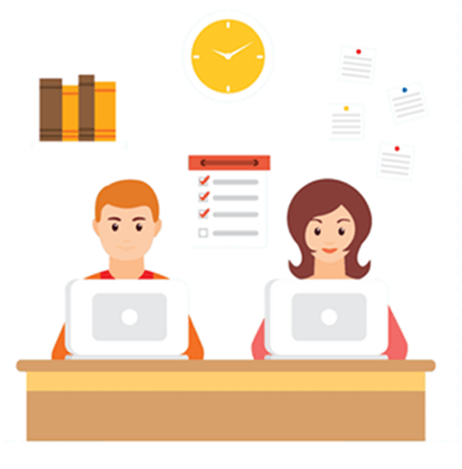 Some of the job roles in this field include Python developer, Data Scientist, Data Analyst, DevOps Engineer, Machine Learning Engineer, Software developer and more. Additionally, it owns domains all around the world and offers both beginning and seasoned developers attractive job opportunities.
The average annual wage for Python experts might reach $101K globally. The average salary in India is close to Rs. 4.5 lakhs. These numbers can alter drastically with experience, location, skill, organisation, and position within the industry. You may be certain of a prosperous career with Python training in Coimbatore from FITA Academy.
Read more
R
Rahul P

I am very grateful to FITA Academy for taking the initiative to establish a fruitful career-changing academy. Despite my lack of past IT knowledge, I was certain that I could make the shift to this field. I am grateful to my mentor for directing me in the proper direction. I urge my friends to enrol at the Python Training Institute in Coimbatore so they can become ready for a positive future.
S
Savitha M

As a developer working for an IT company, you have so much competition from other competent developers that you need to do something unique to stand out from the crowd. So I enrolled at FITA Academy for my Python Classes in Coimbatore. The trainers gave in-depth practical lessons and provided detailed explanations for every concept. I can't speak highly enough of my time spent attending the FITA Academy.
K
Kabilesh

I finished my Python course in Coimbatore at the FITA Academy. Because I had no technical background, it was all new to me. My trainer provided constant advice, and I was able to clear my doubts right away. After my course, a reputed MNC offered me a job position. I'm grateful that my trainer and FITA Academy were able to make this happen for me.
J
Joshua John

FITA Academy provides the Best Python Training Institute in Coimbatore. Thanks to my trainers, I was able to grasp each topic clearly in a brief amount of time. My trainers gave me many chances to work on real-time projects. The classes were interactive and engaging. I have nothing but appreciation for the trainers and staff at FITA Academy.
J
Jeswin

I can confidently say that FITA Academy is the best Python training in Coimbatore. I had tried to study at other institutes, but I was left dissatisfied. But thanks to FITA Academy, I was able to grasp the topic clearly and realised that the programming language was simple to use. The atmosphere was warm and welcoming. I could get my questions answered immediately and thoroughly enjoyed studying the language.
Have Queries? Talk to our Career Counselor
for more Guidance on picking the right Career for you!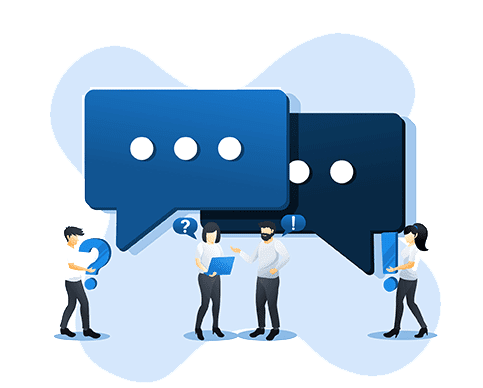 Python Course in Coimbatore Frequently Asked Question (FAQ)
What are the study tracks offered at FITA Academy?

A personalized schedule is offered by FITA Academy based on the requirements of the students. For our Python classes in Coimbatore, we provide both weekend and weekday sessions. If you are not able to participate in the classes at the institute, you can choose to take live online classes from the convenience of your home. In addition, if you are on a tight timeline, we also offer fast-track classes. FITA Academy provides a flexible timetable overall so that candidates can attend the courses at their comfort.

What are the prerequisites for joining the Python Training in Coimbatore?

There are no prerequisites to enrol in this course. Although having some knowledge base will be helpful, it is not mandatory because we will cover everything from the start. Anyone can pick up this language in a week. We seek to upskill your knowledge and aid you in taking your initial steps with Python.

How many levels of Certification are provided for the Python course at FITA Academy?

FITA Academy offers two levels of certification for its Python Course in Coimbatore to ensure a comprehensive learning program. The two levels are as follows:

Level 1: Advanced Python programing language
Level 2: Expert Python with Django framework

Does FITA Academy offer placement opportunities after completing the Python Classes in Coimbatore?

FITA Academy has placement agreements with over 1,500+ small, medium, and large-scale businesses, and these businesses have job openings for Python developers and other related professions.
The students at Python Training Institute in Coimbatore receive support from a dedicated placement team.
The placement office assists the students with several practice interviews and group discussions to make them feel confident during the interview.

Whom can I contact to find more information about the Python Course in Coimbatore?

Our staff at FITA Academy is available around the clock to help applicants with any questions or concerns they may have. You can contact the staff via the web page or schedule a call back.
Read more
Additional Information
Python is one among the widely used programming languages, with more than 10 million users worldwide. Python being a powerful and versatile programming language, is well known for improving code readability and for supporting many operating systems and paradigms. It is utilised by both small and large businesses for tasks like data science, machine learning, and more. The primary factor defining Python's appeal is its user-friendliness, particularly if you are new to coding. Most of the syntaxes have English terms that make them simpler to understand and use.
Due to the enormous demand from the most important businesses, Python has gained tremendous popularity in countries like France, the UK, and the USA. Python is a versatile language used in many different applications. Java, C++, and Dot Net are competitors of Python. Given Python's bright future, experts in the field should be in high demand and receive competitive pay. Python training Institute in Coimbatore will equip students for employment market developments.
Objectives of the Python Course in Coimbatore
Learn the syntax and foundational ideas of Python programming.
Construct data structures, loops, conditional statements, classes, variables, and data types using Python language.
The course allows you to understand the features of object-oriented programming in Python.
Employ Python to learn about machine learning, artificial intelligence algorithms, and data science.
Apply your strategy by importing Python packages and libraries.
Study data analysis and data visualisation.
Describe how to handle files and manipulate strings.
Learn how to debug to write error-free code.
Utilise the ideas in mentor-provided projects that are industry-relevant.
Investigate more details on related certification exams and job opportunities.
Python is used to perform numerous tasks in system administration, game development, computing, and web design. Python is a cross-platform programming language that functions with various operating systems, including Windows, Linux, and Ubuntu. Python libraries support various programming languages and also provide the necessary foundational knowledge to support them.
The language's adaptability makes it helpful for both basic and complicated tasks. It is used in a wide range of contexts, from fundamental ideas like data and software engineering to more intricate ones like machine learning, web development, game development, and artificial intelligence. Python is used by the newest IT innovations, including big data, cloud computing, and machine learning.
Skills required by a proficient Python programmer
One should be analytical and have strong problem-solving abilities to be a Python developer.
Additionally, candidates should have strong organisational and communication abilities.
A web developer should be conversant with front end programming languages like CSS, HTML, and Javascript, as Python is a backend language.
Additionally, Python programmers should be proficient in web frameworks like Django, Web2py, Bottle, Flask, and CherryPy.
A web developer should be proficient in unit testing and debugging.
Fundamental knowledge of front-end technology and binary coding approaches.
Our Python coaching center in Coimbatore at FITA Academy equips students with all the skills they need for a successful future.
Different Job Roles of a Python Specialist
Python Web Developer
Python developers use the Python programming language to create, develop, and deploy software projects. The duties of a Python developer include creating and testing code, fixing bugs in software, and connecting applications with external online services. You need to be a team player with experience with server-side logic in order to excel in this position. Working together with other teams, such as those responsible for data collecting and analytics, is a key responsibility of a python developer. To learn more about Python's speciality and applications, look into FITA Academy's Python Coaching Center in Coimbatore.
Software Engineer
Software is developed by software engineers utilising the appropriate platforms, frameworks, and computer languages. In addition to creating their own systems, they also create, test, enhance, and maintain software created by other engineers.
During a typical shift, software engineers analyse future project deadlines and schedule work tasks and other commitments around those timeframes.
They work with other software engineering staff members on challenging tasks, including updating or creating new software systems, as well as testing and fixing coding errors. To check and debug software all the way to completion, a skilled software engineer must have both technical know-how and people skills. People with outstanding problem-solving, logical, and curiosity skills would do well in this position.
Django Developer
Of all the well-known Python frameworks, Django has the most job opportunities. It's an open-source framework that enables Python programmers to use the template language to create expansive websites. Anyone can learn it without any specialised knowledge. Having programming skills is actually necessary, and Python is a fantastic option. Alongside Python, other technologies like Ajax, Javascript, jQuery, SQLite, and more are used.
Automation Test Engineer
Automation test developers, often known as automation test engineers, design and build programs that execute automated tests on a range of software. They create these programmes and produce test scripts that do testing using the automated framework. These engineers are expected to present the team with a comprehensive automation solution for the product life cycle. They are in charge of developing test automation frameworks, creating test automation scripts, looking into software-related issues, and working with QA analysts to resolve issues. Automated test engineers are constantly in demand from the IT sector, banks, public sector organisations, and telecommunications firms.
Machine Learning Engineer
A machine learning engineer is an expert who uses programming languages like Python, Java, Scala and more together with the proper machine learning frameworks to execute various machine learning projects. Coding, probability, mathematics, data modelling, machine learning algorithms, design process, and other key competencies are some of the key skills needed for this job. A machine learning engineer examines data to produce a variety of machine learning algorithms which operate autonomously with little human oversight.
A machine learning engineer usually collaborates closely with the data scientists who develop the models used to build Artificial Intelligence systems, as well as the people in charge of building and maintaining those systems. For maximum effectiveness, they oversee and enhance current AI technologies. FITA Academy provides comprehensive training on how to research, create, and produce various machine learning algorithms.
Data Scientist
Data scientists automate the collection and storage of data using programming and other computer coding techniques. They might collaborate closely with internal business divisions or even design a mechanism for storing gathered data in their databases. Data scientists assist businesses by offering them insightful advice on how to enhance daily operations. Data scientists are in charge of using their programming expertise to create automated systems that assist businesses in streamlining business processes. They are responsible for gathering raw data from various sources, analysing outcomes or designing new studies, and converting it into an effective format for analysis.
DevOps Engineer
DevOps Engineers aid in the development of contemporary systems by automating processes and integrating them with IT infrastructure management technologies. They configure servers, manage and observe operations across the whole deployment pipeline, and employ automation technologies like Chef, Puppet, and Jenkins. Additionally, having DevOps expertise boosts application availability, enhances system performance, and lowers expenses. By enrolling in the DevOps Training in Coimbatore at FITA Academy, you can pursue a lucrative career in this field as a skilled engineer.
The Python Classes in Coimbatore cover various library functions and packages like Matplotlib, Pandas, Scikit-Learn, SciPy, and NumPy, for development, machine learning, and data science functions. These topics are covered in addition to programming fundamentals like data types, variables, conditional statements, loops, and object-oriented programming.
Since 2012, more than 50,000 candidates have trusted FITA Academy with their instruction, and many of them are currently working for different IT firms. Because this course is simple to understand and apply, students from many backgrounds can take it. This means that anyone, regardless of past expertise, may gain a lot from this course. The goal of the Python course in Coimbatore is to support and provide the aspirants with a suitable learning program that will ensure their proficiency in the industry.
Read more