Course Highlights & Why Python Course in Chennai at FITA Academy?
FITA Academy is the top Python training institute in Chennai that deals with real-world applications of Python programming.
The Python course in Chennai comes with interactive lessons and live projects to simplify the practical implementation of theoretical concepts.
FITA Academy provides a wide academic curriculum and meets the global requirements of a Python developer.
The training courses come with a flexible schedule for learners. You can enrol in offline classes or live online classes.
Classes are provided on weekdays and weekends in the comfort of your time. In addition, fast-track classes are also available for efficient and speedy learning.
The curriculum has been specifically created to fulfil all requirements of the industry.
Additional information on certification exams and the subject's career prospects are also taught.
Python Training in Chennai has a placement support system with an established network of small and medium companies.
Tests and practice assignments are available after each module or topic has been finished.
Apply the concepts to industry-relevant projects provided by mentors.
Upcoming Batches
| | | | |
| --- | --- | --- | --- |
| 02-11-2023 | Weekend | Saturday (Saturday - Sunday) | |
| 04-12-2023 | Weekdays | Monday (Monday - Friday) | |
| 07-12-2023 | Weekdays | Thursday (Monday - Friday) | |
| 09-12-2023 | Weekend | Saturday (Saturday - Sunday) | |

Classroom Training
Get trained by Industry Experts via Classroom Training at any of the FITA Academy branches near you
Why Wait? Jump Start your Career by taking the Python Training in Chennai!
Instructor-Led Live Online Training
Take-up Instructor-led Live Online Training. Get the Recorded Videos of each session.
Travelling is a Constraint? Jump Start your Career by taking the Python Online Course!
Trainer Profile
Mentors of this course have trained, worked, and collaborated on projects using Python programming for most of their careers.
The trained professionals at FITA Academy have over eight years of practical experience in the industry.
The mentors at FITA Academy incorporate live, hands-on classes with projects to provide students with virtual exposure to the ideas.
Mentors in the Python course in Chennai have motivated around 72% of the learners to attempt industry-relevant certifications with a success rate of 100%.
In FITA Academy, our mentors oversee each learner's intellectual and practical comprehension and guide them according to their needs.
Each class is set with a limited number of students for a more engaging interactive session.
They integrate the latest versions, platforms, libraries, and in-demand packages to keep the learners up-to-date with the practices.
Interested learners can find career guidance and advice specifically suited to their potential.

Learn at FITA Academy & Get Your
Dream IT Job in 60 Days
like these Successful Students!
Features of Python Training in Chennai at FITA Academy
Real-Time Experts as Trainers
At FITA Academy, You will Learn from the Experts from industry who are Passionate in sharing their Knowledge with Learners. Get Personally Mentored by the Experts.
LIVE Project
Get an Opportunity to work in Real-time Projects that will give you a Deep Experience. Showcase your Project Experience & Increase your chance of getting Hired!
Certification
Get Certified by FITA Academy. Also, get Equipped to Clear Global Certifications. 72% FITA Academy Students appear for Global Certifications and 100% of them Clear it.
Affordable Fees
At FITA Academy, Course Fee is not only Affordable, but you have the option to pay it in Installments. Quality Training at an Affordable Price is our Motto.
Flexibility
At FITA Academy, you get Ultimate Flexibility. Classroom or Online Training? Early morning or Late evenings? Weekdays or Weekends? Regular Pace or Fast Track? - Pick whatever suits you the Best.
Placement Support
Tie-up & MOU with more than 1,500+ Small & Medium Companies to Support you with Opportunities to Kick-Start & Step-up your Career.
Why Learn Python Training in Chennai at FITA Academy?
Live Capstone Projects
Real time Industry Experts as Trainers
Placement Support till you get your Dream Job offer!
Free Interview Clearing Workshops
Free Resume Preparation & Aptitude Workshops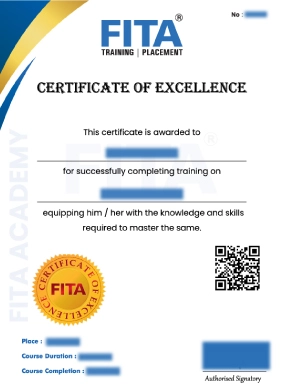 Python Certification Course in Chennai
The candidates are awarded a course completion certificate after successfully completing the Python Course in Chennai. Most enterprises recognise this certificate as proof of your credibility on this subject.
Certified professionals generally earn more than their peers. This certificate validates the skills and concepts you learned during the estimated time of enrollment.
Having a hold of at least one of these certificates creates a convincing and positive impression during the interviews. In addition to acquiring a deeper understanding of Python programming, attaining these certificates enhances the chances of the aspirant getting placed in a global MNC.
At FITA Academy, there are two levels of certificate courses available
Advanced Python programing language
Expert Python with Django framework
You can consult with your mentor or contact the FITA Academy team from our official page for further details.
Have Queries? Talk to our Career Counselor
for more Guidance on picking the right Career for you!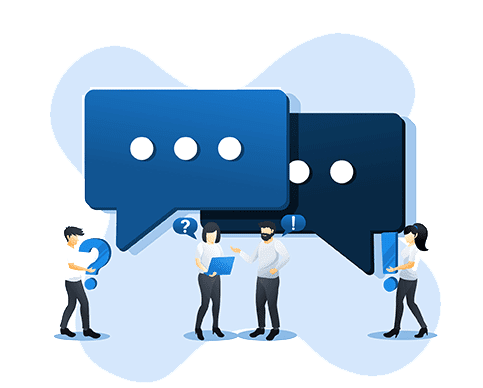 Job Opportunities After Completing Python Training in Chennai
With over 10 million programmers globally, Python remains the world's leading programming language. Irrespective of the job role, there is a need to learn Python if you wish to build a career in the IT or software industry. It improves and solidifies the chances of employment.
Professionals who benefit most from this skill are those involved in roles surrounding Programming, Business Intelligence, Management, Analytics, Development, Engineering, ELT, and Big Data.
Many freshers, graduates, undergraduates, and enthusiasts in computer science can also take up Python Course in Chennai to advance their careers in this language. As of this year, there are over 1,80,000 job openings for Python professionals and related careers in India.
Some job profiles include Python Developer, Backend Developer, Data Scientist, Full Stack Developer, Data Analyst, Machine Learning Scientist, and Software Engineer. Organisations such as Birlasoft, Google, Yahoo, Accenture, IBM India, and Capgemini are actively hiring Python developers.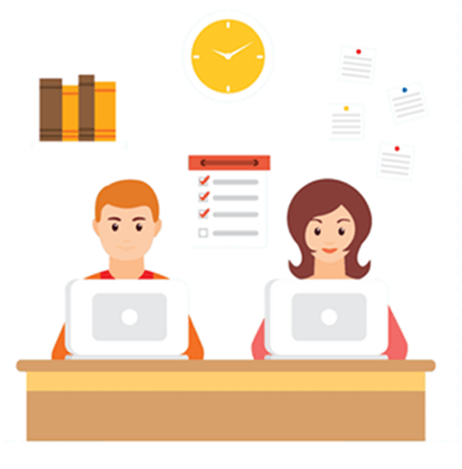 As a proficient Python web developer or software developer, you can find employment right away. After completing this course, you can broaden your career options by working as a data analyst, product manager, or machine learning engineer. Python programmers have a better chance of finding work in developed nations with significant demand for their skills, such as Switzerland, Germany, the United Kingdom, and Norway.
Globally, the average annual salary for Python professionals can go up to $116K. In India, the same average is around Rs. 8 lakhs. These figures change exponentially with experience, location, proficiency level, enterprise, and position in the industry you hold. With Python Training in Chennai at FITA Academy, you can rest assured of a successful career.
A few of the roles and responsibilities of a Python developer
Python Web Developer - This is the career for you if you want to work in web development. This profession provides a broad scope in the industry. Depending on your skills as a developer, you will be assigned different roles, such as creating user interfaces, backend scripting, and database design.
You may also require experience in programming languages like HTML5, CSS3, etc. FITA Academy will provide you with comprehensive training that will teach you everything you need to know to become a proficient Python developer.
Data Scientist - With the increase in popularity of Data Science, more and more people are opting for careers related to Data Science and Data Analytics with each passing day. With so many high-paying positions, there is no doubt about how competitive the market is. Therefore, if you're adept at programming, you'll be able to get into this sector.
The majority of the tasks of a Data Scientist include extracting meaningful information from massive databases, constructing prediction models, and offering analytics services. You can also join the Data Science course in Chennai at FITA Academy to gain in-depth knowledge of the language and its various applications.
DevOps Engineer - There is always a demand for skilled engineers in software engineering. But why DevOps?
DevOps Engineers help build modern systems by automating processes and integrating them with tools used to manage IT infrastructure. They use automation tools like Chef, Puppet, and Jenkins to configure servers and control and monitor operations across the entire deployment pipeline. Besides, being a DevOps specialist helps increase application availability, improve system performance, and reduce costs.
Pursue a successful career in this industry by joining the DevOps Training in Chennai at FITA Academy to become an expert engineer.
Mobile App Developer - If you are a money-minded person who loves programming, Mobile app development is the right path for you. A growing number of businesses are beginning to sell their products and services via smartphones. Daily tasks such as ordering food and booking flights all have apps that can ease your work.
Your smartphone or tablet can act as a portal that connects you to different devices. So, if you have good mobile app development skills, you can get paid well. If you are looking to get your hands on some cutting-edge Mobile App Development Courses in Chennai, then FITA Academy is the place for you.
Django Developer - Of all the well-known Python frameworks, Django has the most job opportunities. It's an open-source framework that enables Python programmers to use the template language to create expansive websites. The best thing about it is that you can learn it without any specialised knowledge. Having programming skills is actually necessary, and Python is a fantastic option. Alongside Python, other technologies like Ajax, Javascript, jQuery, SQLite, etc., are used.
Machine Learning Engineer - One of the upcoming industries is Data Science, and many businesses are making significant investments in it. As a result, there is a greater need for individuals with solid Machine Learning understanding. Here, there are several chances to use cutting-edge technologies. In this field, you will work closely with Artificial Intelligence and create predictive models. For both newcomers and seasoned professionals who wish to learn more about Python, we provide Python classes in Chennai.
PyQT/PySide Developer - If you are interested in mobile app development but aren't a fan of Windows or Android, then you should opt for Python. It has many libraries which allow you to develop apps easily. Moreover, you will find a lot of chances to get hired since almost all companies now prefer working on iOS and Android-based applications. Some of these jobs include UI/UX development, iPhone Apps, iPad Apps, Android Apps, etc.
Candidates who wish to have a successful career in the IT and software industry can take up Python Training in Chennai, where we train the students to be booming Python programmers.
Read more
Success Story of Python Classes in Chennai
Y
Yamini

I really appreciate FITA Academy for making a move in creating a successful career-changing academy. I had no prior IT experience, but I felt sure I could transition into this industry. I am grateful for my mentor, who guided me on the right path. I encourage my friends to join FITA Academy and prepare for a better future.
A
Abhijeet Chandra

FITA Academy is an excellent institution. I could complete each topic with clarity in a short amount of time. The syllabus they taught had almost all of the programming ideas. I only have an appreciation for the mentors and team at FITA Academy.
M
Mohan Shankar

If you are looking for a professional place to learn, I would recommend Python training in Chennai at FITA Academy. I had attempted to study at other institutions and was often left disappointed. But with FITA Academy, I got a clear vision of the subject matter and found the programming language easy to learn and very straightforward.
F
Fiona Dsouza

Having completed my Python training at FITA Academy, I can wholeheartedly say that they are the best in town. I was able to gain direct knowledge from the experts who are still active in the industry. The environment there was very friendly and open. I was able to clear my doubts immediately and enjoy learning the language
S
Sneha Swami

I chose this institute because of the positive reviews I received from my peers. Personally, I was able to gain more knowledge from this course than in my college. I am now looking for internships to test my proficiency. I suggest taking up this course in high regard.
Have Queries? Talk to our Career Counselor
for more Guidance on picking the right Career for you!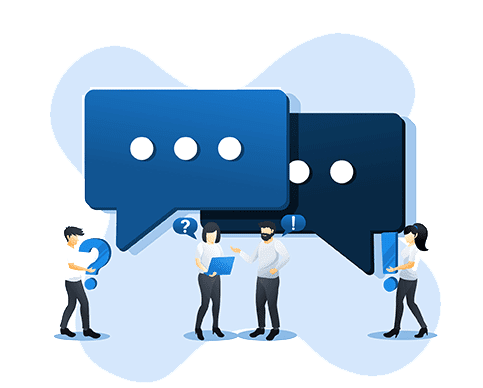 Python Training in Chennai Frequently Asked Question (FAQ)
Additional Information of Python Courses in Chennai
Python has more than 10 million users globally, making it the most popular programming language. Python is a flexible and all-purpose programming language. It is renowned for enhancing code readability and supporting various operating systems and paradigms. Many small and large organisations use it for processes like data science and machine learning, among others.
The main aspect that delineates the popularity of Python is its user-friendly feature, especially if you are a newbie to coding. The majority of the syntaxes have English keywords that make it easier to comprehend and work with. We can find many forums with supportive communities that help new techies boost their skills and programming knowledge.
The language's versatile nature makes it useful to use in simple and complex tasks. It has many applications, from common concepts such as data and software engineering to more complex subjects such as Artificial intelligence, web development, game development and machine learning.
Let us take a look at a few of the reasons that give Python an upper hand over other programming languages.
Python is far simpler to learn and can compute complex functions just as well as C++ and Java.
The execution of the program is done immediately because Python has no compilation time.
Python has built-in library modules such as Pytorch, OpenCV and Pyglet that can be used in different programs for more convenient programming. These libraries are a collection of code that can be called at any time without any additional software installation.
Users can also create their own modules. Additionally, third-party libraries are available to make web and game development easier.
The Python community is packed with diligent and compliant individuals who actively produce tons of free resources making learning easier, especially for a newbie.
Its simplicity and engaging features make it enjoyable to use.
Consider joining the Python course in Chennai to know more about the speciality of Python and its applications.
Python is the perfect programming language for scripting and quick application development across a variety of platforms. Other than the scientific field, Python has been utilised in highly quantitative areas like finance, banking, signal processing, and scientific computers.
Python comes in handy for simple tasks and helps you make sense of larger datasets for easy computations. Data visualisation techniques such as charts, histograms, and 3D plots can be built using Python.
Python offers a wide range of applications and purposes. It is primarily utilised in the following 3 fields:
Data science - Data science is a combination of programming skills and statistics that use data tools and techniques to extract meaningful outputs. Data analytics and Data visualisation are both subsets of Data science that highly depend on Python for their development.
Web and app development - Web development is developing a website, including its design and maintenance. Python's flexible nature makes it easier to build complex programs. Furthermore, Python development requires less time and effort than other languages.
Game development - Game development is the fastest-growing field in the programming world. With more demand for popular games and its intricacy in developing them, Python has become a valuable tool for reducing complexity into simple tasks.
What does Python hold for us in the future?
The newest technologies in the IT sector, machine learning, big data, and cloud computing, all utilize Python. Python classes in Chennai will prepare an individual for changes in the job market. Additionally, it serves a variety of functions in system management, game creation, scientific computing, and web development.
Python is a multi-platform language that works with Windows, Linux, and Ubuntu, among other operating systems. Python's libraries support a number of different languages, and it supports these languages by providing the fundamental understanding required.
Python has become very famous in nations like France, the UK, and the USA, thanks to the high demand from the leading industries. Python is a flexible language that is employed in numerous applications.
Python faces opposition from JAVA, C++, and Dot Net. Python has a promising future, which suggests that there is a high demand for and remuneration for Python specialists. Python Course in Chennai is designed with a focus on helping the learning community.
Investments are made by big corporations such as Google and Amazon Web Services that have ensured the steady growth of Python for upcoming years as well. Python doesn't show any signs of slowing down its growth and continuing to lead the programming languages. In the 21st century, having knowledge of Python has become a mandatory skill in all major IT and software industries.
Skills required to be a Python developer
As a Python developer, one should be analytical and good at problem-solving skills.
Candidates should also be proficient in communication and organisational skills.
Since Python is a backend language, a web developer should also be familiar with front end programming languages such as CSS, HTML and Javascript.
Python developers should also be skilled in web frameworks such as Django,web2py, Bottle, Flask and Cherrypy.
Python Training at Chennai provides all the necessary knowledge for a bright future.
A web developer should also know about debugging and performing unit tests.
A basic understanding of binary code techniques and front-end technologies.
Course objectives
Learn the fundamental concepts and syntax of Python programming.
Implement data types, classes, variables, functions, loops, conditional statements, and data structures, among other Python components.
Explore object-oriented programming with Python.
Demonstrate the installation of Python3 and a suitable platform for your use.
Learn to write scripts and test code.
Understand machine learning algorithms or data science with Python.
Import Python libraries and packages to apply your approach.
Learn to analyse data and create data visualisation.
Describe file handling and string manipulations.
Understand debugging to produce error-free code.
Apply the concepts to industry-relevant projects provided by mentors.
Explore additional information on certification exams and career prospects surrounding this subject.
Along with programming fundamentals like data types, variables, conditional statements, loops, and object-oriented programming, the Python course in Chennai also covers various libraries and packages like Matplotlib, Pandas, Scikit-Learn, SciPy, and NumPy, for Development, Machine learning, or Data science functions.
Since 2012, 50,000+ aspirants have trusted FITA Academy with our training and are now employed in various IT companies. This course is easy to study and apply, which allows learners from different walks of life to attempt it. Therefore, even those with little to no prior knowledge of the subject can benefit greatly from this training.
Python Course in Chennai provides overall development for your career needs. It is the best Python Training in Chennai, with 100% placement support from mentors. Interested students can pick between studying the Python Course in Chennai or through online methods. At FITA Academy, we take full responsibility for ensuring that our pupils have successful careers.