Course Highlights & Why UI UX Designer Course in Coimbatore at FITA Academy?
FITA Academy's UI UX Designer Course in Coimbatore aids in developing your web design skills in developing creative solutions.
We provide a thorough understanding of the various types of user interfaces and their uses on mobile, web, desktop, and other platforms.
Our course offers hands-on training using various tools to provide practical and theoretical proficiency.
To provide extensive learning, our course covers topics such as wireframing, prototypes, user flows, user testing and more.
Our UI UX Design Course in Coimbatore provides insights into trending topics, applicable theories and user interface design.
FITA Academy courses can be customised to your needs. Students can opt for fast-track classes in case of any time constraints.
The class schedule is flexible and can be personalised according to one's convenience. We offer weekday, weekend and online classes that you may take from the comfort of your home.
To help you start your career off the right foot, our UI UX Course in Coimbatore has partnered with over 1,500+ organisations and provides 100% placement.
Read more
Upcoming Batches
| | | | |
| --- | --- | --- | --- |
| 30-11-2023 | Weekdays | Thursday (Monday - Friday) | |
| 02-12-2023 | Weekend | Saturday (Saturday - Sunday) | |
| 04-12-2023 | Weekdays | Monday (Monday - Friday) | |
| 09-12-2023 | Weekend | Saturday (Saturday - Sunday) | |

Classroom Training
Get trained by Industry Experts via Classroom Training at any of the FITA Academy branches near you
Why Wait? Jump Start your Career by taking the UI UX Designer Training in Coimbatore!
Instructor-Led Live Online Training
Take-up Instructor-led Live Online Training. Get the Recorded Videos of each session.
Travelling is a Constraint? Jump Start your Career by taking the UI UX Online Course!
Have Queries? Talk to our Career Counselor
for more Guidance on picking the right Career for you!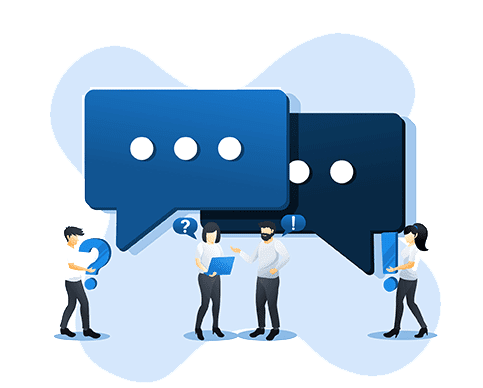 Trainer Profile
Expert trainers integrate current projects and modules into the curriculum of our course to ensure that it complies with international standards.
The trainers of the UI UX Course in Coimbatore have over 8+ years of professional experience.
Our trainers integrate real-world projects and instances to help participants understand the ideas and hone their UI design technology expertise. This helps students understand the concepts more clearly.
Expert trainers provide simple explanations during the UI UX Designer Course in Coimbatore so that even individuals with little or no technical experience can understand the subject.
Our mentors teach students how to use a variety of UI/UX technologies and strategies through hands-on training and exercises.
They provide interactive sessions and maintain student-centred classes by providing an individual focus on each student.
The trainers of the UI UX Design Course in Coimbatore share knowledge gained from their experiences and encourage students to try various certifications.

Learn at FITA Academy & Get Your
Dream IT Job in 60 Days
like these Successful Students!
Features of UI UX Designer Course in Coimbatore at FITA Academy
Real-Time Experts as Trainers
At FITA Academy, You will Learn from the Experts from industry who are Passionate in sharing their Knowledge with Learners. Get Personally Mentored by the Experts.
LIVE Project
Get an Opportunity to work in Real-time Projects that will give you a Deep Experience. Showcase your Project Experience & Increase your chance of getting Hired!
Certification
Get Certified by FITA Academy. Also, get Equipped to Clear Global Certifications. 72% FITA Academy Students appear for Global Certifications and 100% of them Clear it.
Affordable Fees
At FITA Academy, Course Fee is not only Affordable, but you have the option to pay it in Installments. Quality Training at an Affordable Price is our Motto.
Flexibility
At FITA Academy, you get Ultimate Flexibility. Classroom or Online Training? Early morning or Late evenings? Weekdays or Weekends? Regular Pace or Fast Track? - Pick whatever suits you the Best.
Placement Support
Tie-up & MOU with more than 1,500+ Small & Medium Companies to Support you with Opportunities to Kick-Start & Step-up your Career.
UI UX Certification Course in Coimbatore
About UI UX Certification Course in Coimbatore at FITA Academy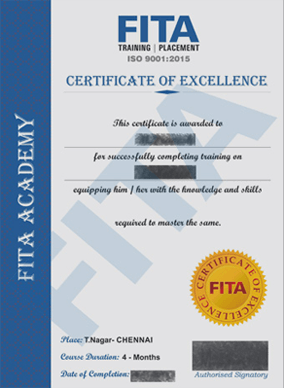 UI UX Certification Course in Coimbatore
A UI/UX design certification provides an excellent start to your career for aspiring designers and professionals. Being certified in the user interface or user experience is becoming more and more crucial these days. Credible certifications can improve a student's resume and offer them an edge over other applicants. The number of job prospects in the business that can be obtained as well as the advancement of a worker's career, can increase with this level of knowledge. The degree you receive from our UI UX design course in Coimbatore is a significant investment, regardless of whether you're trying to develop new skills or improve your current marketability.
Our certification programme will provide you with the opportunity to put your knowledge to use in a secure and regulated setting. Our curriculum also makes ensures that you lay a solid foundation, apply knowledge in practical settings, and don't exempt any essential subjects. A UI UX training certification is invaluable. Your knowledge and skillset will quickly advance with the aid of the certification.
Completing the UX/UI certificate will help the trainees demonstrate important abilities and market-based knowledge in this area. UI UX Designer Course in Coimbatore will help learners gain knowledge and competency in the significant skills and concepts necessary to become UI/UX developers. FITA Academy is arguably the most well-known educational institution in India. It focuses on providing the trainees with specialised skills and knowledge from the business to help them complete a task. Our team will issue the participants their certificates after the course has been successfully completed.
Have Queries? Talk to our Career Counselor
for more Guidance on picking the right Career for you!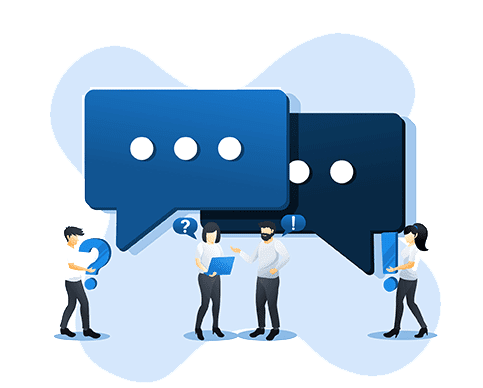 Job Opportunities After Completing UI UX Designer Course in Coimbatore
One of the innovations that have been widely embraced in postmodern times is the UI/UX interface. The user experience of modern IT ventures and affiliations has unquestionably transformed as a result of its unique features and qualities. User experience designers, both experienced and novices, are in high demand as the market expands and customer demands for products and services rise. There are numerous prospects and opportunities for UI UX designers in this market. UX designers are needed to deliver a flawless user experience and increase customer engagement.
Enrolling in this course can help anyone who desires to understand concepts of UI UX design better and enter the field of UX. Numerous experts are engaged in various projects in industries like business, marketing, and education. This course will be extremely helpful to individuals who wish to learn how to create mobile applications. Our course will enable students to demonstrate their industry-based skills and expertise in UX/UI interface technologies. Organisations and corporations worldwide are seeking to hire people with UI/UX experience.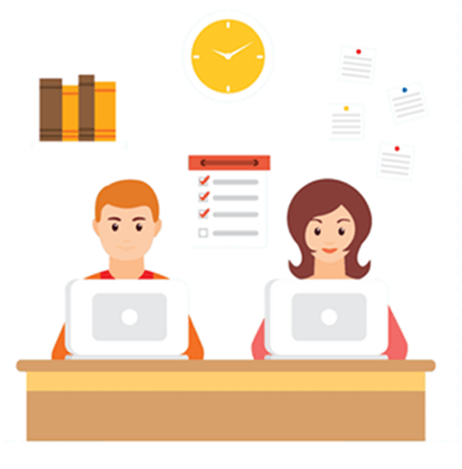 IBM, TCS, Infosys, Microsoft, Accenture and Deloitte are among the numerous companies that actively seek UI/UX designers. Currently, there are around 19,000+ openings for UI and UX designers and similar positions.
A few of these positions include Information Architect, Product Manager, User Interface designer, User Experience designer, and UX researcher. In India, UI/UX designers typically make roughly Rs. 6 Lakhs annually. Additionally, you can make up to $101k for the same work globally. The salary range can vary depending on the organisation, experience level, and region. You may be certain of a prosperous career with our UI UX Designer Course in Coimbatore.
Read more
G
Gokul Raj

I found FITA Academy's UI UX Design course in Coimbatore to be quite beneficial and educational. I was able to learn a wide range of topics, including user research, wireframing, and design. I enjoyed how the trainer used real-life situations to demonstrate ideas. They describe every idea in detail and with such clarity that anyone may understand them.
S
Stefe jose

I completed my UI UX Course in Coimbatore at FITA Academy. My trainer was well-versed in the subject and helped me understand all the concepts easily. I gained a lot of knowledge about design concepts and how to implement them in user interface designs through the interactive nature of the class. I highly recommend joining FITA Academy if you wish to have a good beginning to your career.
P
Purushothaman

I recommend enrolling in the UI UX design course in Coimbatore offered by FITA Academy. The course was really helpful to me since it taught me the fundamentals of user experience design and how to make user interfaces that work well. The trainers provided many projects which helped me put what we had learnt into practice. After receiving their certification, I was placed in an IT firm.
B
Basil George

I'm a current employee as a UX Designer for a reputable IT company. The trainers of the UX Design Course in Coimbatore were reliable and were always ready for all my trainers. They use simple teaching methods and give us useful examples. Thanks to my trainer and the FITA Academy team, I was able to secure this position and advance my career through their placement program.
I
Imanuel

I was able to develop my skill sets and confidence with the aid of the UI Design Courses in Coimbatore. All aspects of graphic design were covered in the engaging classes. I appreciate the support and encouragement I received from my mentors and staff, who encouraged me to attempt new things during the course. Thanks FITA Academy
Have Queries? Talk to our Career Counselor
for more Guidance on picking the right Career for you!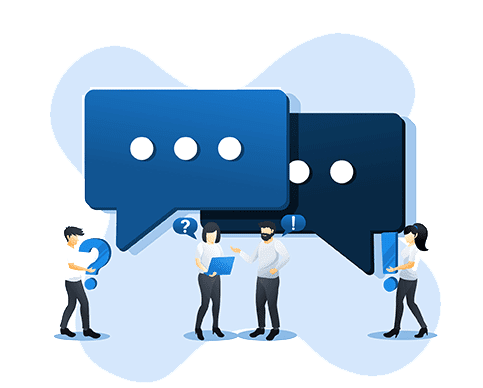 UI UX Designer Course in Coimbatore Frequently Asked Question (FAQ)
Does FITA Academy Offer hands-on experience in Web And Mobile App Development?

Our curriculum is created to give students practical exposure to a range of tools and methods. You will work on many real-world scenarios and practise problem-solving during classroom sessions. You will learn how to build your own websites and apps utilising your own ideas as part of our UI UX Designer course in Coimbatore. You will learn how to use these designs to create prototypes and wireframes from our skilled experts. You will also acquire the competencies required to create projects from scratch by applying design concepts.

What are the prerequisites for taking UX Design Certification?

This course has no prerequisites. However, having some prior knowledge of design or computer science might help you understand the subject matter better. All fundamental and sophisticated ideas of user interface and experience will be taught from scratch by our trainers for the UI UX Course in Coimbatore.

Does FITA Academy provide placement opportunities?

Yes. FITA Academy works with over 1,500+ small and large businesses. Our institute not only delivers the best UI UX Design course in Coimbatore but also assists in locating jobs to help you get started in your career.
Read more
Additional Information
The area of the software that users interact with is referred to as the user interface or UI. In other words, it refers to how you may use your computer or mobile device and browse through it. It covers every component on your screen, including buttons, text boxes, menus, etc. The most critical part of this platform is that it should be direct and simple to grasp. The majority of people lack technical training and have no idea how things operate. You must make everything easy and straightforward if you want high user engagement. Otherwise, utilising the programme will be confusing and difficult.
The iOS and Android operating systems from Apple and Google are the best examples of good user interfaces. They both offer excellent functionality and are quite simple to use. Both of them have a polished appearance that makes users feel at ease. The goal of the UI UX Designer Course in Coimbatore at FITA Academy is to assist web and mobile app developers in creating the best user experience possible for their applications.
Customer demands and preferences are taken into account while designing products and services using the user experience (UX) method. This area includes everything pertaining to how customers view your product, including its interactions, content, and presentation. It goes beyond mere aesthetics. A well-designed product can boost productivity, raise customer happiness, and reduce mistakes. You can concentrate on enhancing that specific aspect of your user experience by having a better grasp of what motivates your audience.
Key Skills Of a UI/UX designer
Proficient in HTML, CSS, Photoshop, and Illustrator.
Ability to design eye-catchy graphics.
Able to perform research and analysis to come up with new trends.
Good analytical skills.
Strong communication skills (written and verbal).
Should have the ability of self-motivation and time management skills.
Creative with the right amount of logical thinking.
A person who should always learn more.
Good team player.
Responsibilities of a UX Designer
Delivering a seamless and enjoyable user experience is one of UX's primary objectives. To do this, you must first comprehend why some user tasks are challenging. The next step is for you to develop remedies for each issue. After identifying the problems customers are having, you must ascertain which interface components are most responsible for the poor user experience. For instance, if consumers are having problems accessing certain information or completing an action, it may be because the menu layout is poorly designed or the search feature is inadequate.
When designing a website, app or game, there are several key roles that must be fulfilled:
Information Architecture – The way information is arranged within a page or application.
Navigation – How things work within the context of the whole system.
Interaction Design – The methods used to interact with various parts of the system.
Content Strategy – The strategy behind the creation of all content.
Visual Design – Creating the look and feel of the entire system.
Branding & Identity Design – The way the brand appears visually.
Usability Testing – Ensuring the quality of the design before launching the project.
Different Job Roles And Career Positions
UX Designer
This is the most well-liked professional path and the one with the widest range of responsibilities in the UX industry. Professionals that advocate for and develop initiatives with users in mind are known as UX designers. This means they are able to gather information about the initial user demands, outline the features and content of the project, establish the layout and data structure, create wireframes and prototypes, and finally test their ideas to determine how well they work.
They are in charge of doing user research, which may entail activities like card sorting, user interviews, product testing, and other things. With the UI UX designer course in Coimbatore, you may learn to construct multiple site maps, trip maps, and other deliverables.
UI Designer
A digital user interface's distinctive components, as well as all of the displays that make up the interface, are all made by UI designers. They, therefore, consider both the overall design of each distinct screen as well as the connectivity of all the other screens. Because they are tasked with creating excellent prototypes that act as indicators of how a user interface will seem, they are required to work late in the UX process.
Given that their primary concern is the visual qualities of a product, UI designers must be able to confirm that their designs comply with brand guidelines. They must also analyse current designs and carry out user research to better understand customer needs and product goals, either independently or in collaboration with UX designers.
UX Researcher
UX researchers focus on investigating and researching the design creation process. In addition, UX researchers analyse data and provide their conclusions and recommendations to the UX team. Because they are specialists in human behaviour, they are in charge of gathering comprehensive information about the user's desires and motives. They use a range of techniques, all of which are based on one of the three major strategies: inspection, analysis, and evaluation. These techniques include both subjective and numerical investigation. They ought to be familiar with UX design and have prior work in the fields of marketing, neuroscience, economics, or data science. With our UX Design Course in Coimbatore, you can obtain the best tools and professional instruction to turn into a skilled UX researcher.
Website Designer
Web designers are experts who produce content for websites utilising the most recent trends. They are in charge of designing the layout, as well as the website's appearance, functionality, and usability. The task of the web designer is to combine all of the many elements, including the UI and UX, to provide a highly engaging website for desktop and mobile visitors. A web designer places more emphasis on the aesthetics of a website than on the user experience. A web designer needs a thorough understanding of web design software like Flash and Photoshop as well as computing languages like SQL, PHP, HTML, JavaScript, and CSS.
Graphic Designer
Graphic designers create visual concepts to inspire, educate, and attract consumers. The creation of various forms of creative material for ads, brochures, or publications is the responsibility of graphic designers. Depending on the final project's medium and objectives, they use a variety of techniques to accomplish this. A skilled graphic designer needs to have a keen sense of colour and design as well as the ability to create inventive material that connects with their target audience. Additionally, they must employ various marketing strategies to produce stunning work that meets the demands of their clients. Become proficient graphic designers with the aid of hands-on training provided at our Graphic Designer Course in Coimbatore.
Product Designer
Some companies employ product designers who are also UX designers. Although there are many similarities and overlaps between the two positions, a product designer frequently has the extra responsibility of focusing on the goals of the product they are building. This suggests that in addition to their responsibilities as UX designers, they also take on those of project managers, such as overseeing the project's progress from beginning to end. Even after a product is released, a product designer anticipates its future while keeping an eye on both user needs and the product's business goals. They oversee every stage of the design process, from brainstorming to coding and publishing the finished product.
FITA Academy's UI UX Designer Course in Coimbatore aims to assist students in acquiring the skills and knowledge required to plan, create, and manage user interfaces. Our course covers user experience and interface principles, various design approaches, and practical implementations. Professionals with extensive knowledge of various fields make up our faculty team. They assist students at every stage of the learning process by giving them constant direction and evaluation. Enrol in the UI UX Course in Coimbatore to become a skilled and proficient designer.
Read more