Course Highlights & Why Software Testing Training in Chennai at FITA Academy?
The Software Testing Course in Chennai provides conceptual and technical skills to earn global and industry-relevant certifications.
The course provides live projects and practical training to implement a virtual environment for practical exposure to topics.
The Testing Courses in Chennai offer a regular pace and fast track for the students.
The syllabus provides integral course material with real-time examples.
Regular practice sessions and assessments are conducted after the completion of every module.
The Software Testing Training in Chennai has a placement support system with an established network of 1,500+ small and medium companies.
Both new and seasoned professionals seeking to transition into the field of automation or manual testing will be subjected to mock interviews on software testing.
Join the Software Testing course in Chennai to explore more about the certification exams and job opportunities surrounding this industry.
Read more
Upcoming Batches
| | | | |
| --- | --- | --- | --- |
| 02-11-2023 | Weekend | Saturday (Saturday - Sunday) | |
| 04-12-2023 | Weekdays | Monday (Monday - Friday) | |
| 07-12-2023 | Weekdays | Thursday (Monday - Friday) | |
| 09-12-2023 | Weekend | Saturday (Saturday - Sunday) | |

Classroom Training
Get trained by Industry Experts via Classroom Training at any of the FITA Academy branches near you
Why Wait? Jump Start your Career by taking the Software Testing Training in Chennai!
Instructor-Led Live Online Training
Take-up Instructor-led Live Online Training. Get the Recorded Videos of each session.
Travelling is a Constraint? Jump Start your Career by taking the Software Testing Online Course!
Have Queries? Talk to our Career Counselor
for more Guidance on picking the right Career for you!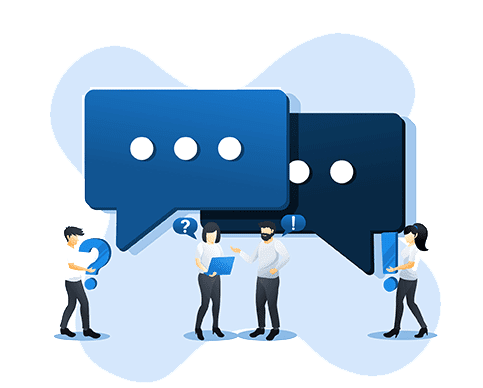 Trainer Profile
The mentors of Software Testing Training in Chennai are certified specialists in this field.
Our expert trainers have 8+ years of professional expertise in the field of software testing.
The trainers keep up with and include the most recent developments in software testing in the training modules.
The mentors at FITA Academy use real-time examples and projects to enhance the knowledge of the students in this field.
The best software testing elements are technically and practically implemented by our experts at FITA Academy.
Over 50,000+students have received instruction on this subject from FITA Academy's Software Testing Training in Chennai.
Approximately 72% of students were inspired by their mentors to pursue certifications from the Software Testing Training Institute in Chennai that was relevant to their profession, with a 100% success record.
The trainers provide students with additional knowledge to help them ace the interviews and advance in their careers.

Learn at FITA Academy & Get Your
Dream IT Job in 60 Days
like these Successful Students!
Features of Software Testing Course in Chennai at FITA Academy
Real-Time Experts as Trainers
At FITA Academy, You will Learn from the Experts from industry who are Passionate in sharing their Knowledge with Learners. Get Personally Mentored by the Experts.
LIVE Project
Get an Opportunity to work in Real-time Projects that will give you a Deep Experience. Showcase your Project Experience & Increase your chance of getting Hired!
Certification
Get Certified by FITA Academy. Also, get Equipped to Clear Global Certifications. 72% FITA Academy Students appear for Global Certifications and 100% of them Clear it.
Affordable Fees
At FITA Academy, Course Fee is not only Affordable, but you have the option to pay it in Installments. Quality Training at an Affordable Price is our Motto.
Flexibility
At FITA Academy, you get Ultimate Flexibility. Classroom or Online Training? Early morning or Late evenings? Weekdays or Weekends? Regular Pace or Fast Track? - Pick whatever suits you the Best.
Placement Support
Tie-up & MOU with more than 1,500+ Small & Medium Companies to Support you with Opportunities to Kick-Start & Step-up your Career.
Software Testing Certification Course in Chennai
About Software Testing Certification Course in Chennai at FITA Academy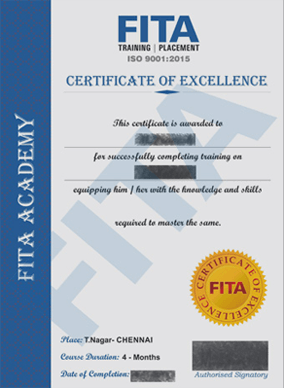 Software Testing Certification Course in Chennai
The candidate is awarded a course completion certificate upon completing the Software Testing Course in Chennai. Achieving this accreditation will make you a certified tester with updated knowledge of software, the standard testing process along with latest technological advancements. Procurement of the accreditation will enhance your professional worth in the market at both national and international levels. Most enterprises recognise this certificate as proof of your credibility in this subject. This certificate provides validation for the skills and concepts you acquired in the speculated time of enrollment. It acts as verification for passing all the assignments and projects to become a successful Software Testing professional.
The Software Testing course certificate from FITA Academy is good enough to authenticate your proficiency in the subject. This accreditation will help our pupils to show up in a range of job opportunities. Certified professionals generally earn more than their peers. However, mentors at FITA Academy encourage learners to extend this knowledge by designing certification-oriented programs for their resumes and also encourage participating in other certification programmes.
Here are the names of the well-known and most attempted certifications in the last decade.
International software testing qualification board (ISTQB) Test Manager
International software testing qualification board (ISTQB) Test Analyst
International software testing qualification board (ISTQB) Agile Tester
Certified Associate in Software Testing
Certified Agile Software Test Professional Practitioner/Master Level
Certified Software Test Automation Architect/Specialist
Have Queries? Talk to our Career Counselor
for more Guidance on picking the right Career for you!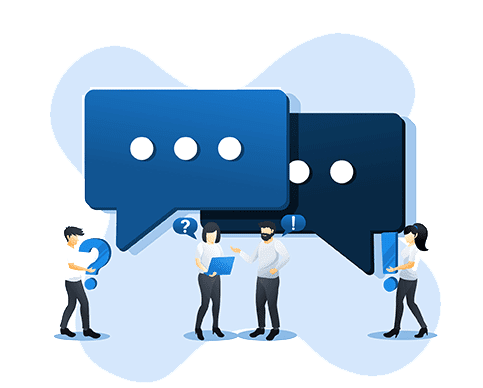 Job Opportunities After Completing Software Testing Training in Chennai
Critics have said software testing's market share will reach new heights in the upcoming years. Employment in this field is flexible and frequently leads to high payments in a short period of time. This skill-set is most suited for individuals involved in job roles revolving around Software Development, Engineering, Management, Analytics or Analysis, Quality Assurance, and Testing.
Students graduating from computer science backgrounds or individuals interested in Software testing careers can also make the best use of this training course. Software testers are needed in a wide range of industries, where they are an invaluable resource for businesses that depend on reliable software to run.
They are usually responsible for ensuring quality, performance and efficiency levels through software testing. They can also provide assurance to clients that their products will be delivered on time and within budget. Software testing is an important part of software development and every known industry has a need for it.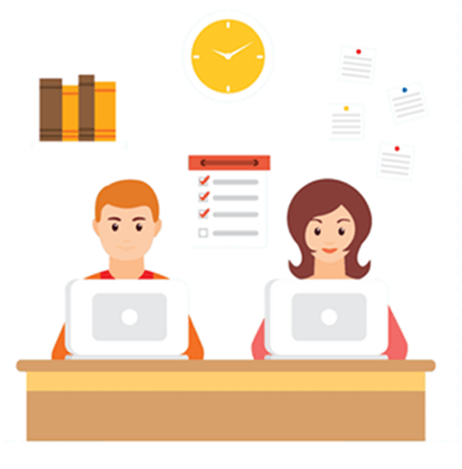 Many organisations provide the chance to get relevant work experience through summer internships and year-long industry placements. Such an opportunity will provide you with valuable professional software testing expertise as well as exposure to the entire project cycle.
As a software testing expert, you will have many responsibilities at hand
You will collaborate with teams creating computer-based software.
From the beginning of the process, you must be able to recognise and resolve software testing flaws.
You will work with engineers and designers to test new prototypes and execute feedback loops.
You must be able to construct and analyse cases and algorithms to analyse software development methods.
You must be able to detect and solve errors before they become problems.
At present, naukri.com lists over 82,000 job openings for Software testing and related careers in India. Some of those job profiles include Software Testing Engineer, Software Tester, Quality Assurance Engineer, Automation Tester, Software development Engineer, Senior Engineer and more.
Tech Mahindra, Casting Networks, Sparsh BPO, and Cognizant are a few of the many organisations that actively recruit software experts.
The average annual salary for a Software Testing certified professional can go up to $77K globally. In India, the same average is around Rs 3.8 lakhs. These figures change exponentially with experience, location, proficiency level, enterprise, and position in the industry you hold. With the Software Testing Course in Chennai at FITA Academy, you can rest assured about your career needs.
Read more
V
Varsha

I joined FITA for Software Testing Training in Chennai. I have had an excellent experience overall. I found the classes very helpful in developing my skills. The trainers always kept the class interactive and taught using real-time examples. I found the class very enjoyable and easy to understand. I would highly recommend enrolling in FITA Academy.
J
Jaideep

FITA Academy is one of the best institutes for Software Testing course in Chennai. The staff and trainers are very friendly and cooperative. Since I am a working student, I missed a few of my classes. They agreed to reschedule all those classes. The teaching method is very easy to understand and interactive. It is definitely a worthy experience.
M
Mehak Mittal

I have completed my Software Testing Training in Chennai at FITA Academy. I didn't have a technical background, so everything was quite new to me. The trainers motivated me and were extremely helpful. After the course completion, I passed multiple interviews and finally joined the company of my choice.
G
Ganesh Moorthy

I learned a lot of new things from FITA Academy after joining their software testing classes. I had the chance to participate in projects and seminars. Every smallest piece of information was well explained by the trainer. I was grateful for their placement support because I was able to find my ideal job with their guidance.
R
Riya Raj

I was looking for a quality Software Testing Training Institute in Chennai when I came across FITA Academy. After joining here, I was able to gain in-depth learning on different software testing tools. My trainer gave me continuous guidance, and I could clear my doubts then and there. Now I have been offered a position by an MNC company. Thanks to FITA Academy and my trainer for making this possible for me
Have Queries? Talk to our Career Counselor
for more Guidance on picking the right Career for you!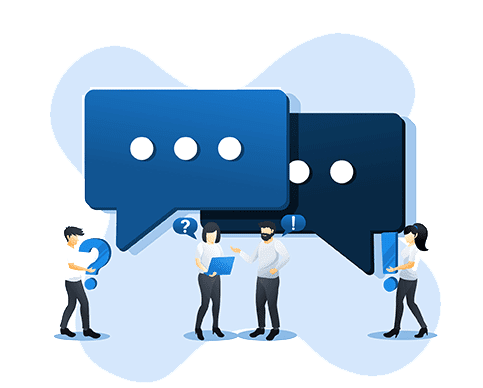 Software Testing Training in Chennai Frequently Asked Question (FAQ)
Additional Information
The world at present runs on machines powered by software that controls their behaviour. However, due to unforeseen faults, sometimes software acts against its set-up. Hence, software testing is introduced into industry culture. It is a verification process that involves error handling, missing data, bug reporting, and defect management, among others, to ensure the actual requirement gets delivered to the market.
Software testing is a technique for verifying whether the entire software product satisfies the desired specifications and guarantees that it is error-free. It involves testing and running the software components with the help of manual or automated methods in order to assess one or more interesting properties. Software testing seeks to identify variations, gaps or flaws between the required specifications and the code.
Software testing has been critical for various product implementations in the past few years. Organisations have recognised the need for testing programmes prior to their release. Quicker tests and outcomes and methods that uncover the needs of the user will be the most crucial factors that determine the future of software testing. Software testing is intended to ensure a good user experience.
The two divisions in Software testing today are manual and automated testing. Some of their features are configuration management, defect management, test data creation, test execution, bug reporting, risk management, regression, smoke, database, and security testing, among other essential techniques. The primary function of software testing is to provide cost-effective quality assurance for customer satisfaction.
When it comes to software testing, it is important to know the difference between manual and automated testing. Manual testing is carried out in person by interacting with the application and APIs using the proper tooling. This is quite expensive since someone must set up the testing environment and run the tests manually, and it is also subject to human error because the tester may make mistakes or forget to perform some test stages.
Contrarily, a machine that executes a previously prepared test script is used to carry out automated testing. These tests can range in complexity from examining a single method in a class to verifying that carrying out a series of intricate UI actions yields the same outcomes. Join the Selenium Testing Course in Chennai to learn more about automation testing.
To guarantee that modifications to your code function as expected, there are many different kinds of software testing approaches you can employ.
Types of Software Testing
Unit tests
Unit tests are quite basic and carried out near an application's source code. They entail testing each class, object, and component used by your software's distinct methods and functions. Unit tests are typically inexpensive to automate and may be executed fast by a build server, also known as a continuous integration server.
Integration tests
Integration tests ensure that the various components or services used by your application function properly. For instance, it could involve testing database interactions or ensuring that microservices interact as intended. These tests cost extra to conduct since several different components of the application must be operational.
Functional tests
An application's business requirements are the main focus of functional tests. They just inspect the result of an activity and do not examine the system's intermediate stages while executing that function.
Functional and integration tests both call for a number of components to communicate with one another, which can occasionally lead to confusion between the two. An integration test would only check that you can query the database, whereas a functional test might anticipate getting a certain value from the database in accordance with the product requirements.
End-to-end tests
End-to-end testing simulates user behaviour using the software in the whole context of an application. It checks that different user flows function as intended and can be as straightforward as loading a webpage or login in or somewhat more complicated scenarios checking email notifications, online payments, etc.
End-to-end tests are tremendously helpful, but they are expensive to run and if automated, can be challenging to manage. To be able to discover unexpected developments easily, it is advised to have a limited number of important end-to-end tests and to depend more on lower-level testing.
Acceptance testing
Acceptance tests are those which determine whether the system compiles with the needs of an organisation. They concentrate on producing user actions while executing the complete application during testing. These tests also have the capacity to take a step further and determine the effectiveness of a program and reject modifications if a particular objective is not achieved.
Performance testing
Performance testing measures a system's productivity under a specific task. These tests aid in determining an application's dependability, speed, flexibility, and reactivity. For example, a performance test can examine response times when processing a huge number of calls or identify how a system responds to a sizable amount of data. It may assess whether a programme satisfies performance standards, find bottlenecks, gauge stability during high traffic, and much more.
Smoke testing
Smoke tests are essential tests that verify an application's basic operations. They are designed to be quickly carried out, and their purpose is to provide you with the confidence that the main system components are functioning as planned. Smoke tests can be useful immediately after a new version is built to determine whether or not more sophisticated tests can be run or immediately after distribution to make sure that the software is operating successfully in the freshly deployed environment.
What are the different roles of a Software testing professional?
As a software testing expert, there are many job roles that fall under this category. Here are a few of the important job roles of a software testing professional.
Software Testing Engineer
Testers would perform detailed functional and non-functional testing of software applications. They check whether the product meets the user's needs or not. They ensure that all standards are met and performance criteria are also met. They can follow the test cases defined by business users or system designers. You can easily become an engineer from Software Testing Training in Chennai, which is offered by our experts in this field.
Software Tester
The tester performs basic quality assurance checks like documentation review, code review, unit testing, integration & acceptance testing, etc. They identify defects, bugs and errors before these reach the production environment. They need to collect data from multiple sources and analyse it. They aim to report bugs accurately and efficiently. Getting this knowledge from our Software Testing Course in Chennai would definitely help you with your career growth. A tester might have to manually execute the application using various test scenarios so that he can observe how the application behaves under different conditions.
Quality Assurance Engineer
They ensure that all products conform to specifications, internal controls, policies, and procedures. They ensure that the company's reputation, brand values, and financial goals are consistently being achieved. They must ensure that any defect found earlier is corrected before releasing the product to market on time. From our Testing Courses in Chennai, you can evolve as a quality engineer or QA expert to contribute to the success of a product.
Senior Engineer
This position involves working closely with Development Engineering teams to design and develop custom software solutions. This role will help set up the necessary infrastructure for a successful delivery. The candidate for this role will use their expertise and creativity to create innovative ideas and solutions.
Software Developer
Software developers provide solutions to problems by developing new programs. In addition to writing source codes, they may also be responsible for creating databases, graphics, or web pages.
Full Stack Developer
A full-stack developer does everything required to build a modern front end capable of meeting the demands of today's apps. They specialise in the back end but have extensive knowledge of HTML and CSS. As such, they work directly with engineers on the back end to produce scalable, maintainable, and high-performing applications. Get training from our Software Testing Training Institute in Chennai to gain expertise in software testing, QA, and automation.
Software Testing Specialist
This position focuses on ensuring the functionality and reliability of software through manual and automatic means. Hence, the primary focus lies in defining and establishing standardised methods for testing software.
Automation Tester
This role requires an individual who has been trained in writing automated tests and has a deep understanding of automation tools like Selenium, UFT, TestComplete and Appium. Learn about mobile automation testing extensively by joining Appium Training in Chennai. The person must be able to effectively communicate the results of his testing efforts to those who need them, and he should understand how to build a good feedback loop with his team members.
Test Manager
The main objective of this role is to plan and organise the overall test strategy, including both manual and automation aspects, and then manage the resources assigned for executing it. Our Testing Courses in Chennai will help you to understand the Testing concepts and methodologies.
QTP Trainer/QAs trainer
QTP trainers guide individuals in learning the basics of Quality Assurance, Automated Testing Techniques, and Tools. These courses include concepts related to programming languages, tools, and frameworks used in testing, as well as techniques for performance analysis, debugging and problem management.
Software Developer (Back end)
The candidate should be proficient in Java and able to handle all functionalities related to the development of the data storage and processing unit. They should be able to implement various algorithms and SQL queries as well as optimise coding according to the best practices. You can also join Java Training in Chennai to become an excellent software developer.
Quality Assurance Architect
An architect works closely within the development organisation to define requirements and perform project planning. They may help evaluate alternative approaches to resolving issues posed by the specific requirements.
Web UI Testing Specialist
UI testing helps uncover usability issues in websites and mobile user interfaces. Developers write scripts to check whether users navigate correctly, complete forms, and make purchases via online payment systems. Our Software Testing Training in Chennai expert instructors guide students to ensure their work is of a high standard and gives them the skills to become successful software testers.
Software Test Analyst
Software testers use a wide variety of skills to help organisations meet their business objectives by identifying, evaluating, analysing, and documenting software flaws. Software testers create test cases, which are the first step in the testing process, and evaluate the outcomes. The goal is to find bugs before customers do.
The world of software development is continuing to evolve at an alarming pace. New software releases are being released at a furious pace, new security vulnerabilities are being discovered and patched, and so on and so on. This makes it essential to have a solid understanding of how the software works and how software testing works. Learning and practising new things is not easy with so much going on. However, the world of software development has its fair share of testing and verification courses. Here, we'll explore the benefits of taking a Software Testing Course in Chennai and why you should consider doing so.
10 benefits of the Software Testing Course in Chennai at FITA Academy:
Job opportunities
Software testing is one of the best career options for freshers and professionals. It offers numerous opportunities to work with different industries like finance, healthcare, e-commerce, etc. The role of a tester is to find flaws in products that could lead to misleading end users. There are many job openings available in software companies as testers. There is an estimated demand for around 50,000 new tester positions every year in India.
Advancement in career
In today's competitive world, it is very important to keep pace with the developments happening in the IT industry. If you want to advance your career, learning this innovative skill can help you. Our Software Testing Course in Chennai helps you build quality assurance by finding defects, improving efficiency, and increasing productivity. These qualities may also help you advance in your career to become a top-level tester and get a promotion within the organisation.
Creative Career
Software testing is a creative career. It requires creativity and patience to find bugs in software products. The testers are required to be able to think out of the box, solve problems creatively and work under pressure. They should have good communication skills.
Easy To Get Hired By Top Companies
In today's competitive world, it's difficult to keep yourself updated and up-to-date with all the latest technologies and innovations in today's competitive world. But testing helps you become aware of what's going on. Most top tech companies look for people who have the right skills and knowledge in testing technology. So even if you are fresher, start your career by getting into this field.
Great Learning Environment
Testing is always interesting when working with different types of technologies. When you test various software tools, you will come across different environments, APIs, and other features, which makes learning really exciting. You also learn a lot when you face challenges while performing tests, as our Software Testing Course in Chennai gives you a great insight into what to look for and how to improve your skills. This gives you a better understanding of how things work together.
Developing Social Skills
There are several social gatherings where testers come together to share ideas and problems regarding the development of applications. Testers exchange experiences and give valuable feedback to each other during such events. Not only does this help them in gaining more insights about different aspects of application development, but it also provides exposure to professional developers who can guide them throughout their careers.
Maintain Your Credibility
Once you get certified after completing our Software Testing Training in Chennai, it will boost your credibility among peers. People think highly about certifications, and you can use them as proof of your knowledge and skill set. Such certification may also be used as additional qualifications during interviews.
More Scope For Personal Growth
Unlike technical jobs where you get stuck in certain roles, testing offers flexibility with its agile approach. It allows you to work under different technologies as per client requirements. This means that you'll never run out of scope and will always be able to show the value of your abilities.
Better Future Prospects
One thing that should be kept in mind is that most software companies prefer hiring candidates with some certification. It also shows your ability to develop continuously. As a result, it becomes easier for you to move ahead in your career.
High Job Placement Opportunities
We've got great connections within the industry, and we've had plenty of opportunities to join some of the best clients. If you take part in our Software Testing Training in Chennai and complete them successfully, you will not just gain skills but also make new friends within this industry.
At FITA Academy, we try our best to provide you with relevant techniques that are in use in this field. The certification-specific Training Courses in Chennai recognise and integrate the need for global certifications in your professional resume.
Course Objectives
Understand the fundamental concepts of Software testing.
Learn to plan, customise, and create a budget for testing.
Learn to design and create test cases.
Differentiate between dynamic, static, and experience-based techniques in Software testing.
Perform practice tasks on the features of the above techniques like Black-box testing, Boundary Value Analysis, Decision Table Testing, and STLC Reviews, among others.
Understand the different levels of testing.
Explore the different types of testing like Regression Testing, Smoke Testing, Database Testing, Performance Testing, Security Testing, etc.
Differentiate between manual and automated testing.
Learn to execute tests in the software-testing life cycle.
Learn to prevent, discover, and manage defects in Software testing.
Demonstrate team coordination and collaboration.
Understand generating reports and documenting them.
Learn to measure the metrics to increase efficiency for future projects.
Apply concepts taught throughout the training on projects as per instructions from the mentor.

At FITA Academy, we make an effort to give you useful approaches that are currently being used in this industry. Software Testing Training in Chennai is a certification-specific course that acknowledges and incorporates the requirement for international standards in your professional career. We offer broad information as well as tailored advice for students who select particular certification programmes.

The current success rate for learners has been 100% in passing the certification exams. We provide general information as well as specialised guidelines for learners who choose specific certification tracks. Mentors in this programme are experts who have a strong reputation in the industry. Students with any technical background can benefit from this course because it is applicable to all areas of computer science.