Course Highlights & Why Salesforce Training in Bangalore at FITA Academy?
Our expert trainers have revised and modified the course modules, which include Salesforce Admin, Developer, and Lightning courses, to satisfy international business requirements.
Through Salesforce training in Bangalore, you can become acquainted with the Salesforce development platform and the apps that are linked to it.
FITA Academy offers in-depth training in the Salesforce Object Query Language (SOQL) and Data Manipulation Language (DML).
Our course is quite flexible and customisable according to the convenience of the students.
We provide both weekend and weekday classes for the students. You can also opt for online classes to acquire the best knowledge in the comfort of your home.
Additionally, our salesforce course in Bangalore also provides fast-track classes for the convenience of the students with time constraints.
Study materials are designed by industry experts to have a thorough understanding of Salesforce's functionalities.
Salesforce Training Institute in Bangalore has ties with 1,500+ organisations to ensure a lucrative career after the course completion.
Read more
Upcoming Batches
| | | | |
| --- | --- | --- | --- |
| 02-11-2023 | Weekend | Saturday (Saturday - Sunday) | |
| 04-12-2023 | Weekdays | Monday (Monday - Friday) | |
| 07-12-2023 | Weekdays | Thursday (Monday - Friday) | |
| 09-12-2023 | Weekend | Saturday (Saturday - Sunday) | |

Classroom Training
Get trained by Industry Experts via Classroom Training at any of the FITA Academy branches near you
Why Wait? Jump Start your Career by taking the Salesforce Training in Bangalore!
Instructor-Led Live Online Training
Take-up Instructor-led Live Online Training. Get the Recorded Videos of each session.
Travelling is a Constraint? Jump Start your Career by taking the Salesforce Online Course!
Have Queries? Talk to our Career Counselor
for more Guidance on picking the right Career for you!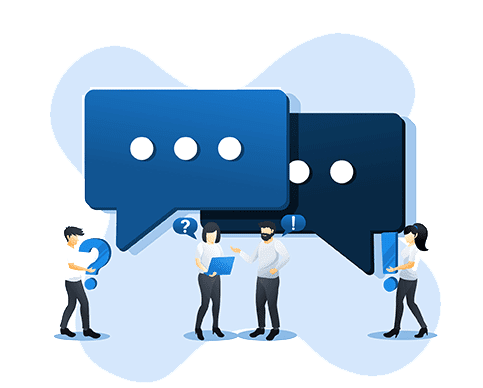 Trainer Profile
With their professional experience, the mentors in the Salesforce Training in Bangalore have provided Salesforce solutions and student success stories.
The mentors at FITA Academy have over 8+ years of professional experience using Salesforce.
To stay current with standards, our instructors use modern tools and techniques in the course syllabus.
Trainers at FITA Academy give students in-depth instruction on the Salesforce development and management procedure to advance their understanding.
Trainers of the salesforce course in Bangalore offer comprehensive training and ample hands-on experience.
Small class sizes foster an atmosphere that encourages interaction and maximum rapport.
For exposure and a natural transition to the workplace, our mentors use real-world projects.

Learn at FITA Academy & Get Your
Dream IT Job in 60 Days
like these Successful Students!
Features of Salesforce Training in Bangalore at FITA Academy
Real-Time Experts as Trainers
At FITA Academy, You will Learn from the Experts from industry who are Passionate in sharing their Knowledge with Learners. Get Personally Mentored by the Experts.
LIVE Project
Get an Opportunity to work in Real-time Projects that will give you a Deep Experience. Showcase your Project Experience & Increase your chance of getting Hired!
Certification
Get Certified by FITA Academy. Also, get Equipped to Clear Global Certifications. 72% FITA Academy Students appear for Global Certifications and 100% of them Clear it.
Affordable Fees
At FITA Academy, Course Fee is not only Affordable, but you have the option to pay it in Installments. Quality Training at an Affordable Price is our Motto.
Flexibility
At FITA Academy, you get Ultimate Flexibility. Classroom or Online Training? Early morning or Late evenings? Weekdays or Weekends? Regular Pace or Fast Track? - Pick whatever suits you the Best.
Placement Support
Tie-up & MOU with more than 1,500+ Small & Medium Companies to Support you with Opportunities to Kick-Start & Step-up your Career.
Salesforce Certification Course in Bangalore
About Salesforce Certification Course in Bangalore at FITA Academy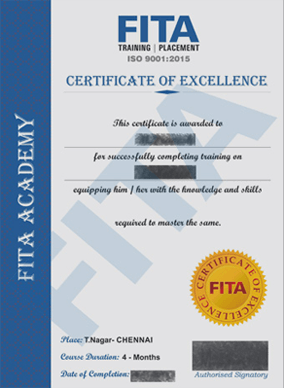 Salesforce Certification Course in Bangalore
er and get promoted at your current employer. Major organisations are looking for specialists with a Salesforce certification due to their high demand. Additionally, a Salesforce certification gives you an advantage over your competition.
As the preferred CRM platform at many businesses, Salesforce is firmly established and offers the in-demand skill sets of the moment. The benefits of Salesforce certification extend to nearly every field, including software developers, project designers, architects, project managers, and sales and marketing specialists. The course certificate of Salesforce Training in Bangalore is good enough to authenticate your proficiency in this field. However, mentors at FITA Academy encourage learners to extend this expertise beyond this course with relevant certification exams.
After successfully completing the Salesforce Course in Bangalore, FITA Academy awards the candidate a course completion certificate. Most organisations recognise this certificate as validation of the effort invested in this subject. This certificate provides credibility to the skills and concepts you acquired during the duration of enrollment. It acts as verification for passing all the assignments, assessments, and projects to become a successful Salesforce expert.
Have Queries? Talk to our Career Counselor
for more Guidance on picking the right Career for you!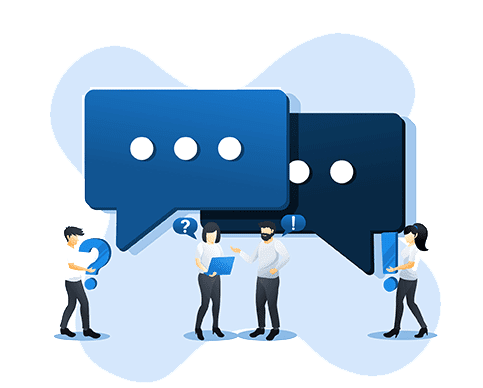 Job Opportunities After Completing Salesforce Training in Bangalore
The demand for Salesforce developers is growing in terms of job opportunities. The manufacturing and banking sectors are the two that are most in demand for this position. In this industry, more than a million job roles related to Salesforce open up annually. Among the many nations throughout the world that offer lucrative Salesforce positions are the United States, the United Kingdom, Australia, and Germany. According to studies, since 2017, Salesforce has steadily dominated the industry, surpassing both Microsoft and Oracle. Today, there is a demand for Salesforce software all around the world. As a result, its qualities are in high demand among various organisations.
Over 30,000+ job vacancies for Salesforce and related careers are listed on various job portals, and this will increase in the next coming years. Senior Software Engineer, Principal Salesforce Admin, Salesforce Certified Developer, Senior Platform Developer, Salesforce Administrator, SFDC Certified Developer, Salesforce Architect, Application Support Analyst, Senior Salesforce Consultant, Business Analyst, and Salesforce Cloud Management are a few of the job titles associated with this industry.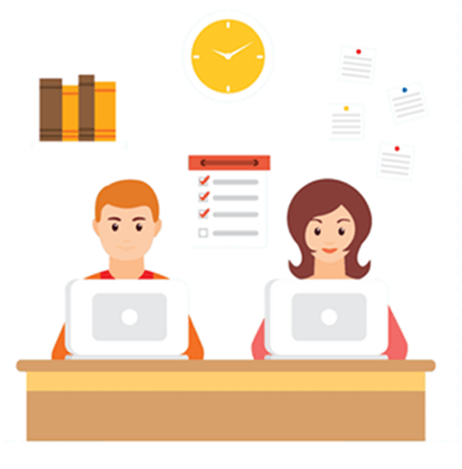 Some of the major businesses that actively hire Salesforce developers are IBM, KPMG, Tata, Accenture, Wipro, and Capgemini. A Salesforce developer with less than a year of experience may expect to get an annual compensation of Rs.3 lakh. Globally, the annual income for the same is $110k. The wage scale changes with location, organisation, skills and experience. For guaranteed employment opportunities, enrol in the Salesforce Course in Bangalore at FITA Academy.
S
Sonalika Bhadoria

I enrolled in the FITA Academy's Salesforce training in Bangalore and recently passed the Salesforce CRM certification exam. The sessions were engaging and fun. Each module included practical sessions and tests, both of which were really beneficial in helping me fully grasp the ideas. Overall, joining FITA Academy was a worthwhile experience.
S
Sruthi R

I work full-time for an IT company. I enrolled at the Salesforce Training Institute in Bangalore because I needed to pursue more certifications to be qualified for promotions. After completing my course at FITA Academy, I passed my certification exams, which led to my promotion to team lead. I wholeheartedly suggest FITA Academy if you are looking for the best place to start off.
A
Ashwin Roy

I enrolled at FITA Academy for Salesforce Course in Bangalore after my college. I'm happy to add that this institution provided me with a lot more hands-on education than my college. The instructors motivated us by using straightforward techniques and sharing their own experiences. With their help, I was able to pass the certification exam and qualify for interviews. I'm currently employed at a reputable software company.
A
Arvind Reddy

I successfully completed my salesforce course from Salesforce Institute in Bangalore. According to my personal experience, it helps students who are looking for in-depth knowledge of the subject. Thanks to their thorough training, I experienced immediate results with little effort and time. All of this was possible because of the shortcuts and advice provided by my trainers at FITA Academy. I could work and study at the same time and yet have enough time for my personal life.
M
Monika S

I enrolled in the Salesforce Training in Bangalore, hoping to brush up on some long-forgotten abilities, but I came away with so much more. It ended up being an important turning point in my life. The trainers covered every idea in detail, making it simple for me to comprehend and put into practice. I now clearly understand how the industry operates and will use it to my best advantage to advance my career. Thanks to FITA Academy, I had the good fortune to be hired by a notable IT company after the training.
Have Queries? Talk to our Career Counselor
for more Guidance on picking the right Career for you!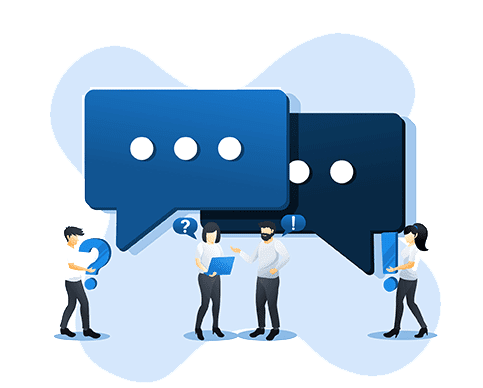 Salesforce Training in Bangalore Frequently Asked Question (FAQ)
Additional Information
Salesforce is a provider of cloud-based software that gives companies tools to identify more prospects, build customer relationships, and give their clients better service. Salesforce.com is a well-known American cloud-based software corporation that offers CRM solutions. Salesforce is a major CRM application for service, marketing, and advertising agencies all over the world. Businesses can use cloud computing to improve connections with collaborators, consumers, and potential customers by using Salesforce services. Businesses may track customer behaviour, advertise to customers, and perform many other tasks with the Salesforce CRM.
Salesforce offers both business management and technical expertise for the advancement of your career. With Salesforce certifications, people may prove their eligibility for particular positions in the sector. Development, implementation, management, and sales are the main advantages of Salesforce. Salesforce may boost business revenues and guarantee well-paying jobs in the sector with proper use.
Objectives of the Salesforce Course in Bangalore
Describe the Salesforce CRM and its core components.
Learn how to process logic and automated workflows.
Explore the development, testing, debugging, and deployment tools.
Examine sales & marketing tools, opportunity management, cloud design solutions, and other leads.
With Apex for back-end development, learn back-end programming.
Create front-end projects with VisualForce and JavaScript.
Employ advanced programming techniques such as DML and SQL.
Describe the components of lightning as well as common and unique objects.
Implement authentication processes and security measures.
Familiarise yourself with data modelling, interfaces, and cloud services.
Be equipped for Salesforce role-based certification tests.
Over 150,000 businesses use the Salesforce platform to support their business growth, making it the market leader globally. Companies of various sizes are leveraging their range of services and solutions to address business issues, from microbusinesses to major tech organisations like Google and Facebook. From admin to a developer to quality analyst to business analyst to product owner, there are many different Salesforce job roles. Salesforce has been embraced by a wide range of industries for their daily operations and work requirements. With Salesforce Training in Bangalore, you may advance your profession and learn business intelligence tactics.
Skills required to become a Salesforce specialist
While the role of a Salesforce Administrator requires no coding expertise, that of a developer does. Since Apex is where development takes place, the latter calls for proficiency with Java,.net, CSS, Javascript, REST, SOAP, and HTML 5. Those with prior programming experience will find it simpler to adapt to the Salesforce developer profession, but someone with no prior programming experience may have a more challenging learning curve.
The Salesforce platform requires teamwork at its core. Collaboration among teammates and the ability to work well with others is essential for the platform's success. So, to succeed as a Salesforce developer, the candidate must have both a teamwork mindset and the necessary skills. You must be able to convey your idea by converting technical jargon and concepts into everyday language. Having the ability to convey each piece of information successfully is also crucial, and it sets you apart from other Salesforce developers.
An analytical mindset is one of the most crucial abilities a salesforce developer needs to possess. This entails creating a thorough understanding of the client's needs and converting them into practical design and code. The needs and demands of the clients must be thoroughly understood. Analytical qualities and skills are required to successfully alter the design/code and establish a lucrative career in Salesforce. Analytical abilities will assist you in testing the code and appropriately defining the outcomes.
The management of each stage of the software development cycle falls under the purview of software developers. Software development is not a simple profession. While working on a project, there will undoubtedly be numerous faults and errors that you must fix. You must be equipped with the skills and knowledge required to address issues swiftly in order to avoid errors and faults and continue the process smoothly.
Different job roles of a Salesforce specialist
A Salesforce developer is someone who has a thorough knowledge of Salesforce and its constraints and can create cloud-based applications using the Salesforce platform. A Salesforce developer needs to be well-versed in VisualForce and Salesforce programming and have experience writing APEX code. Get familiar with HTML, Java and a number of other programming languages at our Salesforce training in Bangalore and become a proficient salesforce developer.
Salesforce administrators must have excellent communication skills because they interact with people at all organisational levels, from the CEO to the end users. Therefore, administrators will benefit from specialists who can interact successfully with people at all levels. In a business, Salesforce administrators are required to have a deep knowledge of Salesforce customisation. The creation of statistics, customer management, work management rules, dashboard building, and other duties are crucial for a Salesforce Administrator. As a business operation expert, the Salesforce Administrator collaborates with stakeholders to identify various gaps in the current process or to compile specifications for new processes.
Salesforce architects create, develop, and deliver the solutions that companies require to thrive in a competitive market. Architects are the primary technical advisor for project delivery units and partners. A salesforce architect will be in charge of initiatives relating to Salesforce's application design, implementation, and maintenance. They must exhibit progressive leadership throughout the whole software development environment life cycle. From the beginning of the project to production support, they are in charge of the intricate design of Salesforce-related initiatives. By collaborating with the development teams, they make sure that the system accurately satisfies the established requirements of the business unit, that appropriate testing is carried out, and those performance criteria are carefully monitored.
In order to create suitable solutions and assess how changes affect a business for the better or worse, Salesforce consultants need to be proficient with the salesforce CRM platform. Although it is not required for the consultant to be familiar with every detail of the CRM platform, he or she must comprehend the features provided by Salesforce, as well as how data enters and is disseminated inside the system. Become a proficient Salesforce consultant by joining the Salesforce course in Bangalore.
What are the advantages of Salesforce?
The quickest approach from an idea to an application is provided by Salesforce. Instead of creating your own infrastructure and tools, you may focus on creating your app utilising Salesforce's offerings. You could save millions of dollars and years of time by doing this.
Deploying traditional CRM software can take over a year, as opposed to Salesforce's months or even weeks.
Salesforce easily takes first place in the category of ease of use. You can utilise that time more wisely and spend less time trying to figure things out.
Customers perceive Salesforce to be very effective since it is simple to use and can be customised to satisfy corporate needs.
Thanks to Salesforce's cloud-based nature, the organisation's staff may access it from any location with an internet connection.
If you run a fast-changing firm or a seasoned corporation that has been operating for years, your business is undoubtedly changing as well. Salesforce can grow with you indefinitely.
Third-party apps can easily be integrated with Salesforce. You can combine Salesforce with Gmail or your accounting software, or you can integrate it with both. However, integrating with other CRMs is challenging.
Salesforce is inexpensive, especially when you take into account its broad range of functions. Salesforce is accessible to small and startup companies alike.
The rising popularity of cloud computing and Salesforce will undoubtedly have a favourable impact on the software development business. Despite the difficulties the current technological landscape brings, Salesforce is still anticipated to expand. Adopting the platform is essential for organisations of all sizes to stay current with the developments. It might be the best decision you can choose for your profession, given that Salesforce has the potential to be the most successful in the future.
The Best Salesforce Training Institute in Bangalore is offered by FITA Academy. It delves deeply into the platform and its offerings for your career in various areas. To guarantee your complete proficiency, this course covers some of the most important ideas. The Apex programming language, VisualForce, SFDC, SFDC Data Model, App Builder, lightning components, objects, business and sales management, Workflow management, and more are among them. With our ties to more than 1500 organisations, you may be sure to land a well-paying position.
Read more