Course Highlights & Why Artificial Intelligence Course in Chennai at FITA Academy?
At FITA Academy students receive knowledge on the fundamental concepts of related subjects like Machine Learning, Deep Learning, Data Science, etc., besides just Artificial Intelligence.
This course comes with hands-on tutorials and live projects for practical proficiency.
FITA Academy training courses come with a flexible schedule for the learners. They can enroll in offline classes, live online classes, and recorded classes.
Artificial Intelligence Course in Chennai offers both a regular pace and fast track for the ease of students.
The AI Course in Chennai covers topics from scratch. It is a mixed level course for beginners as well as experts looking for in-depth knowledge.
Proof of concept assignments and assessments are present for practice after the completion of each topic.
The Artificial Intelligence Course in Chennai has a placement support system with an established network of 1000+ small and medium companies.
Describe the history of Artificial Intelligence and its role in the industries.
Understand the basic AI concepts and their operations.
Learn Python programming language to run projects further ahead in the course.
Differentiate between Supervised and Unsupervised learning.
Demonstrate Machine learning algorithms and their functions in AI.
Implement Machine Learning and AI using Python.
Understand natural language processing, neural networks, and predictive analysis.
Explore tools, frameworks, libraries, and features used in AI.
Apply deep learning using TensorFlow to analyze results.
Learn image processing and computer vision for data analysis.
Understand the limitations of AI application in problem-solving.
Apply the concepts learned on several real-world projects.
Discuss the prospects and guidelines surrounding a career in Artificial Intelligence.
Read more
Classroom Training
Get trained by Industry Experts via Classroom Training at any of the FITA Academy branches near you
Why Wait? Jump Start your Career by taking the Artificial Intelligence Course in Chennai!
Instructor-Led Live Online Training
Take-up Instructor-led Live Online Training. Get the Recorded Videos of each session.
Travelling is a Constraint? Jump Start your Career by taking the Artificial Intelligence Online Course!
Have Queries? Talk to our Career Counselor
for more Guidance on picking the right Career for you!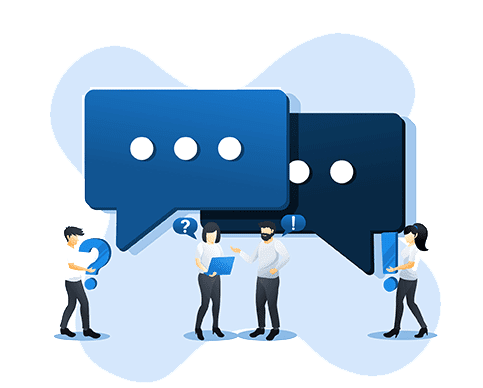 Trainer Profile
The Artificial Intelligence trainers at FITA Academy are real time professionals with Years of expertise.
Mentors in this course have coordinated several Artificial Intelligence and related projects throughout their careers.
The trainers in this program have 8+ years of enterprise experience in Artificial Intelligence roles.
Our mentors in FITA Academy take responsibility for the conceptual and practical proficiency of each student.
The Artificial Intelligence Course in Chennai has trained around 5,000+ students on this topic.
FITA Academy mentors adopt live projects and hands-on approaches to improve practical learning and expertise.
Our trainers integrate the latest practices and trends surrounding Artificial Intelligence and its certifications in the course syllabus.
The AI Mentors at FITA Academy have motivated around 72% of the learners to attempt industry-relevant certifications with a success rate of 100%.
Interested learners can seek individual help to receive the best opportunities for their respective Careers.
Features
Real-Time Experts as Trainers
At FITA Academy, You will Learn from the Experts from industry who are Passionate in sharing their Knowledge with Learners. Get Personally Mentored by the Experts.
LIVE Project
Get an Opportunity to work in Real-time Projects that will give you a Deep Experience. Showcase your Project Experience & Increase your chance of getting Hired!
Certification
Get Certified by FITA Academy. Also, get Equipped to Clear Global Certifications. 72% FITA Academy Students appear for Global Certifications and 100% of them Clear it.
Affordable Fees
At FITA Academy, Course Fee is not only Affordable, but you have the option to pay it in Installments. Quality Training at an Affordable Price is our Motto.
Flexibility
At FITA Academy, you get Ultimate Flexibility. Classroom or Online Training? Early morning or Late evenings? Weekdays or Weekends? Regular Pace or Fast Track? - Pick whatever suits you the Best.
Placement Support
Tie-up & MOU with more than 1000+ Small & Medium Companies to Support you with Opportunities to Kick-Start & Step-up your Career.
AI Certification Training in Chennai
About AI Certification Training in Chennai at FITA Academy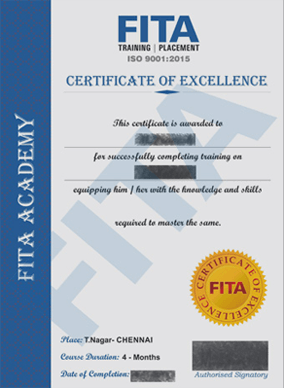 AI Certification Training in Chennai
At the successful completion of the Artificial Intelligence Training in Chennai, the candidate is awarded a course completion certificate. Most enterprises recognize this certificate as proof of your credibility in this subject. This certificate provides validation for the skills and concepts you acquired in the speculated time of enrollment. It acts as verification for passing all the assignments and projects to become a successful Artificial Intelligence professional.
The Artificial Intelligence Training certificate from FITA Academy is sufficient to authenticate your proficiency in the subject. However, mentors at FITA Academy encourage learners to earn global certifications with certification-specific training and set themselves apart among other candidates.
The most popular Artificial Intelligence credential is known as Artificial Intelligence Engineer certification by the Artificial Intelligence Board of America (ARTiBA).
Some popular queries about this certification are below:
1.How to enroll for this certification?
The certification exam is available offline in a testing center and online to take up in the comfort of your home.
2.What format do they follow for the exam?
This exam consists of 60 multiple choice questions that you need to solve within 90 minutes.
3.What is the passing mark for the exam?
The passing mark for this certification is 65%.
4.Is this certification valid for a lifetime?
This certification is valid for three years. It is necessary to re-earn this credential to stay relevant in the industry. You will receive a mail from their end when your certification is close to expiring.
5.What is the pocket-pinch for earning this certification?
The payment for this certification can be found on artiba.org and needs to be done in one installment only.
For further details, you can consult with your mentor or contact the FITA Academy team from our official page.
Read more
Have Queries? Talk to our Career Counselor
for more Guidance on picking the right Career for you!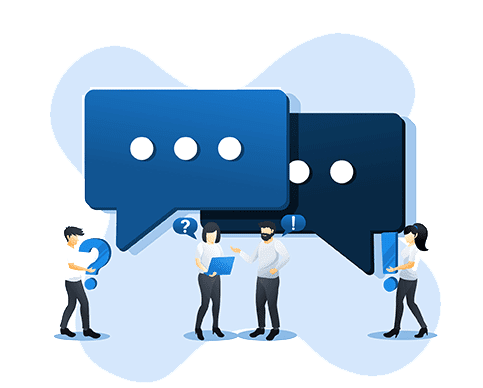 Job Opportunities After Completing Artificial Intelligence Course in Chennai
In the coming years, almost 80% of the technologies will be based on AI practices. Artificial Intelligence is rapidly growing and finding a place for itself in every industry and enterprise that is yet to utilize its benefits. Thus, AI specialized professionals remain in-demand irrespective of minor market changes.
This skill is beneficial for individuals interested in or working in job roles surrounding Engineering, Analytics, Software Development, Technical Management, Business Intelligence, and Search Engine Optimization. It is best suited for AI enthusiasts, computer science graduates, and undergraduates who want to pursue a career in this field.
As of present, naukri.com lists around 10615 job openings for AI professionals and related careers in India. Some of those best job profiles or positions in this field are Artificial Intelligence Engineer, AI Project Manager, AI Resident, AI Researcher, Data Scientist, Data Analyst, Data Engineer, AI/ML Developer, AI Lead, AI Specialist, AI Architect, and Artificial Intelligence Consultant, among many others.
Some of the top organizations hiring AI professionals today are Amazon, Google, Apple, Cognizant Technology, Accenture, IBM India, SAP Labs, etc.According to indeed.com, the average annual salary for an Artificial Intelligence Engineer or related roles can go up to $141K globally. In India, the same average is around Rs 9.3 lakhs. These figures change exponentially with experience, location, proficiency level, enterprise, and position in the industry you hold. With the AI Training in Chennai, you can rest assured about your career needs.
Read more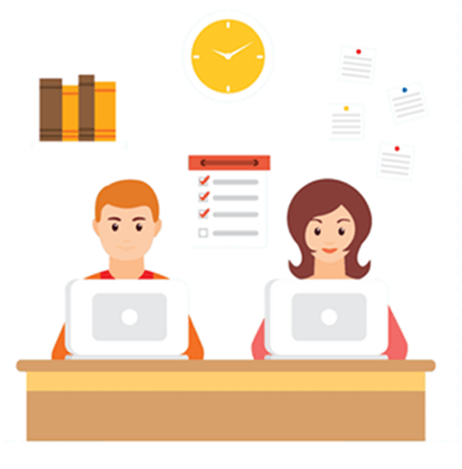 S
Sonalika Bhadoria

AI courses in Chennai fail in comparison to FITA Academy. It is the best training institute for your practical development and career advancement. I am an ex-student of this AI training program, and I can vouch for their sincerity and efficiency. Though your success depends on the personal attempt, mentors in this course have played a role too.
A
Aditi Goswami

I am a resident of Chennai and an AI enthusiast. Thankfully, peer pressure led me to enroll in the AI training in Chennai at FITA Academy. I had an enriching experience while studying in this program, which is further enhanced by studying with my friends. We have achieved various perks post this training and wish to recommend this course in a positive light.
A
Ashwin Ray

Artificial Intelligence Training in Chennai is very learner-friendly. I had little to no issues while i enrolled in this program. The support team is quick to come to your aid. The mentors are also very knowledgeable when it comes to queries. I couldn't have asked for a better training program to invest my time of the month.
D
Damini Reddy

FITA Academy has contributed to starting my career in the Artificial Intelligence field. The Artificial Intelligence course in Chennai brought by them is perfect for your industry needs. This course intrigued me enough to have a switch of heart and career, which was also aided by their placement support system. I am content with the pace of my career.
A
Anmol Pandit

I have earned many profits from this course through a small investment, the gains weighing more than the loss. The AI training in Chennai is a great program, which I, fortunately, found at a low price. I feel satisfied with my choice to study under their trainers. They have been supportive and cooperative with every learner like myself. I have only praises for my experience.
Have Queries? Talk to our Career Counselor
for more Guidance on picking the right Career for you!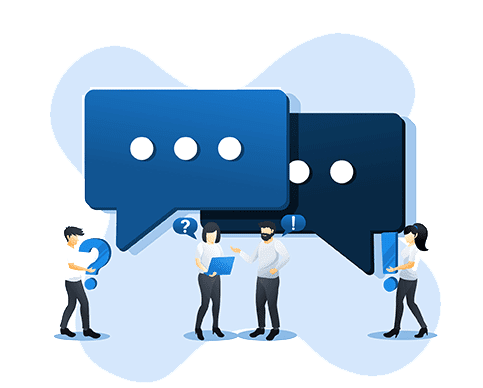 Artificial Intelligence Course in Chennai Frequently Asked Question (FAQ)
Additional Information
Artificial Intelligence is the simulation of human intelligence in a machine to enable them to think for themselves. It is use to perform mundane tasks that reduce human effort and inadequacy. With the help of domains like Machine learning, Big Data, Neural Networks, Deep learning, etc., we are now capable of advanced perception to learn, reason, and resolve problems using machines.
Almost all industries rely on Artificial Intelligence for their business decisions. From marketing to automation, AI is an integral part of our digital lives today. Since innovation and evolution will only move forward, it is right to say that so will Artificial Intelligence. Thus, at FITA Academy, we adopt techniques to teach building intelligent computer systems and AI applications to problems.
The Artificial Intelligence Training in Chennai integrates relevant concepts for your industry-oriented knowledge. The concepts taught in this course are also versatile. They fit into projects, employment, and certification exams at the same time. The regular assignments, assessments, live projects, and practical sessions also contribute to your hands-on proficiency in the subject.
Mentors in this course are real-time experts with several years of working experience in AI applications. They integrate the latest practices and features to help learners stay up-to-date in their careers. Students enrolled in this program can choose to study the Artificial Intelligence Course in Chennai or online. At FITA Academy, we take full responsibility for your professional needs.
Read more