Course Highlights & Why Salesforce Training in Chennai at FITA Academy?
The Salesforce Course in Chennai is a certification-specific program that shares its syllabus with several role-based certifications related to the platform.
The Salesforce Developer Training in Chennai offers regular pace and fast track options for the convenience of students.
The course modules are modified and designed by our expert trainers consisting of Salesforce Admin, Developer and Lightning modules to meet the global industry requirements.
Equip yourself with the Salesforce development platform and the apps connected to it through the Salesforce training in Chennai.
FITA Academy training programs provide flexible learning methods for learners. They can choose between offline classes and live online classes.
The course also provides comprehensive training on the languages of Salesforce Object Query Language (SOQL) and Data Manipulation Language (DML).
Study materials are designed by industry experts to have a thorough understanding of Salesforce's functionalities.
Interactive live classes and regular revisions and tests of the modules are conducted.
Salesforce Training Institute in Chennai has ties with 1,500+ organisations to ensure a lucrative career after the course completion.
Gain insight into the job opportunities available to Salesforce professionals.
Read more
Upcoming Batches
| | | | |
| --- | --- | --- | --- |
| 23-09-2023 | Weekend | Saturday (Saturday - Sunday) | |
| 25-09-2023 | Weekdays | Monday (Monday - Friday) | |
| 28-09-2023 | Weekdays | Thursday (Monday - Friday) | |
| 30-09-2023 | Weekend | Saturday (Saturday - Sunday) | |

Classroom Training
Get trained by Industry Experts via Classroom Training at any of the FITA Academy branches near you
Why Wait? Jump Start your Career by taking the Salesforce Training in Chennai!
Instructor-Led Live Online Training
Take-up Instructor-led Live Online Training. Get the Recorded Videos of each session.
Travelling is a Constraint? Jump Start your Career by taking the Salesforce Online Training!
Have Queries? Talk to our Career Counselor
for more Guidance on picking the right Career for you!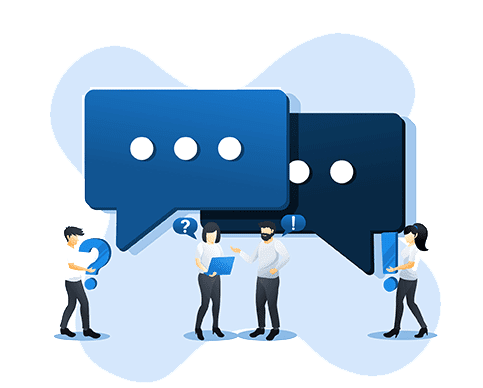 Trainer Profile
Mentors in this program have delivered Salesforce solutions and student success stories with their work expertise.
Mentors of FITA Academy hold 8+ years of professional experience in the industry.
Our trainers deploy up-to-date services and methods in the course syllabus to keep up with the current standards.
Trainers at FITA Academy Up skills the knowledge of the students by providing them with in-depth training in the Salesforce configuration and Administration process.
Trainers of Salesforce Course in Chennai at FITA Academy provide in-depth training with complete hands-on practices.
The classes are in small batches to ensure maximum rapport and interactive sessions.
Our mentors adopt real-time projects to ensure exposure and shift naturally to the industrial environment.
Mentors in the Salesforce Developer Training in Chennai have taught 50,000+ students every year.
Our trainers integrate practical learning with live examples for better understanding.
Mentors have motivated the aspirants to take up global certifications and have yielded a 100% success rate in passing the examinations.
The trainers of Salesforce Training in Chennai give additional guidance on clearing interviews and building resumes.
Features
Real-Time Experts as Trainers
At FITA Academy, You will Learn from the Experts from industry who are Passionate in sharing their Knowledge with Learners. Get Personally Mentored by the Experts.
LIVE Project
Get an Opportunity to work in Real-time Projects that will give you a Deep Experience. Showcase your Project Experience & Increase your chance of getting Hired!
Certification
Get Certified by FITA Academy. Also, get Equipped to Clear Global Certifications. 72% FITA Academy Students appear for Global Certifications and 100% of them Clear it.
Affordable Fees
At FITA Academy, Course Fee is not only Affordable, but you have the option to pay it in Installments. Quality Training at an Affordable Price is our Motto.
Flexibility
At FITA Academy, you get Ultimate Flexibility. Classroom or Online Training? Early morning or Late evenings? Weekdays or Weekends? Regular Pace or Fast Track? - Pick whatever suits you the Best.
Placement Support
Tie-up & MOU with more than 1,500+ Small & Medium Companies to Support you with Opportunities to Kick-Start & Step-up your Career.
Salesforce Certification Course in Chennai
About Salesforce Certification Course in Chennai at FITA Academy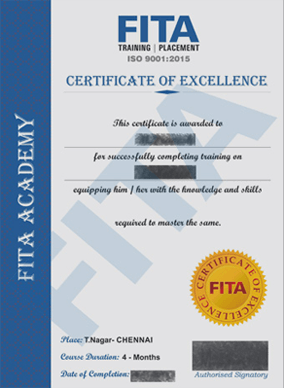 Salesforce Certification Course in Chennai
After successfully completing the Salesforce Course in Chennai, FITA Academy awards the candidate with a course completion certificate. Most organisations recognise this certificate as validation for the effort invested in this subject. This certificate provides credibility to the skills and concepts you acquired during the duration of enrollment. It acts as verification for passing all the assignments, assessments, and projects to become a successful Salesforce expert.
Each job profile necessitates a different Salesforce certification. Get the proper certification to help you land the job you want. The easiest way to get into a profession in sales, marketing, eCommerce, or the technologies supporting any of the above fields is to master Salesforce. Get certified to improve your career possibilities inside the Salesforce platform.
The course certificate of Salesforce Training in Chennai is good enough to authenticate your proficiency in this field. However, mentors at FITA Academy encourage learners to extend this expertise beyond this course with relevant certification exams.
The most well-known certifications to add to your resume are
Salesforce Certified Platform Developer I/II
Salesforce Certified Marketing Cloud Developer
Salesforce Certified System Architect
Salesforce Certified Application Architect
Salesforce Certified Administrator
Some popular queries about these tests are below
1. How do you take up these certifications?
These certification exams are available offline in a testing centre or online in the comfort of your home.
2. What format do they follow for the test?
The exam format covers multiple-choice questions and programming assignments to solve in a stipulated time. The time varies based on the certification track.
3. What is the passing score for these certification tests?
The average passing scores for these certifications are between 65-68%.
4. When do these certifications expire?
These certifications expire in approximately a year. They need module-wise maintenance within a given deadline.
5. What is the pocket pinch for earning these certifications?
The pocket pinch of these certifications is variable and location-dependent, with an additional fee per re-take on failure.
Consult our trainer or support team to start your classes at the Best Salesforce Training in Chennai at FITA Academy.
Have Queries? Talk to our Career Counselor
for more Guidance on picking the right Career for you!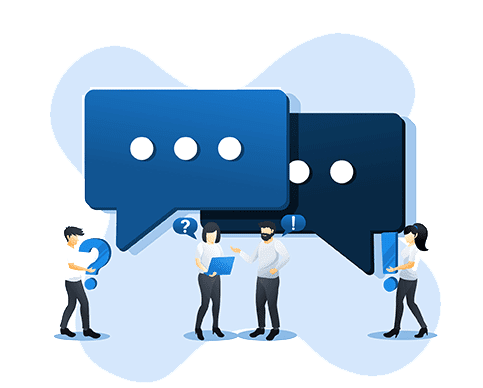 Job Opportunities After Completing Salesforce Training in Chennai
Salesforce professionals are in high demand across various fields and countries. The United States, the United Kingdom, Australia and Germany are a few of the many world countries that offer well-paying Salesforce roles. Studies show that Salesforce has consistently dominated the market since 2017, surpassing Microsoft and Oracle in the process. The Salesforce software market is in global demand today. Hence, its capabilities are also highly sought by professionals.
Individuals who are working in roles revolving around Engineering, Programming, Software Development, Application Development, Analytics, Administration, IT Operations, Technical Management, Sales, and Business Intelligence can find a career in this field. This subject is best for technical professionals motivated to explore the platform and pursue a career in Salesforce. IBM, Deloitte, TCS, Accenture, Wipro and Cognizant are some of the top companies that actively hire Salesforce developers. According to naukri.com, there are over 9100 job openings for Salesforce and related careers.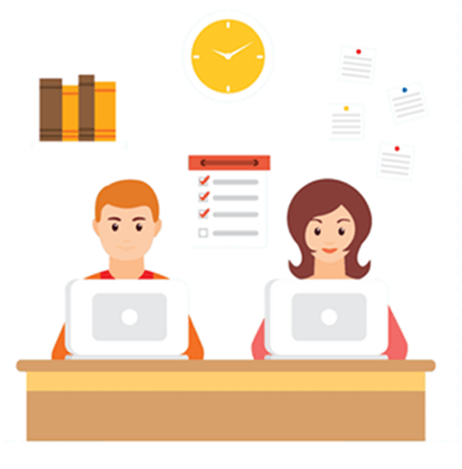 A few of the job roles surrounding this field include Senior Software Engineer, Principal Salesforce Admin, Salesforce Certified Developer, Senior Platform Developer, Salesforce Administrator, SFDC Certified Developer, Salesforce Architect, Application Support Analyst, Senior Salesforce Consultant, Business Analyst, and Salesforce Cloud Management. The average salary for a Salesforce developer with less than a year of experience is 3 lakhs per annum. The annual salary for the same is 110k per annum globally. As you gain more experience, the pay scale also spikes up. Join the Salesforce Developer Training in Chennai for guaranteed career prospects.
S
Sonia George

I was preparing for a job position where Salesforce happened to be an essential factor. Thankfully, I came across this training on time and participated in it. Salesforce Training in Chennai is one of the best learning courses offline. I could not have asked for better options. My career is certain to climb up after the training.
U
Uthara

I just completed the Salesforce Course in Chennai at FITA Academy. It was completely worth my time and money. The teacher was kind and accommodating to all. He kept the session lively and interesting. It was also wonderful to work with the FITA Academy's placement team. With their help, I was able to land my dream job.
S
Sumesh Kumar

Learning under the guidance of the expert trainers at FITA Academy has been a life-changing journey. The instructor taught us using live examples and easy explanations that all of us could understand. He was never reluctant to answer any questions, even if it required explaining the same subject again.
M
Meenakshi

I am an active employee in an IT firm. I joined Salesforce Training Institute in Chennai because I had to take up further certifications to be eligible for promotions. After completing my course at FITA Academy, I cleared my certification exams and got promoted to team lead. I would highly recommend FITA Academy.
S
Shakti Agarwal

My career and knowledge felt stagnant before this course. I learned a lot of new applications for my business. With this course, I can fare better than I have. My choice to enrol in this program has given me desired outcomes. I am excited about more content related to Salesforce from FITA Academy. I might come back for their other programs too.
Have Queries? Talk to our Career Counselor
for more Guidance on picking the right Career for you!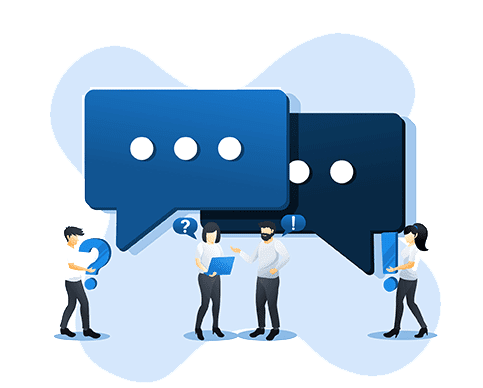 Salesforce Training in Chennai Frequently Asked Question (FAQ)
Additional Information
Salesforce is an essential platform for customer relationship management and enterprise workflow. It is an American software company that provides customer relationship management (CRM). It offers CRM tools and programmes that are geared toward automation, marketing, customer support, statistics, and software development.
Although it is more expensive, Salesforce has the finest user experience of any CRM programme. Salesforce offers a wide variety of applications that can help close more deals and improve sales by generating more leads. With our Digital Marketing Course in Chennai, you can get an enhanced knowledge of marketing and customer interactions to build your salesforce skills.
A salesforce developer's primary duties include helping Salesforce customers with solutions, upgrades, and support. These duties could also involve collaborating with managers, teammates, and clients to generate the best possible solutions, as well as helping firms develop a plan and integration roadmap.
A few of the reasons why Salesforce is becoming so popular are given below:
Flexibility and personalisation
Buildings with multiple clients
Collaborative environment
Data protection
Constant platform and application improvement
As a skill, Salesforce houses both business management and technical proficiency for your work progress. With Salesforce certifications, individuals can secure validation in specific roles in the industry. Salesforce's primary benefits are development, deployment, management, and sales. With good utilisation, Salesforce can increase business profits and ensure high-paying jobs in the industry. Learn more about the applications of this software at FITA Academy's Salesforce Training Chennai.
7 main features of Salesforce
1. Account and Contact Management
The software gives you a full picture of every client, enabling you to learn more about their activity history, previous conversations with them, and even specific information collected from social networks with just a tap. Because the software is cloud-based, you can view this data from your phone while on the go, which can put crucial customer information in front of you as you're heading to a client meeting.
It offers comprehensive customer data. It comprises each customer's activity history, correspondence with them, key contacts, and more. It includes all the details pertaining to client communication, to put it simply.
2. Opportunity Management
We can use Salesforce to manage every sales deal and stay in touch with the people and data needed to close every contract. Every agreement's stage is also included, along with the action we should do to win that particular contract.
The software enables you to put all the contracts your team is pursuing into one comprehensive image. Additionally, you may alter this feature of the software so that it solely concentrates on information specific to the business that matters to your team.
3. Salesforce Engagement
We may increase the company's ability to sell by sharing promotional materials with sales using the Salesforce engage tool. To close the distance between sales and marketing, it functions as a bridge. It provides real-time sales alerts based on consumer interaction.
4. Sales Collaboration
The Salesforce sales collaboration feature enables the sales team to work together using robust social tools. Finding sales specialists, sharing competitive data with the team, and other strategies can all help a business expand worldwide. The sales teams can collaborate on a variety of sales prospects and monitor success from any location.
5. Performance Management
It is typically classified as compensation management, though this differs depending on the software solutions used. This enhances the sales process on a daily basis. The teams can define goals based on metrics, and the sales team benefits from regular reviews and incentives.
6. Salesforce Mobile App
The Salesforce Mobile app turns your smartphone into a mobile sales office. We may use it from any location to make calls, respond to hot leads, apply for jobs, and view checkerboards. From a single app, we can organise meetings, activities, and account updates. The Salesforce mobile app makes it possible to manage and upgrade Salesforce CRM from any location.
7. Partner Management
With the help of the Salesforce CRM application, partner management quickly develops the partner ecosystem. With partner recruiting, training, and support for the indirect marketing units, it improves partner participation in the business. For the partners, it streamlines and expedites the sales process.
Because Salesforce job roles are in high demand, certification provides you with the required Salesforce qualifications. With the Salesforce Developer Training in Chennai, you can grow in the field where there is enormous potential for professional advancement and great pay. Our course also provides project-based learning with Visual-force and Java.
On a single cloud-based CRM platform, the numerous customer engagement channels are easily integrated with the marketing team. The clients can be viewed by departments at any time and from anywhere. This enables a business to make instantaneous decisions based on data. For a variety of customer-focused services, the software is scalable, customisable, and interfaces with third-party apps. Salesforce has become a well-liked platform for companies of all sizes thanks to its integrated analytics, dashboards, and reporting, as well as its flexible pricing structure.
The course syllabus is up-to-date with the general industry demands. The assignments, assessments, hands-on lessons, and projects revise all the topics relevant to Salesforce proficiency and industrial benefits. With this course, you can also attain career perks for business intelligence strategies.
Course Objectives
Define the Salesforce CRM and its fundamental features.
Learn to process workflow automation and logic.
Navigate through tools for development, testing, debugging, and deployment.
Explore cloud design solutions, opportunity management, sales & marketing applications, and other leads.
Learn back-end programming with Apex for back-end development.
Build front-end projects with JavaScript and Visual-Force.
Understand advanced programming techniques like DML and SQL.
Describe standard and custom objects and lightning components.
Implement security procedures and authentication functions.
Explore data modelling, interfaces, and cloud services.
Prepare for role-based certification exams on Salesforce.
FITA Academy is home to the Best Salesforce Training in Chennai. It explores the platform and its services in-depth for your career in different roles. This course deals with some of the top concepts to ensure your absolute proficiency. They include Apex programming, Visual-force, SFDC, SFDC Data Model, App Builder, lightning components, objects, business and sales management, Workflow management and more.
Trainers in this course are certified experts on this platform. They ensure technical proficiency in an interview and soft skill preparation relevant to all professions. Students with undergraduate and postgraduate degrees in computer science are most suitable for enrolling in this course. You can choose to study at the Salesforce Training Institute in Chennai through online or offline classes. This program will enhance your existing potential if you invest your confidence in the team at FITA Academy.