Course Highlights & Why Artificial Intelligence Course in Coimbatore at FITA Academy?
Students at FITA Academy gain an understanding of the underlying ideas behind AI and related fields, including Machine Learning, Deep Learning, and Data Science.
We offer our students a personalised schedule. For the convenience of students, the Artificial Intelligence Course in Coimbatore provides both a normal pace and fast-track classes.
For practical proficiency, our training integrates live modules and real-world projects.
A flexible timetable is offered to students in FITA Academy training courses. They have the option of enrolling in live online or offline classes.
To ensure an extensive learning experience, our AI Courses in Coimbatore offer a hybrid program for novices as well as professionals seeking in-depth expertise by covering topics from scratch.
The course materials are specially designed to provide a full understanding of AI technologies and operations.
Assignments and exercises are offered at the end of each unit to provide thorough comprehension.
Our Artificial Intelligence Training Institute in Coimbatore has a strong placement support network of 1,500+ small and medium-sized businesses.
Read more
Upcoming Batches
| | | | |
| --- | --- | --- | --- |
| 23-09-2023 | Weekend | Saturday (Saturday - Sunday) | |
| 25-09-2023 | Weekdays | Monday (Monday - Friday) | |
| 28-09-2023 | Weekdays | Thursday (Monday - Friday) | |
| 30-09-2023 | Weekend | Saturday (Saturday - Sunday) | |

Classroom Training
Get trained by Industry Experts via Classroom Training at any of the FITA Academy branches near you
Why Wait? Jump Start your Career by taking the Artificial Intelligence Course in Coimbatore!
Instructor-Led Live Online Training
Take-up Instructor-led Live Online Training. Get the Recorded Videos of each session.
Travelling is a Constraint? Jump Start your Career by taking the Artificial Intelligence Online Course!
Have Queries? Talk to our Career Counselor
for more Guidance on picking the right Career for you!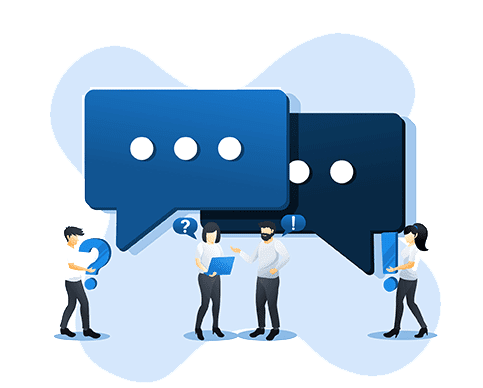 Trainer Profile
Our trainers of the Artificial Intelligence Course in Coimbatore are working professionals with 8+ years of corporate experience in AI-related areas.
At FITA Academy, our mentors work towards upskilling the intellectual and practical proficiency of each student.
To ensure engaging and student-centred classes, our mentors train the participants in small groups.
Our mentors at FITA Academy employ real-time projects and case studies using hands-on training.
The most recent techniques and trends in artificial intelligence and its certifications are incorporated by our trainers into the course curriculum.
Our mentors have pushed our students to pursue industry-relevant certifications with a 100% success record.
By participating in the AI Courses in Coimbatore at FITA Academy, interested students can acquire the greatest employment chances by seeking individual assistance.
Features
Real-Time Experts as Trainers
At FITA Academy, You will Learn from the Experts from industry who are Passionate in sharing their Knowledge with Learners. Get Personally Mentored by the Experts.
LIVE Project
Get an Opportunity to work in Real-time Projects that will give you a Deep Experience. Showcase your Project Experience & Increase your chance of getting Hired!
Certification
Get Certified by FITA Academy. Also, get Equipped to Clear Global Certifications. 72% FITA Academy Students appear for Global Certifications and 100% of them Clear it.
Affordable Fees
At FITA Academy, Course Fee is not only Affordable, but you have the option to pay it in Installments. Quality Training at an Affordable Price is our Motto.
Flexibility
At FITA Academy, you get Ultimate Flexibility. Classroom or Online Training? Early morning or Late evenings? Weekdays or Weekends? Regular Pace or Fast Track? - Pick whatever suits you the Best.
Placement Support
Tie-up & MOU with more than 1,500+ Small & Medium Companies to Support you with Opportunities to Kick-Start & Step-up your Career.
Artificial Intelligence Certification Training in Coimbatore
About Artificial Intelligence Certification Training in Coimbatore at FITA Academy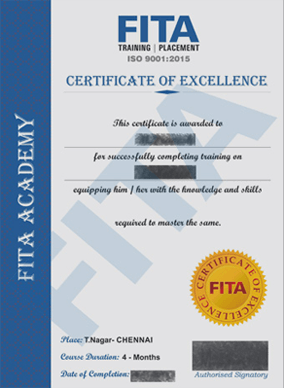 Artificial Intelligence Certification Training in Coimbatore
AI credentials can boost your profession and help you gain a better understanding of technology. Students work hard to earn valuable AI certifications that will help them have a thorough understanding of all essential facets of artificial intelligence. Gaining an AI certification enhances your chances of getting a high-pay job because you will possess all of the skills an employer is looking for.
A certificate of course completion is given to the participant upon successfully completing the Artificial Intelligence Course in Coimbatore. The majority of businesses accept this degree as evidence of your expertise in this field. This certificate acts as evidence of the knowledge and skills you have gained during the course. It proves that you have completed all the projects and acquired the proficiency to become a competent artificial intelligence specialist.
Your knowledge of the subject can be verified with the FITA Academy certificate from AI Courses Coimbatore. Moreover, our mentors also motivate students to obtain international certificates through training that is specialised to those certifications in order to distinguish themselves from other applicants.
Have Queries? Talk to our Career Counselor
for more Guidance on picking the right Career for you!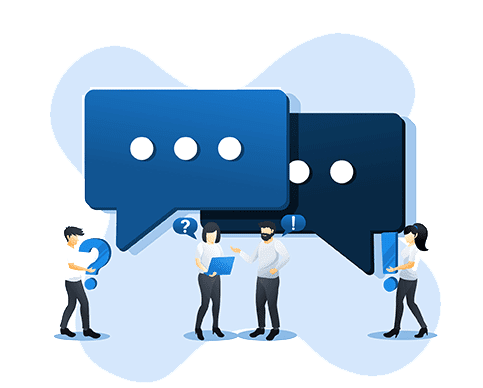 Job Opportunities After Completing Artificial Intelligence Course in Coimbatore
Forbes research indicates that the probability of finding a career in AI has been growing, with an increase of 74% annually. Without question, artificial intelligence (AI) is among the most demanded technologies today, having influence in nearly every business. This has led to the need for AI engineers to rise consistently.
Nearly 80% of technologies in the future will be based on AI techniques. Artificial intelligence is expanding quickly and establishing a presence in every sector and business that has yet to make use of its advantages. As a result, despite slight market changes, skilled AI specialists are still in demand. There are more job opportunities than ever before, making this the perfect time to think about a career in AI.
People who are interested in or currently employed in professions such as engineering, analytics, software development, technical management, business intelligence, and search engine optimisation will find this expertise useful. It is most suitable for AI enthusiasts and recent college graduates in computer science who aspire to work in this sector.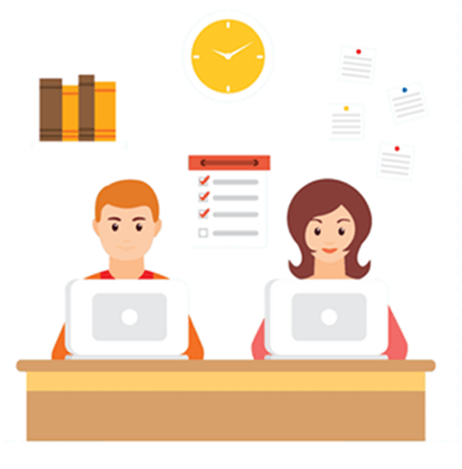 Currently, there are 6000+ job vacancies for AI professionals and related careers listed on various job portals. These numbers will keep increasing with time. The finest employment positions in this field include artificial intelligence engineer, project manager, resident, researcher, data scientist, analyst, engineer, lead, specialist, architect, consultant, and AI/ML developer, among many more.
Today's top employers of AI specialists include companies like Amazon, Google, Apple, Cognizant Technology, Accenture, IBM India, Microsoft, and many more. The average annual income for an AI engineer or similar position can reach $158k internationally. The average income in India is Rs 9 lakhs annually. We provide a broad range of employment opportunities at the Artificial Intelligence Course in Coimbatore to give you a jump-start in your AI career.
Read more
L
Lokesh

My career has benefited greatly from the AI Courses Coimbatore. I learned a lot of useful knowledge from the trainers, who were all experts on the subject. I was able to learn the topics much better thanks to the many tasks and projects we had to perform. This training program that I chose to devote my time to was the best I could have hoped for.
M
Mahalakshmi

I've always been curious about robots and artificial intelligence but never knew where to begin. After enrolling on the Artificial Intelligence Course in Coimbatore, I had the opportunity to collaborate with several experts on ongoing projects thanks to my expert trainers. I have the utmost gratitude for my trainers and the FITA Academy staff for their constant support and motivation, which have helped me to grow professionally and as a person.
P
Prashant

After completing my training here, I can confidently confirm that FITA Academy offers the best Artificial Intelligence Course in Coimbatore. It's been a real treat working with the trainers and staff. The sessions were both interesting and highly practical. I am quite happy with the training I received during my time here. I highly recommend FITA Academy if you wish to start your career ahead of others.
A
Avinash

I started my AI Courses in Coimbatore at FITA Academy. The trainers taught me how to use a variety of tools and methods of contemporary AI. Because I had no prior experience with AI, the experts explained everything in simple terms and were always ready to assist me if I needed it. I successfully completed the certification, and I have been offered a job in a reputed MNC.
D
Deepa

I wanted to switch my career to AI and started looking into the best institutions. After reading all the positive reviews, I enrolled right away in the Artificial Intelligence Course in Coimbatore. My trainers taught me the best equipment and helped me understand the various applications thoroughly. After completing my certification at FITA Academy, I had multiple callbacks from organisations that offered me high pay.
Have Queries? Talk to our Career Counselor
for more Guidance on picking the right Career for you!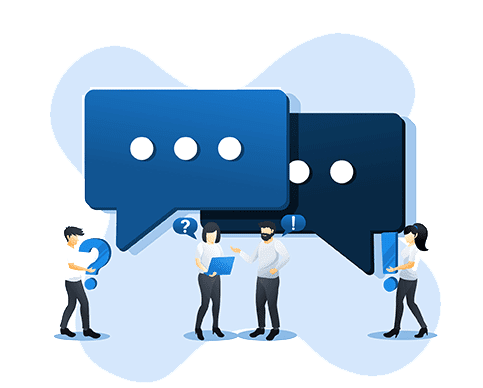 Artificial Intelligence Course in Coimbatore Frequently Asked Question (FAQ)
What are the objectives of FITA Academy's Artificial Intelligence Course in Coimbatore?

Discuss the development of artificial intelligence and the sectors it has impacted.
Comprehend the fundamental ideas behind AI and how they work.
Learn Python programming to advance in the course and implement projects.
Be able to identify supervised learning from unsupervised learning.
Showcase machine learning algorithms and how they work in artificial intelligence.
Use Python to implement AI and machine learning.
Recognise neural networks, natural language processing, and predictive analysis.
Investigate the AI-related tools, platforms, libraries, and features.
Apply deep learning while analysing the outcomes with TensorFlow.
To analyse data and become familiar with image processing and computer vision.
Learn the limitations of problem-solving Ai technologies.

Are there any prerequisites for joining the AI Courses in Coimbatore?

No prior knowledge is necessary to enrol in the course at FITA Academy since the curriculum is designed to provide students with a solid foundation in all the major AI concepts from scratch. However, if you have a conceptual understanding of machine learning or AI, you will have an added edge in mastering the course quickly. Our Artificial Intelligence Course in Coimbatore helps you take the first towards becoming an AI expert.

How are the mentors at FITA Academy chosen?

The trainers undergo a strict evaluation and screening process before they are accepted as mentors for your training. All of our expert trainers at the Artificial Intelligence Training Coimbatore have 8+ years of industry experience and hold the necessary credentials.

Does FITA Academy provide placement opportunities after completing the Artificial Intelligence Course in Coimbatore?

FITA Academy has trusted partnerships with over 1,500+ small and medium organisations that offer job opportunities for AI engineers and related positions.
Students enrolled in AI courses in Coimbatore are supported by a devoted placement team.
The placement office helps the students prepare for the interview by giving them several opportunities for mock interviews and group discussions.

Where can I find more information about FITA Academy?

Our team at FITA Academy provides all-time support for any concerns from candidates. You can reach out to our team through the website or request a callback.
Read more
Additional Information
Artificial intelligence (AI) is the process of simulating human intelligence in a machine such that it can think independently. It is employed to carry out repetitive chores that lessen human effort and inadequacies. We are now able to use machines to learn, reason, and solve issues thanks to fields like machine learning, big data, neural networks, deep learning, and others. The study of drugs is a rapidly growing discipline, and artificial intelligence is helping researchers in this sector tremendously. AI is being used by biotechnology researchers to brew bacteria for use in industry. Because of AI, science is undergoing a significant change.
Artificial intelligence is a rapidly expanding field that is now present in practically every industry. AI reduces the amount of time needed to complete a task. It makes multitasking possible and eases the strain on the system's resources. Complex tasks can be handled using AI without bearing major financial costs. AI has no downtime and can run endlessly. The following industries heavily utilise AI.
Medicine
Security
Banking
Transportation
Manufacturing
Finance
AI is now a crucial component of every aspect of our digital life, from automation to marketing. Artificial intelligence will advance because innovation and development will continue to evolve. As a result, at FITA Academy, we use methods to teach creating sophisticated computer systems and applying AI to issues.
In the industry, AI has many benefits. Indian businesses have a huge need for qualified professionals who can extract useful information from enormous amounts of data. Therefore, there is a lot of promise for AI in this country. Skilled AI personnel are required across numerous industries as a result of its expansion. As a result, it offers a variety of employment options for those who are interested in or want to pursue a career in this field.
Different Artificial Intelligence related roles
AI Engineer
In order to provide business insights that can be used to take actions that will have an influence on the entire organisation, AI engineers build AI models using deep learning neural networks and machine learning algorithms. The job of an artificial intelligence engineer requires a meticulous, analytical, and creative mind. They must be cooperative, open-minded, and engaged listeners. Their technical knowledge is highly diverse and extensive. AI engineers have strong statistical and mathematical skills as well as an in-depth understanding of computer science, computer languages, and automation technologies. To learn more about the career prospects of AI Engineers, enrol on our Artificial Intelligence Training Institute in Coimbatore to obtain expert training.
Machine Learning Engineer
The data science team greatly benefits from the contributions of machine learning engineers. They must research, create, and produce the ai algorithms that fuel machine learning. A machine learning engineer usually collaborates closely with the data scientists who develop the models used to build AI systems, as well as the people in charge of building and maintaining those systems. They also play a vital role in team communication with the other members. For maximum effectiveness, they oversee and enhance current artificial intelligence technologies.
Research Scientists
Research scientists are in charge of planning, carrying out, and analysing the results of closely watched laboratory investigations, tests, and trials. Research scientists are employed by almost every scientific discipline. They plan and carry out examinations and tests in a range of disciplines, including forecasting, geology, and other types of investigation. They are responsible for planning and executing tests, gathering and analysing data, fieldwork, coming up with original solutions to problems, and staying current with contemporary scientific and technical breakthroughs.
Business Intelligence Developer
Business intelligence developers are engineers who design, administer, and use BI interfaces. These engineers are adept at using technologies for data modelling, data integration, and data visualisation. Creating BI interfaces requires a substantial understanding of software development, databases, and data analysis. The skills of a BI developer include the on-demand creation and execution of data-driven queries as well as the ongoing technological development of a company's BI infrastructure and services.
Data Scientist
A data scientist analyses corporate data to discover important insights. After the data has been gathered, the data scientist transforms the original data into a format that is ready for analysis. To guarantee uniformity, completeness, and accuracy, the data needs to be cleaned and checked. Before starting the data collection and analysis, the data scientist resolves the issue by posing the proper questions and seeking knowledge. Data scientists assemble structured and unstructured data from a wide range of sources. By enrolling in the Data Science Course in Coimbatore, you can secure a career in this industry as a skilled Data Scientist.
Robotics Engineer
Robotics engineers bridge the gap between cognitive psychology, computer science, electronics, and mechanics. They are in charge of building, assembling, testing, and developing the software needed to control their robots. They create automated methods used in a certain industry to increase output and precision. Their primary objective is to develop the techniques and strategies required to design and build effective robots. Some professionals in robotics design the tools required to construct the robots themselves as well.
Future Of Artificial Intelligence In Our Society
Artificial intelligence can significantly increase the productivity of our workplaces, which can also help humans accomplish more work.
Artificial intelligence will continue to develop rapidly. Many new opportunities that defy human imagination are believed to be made possible by artificial intelligence.
Now that AI can perform hard or hazardous tasks, the human workforce may concentrate on jobs for which they are better suited, such as those that require creativity and sensitivity.
Since AI will allow for better and more accurate disease diagnosis, it will be essential to the healthcare sector. The cost and time of discovering new drugs will be reduced using AI.
Furthermore, it will boost patient involvement in health care and make scheduling visits and paying fees easier and error-free.
Artificial intelligence is employed in the transportation sector to reduce workload, control driver stress and fatigue, and improve productivity.
Artificial intelligence will soon be essential to the e-commerce sector. From consumer satisfaction to brand advertising and delivery, it will positively impact every aspect of the e-commerce sector.
Manufacturing, banking and finance, journalism, and many more areas all have bright futures for AI.
FITA Academy's Artificial Intelligence Course in Coimbatore incorporates key topics for your industry-specific expertise. Our trainers of the AI course are active professionals with extensive knowledge of AI applications. They employ the most recent strategies and features in order to assist applicants in staying current in their professions. Regular homework, exams, practical projects, and hands-on seminars at FITA Academy help you develop the skills necessary to land your dream job in this field.