Course Highlights & Why Data Science Course in Chennai at FITA Academy?
All the technical and non-technical requirements of the industry are met in this Data Science course in Chennai.
Our aim is to mould the students into the best professionals with our efficient and innovative approaches.
FITA Academy provides regular assignments, assessments, live projects, and hands-on practical sessions for your Data Science proficiency.
We integrate versatile training for the career needs of every learner.
For employing meaningful data solutions, our Data Science Course in Chennai teaches students fundamental and advanced techniques.
Our course is quite flexible and customisable according to the convenience of the students.
We provide both weekend and weekday classes for the students. You can also opt for online classes to acquire the best knowledge in the comfort of your home.
Additionally, we also provide fast-track classes for the convenience of the students with time constraints.
The classes are held in small batches to ensure maximum interaction between the students and trainers.
FITA Academy offers the best Data Science Training in Chennai, with a success rate of 100% for clearing the certification exams.
Read more
Upcoming Batches
| | | | |
| --- | --- | --- | --- |
| 02-11-2023 | Weekend | Saturday (Saturday - Sunday) | |
| 04-12-2023 | Weekdays | Monday (Monday - Friday) | |
| 07-12-2023 | Weekdays | Thursday (Monday - Friday) | |
| 09-12-2023 | Weekend | Saturday (Saturday - Sunday) | |

Classroom Training
Get trained by Industry Experts via Classroom Training at any of the FITA Academy branches near you
Why Wait? Jump Start your Career by taking the Data Science Training in Chennai!
Instructor-Led Live Online Training
Take-up Instructor-led Live Online Training. Get the Recorded Videos of each session.
Travelling is a Constraint? Jump Start your Career by taking the Data Science Online Course!
Have Queries? Talk to our Career Counselor
for more Guidance on picking the right Career for you!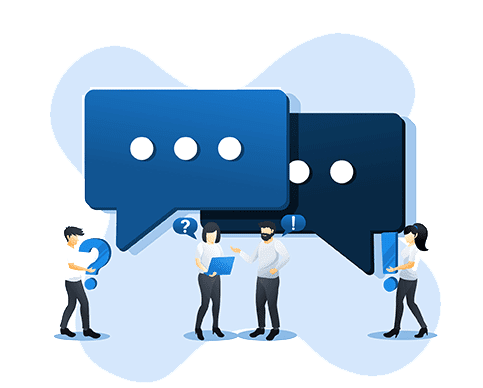 Trainer Profile
Our mentors of the Data Science Course in Chennai have worked and collaborated on Data Science projects for the majority of their careers.
The trainers focus on the conceptual and practical understanding of students with different expertise.
Our expert trainers, with 8+ years of industrial experience, share their experiences for an advanced understanding of the industry.
All the mentors of the Data Science Training in Chennai provide the students with constructive evaluations of their tasks to shape them in the field.
The course integrates the latest tools and techniques surrounding Data Science and its certifications in the course modules.
For a thorough understanding of the subject, our trainers provide practical training by integrating Python and R functions.
During this course, you will gain individual mentorship and assistance on resume building from our expert trainers.

Learn at FITA Academy & Get Your
Dream IT Job in 60 Days
like these Successful Students!
Features of Data Science Course in Chennai at FITA Academy
Real-Time Experts as Trainers
At FITA Academy, You will Learn from the Experts from industry who are Passionate in sharing their Knowledge with Learners. Get Personally Mentored by the Experts.
LIVE Project
Get an Opportunity to work in Real-time Projects that will give you a Deep Experience. Showcase your Project Experience & Increase your chance of getting Hired!
Certification
Get Certified by FITA Academy. Also, get Equipped to Clear Global Certifications. 72% FITA Academy Students appear for Global Certifications and 100% of them Clear it.
Affordable Fees
At FITA Academy, Course Fee is not only Affordable, but you have the option to pay it in Installments. Quality Training at an Affordable Price is our Motto.
Flexibility
At FITA Academy, you get Ultimate Flexibility. Classroom or Online Training? Early morning or Late evenings? Weekdays or Weekends? Regular Pace or Fast Track? - Pick whatever suits you the Best.
Placement Support
Tie-up & MOU with more than 1,500+ Small & Medium Companies to Support you with Opportunities to Kick-Start & Step-up your Career.
Data Science Certification Training in Chennai
About Data Science Certification Training in Chennai at FITA Academy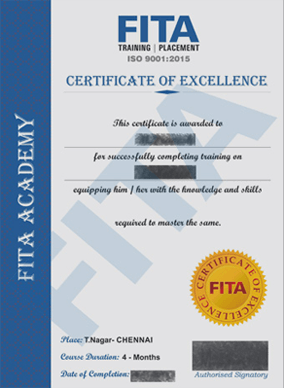 Data Science Certification Training in Chennai
Obtaining a certification from Data Science Institute in Chennai will boost your chances of being chosen by hiring managers in a company's screening process for the most profitable and attractive positions, such as those of a Data Scientist or a Data Analyst. By earning a data science certification, you'll be able to keep up with the most recent trends in the industry. It will be possible for you to gain a range of new facts on how the subject of data science is developing and the most recent advancements in it.
The candidate will be given preference when firms are looking to hire a data scientist or a data analyst. Your employers will see from your certification that you are entirely passionate about your career. A certification training from a reputable institute indicates proficiency in the subject, hands-on experience, and a high level of education.
The candidate is awarded a course completion certificate at the successful completion of the Data Science Course in Chennai. This certificate provides validation for the skills and concepts you acquired in the speculated time of enrollment. It acts as verification for passing all the assignments and projects to become a successful Data Science professional.
The certificate from data science training in Chennai at FITA Academy is sufficient to authenticate your proficiency in the subject. However, our mentors encourage learners to earn global certifications with our versatile training and set themselves apart from other candidates.
Benefits of Data Science Certification in Chennai at FITA Academy
Upskill your career as a data scientist by getting certified for the same and get paid well
Learn how to analyse vast sets of data using machine learning, deep learning and other techniques
With our data science certification in Chennai, access to various job opportunities will come at ease.
Gain knowledge on handling big datasets effectively for business purposes.
Understand how to use various tools like R-studio, SAS, Excel etc.
Able to work with the latest technology trends in the field of data science.
Get job opportunities across different sectors.
Learn to solve real-world problems and make an impact.
You will learn how to build models and predict outcomes.
Have Queries? Talk to our Career Counselor
for more Guidance on picking the right Career for you!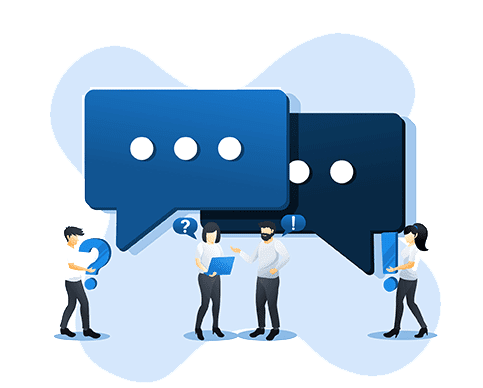 Job Opportunities After Completing Data Science Course in Chennai
Data Science is known as the hottest skill or profession to take up among industry professionals. The global market is also massively dominated by Data Science in terms of sales today. At this rate, it is soon going to become the most sought profession by employers and employees. Data Science represents a significant advancement in computer learning. Global demand for data scientists is a result of daily technological advancement and the production of vast amounts of data. Data collection and gathering are essential because it enables businesses to identify and, consequently, influence market trends.
This skill is beneficial for individuals interested in job roles surrounding Analysis, Engineering, Big Data, Business Intelligence, Statistics, Machine Learning, Architecture, and Integration. It is best suited for computer science enthusiasts, graduates, and undergraduates who want to advance their careers as Data scientists. Some of the global organisations that hire Data scientists include Wipro, IBM, Amazon, Splunk, Accenture, Walmart and many more.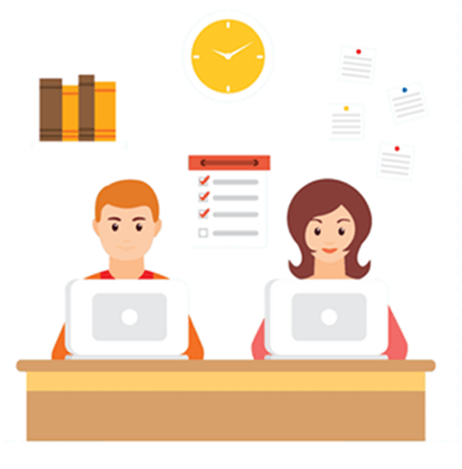 As of now, LinkedIn lists 19,000+ job openings for Data Science professionals and related careers in India. Some of those job profiles include Data Analyst, Data Science Lead, Data Scientist, Data Science Engineer, Data Science Consultant, Data Science Application Developer, Big Data Engineer, Software Engineer, Data Science Manager and more.
The average salary of a Data Scientist in India is 10.5 lakhs per annum. The average salary for the same is $95k per annum globally. With experience, locality, organisation and these figures can change exponentially. You can be assured of a promising career after your course completion at the Data Science Training Institution in Chennai.
S
Santhosh Iyer

I have completed my Data Science training at FITA Academy. With their Data Science Course in Chennai, I was able to learn in deep about the various tools and aspects of Data Science. I was able to clear my certification exam on my first try and have since attended three interviews. I am much grateful to my trainer and all the staff for their support and for encouraging me to push my limits.
A
Ahmed Khan

The Data Science Course in Chennai has provided much more than I expected to satisfy my curiosities. The trainers taught all the concepts from base to depth, making them easy to understand and implement. I joined this course to revise some of my forgotten skills, but I concluded it with so much more. I now have a clear idea of how the industry works and will best utilise it for career gains.
P
Preethi Singh

I joined the Data Science Training in Chennai simply because I was curious about its popularity and hype. But later, it became one of my life-changing experiences. I was able to get practical training with many data science tools that I had never seen before. It started to grow on me. I then took the decision to switch my career to this field. After the course, I was lucky enough to get placed in a leading AI firm, all thanks to FITA Academy.
A
Aakash Trivedi

I have completed my Data Science Course in Chennai at FITA Academy. From my experience, I can say that it benefits students looking for in-depth information on the field. The training was comprehensive that gave me quick results with minimal effort and time. This was all thanks to the shortcuts and tips that my trainers gave me. I had ample time to balance my personal life as well as my ability to work and study simultaneously.
K
Kayal M

I have completed my Data Science Training at FITA Academy. Before joining this course, I found it very difficult to learn the concepts. The trainers guided me in the most comfortable way to learn the programming language. I recently got a job in an MNC after clearing my certifications. I am thankful to the trainers and staff at FITA Academy for giving me the best training.
Have Queries? Talk to our Career Counselor
for more Guidance on picking the right Career for you!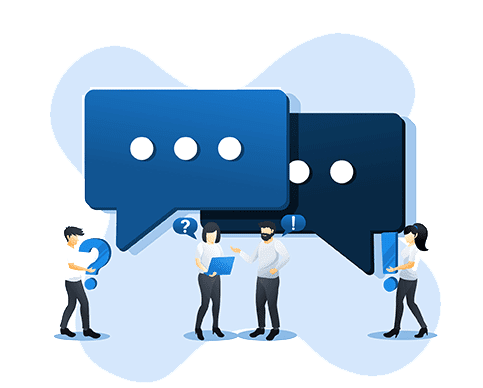 Data Science Course in Chennai Frequently Asked Question (FAQ)
Additional Information
Data Science is a technique that integrates statistics, information, algorithms, and computing. It is beneficial to create and keep track of insights for supervised and unsupervised data. Along with many other fields, this one is a sibling domain of machine learning, deep learning, and natural language processing.
Any organisation that uses its data effectively can benefit from data science. Data science is beneficial to any business in any industry throughout workflows and employing new applicants to assist senior employees in making more informed decisions. Data science enables businesses to comprehend enormous amounts of data from several sources effectively and to gain insightful information for more informed decisions.
A data scientist examines company data to obtain valuable information. After the data is gathered, the data scientist transforms the raw data into a format that can be used for analysis. To ensure uniformity, completeness, and accuracy, the data must be cleaned and verified. The data scientist resolves the issue by raising the appropriate queries and obtaining understanding before beginning the data collecting and analysis. Data scientists collect both organised and unstructured information from a variety of different sources.
Data science is a field that has seen a recent surge in popularity, and there are now several academies in Chennai that offer specialised data science courses. The FITA Academy is one such institution that offers comprehensive Data Science Training in Chennai.
Course Objectives of the Data Science Course in Chennai
Learn the basic technical terms and methods associated with Data Science.
Understand what a dataset is and survey the data contained in it.
Learn data exploration using the R programming language.
Demonstrate the integration of datasets in relevant codes.
Explore data manipulation to make information more readable and understandable.
Practice data visualisation to represent data in bars, charts, etc., and gain trend insight.
Build Python or R conditions to enable this function.
Summarise the relationship between Data Science and Statistics.
Implement machine learning or regression in a data analysis model.
Perform sentiment analysis on text and images using natural language processing and computer vision.
Data is the money of the future, so it's important to understand the concepts and principles that surround it. The technology area that is now receiving the greatest attention is data science, which meets all of these requirements. It provides support for several divisions in the IT, healthcare, financial, automotive and many more industries. As a result, a number of characteristics of data science work together to increase its demand and appeal. With our Data Science Classes in Chennai at FITA Academy, you will be able to gain future insights and forecast current trends in Data Science.
Concepts of Data Science
Machine learning (ML) is a subset of artificial intelligence (AI) that enables software applications to grow increasingly effective at predicting outcomes without explicitly programming them to do so. Machine learning programs estimate new output values using historical data as input. Machine learning builds the foundation for Data Science. In addition to having a solid understanding of statistics, data scientists also need to have a deep understanding of machine learning. Get access to various resources and tools at the Artificial Intelligence Course in Chennai for a thorough understanding of ML and AI.
The act of generating a simplified representation of a software system and the data pieces it includes, using mathematical symbols to depict the data and how it runs, is known as data modelling. Data models offer a guide for creating new databases. With mathematical models relying on the data you know, you may swiftly compute and make predictions. Machine learning also includes modelling, which is determining which algorithm is best suited to handle a certain issue and how to train these models.
Statistics is a field that works with all aspects of data. In order to properly create the findings, it is important to use the right method for gathering the data and use those data in the right analytic procedure. Statistics is one of the major aspects of Statistics. A solid understanding of statistics can aid in gaining more knowledge and leading to more worthy outcomes.
For a data science project to be effective, some programming experience is required. The two most used programming languages are Python and R. Python is particularly well-liked since it's easy to learn and offers a number of libraries for data science and machine learning.
An orderly collection of data is referred to as a database. They enable the manipulation and storage of data electronically. Data management is made simple by databases. A competent data scientist must be familiar with databases' operations, management, and data extraction.
Data science projects are essential for businesses looking to improve customer experience, reduce churn or increase revenue. The Data Science Course in Chennai is designed to help students learn how to ask questions that can be answered with data and then do whatever it takes to get the answers they need. With this valuable knowledge, businesses can make better decisions and improve their bottom line.
Types of Data Science Projects
Data Analysis Projects: Data analysts need to carry out project-based assignments frequently. Data analysis projects could be designed around any topic, from business analytics to medical research. There are many business-specific assignments too. Companies often conduct case studies or audits where candidates analyse a particular data set and present findings. For instance, the candidates may analyse the current products offered by their company using statistical methods. Another common assignment is a survey where candidates collect data regarding their clients' needs. The collected data would then be used to suggest improvements or changes in the product or service offered.
Data Mining Project - This kind of data analysis project help to improve systems and processes in your organisation. It shows that you possess good analytical skills and aptitude. Most of the time, these kinds of projects are designed to address the problem faced by an enterprise. In this process, the candidate should collect data related to the issue at hand. Then he must perform some preprocessing activities before applying appropriate modelling techniques. After that, the modeller uses all the processed data to predict the outcome. Lastly, post-model validation will show whether the prediction made via models is accurate or not. These projects help employers understand how you think and analyse problems to develop solutions.
Business Analytics Project - Businesses today need competent people who can create value for them by analysing market trends, competitive strategies and other important information about their customers. Hence it becomes essential for companies to hire skilled professionals in this field.
Machine Learning Project - Machine learning is one of the hot topics in the field of artificial intelligence. Many industries use machine learning techniques to develop predictive analytics solutions. This helps them increase efficiency, reduce costs and gain better insight into their operations. So if you have sound technical knowledge, you stand a chance of earning much more than those without these skills.
Deep Learning Project - The deep learning sector has witnessed substantial growth since 2018, attracting attention across a range of sectors, including healthcare, engineering, retail, finance, transportation, real estate, manufacturing, and media. Deep learning algorithms work on high-level representations of raw input data, making them very adept at processing images, videos, audio and text. Thus, they enable machines to learn quickly and make predictions based on data sets.
Predictive Analytics Project - Predictive analytics is one of the most valuable services companies provide. They can use this tool to identify customer behaviour and preferences, which ultimately help retailers to enhance profitability. If you want to break into this industry, preparing yourself through training programs is vital.
Big Data Project - Big data involves collecting, cleaning, cleansing, transforming, manipulating, and extracting large amounts of unstructured data to derive insights. A big data engineer works on various aspects, such as integration, normalisation, encryption, quality checks, etc., of the data so that it can be easily understood and analysed.
The program at our Data Science Training Institute in Chennai is designed to teach students everything they need to know about data mining, data analysis, machine learning, and predictive modelling. In addition to theoretical instruction, the program also includes plenty of practical exercises and certifications so students can apply what they have learned in a real-world setting.
Names of some of the Popular Certifications in Data Science
Certified Analytics Professional (CAP)
SAS Certified Big Data Professional
SAS Certified Data Scientist
Data Science Council of America (DASCA) Senior Data Scientist (SDS)
Data Science Council of America (DASCA) Principle Data Scientist (PDS)
Google Professional Data Engineer Certification
Microsoft Certified: Azure Data Scientist Associate
Open Certified Data Scientist (Open CDS)
A few popular queries about these certifications are given below.
How to enrol for these certifications?
All the certification exams are available online and self-paced to take up in the comfort of your preferred location.
What format do they follow for the exam?
These exams consist of multiple-choice questions that you need to solve in either a stipulated time or at your pace to receive a result.
What is a passing mark for each exam?
The minimum passing mark for each exam is variable and unpredictable at times.
Are these certifications valid for a lifetime?
These certifications are valid forever except for the CAP and SDS exams, which expire 3 and 5 years after earning, respectively.
What is the pocket pinch for earning these certifications?
The cost of earning each certification is variable and location dependent.
Among the most current analytical data specialists, data scientists possess both the technical understanding to manage complex problems and the curiosity to seek out the answers to all questions. Data Scientists are a mixture of trend forecasters, computer scientists, and mathematicians. Because they operate in both the commercial and IT sectors, they are highly in demand and paid well.
Different job roles of a Data Science Specialist
Data Analyst - A data analyst is tasked with analysing large volumes of information, such as sales reports and customer surveys, to find useful insights. Data analysts collect and examine data using specialised technologies to produce information that aids in decision-making. They will attend to inquiries about data and probe it for patterns, trends, and abnormalities. Typical tasks include extracting the necessary data using specialised tools. They need to be proficient in data manipulation and visualisation.
Data Science Lead - A data science lead has extensive responsibilities and holds key functional roles in a company. He or she manages the entire process of acquiring, cleaning and preparing data for analysis. They need to be familiar with modern technologies and frameworks to solve challenging business problems. Learn Data Science from the experts at FITA Academy.
NLP Engineer - An NLP engineer is involved in developing advanced natural language processing frameworks. They typically have strong backgrounds in computational linguistics and artificial intelligence. They are generally expected to create intelligent applications based on data extracted from texts. They may focus primarily on building analytical solutions or generating new text content through automated means.
Data Scientist - A data scientist is responsible for extracting meaningful knowledge and patterns from vast amounts of messy data. Most data scientists work on predictive analytics using statistical modelling techniques such as regression, clustering, classification etc. Without them, it is extremely difficult for a business to become really data-informed and realise its full potential.
Senior Data Science Engineer - A senior data science engineer builds robust big data infrastructures utilising Hadoop & Spark technology. They use data mining algorithms, including machine learning, deep learning etc. and design efficient systems that scale up with time.
Data Science Consultant - A data science consultant has extensive knowledge of various data preparation methods such as scraping, ETL (extract, transform, load), cleansing, transformation, data management, storage, querying, reporting etc., and works closely with clients to extract meaningful insight and actionable recommendations.
Data Science Applications Developer - A data science application developer develops high-performance web services, mobile apps and desktop client software solutions using R, C or Python programming languages. The Data Science Course in Chennai teaches the aspirants to manage scalable data sets, support real-time streaming updates and perform complex calculations.
Big Data Engineer - A big data engineer uses modern tools like Apache Hadoop, MapReduce, Hive, Spark, Pig, HBase, Cassandra, Impala, and Redshift, among other tools, to analyse and store massive datasets. They keep track of data distribution across nodes and ensure there are no bottlenecks in the system.
Software Engineer - A software engineer designs, implements, tests, and maintains various types of computer programs. They build APIs that allow users to access and operate the application via different devices. The programs they develop are usually written in Java, PHP, .NET and JavaScript, among others.
Data Science Manager - The data science manager is in charge of assisting the organisation in using data. They do this by working with a team of data scientists and engineers who provide insightful guidance and direction that helps management make well-informed decisions. A data science manager oversees all aspects of the team working on the project. They help set deadlines, allocate resources needed and review deliverables.
Our graduates from the Data Science Course in Chennai have shown efficient understanding and proficiency that has led them to gain the best job roles suited for them with the guidance of expert trainers at FITA Academy.
Skills required to be a Data Scientist
Programming languages and database
Having a thorough understanding of the programming language is necessary when your job role is directly related to performing tasks and generating insights. Because of this, working as a data science expert would require you to be familiar with a variety of computer languages in order to handle the data and apply various algorithms as needed. However, there are a few crucial languages that data scientists frequently use, and more importantly, the recruiter will require that you know these languages. They are
Aside from that, a few crucial databases are necessary to collect data in a systematic manner and to ensure the data is accessible when called. The following are a few of the most utilised databases by data scientists:
Both Python and R programming are primarily utilised by data scientists to produce the results that are required by most businesses, regardless of their industry. Python Training in Chennai provides extensive learning to become proficient data scientists. They provide tools and frameworks that are useful for collecting numerical and statistical data.
Mathematics
A Data Scientist is expected to possess a solid understanding of statistics and mathematics in order to carry out tasks and produce the desired results. Being well-versed in these subjects is crucial for a solid foundation in data science. To become a Data Scientist, you should be proficient in the following topics:
Linear Algebra
Matrix
Statistics
Geometry
Probability
Dimensions
Vector Models
Data Visualisation
Visualisations are a powerful means of communication that guide the investigation to its completion. One of the more important skills is data visualisation since it involves more than just reporting the results; it also involves understanding and learning about the data and its vulnerabilities. Visual representation of concepts is always preferable because they are more well-known and understood. A few of the data visualisation methods include
Histogram
3D plots
Charts
Maps
Plots
Web Scraping
A method for gathering information and data from the internet is called web scraping. For future manipulation and analysis to be carried out, this data is typically saved in a local file. Web scraping has several uses, particularly in the area of data analytics. Companies that conduct market research use scrapers to collect information from online forums or social media. Numerous businesses also engage in contact scraping, which is the process of searching the internet for contact details to be utilised for marketing. For the above reasons, knowing Web scraping becomes an essential skill for becoming a data scientist.
Machine Learning with Artificial Intelligence
Machine learning may be a sought-after ability if you work for a company that handles and uses enormous numbers of data and their decision-making is data-centric. In the same way that statistics or probability contribute to the modelling of data and the production of outcomes, machine learning is a subgroup of data science. A person can work on various algorithms and data-driven models while also handling enormous data sets, such as cleaning data by reducing redundancies, with the aid of machine learning and AI principles. Algorithms that are fundamental to AI are included in Data Science.
To integrate tools and approaches in various logic and decision trees, one needs to have a thorough knowledge of machine learning and artificial intelligence. Our Data Science Training in Chennai will help you master the art of data analysis and machine learning. Any data scientist who possesses these skill sets will be able to work on and resolve complex challenges that are created explicitly for forecasts or for choosing future objectives. Those who have these abilities will unquestionably stand out as knowledgeable professionals.
Big Data
Big Data is an extensive collection of data that is constantly growing exponentially. No typical data management systems can effectively store or process this data because of its magnitude and complexity. Businesses can use external intelligence while using big data to make decisions.
Those who have experience working with big data may be aware that handling this much data is not actually practical due to a number of limitations and that in order to overcome these difficulties, specialised tools and algorithms are needed. This includes Spark, Hadoop and KNIME.
Organisations are now able to fine-tune their business plans because of the availability of social data from web searches and websites like Facebook and Twitter. New systems created using Big Data technology are replacing conventional consumer feedback systems. Big Data is employed in these new systems to read and assess customer feedback.
Problem-solving skills
Possessing the skill to manage complexity is a prerequisite for building a successful career in data science. When necessary, one must be sure to be able to recognise problems and come up with innovative solutions. Breaking the difficulties down into several components and aligning them in a systematic method may be difficult when trying to design any solution that may require clarity in data science ideas.
Our data science training in Chennai has been helping students fulfil their dream of becoming professionals by providing them with the right guidance required for the same. The expert trainers in our team have years of experience in imparting quality education. Our main motto is to provide learners with the best possible platform so that they can grow along with us and achieve success in life. FITA Academy offers you the best training program for Data Science Course in Chennai to help students become professionals in this domain.
Read more