Course Highlights & Why AWS Training in Chennai at FITA Academy?
FITA Academy provides the best AWS Course in Chennai for industry-relevant role-based training.
AWS Training in Chennai offers a regular pace and fast track for the ease of students.
FITA Academy training courses come with a flexible schedule for the learners. They can enroll in offline classes, live online classes, and recorded classes.
The AWS Course in Chennai covers topics from scratch. It is a mixed level course for beginners as well as experts looking for in-depth knowledge.
This course comes with hands-on and live experience for projects and practical sessions surrounding AWS.
Proof of concept-based assignments and assessments exist after the completion of each module.
The AWS Training in Chennai has a placement support system with an established network of 1200+ small and medium companies.
Understand the basics of
cloud computing
for an overview of Amazon Web Services.
Learn to get familiar with an AWS account and console.
Evaluate cost and cost-control strategies.
Describe IAM users, groups, and practices.
Create and practice Elastic Load Balancing on multiple EC2 instances.
Apply AWS to make your infrastructure reliable, scalable, and highly available.
Learn to store, access, and secure files and data in the AWS cloud database.
Describe VPC logs, peering, and Endpoints.
Implement Data ingress and egress on AWS.Apply text and image automation with AWS.
Build and design applications on Amazon Web Services platform.
Explore tools, principles, and additional practices in AWS.
Apply your knowledge to earn certifications in different learning paths as per your needs.
Discuss additional information or career guidelines surrounding AWS.
Read more
Classroom Training
Get trained by Industry Experts via Classroom Training at any of the FITA Academy branches near you
Why Wait? Jump Start your Career by taking the AWS Training in Chennai!
Instructor-Led Live Online Training
Take-up Instructor-led Live Online Training. Get the Recorded Videos of each session.
Travelling is a Constraint? Jump Start your Career by taking the AWS Online Course!
Have Queries? Talk to our Career Counselor
for more Guidance on picking the right Career for you!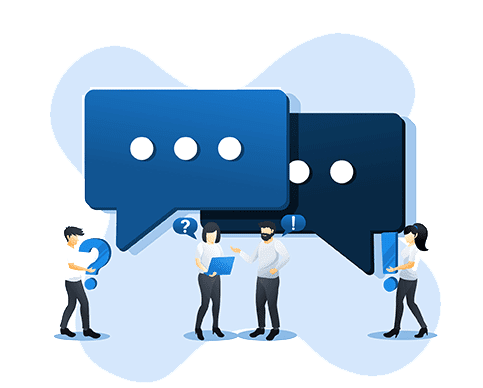 Trainer Profile
Our trainers are certified professionals in all the AWS learning paths.
Mentors in this course have deployed and worked with AWS features and services for most of their careers.
The trainers in this program have working experience of 8+ years in AWS based roles in well-known organizations.
FITA Academy mentors adopt live projects and hands-on lessons for improved understanding of concepts.
Our trainers covers the latest updates or releases in the AWS architecture and its certifications during the training period.
Our mentors in FITA Academy take full responsibility for the conceptual and practical expertise of students with different potential.
The AWS Course in Chennai at FITA Academy has trained around 30+ batches on this topic.
Mentors in the AWS Training in Chennai have motivated around 72% of the learners to attempt industry-relevant certifications with a success rate of 100%.
Personalized guidance is available for interested learners for the interview, resume, or certifications related queries.
Features
Real-Time Experts as Trainers
At FITA Academy, You will Learn from the Experts from industry who are Passionate in sharing their Knowledge with Learners. Get Personally Mentored by the Experts.
LIVE Project
Get an Opportunity to work in Real-time Projects that will give you a Deep Experience. Showcase your Project Experience & Increase your chance of getting Hired!
Certification
Get Certified by FITA Academy. Also, get Equipped to Clear Global Certifications. 72% FITA Academy Students appear for Global Certifications and 100% of them Clear it.
Affordable Fees
At FITA Academy, Course Fee is not only Affordable, but you have the option to pay it in Installments. Quality Training at an Affordable Price is our Motto.
Flexibility
At FITA Academy, you get Ultimate Flexibility. Classroom or Online Training? Early morning or Late evenings? Weekdays or Weekends? Regular Pace or Fast Track? - Pick whatever suits you the Best.
Placement Support
Tie-up & MOU with more than 1200+ Small & Medium Companies to Support you with Opportunities to Kick-Start & Step-up your Career.
AWS Certification Course in Chennai
About AWS Certification Course in Chennai at FITA Academy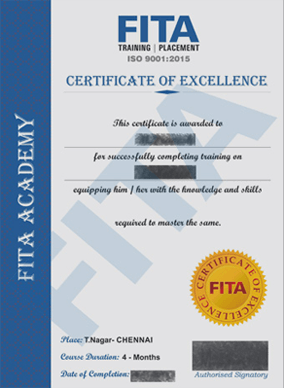 AWS Certification Course in Chennai
On successful completion of the AWS Course in Chennai, the candidate is awarded a course completion certificate. Most enterprises recognize this certificate as proof of your credibility in this subject. This certificate provides validation for the skills and concepts you acquired in the speculated time of enrollment. It acts as verification for passing all the assignments and projects to become a successful AWS professional.
The AWS Training certificate from FITA Academy is sufficient to authenticate your proficiency in the subject. However, mentors at FITA Academy encourage learners to earn global certifications with our certification-specific training and set themselves apart among other candidates.
The following are the names of certifications surrounding this subject:
AWS Certified Cloud Practitioner
AWS Certified Developer – Associate
AWS Certified Solutions Architect – Associate
AWS Certified Solutions Architect – Professional
AWS Certified DevOps Engineer – Professional
AWS Certified Security – Specialty
AWS Certified Database – Specialty
AWS Certified Advanced Networking – Specialty
AWS Certified Data Analytics – Specialty
AWS Certified Machine Learning – Specialty
Some popular queries about these certifications are below:
How to enroll for these certifications?
These certification exams are available online to take up in the comfort of your home or offline in your closest Pearson Vue Test Centre.
2. What format do they follow for the exam?
These exams consist of multiple-choice and multiple-answer questions to solve in a stipulated time to receive a result.
3. What is a passing mark for each exam?
The minimum passing mark is decided by a scaled scoring system, which is different for every level.
4. Are these certifications valid for a lifetime?
These certifications are valid for three years. It is wise to re-earn them to stay relevant in the industry.
5. What is the pocket-pinch for earning these certifications?
AWS certifications cost $100 for Practitioner, $150 for Associate, $300 for Professional, and $300 for Specialty.
For further details, you can consult with your mentor or contact the FITA Academy team from our official page.
Benefits of AWS Cloud Computing Certification Courses in Chennai
Employers highly value this AWS Certification in Chennai, and it gives you the opportunity to get a job with a higher compensation package.
If you are new, then this AWS Course in Chennai will help you to understand basic concepts, tools, and services available on Amazon Web Services (AWS).
It helps to enhance the skills that you can use for further learning in other courses.
This course also contains lab sessions for a practical hands-on experience that is very useful for real-time projects.
The trainers provide the best guidance, which makes you comfortable throughout the entire duration of the training program.
Learn how to work with various tools, such as S3, EC2, RDS, SWF, VPC, EBS, IAM etc.
During the course, you will have opportunities to apply theoretical knowledge into practice through hands-on exercises.
This is among the most sought-after courses among students as they are able to become cloud engineers.
The course will be ideal for those who are just beginning to begin their career in the IT sector.
Finally, this course is offered by FITA Academy, so we guarantee you 100% job assistance after completion of the course.
We are one of the best institutes that offer AWS Training in Chennai. Our trainers are highly experienced and certified professionals who will help you to get started with the AWS cloud computing platform. You'll be able to discover the many capabilities and services of AWS cloud computing as well as how you can use them to meet your business needs. We also offer placement assistance for our students to ensure they can be placed with top companies.
Read more
Have Queries? Talk to our Career Counselor
for more Guidance on picking the right Career for you!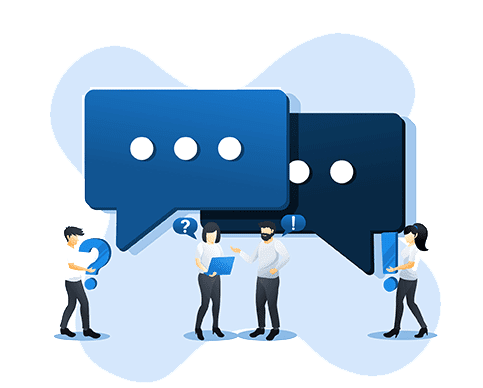 Job Opportunities After Completing AWS Training in Chennai
AWS revenue will reach $2.9 billion by the coming year. Most professionals integrating AWS in their workspace have received a success rate of 96% in their tasks. This skill is beneficial for individuals interested in job roles surrounding Engineering, Testing, Administration, Analytics, Business Management, Support or Operations, and Web, Product, or Application Development. It is best suited for computer science enthusiasts, graduates, and undergraduates who want to advance their career in this subject.
As of present, naukri.com lists around 30632 job openings for AWS certified professionals and related careers in India. Some of those job profiles include AWS Developer, AWS Architect, UIpath Developer, AWS Engineer, Application Developer, AWS Tester, Senior Software Engineer, AWS Tech Lead, etc.Some organizations hiring AWS certified professionals actively today are Mphasis, Accenture, IBM India, Cognizant Technology, etc.
According to ziprecruiter.com, the average annual salary for AWS certified professionals can go up to $112K globally. In India, the same average is around Rs 6.5 lakhs. These figures change exponentially with experience, location, proficiency level, enterprise, and position in the industry you hold. With the AWS Training Institute in Chennai, you can rest assured about your career needs.
AWS Developer- AWS Developer job is an exciting opportunity for anyone looking to work with the latest cloud technology. AWS offers many constantly evolving services, so it's important to have a developer who is up-to-date on the latest features and can take advantage of them.
An AWS Developer should be familiar with creating and managing Amazon Web Services (AWS) resources such as EC2 instances, S3 buckets, RDS instances, and more. They will need to be able to use Amazon's console, command-line interface (CLI), or API to provision resources and manage them.
In order to become an AWS Developer, you'll need some hands-on experience working with AWS services. FITA Academy AWS Course in Chennai is perfect for those who want to learn about the cloud computing platform and how to use it to their advantage.
AWS Architect – AWS Architect is an important job role in the cloud computing domain. AWS Architects are responsible for designing and implementing AWS-based solutions for their organizations. They need to have in-depth knowledge of all the AWS services and be able to select the appropriate services for a given scenario.
UIpath Developer – UIpath is a Robotic Process Automation (RPA) tool that lets users develop software robots or agents to automatize business processes. UIpath Developer is a job role that involves designing, developing, and deploying UIpath robots.
The UIpath Developer job role requires candidates to have experience in programming languages such as Java, C#, or Python. They must also be able to work with various automation tools and platforms. In addition, developers must be able to understand business processes and how they can be automated.
AWS Engineer – An AWS engineer is a professional who is responsible for designing, deploying, and managing cloud-based systems on the Amazon Web Services platform. AWS engineers are in high demand due to the growing popularity of cloud computing. Many businesses are switching to the cloud to take advantage of its scalability and flexibility.
If you want to become an AWS engineer, you need to have strong technical skills and experience in system administration, networking, and data storage. You also need to be familiar with Amazon's cloud platform, which is called AWS. If you're looking for the best AWS training in Chennai, you'll find it at FITA Academy. Our instructors are experienced professionals who have worked with AWS for years, and our training program is designed to cover everything you need.
Application Developer – An application developer is a computer professional who develops and creates applications for software products. They work with the company's customers and management to design, develop, test, and deploy software applications.
The application developer must have excellent problem-solving skills, be able to work independently, and have a strong knowledge of computer programming languages. They should also have experience in various software development methodologies.
AWS Tester – AWS Tester is a professional who is responsible for testing the security, performance and reliability of Amazon Web Services (AWS) cloud infrastructure. They work with system administrators, developers and other stakeholders to identify issues and potential risks. AWS Testers must have in-depth knowledge of AWS services and be able to write code to test these services. They must also be able to work with various automation tools to help automate the testing process.
The role of an AWS Tester is becoming increasingly important as more businesses move their operations to the cloud. The skills required for this role include:
A deep understanding of AWS services.
Experience with scripting languages such as Python or Ruby.
Experience with automation tools such as Selenium or WebDriver.
If you're looking for AWS training in Chennai to give you a comprehensive understanding of this complex platform, look no further than FITA Academy.
Senior Software Engineer – An AWS Senior Software Engineer is responsible for developing, managing and supporting software applications that run on Amazon Web Services. They must be able to work with a team of engineers to design, build and maintain highly scalable systems. Key skills for this role include experience with distributed systems, big data technologies, cloud computing and software development.
The position also requires a strong understanding of the AWS platform and the ability to recommend appropriate services for specific applications. A Senior Software Engineer at Amazon must be able to effectively communicate with customers and collaborate with other teams within Amazon.
AWS Tech Lead – The AWS tech lead is responsible for the design, architecture, and deployment of customer solutions on the AWS platform. They will also be responsible for mentoring and training other team members on how to use AWS features and services. The ideal candidate for this position has years of experience in developing and deploying applications for the AWS platform and also the ability to lead engineers in a group.
AWS Training in Chennai at FITA Academy is the best way to start your career in AWS. The trainers are skilled as well as certified experts who can guide you through the fundamentals of AWS. The course's curriculum is created to help students get acquainted with AWS.
Read more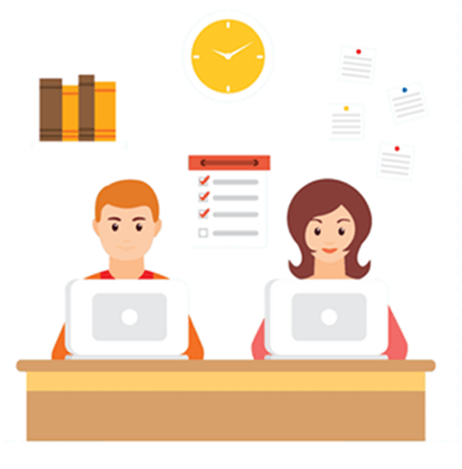 A
Anup Bhatnagar

AWS Training in Chennai is a comprehensive course by FITA Academy that helps satisfy your career goals. I am a Cloud Computing enthusiast. Amazon Web Services is equivalent to the ABC's of this subject. Thus, I took up this training based on a social media suggestion. I don't have many praises to define this training. All I can say is that it is worth a shot for learners interested in Cloud Computing.
S
Seema Ghosh

Earning the AWS certification for the Developer learning path has been supportive in bagging a well-paying job. The credit for this success goes to the AWS course at FITA Academy. There are so many good developers to give you competition today that it is necessary to stand out in the crowd with something different. The mentors in the AWS training made that clear in the first lesson itself, which motivated me to follow this path.
A
Aisha Riaz

I am a Solutions Architect working in the same MNC for five years. I had started to feel that my career had become static, and I should invest more in learning as I did during my college years. Therefore, I enrolled in the FITA Academy's AWS Course in Chennai. It has been a profitable experience. I have learned a lot of things that will help me move ahead in my career more wisely.
V
Vijay Kartik

This training program has been a visual treat to learn. The hands-on experience and live projects kept me hooked to the modules. It felt great to see and implement the practices by yourself and what goes on behind enterprise walls. I intend to make use of the knowledge imparted and make my mentors proud.
K
Katherine Correia

It is the best AWS Training Institute in Chennai at present. As an ex-learner, I have only praises for the time I spent learning at FITA Academy. They have been helpful with support and mentorship. I am writing this review to share my success at earning the AWS certification for Operations and encouraging more people to take up this course.
Have Queries? Talk to our Career Counselor
for more Guidance on picking the right Career for you!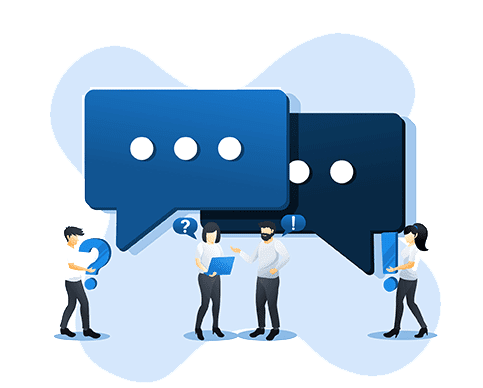 AWS Training in Chennai Frequently Asked Question (FAQ)
Additional Information
Amazon Web Services or AWS is an extension of Amazon that acts as the leading cloud platform today. It is one of the largest providers in services like computing, storage, IoT, security, applications, tools, software, analytics, networking, etc. As a trusted and secure brand for cloud services, AWS comes at an inexpensive rate for individuals, companies, and the government.
There are various learning paths for certification exams in AWS for different roles like cloud practitioner, Architect, Developer, and Operation. Some of the benefits of earning them include building your cloud skills, better job prospects, validation of your skills, and industry level expertise, among several others. Thus, at the AWS Course in Chennai, we make sure to provide all-round development for your AWS goals.
At FITA Academy, we adopt all the relevant topics for certification and industry-specific training. The concepts in this course are inclusive of all the learning paths for role-based credentials. With module-wise assignments and assessments, live projects, and hands-on practical sessions, you will gain AWS proficiency in no time. FITA Academy is the best AWS Training Institute in Chennai, with a success rate of 100% for students passing certification exams to date. This course can be taken up by IT professionals or students from any background or domain to make the best use of knowledge.
Mentors in this course are certified professionals with several years of industry knowledge working with AWS. They integrate the latest releases or changes surrounding the certification or its roles to keep the learners up-to-date. Students enrolled in this program can choose to study the AWS course in Chennai or through online methods. At FITA Academy, we take full responsibility for your professional needs.
Amazon Web Services (AWS) is a fast-growing cloud computing service offered by Amazon, allowing developers to create web-based apps without worrying about infrastructure. These apps are hosted on AWS's data centres and consume only resources when needed, unlike traditional server farms with servers running 24x7 to meet peak demands. You can design these apps using HTML5, CSS3, Javascript, Python, Ruby, PHP, .NET and other programming languages.
Amazon Web Services Training in Chennai is the most popular training program at FITA Academy. Our trainers are AWS certified and have years of experience in teaching AWS courses.
Our trainers are well-versed with both theoretical and practical concepts, and they use real-world examples to explain various concepts. Our students have praised our trainers for their ability to simplify complex topics.
The syllabus for the AWS Training in Chennai is designed to provide students with a comprehensive understanding of the AWS platform. We offer both classroom and online training options for our students. At FITA Academy, we believe that theory is not enough; students need to practice what they learn in order to understand it better.
Read more