Course Highlights & Why DevOps Training in Chennai at FITA Academy?
FITA Academy provides the best DevOps Training in Chennai for certification-specific lessons and industry credibility.
This course comes with hands-on tutorials and live projects for a visual experience of enterprise work.
DevOps Course in Chennai offer a regular pace and fast track for the ease of students.
FITA Academy training courses come with a flexible schedule for the learners. They can enroll in offline classes, live online classes, and recorded classes.
The DevOps certification in Chennai covers topics from scratch. It is a mixed level course for beginners as well as experts looking for in-depth knowledge.
Practice assignments and assessments are present after the completion of each module.
Learn the fundamental and advanced concepts of DevOps methodology.
Demonstrate the installation of a virtual environment for DevOps practices.
Learn to implement a software version control system.
Create C1/CD pipelines using Jenkins for continuous integration.
Describe the configuration and synchronization of multiple machines using Vagrant
Understand device configuration management using Ansible and Puppet.
Build test cases using Selenium WebDriver and Maven.
Explore container orchestration or containerization with Docker and Kubernetes.
Implement performance tuning and continuous monitoring using Nagios.
Learn cloud computing with Amazon Web Services.
Apply your knowledge on hands-on projects or assignments provided by mentors.
Discuss additional information on career guidelines and certification exams.
Read more
Classroom Training
Get trained by Industry Experts via Classroom Training at any of the FITA Academy branches near you
Why Wait? Jump Start your Career by taking the DevOps Training in Chennai!
Instructor-Led Live Online Training
Take-up Instructor-led Live Online Training. Get the Recorded Videos of each session.
Travelling is a Constraint? Jump Start your Career by taking the DevOps Online Training!
Have Queries? Talk to our Career Counselor
for more Guidance on picking the right Career for you!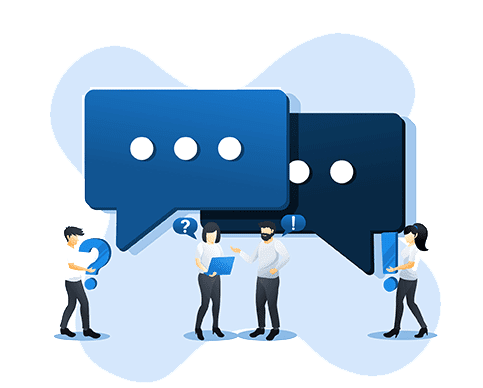 Trainer Profile
Our DevOps trainers are certified professionals in the field.
Mentors in this course have worked and collaborated on projects using DevOps practices throughout their careers.
The trainers in this program have working experience of more than 8+ years in DevOps or related roles in well-known enterprises.
FITA Academy mentors adopt live projects and hands-on approaches for practical sessions to offer practice without implementation.
Our trainers integrate the latest tools and techniques surrounding DevOps and its certifications in the course modules.
Our mentors in FITA Academy take full responsibility for the conceptual and practical understanding of learners with different expertise.
The DevOps training in Chennai at FITA Academy has trained around 30+ batches on this topic.
Mentors in the DevOps certification in Chennai have motivated around 72% of the learners to attempt industry-relevant certifications with a success rate of 100%.
Individual mentorship is available to all learners for career-related queries or additional information.
Features
Real-Time Experts as Trainers
At FITA Academy, You will Learn from the Experts from industry who are Passionate in sharing their Knowledge with Learners. Get Personally Mentored by the Experts.
LIVE Project
Get an Opportunity to work in Real-time Projects that will give you a Deep Experience. Showcase your Project Experience & Increase your chance of getting Hired!
Certification
Get Certified by FITA Academy. Also, get Equipped to Clear Global Certifications. 72% FITA Academy Students appear for Global Certifications and 100% of them Clear it.
Affordable Fees
At FITA Academy, Course Fee is not only Affordable, but you have the option to pay it in Installments. Quality Training at an Affordable Price is our Motto.
Flexibility
At FITA Academy, you get Ultimate Flexibility. Classroom or Online Training? Early morning or Late evenings? Weekdays or Weekends? Regular Pace or Fast Track? - Pick whatever suits you the Best.
Placement Support
Tie-up & MOU with more than 1000+ Small & Medium Companies to Support you with Opportunities to Kick-Start & Step-up your Career.
DevOps Certification Course in Chennai
About DevOps Certification Course in Chennai at FITA Academy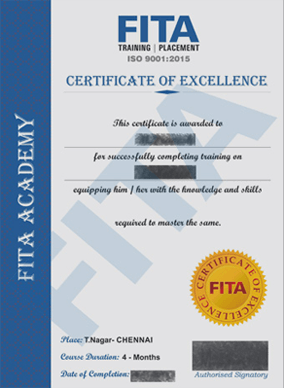 DevOps Certification Course in Chennai
On successful completion of the DevOps Course in Chennai, the candidate is awarded a course completion certificate. Most enterprises recognize this certificate as proof of your credibility in this subject. This certificate provides validation for the skills and concepts you acquired in the speculated time of enrollment. It acts as verification for passing all the assignments and projects to become a successful DevOps professional.
The DevOps Training certificate from FITA Academy is sufficient to authenticate your proficiency in the subject. However, mentors at FITA Academy encourage learners to earn global certifications with our certification-specific training and set themselves apart among other candidates.
The following are the names of certifications surrounding this subject:
Certified DevOps Coach
Certified DevOps Trainer
Certified DevOps Architect
Certified DevOps Executive
Certified DevOps Developer
Certified DevOps Generalist
Certified DevOps Product Owner
Certified DevOps Release Manager
Certified DevOps Product Manager
Certified DevOps Operations Engineer
Certified DevOps Quality Assurance Engineer
Certified DevOps Information Security Engineer
Some common queries about these certifications are below:
1.How to enroll for these certifications?
All the certification exams are available online to take up in the comfort of your preferred location.
2.What format do they follow for the exam?
These exams consist of 50 multiple-choice questions to solve that you need to solve in 60 minutes to receive a result.
3.What is a passing mark for each exam?
The minimum passing mark is 60%. The percentage of the success rate of individuals is 98.5%.
4.Are these certifications valid for a lifetime?
These certifications are valid forever. However, it is always wise to re-earn them to stay relevant in the industry.
5.What is the pocket-pinch for earning these certifications?
The cost of earning each certification is between USD 149-249.
For further details, you can consult with your mentor or contact the FITA Academy team from our official page.
Read more
Have Queries? Talk to our Career Counselor
for more Guidance on picking the right Career for you!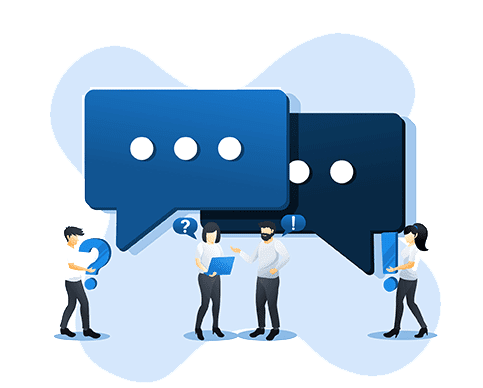 Job Opportunities After Completing DevOps Training in Chennai
DevOps is a growing industry in the market today. Several companies have already recognized the advantages and adopted it in their work environment. In the coming years, the demand for DevOps professionals will only multiply, thus making it a practice worth notice. This skill is beneficial for individuals interested in job roles surrounding Development, Testing, Security Engineering, Administration, Management, Operations, Solution Architecture, and Integration. It is best suited for computer science enthusiasts, graduates, and undergraduates who want to advance their career as an IT professional.
As of present, naukri.com lists around 11117 job openings for DevOps certified professionals and related careers in India. Some of those job profiles include DevOps Engineer, Senior Cloud DevOps Engineer, Principal DevOps Engineer, DevOps Architect, Senior DevOps Engineer, DevOps Lead, Senior Software Engineer, and Senior Product Engineer, among others. Some of the organizations hiring DevOps certified professionals actively at present are Oracle, Capgemini, Wipro, SAP Labs, Accenture, IBM India, Cognizant Technology, etc.
According to the information on payscale.com, the average annual salary for DevOps certified professionals can go up to $95K globally. In India, the same average is around Rs 6.7 lakhs. These figures change exponentially with experience, location, proficiency level, enterprise, and position in the industry you hold. With the DevOps certification in Chennai, you can rest assured about your career needs.
Read more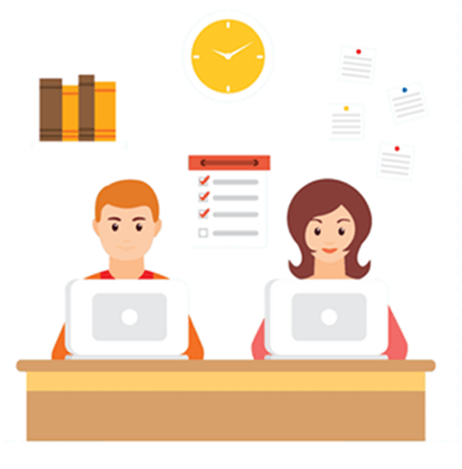 A
Ashnoor Kaur

DevOps training in Chennai at FITA Academy has been useful for me in getting certified on the subject. I joined this course with some preliminary knowledge on the topic to get a good grasp of the current techniques. My journey throughout the training has been a pleasant one, and the minor difficulties I came across were sorted quickly by the mentors or the team. I recommend this course in a positive light.
R
Ranjini Naresh

I am glad to inform you that I have finally received two DevOps certification, which I earned sometime back. My success is all thanks to the FITA Academy mentors who guided me through this DevOps certification in Chennai. I would love to enroll in more programs designed by them when I have the time and motivation to spare.
H
Hayat Murtaza

The DevOps Training in Chennai has been a great course to take up for your technical proficiency. I was intrigued by this practice for so long, and I have completed it with ease. Students in this course can enroll without any stress of expertise on topics. At FITA Academy, all the concepts are taught with care and self-awareness.
K
Krishna Gohrani

I am a resident of Chennai since my college years, and yet I have remained unaware of the DevOps course in Chennai or FITA Academy. However, under certain circumstances, I ended up taking this training regime and have incurred the best profits out of the knowledge delivered. I have been able to implement the same practices in my workspace as well and enjoy a lot of importance from my juniors.
V
Vishal Vaidya

I was slightly hesitant to take up this DevOps course as a college student with little to no time to spare. However, with the self-paced tracks designed for the comfort of students, I have successfully been able to combat any issue that could have arisen. The teaching style and resource distribution are also quite innovative, which makes me more than happy with my investment.
Have Queries? Talk to our Career Counselor
for more Guidance on picking the right Career for you!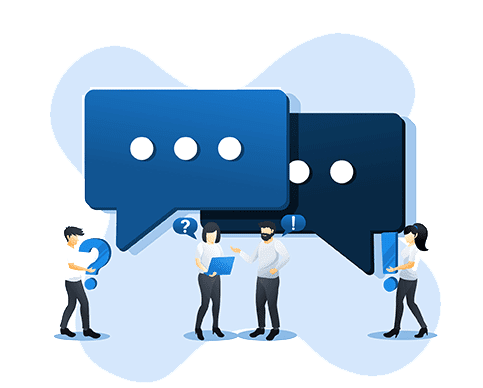 DevOps Training in Chennai Frequently Asked Question (FAQ)
Additional Information
DevOps is a practice, tool, operation, or philosophy that provides faster services and enterprise solutions. It revolves around lifecycle management by allowing operations, deployment, software or application development, continuous integration, testing, and continuous delivery to take place simultaneously in the work environment.
Some DevOps solutions to organization problems include configuration management, continuous monitoring, and container orchestration. It is performed by several DevOps tools like Git, Puppet, Jenkins, Vagrant, Chef, Maven, Docker, Selenium, Ansible, Nagios, Kubernetes, etc. Each tool comes with a unique function that helps in one of the above processes in a DevOps lifecycle.
At FITA Academy, we adopt several relevant topics for certification-oriented training. The concepts in this course are versatile and come to aid in both the industry and certification exams at the same time. With regular assignments and assessments, live projects, and hands-on practical sessions, there is a guarantee for your DevOps proficiency. FITA Academy is the best DevOps Training in Chennai, with a success rate of 100% for students passing certification exams to date. This course is easy to study for all levels of learners as all tools and topics are explored from scratch.
Mentors in this course are certified professionals with several years of industry knowledge implementing DevOps methodologies. They integrate the latest tools and techniques to help learners coordinate with the other members in a different department. Students enrolled in this program can choose to study the DevOps course in Chennai or through online methods. At FITA Academy, we take full responsibility for your professional needs.
Read more