Course Highlights & Why DevOps Training in Chennai at FITA Academy?
FITA Academy provides the Best DevOps Training in Chennai for certification-specific lessons and industry credibility.
Acquire practical learning of DevOps tools like GIT, Maven, Jenkins, Ansible, Puppet, Docker, Nagios, Kubernetes and many more from FITA Academy.
The DevOps certification in Chennai covers all the topics from scratch. It provides blended learning for beginners as well as experts looking for in-depth knowledge.
Our expert trainers are highly qualified DevOps specialists with many years of experience in the IT industry.
The course comes with a flexible schedule for learners. FITA Academy offers weekday classes and weekend classes for the convenience of the students.
Aspirants can enrol in offline classes and live online classes. Recorded sessions of the classes are also available.
The DevOps course in Chennai provides extensive learning through real-time projects and case studies.
FITA Academy has tie-ups with 1,500+ organisations to ensure a prosperous career.
Read more
Upcoming Batches
| | | | |
| --- | --- | --- | --- |
| 23-09-2023 | Weekend | Saturday (Saturday - Sunday) | |
| 25-09-2023 | Weekdays | Monday (Monday - Friday) | |
| 28-09-2023 | Weekdays | Thursday (Monday - Friday) | |
| 30-09-2023 | Weekend | Saturday (Saturday - Sunday) | |

Classroom Training
Get trained by Industry Experts via Classroom Training at any of the FITA Academy branches near you
Why Wait? Jump Start your Career by taking the DevOps Training in Chennai!
Instructor-Led Live Online Training
Take-up Instructor-led Live Online Training. Get the Recorded Videos of each session.
Travelling is a Constraint? Jump Start your Career by taking the DevOps Online Training!
Have Queries? Talk to our Career Counselor
for more Guidance on picking the right Career for you!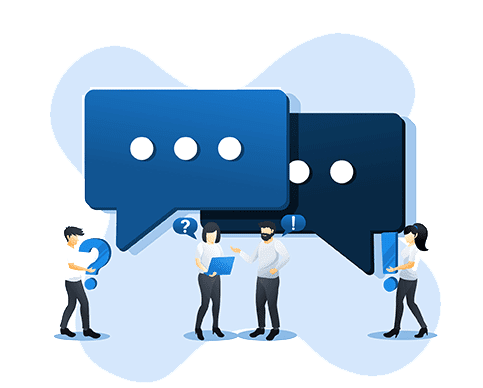 Trainer Profile
The trainers in this program have working experience of more than 8+ years in DevOps or related roles in well-known enterprises.
Our trainers integrate the latest tools and techniques surrounding DevOps and its certifications in the course modules.
The DevOps training in Chennai at FITA Academy has trained 30+ batches on this topic.
Trainers frequently lead interactive sessions to help students with their questions and provide guidance on how to advance their DevOps abilities.
Trainers of DevOps Certification in Chennai at FITA Academy mentors adopt live projects and hands-on approaches for practical sessions to offer practice without implementation.
To ensure an interactive session, each class will hold no more than 5 students.
Mentors of this course provide a conceptual and practical understanding of different subjects to the learners.
Our trainers provide further assistance in interviews and resume building.
Features
Real-Time Experts as Trainers
At FITA Academy, You will Learn from the Experts from industry who are Passionate in sharing their Knowledge with Learners. Get Personally Mentored by the Experts.
LIVE Project
Get an Opportunity to work in Real-time Projects that will give you a Deep Experience. Showcase your Project Experience & Increase your chance of getting Hired!
Certification
Get Certified by FITA Academy. Also, get Equipped to Clear Global Certifications. 72% FITA Academy Students appear for Global Certifications and 100% of them Clear it.
Affordable Fees
At FITA Academy, Course Fee is not only Affordable, but you have the option to pay it in Installments. Quality Training at an Affordable Price is our Motto.
Flexibility
At FITA Academy, you get Ultimate Flexibility. Classroom or Online Training? Early morning or Late evenings? Weekdays or Weekends? Regular Pace or Fast Track? - Pick whatever suits you the Best.
Placement Support
Tie-up & MOU with more than 1,500+ Small & Medium Companies to Support you with Opportunities to Kick-Start & Step-up your Career.
DevOps Certification Course in Chennai
About DevOps Certification Course in Chennai at FITA Academy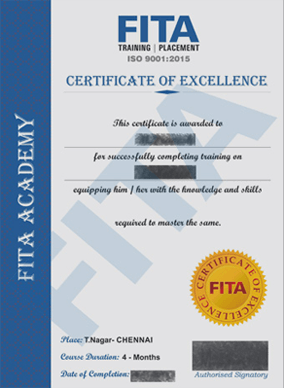 DevOps Certification Course in Chennai
One of the best credentials that a person may earn is the DevOps Certification. After completing DevOps training, a person gains better employment options and growth in all of their talents. DevOps Certification can enable better administration of development and operations management departments and ensure engagement between the two.DevOps Certification can improve the ability to think critically, have higher productivity, and grasp the Agile framework.
On successful completion of the DevOps Course in Chennai, the candidate is awarded a course completion certificate. Most companies recognise this certificate as proof of your credibility in this subject. This certificate provides validation for the skills and concepts you acquired in the speculated time of enrollment. It acts as verification for passing all the assignments and projects to become a successful DevOps professional.
DevOps Certification in Chennai from FITA Academy is sufficient to authenticate your proficiency in the subject. However, mentors at FITA Academy encourage learners to earn global certifications with our certification-specific training and set themselves apart from other candidates.
Here are a few of the reputed international certifications for a DevOps specialist :
Certified Kubernetes Administrator (CKA)
AWS Certified DevOps Engineer
Docker Certified Associate
Puppet Certified Professional
Microsoft Certified DevOps Engineer Expert
Have Queries? Talk to our Career Counselor
for more Guidance on picking the right Career for you!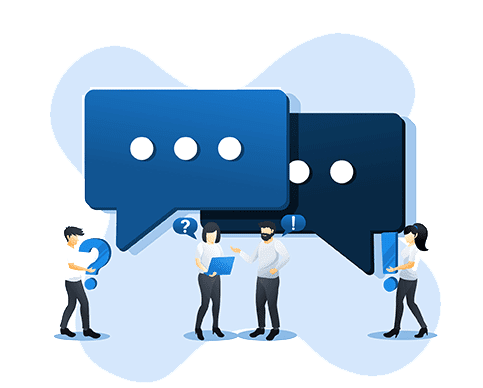 Job Opportunities After Completing DevOps Training in Chennai
The market for DevOps is growing and is expected to skyrocket in the near future. According to estimates, DevOps will generate $10.31 billion in income by next year. It improves the design, use, maintenance, testing, and updating of applications over networks. Since Artificial Intelligence is a game changer, organisations put a lot of effort into better integrating it into their systems. Before the introduction of DevOps technology, the IT sector employed siloed approaches to design a program, such as Waterfall and Agile, which not only took a long period of time but also resulted in a great deal of confusion and failed products.
However, after implementing the DevOps technique, the firms were able to generate fault-tolerant products quickly. DevOps is required by the developers in order to deliver a stable method. They improve security procedures while managing the apps. DevOps reduces the possibility of error and has several other advantages that are so appealing to businesses that it is starting to be highly adopted in the market.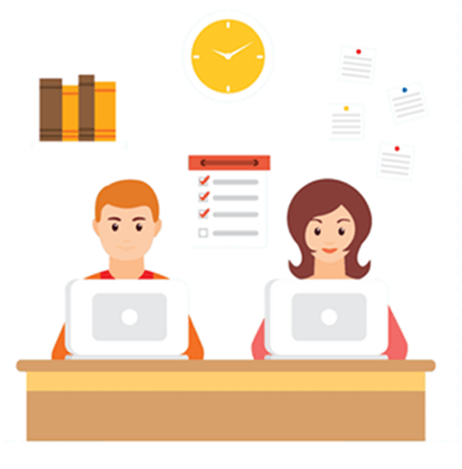 There are over 25,800 job openings for DevOps specialists at present. A few of the DevOps job profiles include DevOps Automation Engineer, DevOps Testing Professional, Application Developers, Security Engineer, Release Manager, DevOps Architect, Software Tester, and AWS Developers. Join the AWS Training in Chennai to learn more about the application of DevOps in AWS and other cloud computing platforms.
The average salary for a DevOps Engineer is around $99k globally. In India, the average salary is 6.5 lakhs for the same. The organisations that hire DevOps professionals are Infosys, HCL, Cognizant, TCS, Accenture, HP, IBM, Amdocs Inc, and Amazon. Aspirants who complete FITA Academy's DevOps course and become certified can increase their potential and skills even further.
V
Vaishnavi

I had a great experience at FITA Academy. I was able to learn many tools and techniques from the DevOps Training in Chennai. The classes were thoroughly enjoyable. With the help of FITA Academy's placement support, I was able to get my first IT job.
J
Jeevan

I completed my Devops Course in Chennai here. FITA is the best place to improve your skills and move forward in your career. The trainers and faculty here were very friendly and comfortable. I had many opportunities to work on different projects under my trainer's guidance. It truly was a fruitful experience at FITA Academy.
S
Savitha K

I have been interested in IT for a long time but never found the right place to start. After my friends' recommendation, I joined FITA Academy. It is truly the Best DevOps Training in Chennai. My trainer used live examples, which made it very easy to understand the concepts. For any beginners, I would highly recommend FITA Academy.
V
Vidya

I found the DevOps Certification in Chennai from FITA Academy extremely valuable. After completing my certification, I cleared several interviews. I am now finally placed as DevOps Engineer in a global IT company. Thanks to my trainers who helped me sort out my difficulties and to better my skills.
M
Mohan Raj

I have completed my DevOps Training in Chennai at FITA Academy. The classes were engaging and interactive. I found the practical sessions very helpful. The trainer was accommodating to all and encouraged me to keep improving. I was able to contact them at any time of need.
Have Queries? Talk to our Career Counselor
for more Guidance on picking the right Career for you!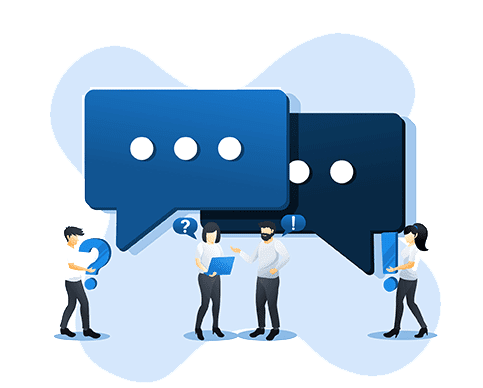 DevOps Training in Chennai Frequently Asked Question (FAQ)
Additional Information
DevOps, or "Development and Operations," refers to a system of strategies that ensure effective coordination and interaction between the production and IT management teams during the product development process. DevOps is a practice, tool, operation, or philosophy that provides faster services and enterprise solutions. The framework and structure of a program are designed by a devops engineer.
DevOps revolves around lifecycle management by allowing operations, deployment, software or application development, continuous integration, testing, and continuous delivery to take place simultaneously in the work environment. Automation, collaboration, communication and integration are four of the major concepts of DevOps.
Some DevOps solutions to organisation problems include configuration management, continuous monitoring, and container orchestration. It is performed by several DevOps tools like Git, Puppet, Jenkins, Vagrant, Chef, Maven, Docker, Selenium, Ansible, Nagios, Kubernetes, etc. Each tool comes with a unique function that helps in one of the above processes in a DevOps lifecycle. Join the DevOps Certification in Chennai to learn more about the different tools and applications of DevOps.
Skills required to be a DevOps Engineer
Extensive knowledge of scripting languages for operating systems, such as Java, Perl, Python, and Ruby Configuring and maintaining databases like MySQL and Mongo.
Excellent problem-solving abilities.
Having practical experience with a variety of tools, open-source technologies, and cloud computing.
Understanding important DevOps and Agile concepts.
Knowledge in creating and maintaining CI/CD processes for SaaS apps using Maven, Jenkins, and other tools.
Practical knowledge of configuration management tools like SaltStack, Ansible, and Puppet.
Practical knowledge of how to create and manage virtual machines (VMs) and containers using tools like Kubernetes, Docker, etc.
Practical knowledge of creating, developing, and managing cloud-based applications using AWS, Azure, etc.
Working closely with the integration and deployment team while adhering to regulations and best practices for the industry.
Effective leadership, cross-functional leadership, and communication skills are requirements for DevOps engineers.
Knowledge of operating a Linux environment and having a solid command of any scripting language, including Shell and Python.
An individual with DevOps Certification possesses all the knowledge and skills needed to manage various business processes. People that manage business operations and software development functions effectively are able to get better positions at various companies. Given below are a few of the major DevOps roles one can acquire after gaining the Certification.
Different Roles of a DevOps specialist
The DevOps Engineer, also known as a Platform Engineer, is in charge of managing and maintaining the platform that is used for DevOps operations. They play a major role when it comes to DevOps operations. The DevOps process demands regular programme development, testing, and software version updates. DevOps engineers are expected to be knowledgeable about the basics of programming languages. Together with the members of the development team, they will take on coding and programming to connect the codes. Join the DevOps training institute in Chennai to learn more about the career prospects surrounding this role.
The DevOps Evangelist is in charge of accelerating the development of a DevOps programme. Evangelists are responsible for conceptualising and organising the entire process. They assist a company in facilitating change and transformation. The responsibility for properly implementing all DevOps protocols and team identities falls on the DevOps Evangelist. They are in charge of promoting a DevOps culture within a company. They design a suitable plan after thoroughly analysing the scenario. The DevOps Evangelist is in charge of driving the DevOps transformation within an organisation.
Every part of the DevOps product is under the control of a release manager. They are responsible for overseeing the entire production process, from design to manufacturing. Release managers are in charge of overseeing and managing the entire delivery process. In this job, leadership is essential. The majority of tasks involve managing many releases, occasionally planning out development pipeline techniques and coordinating them between teams. They are in charge of testing the stability and incorporating major updates into the product. The release manager takes on more of the technical responsibility than a project manager and focuses on details and obstacles. Additionally, release managers focus on creating and overseeing the final distribution network.
The Build Engineer is in charge of making sure that build and deployment requirements are satisfied. The build engineer's daily tasks include managing and maintaining code, developing new builds, standardising automated deployment, ensuring that configuration requirements are satisfied, helping with release notes, and more. The role has huge flexibility and can be used to meet a variety of potential needs within your company. Enrol on the DevOps Course in Chennai to get a better understanding of the flexibility of this role.
In a conventional DevOps organisation, the Build Engineer might act as the automation orchestrator. This person may also assume some of the hybrid duties of a UX designer role, like understanding the significance of user expectations. Additionally, this role occasionally takes on the responsibilities of a Configuration Manager, while in other organisations, that position may belong to someone entirely distinct.
Most DevOps roles are development roles with extended duties and skill sets because DevOps is primarily concerned with integrating operations systems into development. The Product Manager role is directly related to the DevOps services. They should possess efficient management and organisation abilities required for a project to be successful. The product manager must work with the development team to ensure that the specifications for the item are met to a high standard.
The DevOps Data Analyst profession is of utmost importance. The Data Analyst transforms actual data from actual users into useful knowledge. In a DevOps setting, they frequently collaborate alongside user experience engineers and UX designers. On the way to becoming a data scientist, a data analyst position is often an entry-level position. Data analysts must be proficient in managing, gathering, and analysing data, as well as creating insightful reports. Become a proficient data analyst by joining the Data Science Course in Chennai.
In addition to being crucial to a product's success, security engineers also play a crucial role in ensuring the users' safety. They must be knowledgeable about current attack routes, security loopholes, and user habits that frequently circumvent security. They are in charge of the system's overall security and safety. In a DevOps environment, the SCE works with production and can adopt security suggestions while the product is being developed rather than after it is complete. To ensure that the company is securing its data and following legal obligations, they work closely with all departments and roles. They assess the security holes in the infrastructure and provide a plan to address security concerns.
At FITA Academy, the DevOps Training in Chennai adopts several relevant topics for certification-oriented training. The concepts in this course are versatile and come to aid in both the industry and certification exams at the same time. With regular assignments and assessments, live projects, and hands-on practical sessions, there is a guarantee for your DevOps proficiency.
Course Objectives
Learn the fundamental and advanced concepts of DevOps methodology.
Demonstrate the installation of a virtual environment for DevOps practices.
Learn to implement a software version control system.
Create C1/CD pipelines using Jenkins for continuous integration.
Describe the configuration and synchronisation of multiple machines using Vagrant
Understand device configuration management using Ansible and Puppet.
Build test cases using Selenium WebDriver and Maven.
Explore container orchestration or containerisation with Docker and Kubernetes.
Implement performance tuning and continuous monitoring using Nagios.
Learn cloud computing with Amazon Web Services.
The DevOps Training in Chennai is offered by FITA Academy, where students have passed all certification examinations with a 100% success rate to date. This course scrutinises all tools and concepts from scratch, making it simple for students of all skill levels to understand. With the help of FITA Academy, candidates can also explore various employment opportunities across several industries.