Course Highlights & Why Graphic Design Course in Coimbatore at FITA Academy?
FITA Academy's Graphic Design Course in Coimbatore provides effective training in creating handmade and digital designs.
We offer courseware that has been designed by our experts to meet international standards.
The students will acquire the ability to illustrate visual design principles across a range of media applications.
Our Graphic Designer Course in Coimbatore provides hands-on training using visual, textual, and spoken approaches for effectively communicating messages.
We upskill the students on how to apply topographic and information hierarchy effectively to a range of media.
Our integrated course seeks to develop learners' professional readiness, which is required to succeed in the creative industries.
We offer a flexible schedule by providing both weekday and weekend classes. Additionally, students can also opt for offline, online and fast-track sessions according to their constraints and convenience.
Our Graphic Designer Institute in Coimbatore has partnerships with more than 1,500+ small and major businesses and guarantees placements.
Read more
Upcoming Batches
| | | | |
| --- | --- | --- | --- |
| 23-09-2023 | Weekend | Saturday (Saturday - Sunday) | |
| 25-09-2023 | Weekdays | Monday (Monday - Friday) | |
| 28-09-2023 | Weekdays | Thursday (Monday - Friday) | |
| 30-09-2023 | Weekend | Saturday (Saturday - Sunday) | |

Classroom Training
Get trained by Industry Experts via Classroom Training at any of the FITA Academy branches near you
Why Wait? Jump Start your Career by taking the Graphic Design Training in Coimbatore!
Instructor-Led Live Online Training
Take-up Instructor-led Live Online Training. Get the Recorded Videos of each session.
Travelling is a Constraint? Jump Start your Career by taking the Graphic Design Online Course!
Have Queries? Talk to our Career Counselor
for more Guidance on picking the right Career for you!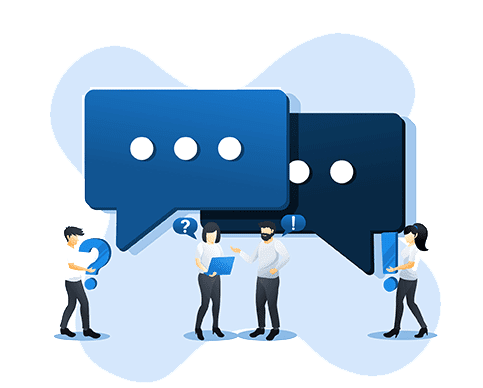 Trainer Profile
Our trainers provide a blended curriculum for our Graphic Design Course in Coimbatore that accommodates both newbies and seasonal professionals.
FITA Academy trainers have over 8+ years of experience in the industry working with various graphic design tools.
They share their valuable experience and knowledge to instil the students with industry-relevant skills.
Trainers help students improve their design skills by providing hands-on training using design software such as Coreldraw, Illustrator, Photoshop, and Adobe Indesign.
During our Graphic Designer Course in Coimbatore, our trainers integrate real-time projects and case studies for comprehensive understanding.
FITA Academy trainers provide the students with the individualised attention they need and simple explanations for each subject.
Additionally, they also help to build strong resumes and students' confidence by conducting the appropriate mock interviews.
Features
Real-Time Experts as Trainers
At FITA Academy, You will Learn from the Experts from industry who are Passionate in sharing their Knowledge with Learners. Get Personally Mentored by the Experts.
LIVE Project
Get an Opportunity to work in Real-time Projects that will give you a Deep Experience. Showcase your Project Experience & Increase your chance of getting Hired!
Certification
Get Certified by FITA Academy. Also, get Equipped to Clear Global Certifications. 72% FITA Academy Students appear for Global Certifications and 100% of them Clear it.
Affordable Fees
At FITA Academy, Course Fee is not only Affordable, but you have the option to pay it in Installments. Quality Training at an Affordable Price is our Motto.
Flexibility
At FITA Academy, you get Ultimate Flexibility. Classroom or Online Training? Early morning or Late evenings? Weekdays or Weekends? Regular Pace or Fast Track? - Pick whatever suits you the Best.
Placement Support
Tie-up & MOU with more than 1,500+ Small & Medium Companies to Support you with Opportunities to Kick-Start & Step-up your Career.
Graphic Design Certification Training in Coimbatore
About Graphic Design Certification Training in Coimbatore at FITA Academy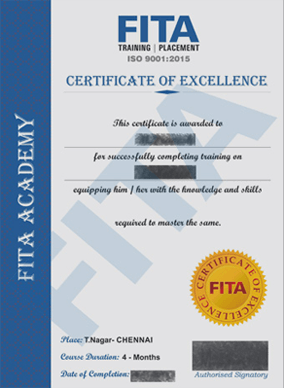 Graphic Design Certification Training in Coimbatore
In order to create attractive graphic designs, the field of graphic design necessitates a unique vision and a mastery of the necessary tools. These tools will be introduced and familiarised to our students while participating in our Graphic Design Course in Coimbatore. Our course is created with the intention of equipping the participants with the fundamental abilities and in-depth understanding of software programmes like Photoshop, Illustrator, InDesign, and many more. The degree of experience and understanding of cutting-edge tools and processes in the field of graphic design will increase with the achievement of this certification.
FITA Academy has established itself as one of the Best Graphic Design Institute in Coimbatore for providing aspirants with popular and in-demand course certifications. Our accreditation has significant value in both the domestic and global markets for leading industries. Additionally, including this accreditation on your CV can boost your chances of landing a job with reputed organisations. Given the significance of this certification, the top organisations will even offer high annual salaries to qualified and bright individuals. The certification obtained will stand out as proof of the in-depth knowledge and broad range of abilities picked up.
Have Queries? Talk to our Career Counselor
for more Guidance on picking the right Career for you!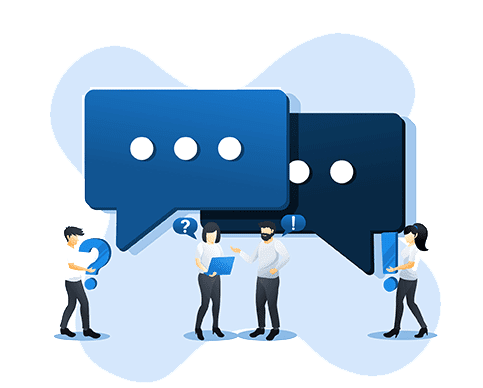 Job Opportunities After Completing Graphic Design Course in Coimbatore
In India, there is a high demand for graphic designers and occupations related to the field. This platform started to develop gradually after businesses and society began to shift into the digital age. The Internet is used for a variety of things, including reading the news feed, making financial transactions or paying bills, streaming music, playing video games, and watching movies online.
Every single one of the apps that people use on a regular basis is created by a graphic designer. As many businesses have shifted to the digital platform to promote their products and businesses, the market for Graphic Designers can be expanded from small to large size firms. One of the primary reasons for adopting this platform is that it is cost-effective and provides a high level of importance to consumers. Companies such as TCS, Deloitte, Amazon, CTS, Accenture, Canva, Zomato, HCL, Wipro, L&T and more employ candidates proficient in graphic design every year. The average salary of a graphic designer in India is around Rs 3 lakhs per annum. Globally, one earns around $52k each year as a graphic designer.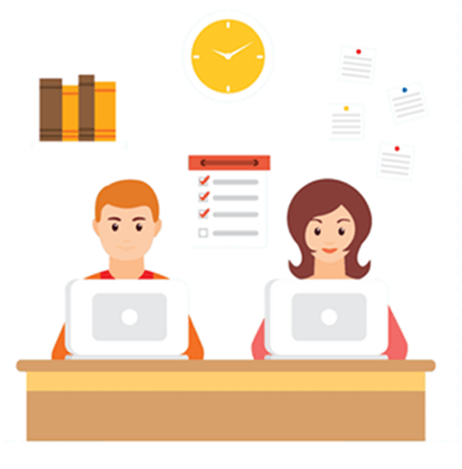 The field of graphic design suggests that conveying messages using visuals such as photographs, logos, graphics, and more is the most efficient means of interacting. FITA Academy offers a flexible curriculum for our Graphic Design Training in Coimbatore, and students who earn this certification have access to a wide range of employment prospects. With knowledge and abilities that are applicable to the industry, graphic design applicants can hunt for their ideal position in practically any sector of business.
S
Sathish Mohan

I had an excellent experience undertaking the Graphic Design Course in Coimbatore. I now have a clear idea about the application of colour theory and virtual painting. The trainers provided me with an in-depth understanding of Photoshop filters and Graphics Designing tools. I was able to gain a lot of useful insights at FITA Academy.
V
Vikram K

I found the Graphic Designer Course in Coimbatore very useful. It was easier for me to grasp the topics because they covered everything from the basics. My trainers were industry experts, and they shared their experiences, from which I was able to understand better. My trainers made the class enjoyable by using real-time scenarios and projects. I am satisfied with my training at FITA Academy.
A
Ajay S

I joined FITA Academy for my Graphic Design Training in Coimbatore. Overall, I had a worthy learning experience. I received a complete overview of tools such as Adobe, Photoshop and Illustrator. The classes were interactive and provided lots of practical training using these tools. I highly suggest joining FITA Academy for beginners who hope to get a kickstart in their careers.
S
Sreeja Menon

I completed my Graphic Designer Course in Coimbatore at FITA Academy. The course modules came with regular exercises, which helped me to understand methods and tools used in graphic designing better. My trainer gave us hands-on training using various tools. After my course, the FITA Academy team also helped me in finding a suitable job. I am currently employed as a graphic designer in a reputed MNC.
M
Manvi P

The Graphic Design Institute in Coimbatore has helped me build my skill sets and confidence. The classes were interesting and covered all the topics of graphic design. I am grateful for my trainers and staff, who supported me throughout the course and pushed me to try new things. I highly recommend FITA Academy for those who wish to build their own designs with a creative space while learning.
Have Queries? Talk to our Career Counselor
for more Guidance on picking the right Career for you!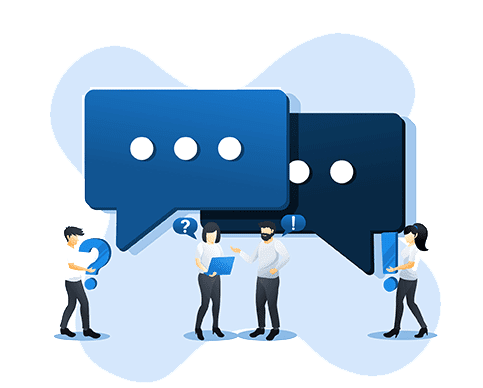 Graphic Design Course in Coimbatore Frequently Asked Question (FAQ)
Additional Information
Graphic designers are in charge of creating various forms of creative content for commercials, brochures, and magazines. Depending on the format and objectives of the final product, they use a variety of techniques to accomplish this. A skilled graphic designer needs to have a keen sense of colour and design as well as the ability to create inventive material that connects with their target audience. Additionally, they must employ various marketing strategies to produce stunning work that meets the demands of their clients.
To finish a project, graphic designers frequently collaborate with other designers and marketing specialists. A Senior Designer frequently oversees and instructs the group or individuals on the work required to finish the project. It's common to think that just web developers or mobile app developers work on app design. However, the graphic designer also contributes significantly to the design of the app.
There are also several certificate programmes, such as those offered by FITA Academy, that teach design abilities and demand varying degrees of dedication to accomplish. Even experienced graphic designers would benefit from our Graphic Design Course in Coimbatore since they can improve their abilities and discover new tools for the industry.
Elements of Graphic Designing
Size – A graphic design's significance is determined by the size of each element. The viewer's attention is drawn to an element more when it is larger in size. Therefore, it should be possible for a designer to choose the appropriate size for an element.
Line – The essential component of the design is a line. There are many different kinds of lines, including curvy, thick, thin, cross, solid, and non-solid ones. In order to draw the user's attention, lines are employed to connect the two distinct aspects of the design. A jagged line typically represents emotions, but a line with an arrow at the end directs the viewer's attention in that direction.
Colour – A crucial component of graphic design is colour. Having a solid understanding of colour tones and colour combinations is essential for a designer. Here, the tone denotes feeling or significance. Every colour has a distinct connotation; for example, Red denotes strength or rage, Blue reliability and competence, White peace, and Black strength. A designer must be able to determine which tone works best for a certain design.
Value – Value in this context refers to how bright or dark a design should be. Value emphasises contrasts and focuses more. As an illustration, the viewer's attention is immediately captured by the lightest piece against the darkest background.
Shapes – The four basic shapes used in geometry are the circle, triangle, rectangle, and square. These geometric patterns are used as boxes, patterns, and borders for aesthetic purposes. Solid shapes include symbols, icons, and dingbats. The FITA Academy's Graphic Design Course in Coimbatore provides students with a comprehensive understanding of all aspects of graphic design while using tools that are relevant to the industry and working with working professionals.
Texture – Visual textures are generated using a few graphic design approaches to direct the viewer's eye to a particular feature on the page and act as the web design's background. Through images, fonts, and other visual elements, the texture enhances the overall visual appeal and draws attention.
Being a graphic designer necessitates advanced talents in order to fulfil the duties and responsibilities assigned by the firm. Understanding the project and completing the specifications to match the client's expectations, deciding the message that the design should portray, and developing appealing and relevant graphics suitable for their product marketing are just a few of the duties involved.
Print and electronic media, advertising agencies, design firms, periodicals, television, publishing companies, brand management, the web design industry, entertainment business, fashion houses, and many more are the major industries where graphic designers are in high demand. Students with a graphic design certification have a wide range of professional options.
Various Job Roles In This Industry
Package Designer
This professional develops the physical construction and marketing packaging for the products. From start to finish, a package designer oversees the design process. Using design components, including shape, colour, graphics, and typography, they envision, design, and implement a prototype for eye-catching packaging materials. The result is packaging that is both practical and appealing to consumers.
Art Product Manager
An organisation's art and creativity team is managed by the art production manager, who strives to maximise efficiency while controlling costs. Product managers are responsible for their product's vision, strategy, design, and execution. Even while the fundamental duties of the job are frequently understood immediately, mastering each of these aspects takes ongoing practice.
Logo Designer
Logos are digitally created or hand-drawn symbols that are put in a specific order and have unique colours, shapes, and designs. The company's goods or services are represented by these logos. The logo serves as both a brand identification and a visual representation of a corporation. There are several career options for designers of logos. Enrol in the Graphic Design Institute in Coimbatore at FITA Academy to hone your ability to create eye-catching, distinctive logos under the direction of qualified experts.
Visual image developers
Using photo editing, 3D modelling, and photography, they produce designs and visuals. A visual designer creates content for a number of platforms, such as billboards, smart technology, intranet and internet sites, games, and cinema. In essence, they use creative guidelines and client meetings to develop the concepts, artwork, and designs for digital projects. Due to the fact that the responsibilities of visual designers are usually project or industry-specific, many job descriptions require knowledge of a certain industry.
Brand Image Manager
A Brand Image role is an alternative for the Graphic Designer. Compared to creating a logo, the role of a brand image manager is complex. Any company's brand identity can be recognised through marketing materials, including letterhead, business cards, marketing, and media advertising. A strong brand identity could make it easier for customers to recall the business.
Broadcast Designer
A broadcast designer creates and sustains the visual brand identity of an electronic media organisation, such as a broadcasting firm, advertising agency, or television station. The duties of this position involve developing the ideas and designs for graphics, having a working knowledge of specialised computer programmes and graphic software, having the capacity to create quality products under tight time restrictions, and maintaining the specific visual aesthetic of that corporate identity and brand.
Photoshop artist
One of the essential job roles in the graphic design industry is that of the Photoshop artist. Most E-commerce businesses require the services of a product photographer. For this position, applicants that are more interested in photo editing are welcome. You may quickly master Photoshop and photo editing techniques at FITA Academy's Graphic Design Classes in Coimbatore with the assistance of qualified photographers.
Web Designer
Web designers play a key part in creating websites, page layouts, and visuals for web pages. The website's structure and navigation should also be developed and designed by the web designer. The material must be positioned consistently and with alignment on the web page. Additionally, a Web designer must have knowledge of Internet technologies, computer graphics, and visual design.
Layout Artist
A layout artist organises and creates the text and image layout in a visually pleasing manner for print media. Posters, brochures, magazines, CDs, banners, and booklets can all need layout designs. Layout Artists are in charge of selecting the right typeface and accurately aligning the designs.
Our Graphic Design Course in Coimbatore provides the participants with a comprehensive understanding of graphic design concepts such as its principles, processes, page layout and photo editing. Tools like Photoshop and Illustrator will be used during the practical sessions to create original graphic designs. The students will get both conceptual and practical knowledge of the photoshop interface, display mode, project setup, document pane, colour application, and selection fundamentals. Our course material will be divided into modules.
The introduction to graphic design and the various Photoshop tools will take place at the beginning of the session. The students will become familiar with the definition of a layer as well as how to change a layer's opacity and fill-opacity throughout the lectures on the layer and mask in Photoshop. The third module in the course emphasises practical instruction on adding and modifying images in the Photoshop platform. At the end of the training, the faculty will have provided sufficient direction and help on the marketplace-based project work using various tools, approaches, and relevant platforms.
Participants will be offered real-time projects in which they will employ the tools and skills they have learned to create a particular graphic design. The students will receive instruction on smart objects versus regular layers, destructive versus non-destructive masks, and colour correction exercises. Enrol in the Graphic Design Institute in Coimbatore at FITA Academy to gain a comprehensive understanding of the fundamentals and principle ideas of graphic design.
Read more