Course Highlights & Why Data Science Course in Bangalore at FITA Academy?
FITA Academy provides expert training in obtaining, cleaning and transforming data to become proficient in data analysis.
We provide a comprehensive syllabus that covers all the technical and non-technical standard requirements of the industry.
Our course provides extensive knowledge on how to apply computing theory, languages and algorithms.
The students will learn to analyse and comprehend data by using an appropriate approach to create and assess data-based models.
The Data Science Institute in Bangalore provides versatile and interactive training sessions to ensure student-centred classes.
FITA Academy will help to develop relevant programming abilities to apply data science concepts and methodologies to resolve issues in real-world contexts.
FITA Academy offers hands-on training on data management, modes of analysis, evaluating the quality of input and understanding possible issues.
Our Data Science Course in Bangalore integrates modern techniques and tools that enable students to execute appropriate data solutions.
The classes can be customised according to the convenience of the students. We provide a flexible schedule of the weekend, weekday, fast-track and online classes in the comfort of your home.
FITA Academy provides 100% placements and partnerships with 1,500+ local and national organisations.
Read more
Upcoming Batches
| | | | |
| --- | --- | --- | --- |
| 02-11-2023 | Weekend | Saturday (Saturday - Sunday) | |
| 04-12-2023 | Weekdays | Monday (Monday - Friday) | |
| 07-12-2023 | Weekdays | Thursday (Monday - Friday) | |
| 09-12-2023 | Weekend | Saturday (Saturday - Sunday) | |

Classroom Course
Get trained by Industry Experts via Classroom Course at any of the FITA Academy branches near you
Why Wait? Jump Start your Career by taking the Data Science Training in Bangalore!
Instructor-Led Live Online Course
Take-up Instructor-led Live Online Course. Get the Recorded Videos of each session.
Travelling is a Constraint? Jump Start your Career by taking the Data Science Online Course!
Have Queries? Talk to our Career Counselor
for more Guidance on picking the right Career for you!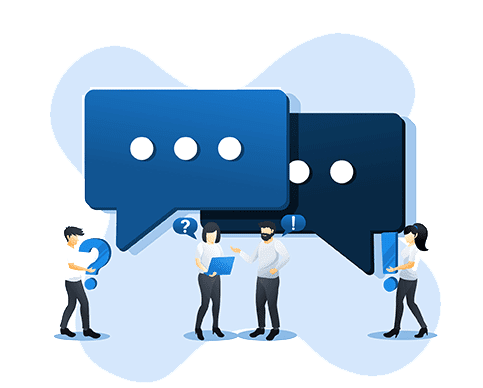 Trainer Profile
Trainers of FITA Academy have over 8+ years of practical experience and share their knowledge to provide an extensive training program.
The trainers place a strong emphasis on assisting learners of all skill levels in understanding concepts and applying them in practical contexts.
Our mentors provide the students with constructive criticism so they can grow professionally.
The most recent data science approaches and technologies, as well as certifications, are integrated into the course modules by our trainers.
They provide the Best Data Science Courses in Bangalore by integrating real-time projects and case studies for comprehensive learning.
Students are provided with hands-on training in R and Python under the guidance of experts.
Our skilled trainers also provide each student with individualised advice and aid in building strong resumes.

Learn at FITA Academy & Get Your
Dream IT Job in 60 Days
like these Successful Students!
Features of Data Science Course in Bangalore at FITA Academy
Real-Time Experts as Trainers
At FITA Academy, You will Learn from the Experts from industry who are Passionate in sharing their Knowledge with Learners. Get Personally Mentored by the Experts.
LIVE Project
Get an Opportunity to work in Real-time Projects that will give you a Deep Experience. Showcase your Project Experience & Increase your chance of getting Hired!
Certification
Get Certified by FITA Academy. Also, get Equipped to Clear Global Certifications. 72% FITA Academy Students appear for Global Certifications and 100% of them Clear it.
Affordable Fees
At FITA Academy, Course Fee is not only Affordable, but you have the option to pay it in Installments. Quality Training at an Affordable Price is our Motto.
Flexibility
At FITA Academy, you get Ultimate Flexibility. Classroom or Online Training? Early morning or Late evenings? Weekdays or Weekends? Regular Pace or Fast Track? - Pick whatever suits you the Best.
Placement Support
Tie-up & MOU with more than 1,500+ Small & Medium Companies to Support you with Opportunities to Kick-Start & Step-up your Career.
Data Science Certification Training in Bangalore
About Data Science Certification Training in Bangalore at FITA Academy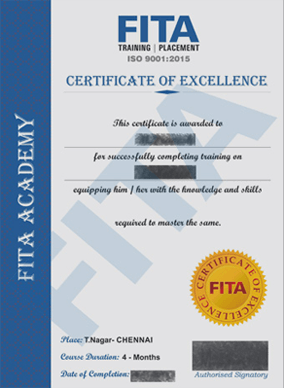 Data Science Certification Training in Bangalore
Data science is becoming more and more common In every sector of the industry. Many sectors, including e-commerce and manufacturing, are looking to hire qualified data analysts for their workforce. FITA Academy's data science course instils in-demand skills and provides certification on course completion. Our students will be moulded into data science experts through our practical, practitioner-based approach.
The certification will instil industry-relevant skills and ensure a prosperous career. A certification from the Data Science Institute in Bangalore will increase your chances of getting selected by hiring managers during a company's screening process for the most lucrative and desirable roles, such as those of a Data Scientist or a Data Analyst. By obtaining a data science certification, you will be able to stay up-to-date with industry developments. Students will acquire new information about the evolution of data science and its impact on the industry.
The data science course enhances the technical skills and aids in the holistic development of our students. Certifications will strengthen the individual's professional value in the market, empowering them to appear in various job interviews where the accreditation will highlight the acquired skills and knowledge.
Have Queries? Talk to our Career Counselor
for more Guidance on picking the right Career for you!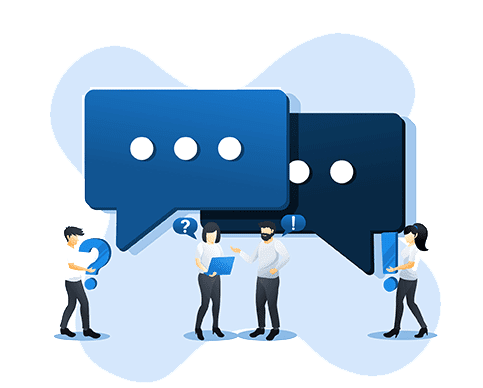 Job Opportunities After Completing Data Science Course in Bangalore
Companies are becoming increasingly conscious of the importance of making data-driven decisions in a range of sectors, including healthcare, banking, and pharmaceuticals. In an effort to provide a variety of methods for utilising data, the area of data science and professions that are related to it are rapidly growing in popularity in India.
The salary of an individual in this field depends on skill, experience, location and organisation. For a fresher, the average salary is expected to be around Rs. 5 lakhs per annum. In addition, an individual with experience can expect a salary of around Rs. 8 lakhs annually. Our experts have specially designed the coursework for Data Science Training in Bangalore at FITA Academy with the intention of providing students with in-depth knowledge, practical skills, and the confidence they need to stand out in a cutthroat market. There are numerous opportunities for those who have completed Data Science Training in Bangalore. Some of these roles include data analyst, business intelligence analyst, and big data engineer.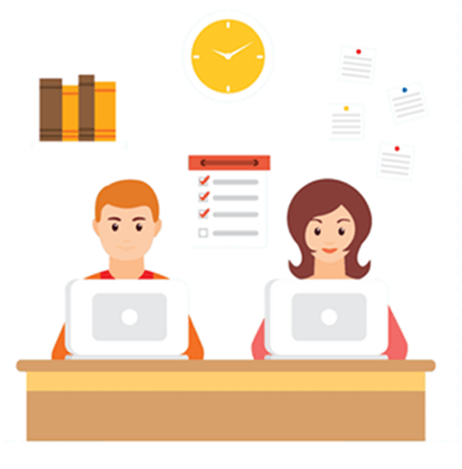 With the increasing demand for data scientists in India, these positions are expected to grow in popularity. Many businesses use data analysis to fuel their expansion. Data scientists are in high demand, especially in technology and logistics.
Popular businesses such as Google, Apple, Microsoft, and Amazon hire data scientists to propel their business. Students can access some of the most lucrative professional prospects by developing their technical programming abilities, understanding of analytical tools, and aptitude for managing unstructured data at FITA Academy.
Read more
A
Anil Kumar

I received much more than I expected from the Data Science Course in Bangalore. I found learning enjoyable and received thorough training from my trainer. The method of teaching is simple and easy to understand. I now have a clear understanding of how the sector operates and hope to use my skills to improve my career.
J
Juhi M

I joined FITA Academy for my Data Science training. Through this course, I was able to learn in-depth details about the many tools and characteristics of data science. I recently received a job offer after getting the qualification added to my résumé. I am really grateful to my trainer and the faculty for their support and motivation in encouraging me to achieve new heights.
I
Ishaan Rajput

It was an amazing learning experience at FITA Academy. The way of explaining concepts and the systematic method of teaching by the faculty were very helpful. The trainers assisted me in learning the data science parts in the most effective way possible. I recently accepted a position with an MNC after passing my certification examinations.
A
Ashish Yadav

The Data Science Course in Bangalore provided me with a self-paced flexible course which helped me to learn and understand significant concepts in an easy manner. Before beginning this course, I found it really difficult to learn the concepts. FITA Academy has been a life-changing experience
K
Koushik

I obtained my certification in Data Science Training in Bangalore at FITA Academy. I got placed as an infrastructure architect in a reputed software company with the help of the placement cell at FITA Academy. I was able to get my doubts clarified then and there by my expert trainers, who were friendly and kind. I highly recommend this course to my acquaintances.
Have Queries? Talk to our Career Counselor
for more Guidance on picking the right Career for you!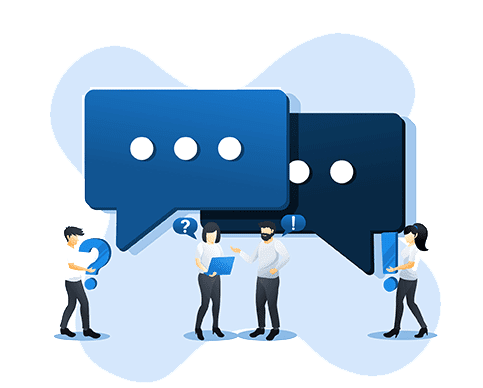 Data Science Course in Bangalore Frequently Asked Question (FAQ)
Additional Information
Data Science is a method that combines computing, information, statistics, and algorithms. It is useful to develop and maintain insights for both supervised and unsupervised data. This field, like many others, is related to machine learning, deep learning, and artificial intelligence. Data science projects are crucial for companies that want to enhance customer satisfaction and increase productivity and sales.
Data science is advantageous to any organisation that uses its data appropriately. Data science may help any organisation in any industry by improving workflows and hiring new staff to help senior employees make more informed decisions. Businesses can efficiently interpret vast amounts of data from various sources with the help of data science and obtain valuable information to make better decisions.
Data is the money of the future, so it's essential to understand the concepts and principles that surround it. The technology area that is now receiving the greatest attention is data science, which meets all of these requirements. It provides support for several divisions in the IT, healthcare, financial, automotive and many more industries. As a result, a number of characteristics of data science work together to increase its demand and appeal. You will be able to gain future insights and forecast current trends in Data Science with FITA Academy.
Concepts of Data Science
Machine Learning
A subset of artificial intelligence (AI) called machine learning (ML) enables software applications to improve their ability to predict outcomes without having that ability explicitly coded into them. Machine learning programmes estimate new output values using historical data as input. Machine learning serves as the foundation upon which data science is developed. Data scientists need to have a solid background in statistics as well as in-depth knowledge of machine learning. For a complete grasp of ML, enrol in the Machine Learning Course in Bangalore and gain access to numerous resources and tools.
Modelling
Data modelling is the process of creating a condensed model of a software application and the data components it comprises using mathematical symbols to describe the data and how it functions. The development of new databases can be aided by data models. You may quickly calculate and make predictions using mathematical models that are based on the data you already have. Modelling is another aspect of machine learning, and it involves figuring out which algorithm is best suited to solve a certain problem and how to train these models.
Statistics
All sorts of data are used in the study of statistics. Producing correct results depends on using the right data collection method and putting the data in the right analytical process. Statistics is one of the essential elements of analytics. One can study more and produce more desirable results by having a solid understanding of statistics.
Programming
For a data science project to be successful, some programming experience is required. The two most used programming languages used by data scientists are Python and R. Python is especially popular because it is easy to learn and has a wide range of libraries that enable data science and machine learning.
Databases
Databases are organised collections of data. They enable the digital manipulation and archiving of data. Data administration is made simple by databases. A competent data scientist must be skilled with database systems, operations, and data extraction procedures.
Analytics has developed into a force that drives it to important insights, while data is now being referred to as the "new oil" for businesses. The potent combination of both is driving the development of data science applications in the future. Organisations all across the world are coming up with creative methods to use data to advance their businesses.
Different job roles of a Data Science Specialist
Data Scientist
A data scientist analyses corporate data to discover important insights. The data scientist converts the raw data into an analysis-ready format after the data has been collected. A data scientist applies statistics, mathematics, programming, science and machine learning techniques to discover meaningful insights from data. To guarantee uniformity, completeness, and accuracy, the data needs to be cleaned and checked. Before starting the data collection and analysis, the data scientist tackles the issue by presenting the appropriate questions and seeking knowledge. Data scientists assemble structured and unstructured data from a wide range of sources.
Data Analyst
Large amounts of data, such as those from customer surveys and sales statistics, must be analysed in order to unearth useful information. Data analysts collect and analyse data using specialised technologies to produce knowledge that aids in decision-making. They will react to inquiries about the data and look for patterns, trends, and irregularities. They need to be adept at manipulating and presenting data. Our Data Science training Institutes in Bangalore provide specialised tools to gather the needed data.
Software Engineer
A software engineer is a specialist in information technology who creates, develops, and maintains computer software for a business. They employ the concepts of software engineering, their technical expertise, and their creativity to assist in resolving new and persistent issues for a business. Software engineers analyse task deadlines and schedule work tasks. This can involve working with other software employees on challenging tasks, including updating or creating new software systems and testing and resolving any written code errors.
Data Science Lead
A data science lead is an important functional role with a wide variety of responsibilities within a company. They are in charge of managing the entire process of gathering, cleaning, and preparing data. They need to be familiar with current technologies and frameworks in order to handle complex business concerns.
NLP Engineer
A natural language processing engineer is responsible for developing cutting-edge NLP systems. They often have substantial training in computational linguistics and artificial intelligence. They are typically required to create clever apps employing data collected from texts. They may focus mostly on developing analytic solutions or on employing automation to generate new text.
Data Science Manager
The role of a data science manager is to assist the organisation in making use of data. They achieve this by working together with a team of engineers and data scientists that provide management with insightful direction and guidance so that they may make appropriate decisions. A data science manager oversees the whole project team. Our expert trainers of the Data Science Course in Bangalore help the students set deadlines, allocate needed resources, and assess results.
Business Intelligence Analysts
A business intelligence analyst does much of the same work as a data analyst. However, they use different methods to gather and analyse information. BI analysts often specialise in reporting and dashboarding.
Data Architects
A data architect designs data models, infrastructures, and processes for storing and processing information. He or she also develops solutions for managing and integrating data across various applications. They are highly skilled in database management and query languages.
Database Administrators
Database administrators manage and administer several types of databases. They design and implement database schemas and monitor performance and availability. Their primary responsibility is ensuring security.
Information Security Specialist
An information security specialist monitors network traffic for sensitive data which could compromise a company's security. These professionals develop policies and procedures that protect confidential client information.
Business Intelligence Consultants
A business intelligence consultant specialises in creating reports and visualisations based on data sets. They can create complex queries and dashboards based on data sets. Sometimes a business intelligence consultant creates custom solutions when no off-the-shelf product exists.
Information Retrieval Specialist
An Information retrieval expert helps find relevant information from vast stores of knowledge. In many cases, information retrieval specialists use natural language processing systems such as search engines or QnA techniques to extract information from documents. The term is used mainly in libraries and academic circles, though it has been adopted elsewhere.
Statisticians
Statisticians analyse datasets looking for patterns and trends. They study correlations between variables and produce statistical predictions.
Database Administrator
Database administrators maintain computerised information and ensure its integrity. They plan upgrades and backup systems, install databases, configure programs like ERP, and back up data.
Big Data Engineer
This role has emerged as a need because of the large amount of data being produced by consumers using mobile devices, social networks, web services, and cloud computing. Big data engineering involves developing tools to collect and store large amounts of unstructured data to perform real-time analytics.
ETL Developers
Enterprise transformation layer developers translate raw data into useful formats for decision-making. They may be asked to transform from one format to another in order to obtain results more readily understood. For example, an ETL developer may take data in comma-delimited text files, convert them into CSV files, and then load these files into a relational database where they become easier to manipulate and display.
Skills required to be a Data Scientist
Programming languages and database
When your profession entails completing tasks and producing insights, you must have a solid grasp of the programming language. As a result, working as a data science expert necessitates knowledge of a number of computer languages in order to manage data and employ various algorithms as necessary. Data scientists commonly use a few essential languages, and recruiters expect fluency in these languages. They are
Apart from that, a few essential databases, such as MongoDB and MySQL, are required to gather data and ensure its accessibility when called. Data scientists primarily use Python and R programming to deliver the outcomes required by most firms, regardless of industry. Learn in-depth skills at Python Training in Bangalore to become a skilled data scientist. To gather numerical and statistical data, they offer frameworks and tools that are effective.
Statistics
A data scientist must have a strong knowledge of statistics and mathematics to perform tasks and deliver the appropriate outcomes. It's essential to be knowledgeable in Algebra, Probability, Geometry, Matrices etc., for a strong foundation in data science.
Data Visualisation
Visualisations are an effective way to convey information and direct an investigation toward its goal. Data visualisation is one of the most crucial skills since it involves more than just summarising the findings; it also entails comprehending the data and becoming aware of its flaws. Concepts are always better represented visually since they are better known and understood. Several of the techniques for data visualisation include charts, maps, histograms, 2D/3D plots, etc.
Web Scraping
The process of web scraping is used to collect data and information from the internet. This data is often kept in a local file for future editing and analysis. Having knowledge of Web scraping is crucial for a data scientist. There are many applications for web scraping, notably in the field of data analytics. Companies that carry out market research employ scrapers to get data from social media and internet forums. Numerous companies also operate in contact scraping, which refers to the process of scanning the internet for contact information to be used for marketing.
Machine Learning with Artificial Intelligence
If you work for a firm that manages and utilises massive amounts of data and bases its decisions mostly on that data, machine learning might be a skill that employers are looking for. Machine learning is a branch of data science that helps model data and generate results in the same way that statistics and probability do. With the use of machine learning and AI concepts, one can develop various algorithms and prototypes while also handling massive data sets, such as data cleaning and resolving errors. Data Science includes algorithms that are essential to AI.
One needs to have a solid understanding of machine learning and artificial intelligence in order to combine tools and approaches in different logic and decision trees. You'll study the craft of data analysis and machine learning with the aid of our data science training in Bangalore. Any data scientist with these skill sets will be able to tackle and overcome complicated problems specifically designed for forecasting or selecting future goals. Those who possess these skills will surely distinguish themselves as competent professionals.
Big Data
Big Data is a large, expanding, and bundled collection of data. Due to its size and complexity, no traditional data management system can hold or process this data efficiently. Businesses can use big data to make decisions while also utilising outside intelligence. Those who have worked with big data before may be aware that there are a number of limits that make handling this much data impractical and that special tools and strategies are required to resolve these difficulties. The Data Science Course in Bangalore provides hands-on training in tools such as Spark, Hadoop, and KNIME.
Being able to access web searches and websites like Facebook and Twitter has allowed organisations to fine-tune their business strategy. Conventional customer feedback systems are being replaced by new systems developed utilising Big Data technologies. These innovative tools read and evaluate client input using big data.
Problem-solving skills
For one to succeed in the field of data science, one must have the ability to manage complexity. Being confident in one's ability to identify issues and devise creative solutions when necessary is essential. When attempting to develop any solution that would demand clarity in data science concepts, it may be challenging to break the challenges down into multiple components and systematically align them.
Being a data scientist has been a successful career choice during the last few years. In addition to the growing importance of data and the desire to improve it, there are a number of additional reasons that have increased the demand for data scientists in India. They include
Since it is a more recent industry, employees in this industry face less competition.
Currently, jobs in data science are some of the most lucrative ones.
The majority of transactions started happening online as Covid-19 spread across India. These processes generated a significant amount of data, which sped up the training of data scientists in India. Data science is a field that has recently experienced a spike in popularity, and there are currently numerous academies in Bangalore that provide professional data science courses. One such establishment that provides thorough Data Science Training in Bangalore is the FITA Academy.
Benefits of Data Science Certification Training in Bangalore at FITA Academy
Acquire in-demand skills- Data science is a rapidly growing field, and businesses are looking for professionals with the skills to work with and analyse data. This data science training in Bangalore can give you the skills you need to compete in this field.
Gain experience with real-world data- Data science certification courses often include hands-on exercises with real-world data sets. This experience can give you the practical experience you need to work with data in the real world.
Get noticed by top companies- With so many people competing for only a few jobs, these data science certification programs help you stand out from the crowd. Companies that offer data science training will notice your qualification and hiring potential.
Boost your career prospects- A data science certification can help you stand out from the competition and boost your career prospects. You'll learn how to use different technologies such as R programming language and SQL. You can also take Excel, Python, Tableau, Hadoop, Machine Learning etc. Courses may come with certificates once completed.
Earn a higher salary- Companies that offer a data science job will be more interested in hiring someone with training or experience in this area than someone without it. Companies that know you have data science training will pay you more money. In fact, many data scientists were hired on their education alone before becoming experienced enough to do the actual job.
No coding required- The majority of data scientist jobs don't require any prior knowledge of programming languages like Java, C++, Python etc., which could make them an attractive option if you aren't sure if you want to become a programmer. Most people who are hired for these roles come from business backgrounds and have learned to interpret data through coursework or previous experience.
Easy to enter- There are no prerequisites to taking a data science certification course; anyone can enrol. All one needs is basic computer literacy skills, including familiarity with popular operating systems like Windows and OS X. Some programs require familiarity with databases and some maths, but there is no set curriculum.
Affordable- When compared to other forms of study, such as bachelor's degrees, data science programs cost significantly less. Certificates in this area can usually be earned at a fraction of the price of a bachelor's degree. However, it should be noted that the quality of certificate courses varies widely, so you might not get what you pay for.
No special equipment is needed- Data scientists rely on standard computers while studying. They might use additional software packages if necessary, but nothing special (such as specialised hardware) is required.
Data Science is a problem-solving discipline that includes a variety of tools and approaches for obtaining information from data. It is a field that is constantly evolving. The Data Science Course in Bangalore at FITA Academy orients on practical sessions and self-paced study. The lectures taught by the faculty use the most current teaching software methodologies giving the students the liberty to interact with the trainers. The students will work with real-world data and industry-based projects to help them attain proficiency in this field.
FITA Academy provides the Best Data Science Courses in Bangalore that assist students in realising their potential by giving them the necessary direction. Our trainers are experts with years of practical experience and training in data science. Our primary goal is to offer a student-centred and comfortable environment so they can develop with us and succeed in life.
FITA Academy courses are planned and designed by integrating the current industry trend and skills necessary to become an efficient and successful data scientist. The course entails six modules covering significant concepts of data science. The first module is about introduction to data science and Python for data analysis. The programming language of Python is essential to excel in this field. Moreover, the students will be introduced to the need for business analytics, the use of cases and different tools available for data science.
The second lesson is on R, which includes practice with if statements and loops like for, while, repeat, break, and next, as well as examples of R packages and operators. The third module focuses on data wrangling, data exploration, and R data structure. The students will learn about the process of importing and exporting data from an external source. Comprehensive training will be provided on the concepts of data exploratory analysis, R data structure, functions, and application knowledge.
The fourth module of the course provides extensive training on predictive modelling linear regression. The trainers of FITA Academy will impart theoretical concepts and the practical application of data science. The sub-topics of the modules include linear regression, Bivariate Regression, multiple regression analysis and its correlations. The final modules of the course will impart the students with practical training on industry case studies, instances of machine learning usage, the process flow of machine learning, and the categories of machine learning.
Read more