Course Highlights & Why IELTS Coaching in Chennai at FITA Academy?
At FITA Academy, the syllabus or modules are tailor-made to help learners pass the IELTS test on their first attempt.
IELTS Training in Chennai offers both a regular pace and fast track for the ease of students.
FITA Academy training courses come with a flexible schedule for the learners. They can enroll in offline classes, live online classes, and recorded classes.
The IELTS training in Chennai cover topics from scratch. This course is suitable for beginners as well as experts looking for expert vocabulary.
This course comes with hands-on and live assignments to ensure repeated practice and proficiency.
Proof of concept assessments is present after the completion of each topic.
The IELTS Coaching in Chennai has a placement support system with an established network of industry professionals.
Understand the exam format of IELTS for areas of coverage.
Perform a practice test to record your current proficiency.
Understand time management to solve all the question patterns punctually.
Learn tricks, strategies, and tactics for common questions and their patterns.
Explore your writing capability with related assignments in-depth.
Apply your comprehension skills on simple and complex passage-based assignments.
Learn to improvise your concentration skills for listening-based tasks.
Enhance your vocabulary with dictionary tasks and sentence making.
Perform peer-based review sessions for evaluation.
Learn to test your capability through regular assessments.
Learn to handle grammatical errors in your writing and speech for self-editing.
Discuss the career prospects and guidelines surrounding IELTS.
Read more
Classroom Training
Get trained by Industry Experts via Classroom Training at any of the FITA Academy branches near you
Why Wait? Jump Start your Career by taking the IELTS Coaching in Chennai!
Instructor-Led Live Online Training
Take-up Instructor-led Live Online Training. Get the Recorded Videos of each session.
Travelling is a Constraint? Jump Start your Career by taking the IELTS Online Coaching!
Have Queries? Talk to our Career Counselor
for more Guidance on picking the right Career for you!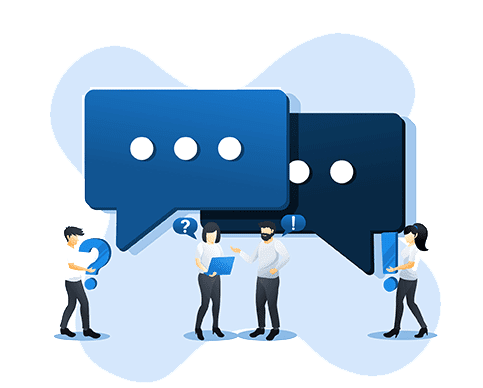 Trainer Profile
Our IELTS trainers are real-time experts in the English Language.
Mentors in this course are proficient in verbal, audio, reading, and written assessments throughout their careers.
The trainers in this program have 8+ years of experience in training thier students for the IELTS exam.
Our mentors in FITA Academy take responsibility for the conceptual clarity and implementation of each learner.
IELTS Training in Chennai practices time management techniques to improve your score.
FITA Academy mentors adopt live and hands-on assessments to deliver faster learning results.
Our trainers provide up-to-date information on the latest changes in the English Language or IELTS exam.
Mentors teaching in the IELTS Coaching in Chennai have motivated around 72% of the learners to attempt the IELTS exam post their training at FITA Academy with a success rate of 7+ band score in the first attempt.
Individual mentorship is available to all learners who seek additional career advice for IELTS related benefits.
Features
Real-Time Experts as Trainers
At FITA Academy, You will Learn from the Experts from industry who are Passionate in sharing their Knowledge with Learners. Get Personally Mentored by the Experts.
LIVE Project
Get an Opportunity to work in Real-time Projects that will give you a Deep Experience. Showcase your Project Experience & Increase your chance of getting Hired!
Certification
Get Certified by FITA Academy. Also, get Equipped to Clear Global Certifications. 72% FITA Academy Students appear for Global Certifications and 100% of them Clear it.
Affordable Fees
At FITA Academy, Course Fee is not only Affordable, but you have the option to pay it in Installments. Quality Training at an Affordable Price is our Motto.
Flexibility
At FITA Academy, you get Ultimate Flexibility. Classroom or Online Training? Early morning or Late evenings? Weekdays or Weekends? Regular Pace or Fast Track? - Pick whatever suits you the Best.
Placement Support
Tie-up & MOU with more than 1000+ Small & Medium Companies to Support you with Opportunities to Kick-Start & Step-up your Career.
IELTS Certification Coaching Centre in Chennai
About IELTS English Certification Coaching Centre in Chennai at FITA Academy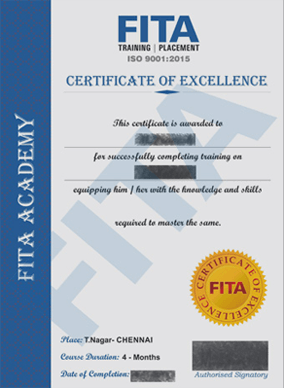 IELTS Certification Coaching Centre in Chennai
At the successful completion of the IELTS Training in Chennai, the candidate is awarded a course completion certificate. Most enterprises recognize this certificate as proof of your credibility in this subject. This certificate provides validation for the skills and concepts you acquired in the speculated time of enrollment. It acts as verification for passing all the assignments and assessments to become a successful English language professional.
The IELTS Coaching certificate from FITA Academy is sufficient to authenticate your proficiency in the subject. However, mentors at FITA Academy encourage learners to earn global credentials with exam-specific training and set themselves apart among other candidates.
The exam or credential in question is known as IELTS (International English Language Testing System).
Some popular queries about this test are below:
1.How to enroll for this test?
The exam is available offline at a testing center and online in the comfort of your home.
2.What format do they follow for the exam?
The exam consists oflistening, reading, writing, and speaking assignments that you need to solve in less than three hours. The questions are variable depending on the section.
3.Are the scores valid for a lifetime?
The scores are valid for three years from the date of issue. It is necessary to re-earn this credential for industry-relevance or recognition.
4.What is the pocket-pinch for taking up this test?
The cost of this exam is variable and location dependent.
For further details, you can consult with your mentor or contact the FITA Academy team from our official page.
Read more
Have Queries? Talk to our Career Counselor
for more Guidance on picking the right Career for you!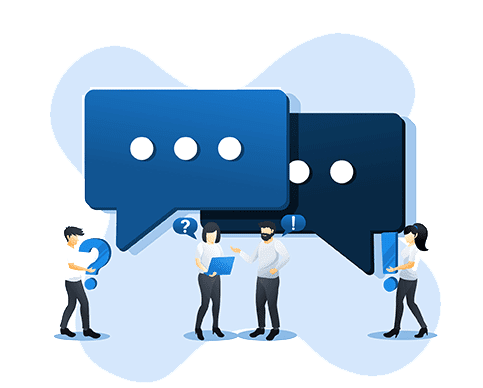 Job Opportunities After Completing IELTS Coaching in Chennai
The IELTS exam holds more value to individuals than just validating their proficiency in the English language. This exam credential is beneficial for individuals interested or working in industries like healthcare, finance, law, accounting, engineering, tourism, aviation, hospitality, etc. It is also suitable for individuals looking for government jobs and political or diplomatic roles.
As of present, naukri.com lists around 26194 job openings for IELTS professionals specifically and other industries in India. Some of those job profiles or positions in this field are Telecaller, Student Counselors, IELTS Faculty, IELTS Invigilator, Department Head, Operations Manager, Nurse, Spoken English Teacher, Program Manager, and Academic Coordinator, among many others.
Some of the top organizations hiring IELTS professionals today are Cognizant Technology, Accenture, Quest Global, TCS, etc.According to ziprecruiter.com, the average annual salary for an IELTS professional can go up to $32K globally. In India, the same average is around Rs 2.5 lakhs per year. However, the positive impact of an IELTS credential on different industrial roles is difficult to determine. These figures change exponentially with experience, location, proficiency level, enterprise, and position in the industry you hold. With the best IELTS Coaching in Chennai, you can rest assured about your career needs.
Read more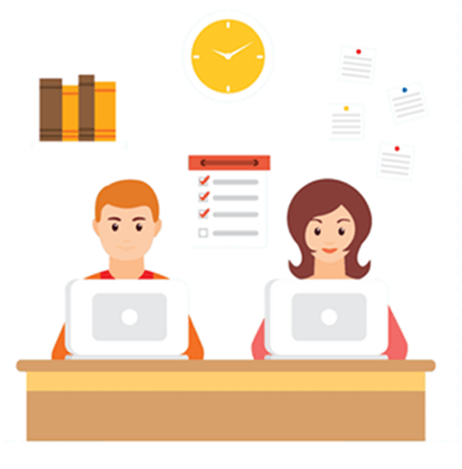 A
Alaina Shah

In my opinion, FITA Academy provides the best IELTS Coaching in Chennai. I have tried to learn the same topics online from different mediums but was never confident enough to attempt it. However, my score has been 8+ on my first attempt, all thanks to this training. The mentors and support team were helpful at every point in the program.
G
Gurmeet Singh

The IELTS Training in Chennai at FITA Academy has helped me deal with my bad English very well. My friends used to make fun of me before this course, but I can confidently rival them in their speech and writing skills now. I am grateful to the makers of this training. I intend to take up the IELTS exam soon and make my trainer proud.
C
Charulata Bhowmick

The trainers in this course flex academic standards way higher than the other training in Chennai. I have always been intrigued by the idea of learning IELTS but barely found a coaching class worth a shot. However, the IELTS Coaching Coaching in Chennai have fulfilled those needs effectively. I am grateful to FITA Academy for their combined efforts.
D
Deniz Afshar

I am grateful to my friend circle for suggesting this course. It is a profitable investment so far. The IELTS credential help that I received at FITA Academy has been top-notch and beneficial. It has aided me in my foreign education as well as part-time job opportunities there. I hope everyone reading this can make the best use of this training as I did.
B
Bhanu Priya

The course is very audio-visually advanced. With so many assignments and assessments, it is rare not to achieve the 7+ score that FITA Academy mentors pitch. However, it is worth admiration for how they fit all the learning resources and activities together so well. It is easy to understand and can be attempted by less confident learners too.
Have Queries? Talk to our Career Counselor
for more Guidance on picking the right Career for you!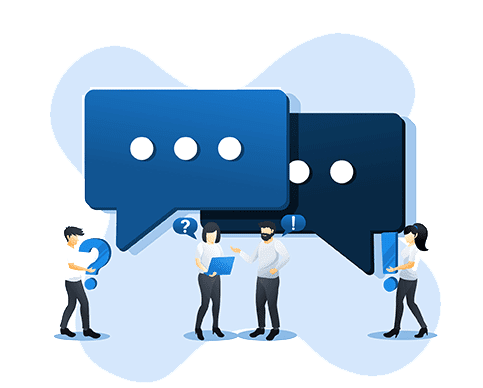 IELTS Coaching in Chennai Frequently Asked Question (FAQ)
Additional Information
Today, English is the most important language for communication, both online and offline. As the language of the internet, it is a necessary part of your industry relevance. Sometimes words can do wonders for your career, no matter which sector you belong to. Thus, at FITA Academy, we bring you our IELTS Coaching in Chennai, a pioneer for testing your English versatility and expertise.
IELTS (International English Language Testing System) is an international test that validates the proficiency of a non-native speaker in the English language. It is offered in collaboration with the British Council, IDP: IELTS Australia, and Cambridge Assessment English. This exam is available to take up by candidates who are 16+ years of age and have a valid passport.
The IELTS classes in Chennai integrate relevant concepts for your test-specific knowledge. The activities in this course are also taught using innovative and smart methods of the modern world. They fit into every aspect of your daily life and provide versatile profits. With regular assignments, assessments, hands-on, and live approaches, we can guarantee your proficiency in this subject and beyond.
FITA Academy learners sport a success rate of 100% in earning a 7+ band score to date. Most learners reside in a margin of 8.5 and 9.5 scores in their results. Mentors in this course are experts with several years of experience in training students for IELTS. They make sure to integrate the latest tricks and strategies to help learners stay up-to-date with the exam pattern. Students enrolled in this program can choose to study in the IELTS Coaching center in Chennai or online. At FITA Academy, we take full responsibility for your professional needs.
Read more