Course Highlights & Why IELTS Coaching in Chennai at FITA Academy?
The curriculum of IELTS Coaching in Chennai FITA Academy is exclusively designed to ensure the students pass the IELTS exam with a 7+ band score on their first try.
The IELTS Training in Chennai integrates relevant concepts for your test-specific knowledge.
The course integrates innovative and smart methods of the modern world for extensive learning.
FITA Academy has a flexible schedule of classes. Students can opt for either weekend or weekday classes in their comfort.
FITA Academy has tie-ups with 1,500+ companies to ensure a prosperous career for our students.
The four English language skills—learning, speaking, reading, and writing—are integrated throughout the curriculum.
The Best IELTS Coaching in Chennai incorporates essential ideas for your test-specific understanding.
FITA Academy offers Smart classrooms with cutting-edge tools to enhance learning.
Perform a practice test to record your current proficiency.
Read more
Upcoming Batches
| | | | |
| --- | --- | --- | --- |
| 02-11-2023 | Weekend | Saturday (Saturday - Sunday) | |
| 04-12-2023 | Weekdays | Monday (Monday - Friday) | |
| 07-12-2023 | Weekdays | Thursday (Monday - Friday) | |
| 09-12-2023 | Weekend | Saturday (Saturday - Sunday) | |

Classroom Training
Get trained by Industry Experts via Classroom Training at any of the FITA Academy branches near you
Why Wait? Jump Start your Career by taking the IELTS Coaching in Chennai!
Instructor-Led Live Online Training
Take-up Instructor-led Live Online Training. Get the Recorded Videos of each session.
Travelling is a Constraint? Jump Start your Career by taking the IELTS Online Coaching!
Have Queries? Talk to our Career Counselor
for more Guidance on picking the right Career for you!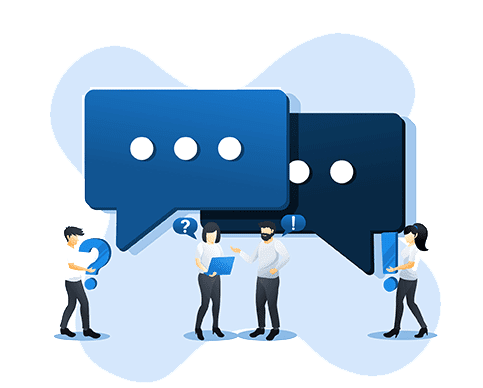 Trainer Profile
The expert trainers at FITA Academy have 8+ years of English language coaching experience.
The mentors are experienced orators who discuss the latest information and trends with the students to help them develop the English language.
The logical and vocal clarity of every learner is given additional attention by our mentors at FITA Academy.
Our trainers give individual attention to each student to help them grow intensively.
FITA Academy mentors adopt live and hands-on assessments to deliver faster learning results.
The mentors at FITA Academy make sure to give the students the proper guidance, comments, and support while focusing on their areas of weakness.
The IELTS Coaching centre in Chennai of FITA Academy is renowned for its expert personnel, their all-encompassing teaching methodologies and the relevant practical exercises making student-centred sessions.
Get the chance to interact with professional IELTS trainers by joining IELTS Training in Chennai at an affordable price.

Learn at FITA Academy & Get Your
Dream IT Job in 60 Days
like these Successful Students!
Features of IELTS Coaching in Chennai at FITA Academy
Real-Time Experts as Trainers
At FITA Academy, You will Learn from the Experts from industry who are Passionate in sharing their Knowledge with Learners. Get Personally Mentored by the Experts.
LIVE Project
Get an Opportunity to work in Real-time Projects that will give you a Deep Experience. Showcase your Project Experience & Increase your chance of getting Hired!
Certification
Get Certified by FITA Academy. Also, get Equipped to Clear Global Certifications. 72% FITA Academy Students appear for Global Certifications and 100% of them Clear it.
Affordable Fees
At FITA Academy, Course Fee is not only Affordable, but you have the option to pay it in Installments. Quality Training at an Affordable Price is our Motto.
Flexibility
At FITA Academy, you get Ultimate Flexibility. Classroom or Online Training? Early morning or Late evenings? Weekdays or Weekends? Regular Pace or Fast Track? - Pick whatever suits you the Best.
Placement Support
Tie-up & MOU with more than 1,500+ Small & Medium Companies to Support you with Opportunities to Kick-Start & Step-up your Career.
IELTS Certification Coaching Centre in Chennai
About IELTS English Certification Coaching Centre in Chennai at FITA Academy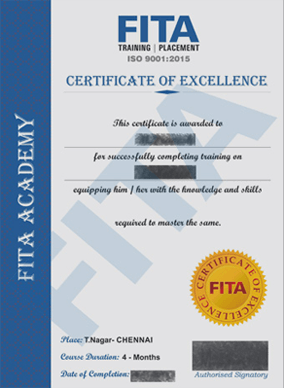 IELTS Certification Coaching Centre in Chennai
The FITA Academy's IELTS Coaching centre in Chennai is well known for its knowledgeable instructors, comprehensive teaching strategies, and practical activities that create sessions that are focused on the needs of the students. IELTS certification completion is proof of the substantial English language abilities attained during the certification. This certificate also attests to the fact that you have received expert instruction on each of the module's four test patterns. Additionally, it is proof of your attainment of the highest level of proficiency on the IELTS Speaking, Reading, Listening, and Writing tests. The student-centred classes, well-structured syllabus, and committed mentors strengthen the students' four academic abilities and knowledge.
This qualification will enhance the price of your professional portfolio, providing you with an advantage when applying to academic institutions and overseas jobs. After earning the IELTS certification, the students will be able to benefit from a raise in pay and more work options. IELTS Training in Chennai at FITA Academy offers the necessary coaching required to excel in the IELTS exam with a satisfactory band score exceeding your expectations.
Have Queries? Talk to our Career Counselor
for more Guidance on picking the right Career for you!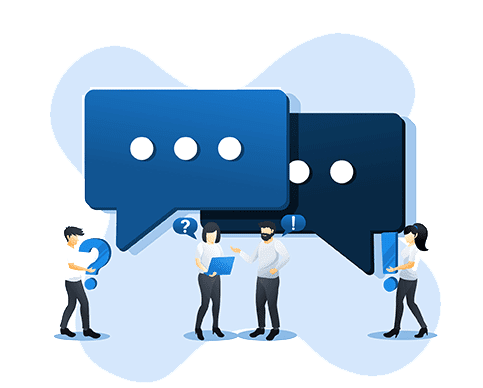 Job Opportunities After Completing IELTS Coaching in Chennai
English is regarded as the most widely used language for social interaction and financial activities. Communicating in the national tongue of the nation you wish to study or work for will be very advantageous for you. The International English Language Testing System (IELTS) is offered to help students and professionals move to English-speaking nations like Australia, the United States, the United Kingdom, and Canada for study, employment, or immigration. Obtaining an IELTS certification can help you specialise in a particular area or pursue a profession once your studies are over.
People might gain more benefits from the IELTS exam than only proof of their English language proficiency. People interested in or employed in fields like tourism, hospitality, aviation, healthcare, finance, law, etc., can benefit from this exam credential. It is also appropriate for people looking for government work and diplomatic positions. Some of the job profiles in this field are Telecaller, Student Counsellors, IELTS Faculty, IELTS Invigilator, Department Head, Operations Manager, and many others.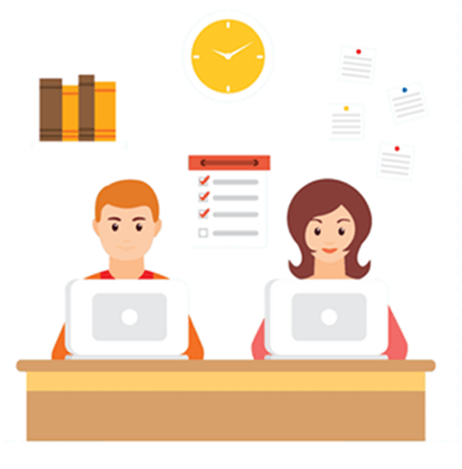 A few top organisations hiring IELTS professionals today are Cognizant Technology, Accenture, Quest Global, TCS, etc. According to ziprecruiter.com, the average annual salary for an IELTS professional can go up to $25K globally.
The average income in India is around Rs 2.5 lakhs per annum. These censuses will also vary in location, experience and organisation. At FITA Academy, we guarantee a successful career after the course completion in IELTS Training in Chennai to enhance your chances of settling abroad.
G
Gowtham

I have completed my IELTS Coaching in Chennai from FITA Academy. The trainers of this course have high standards and reach out to me at any time of need. The training has helped me with both my overseas schooling and for part-time work. I sincerely hope that everyone who reads this can benefit as much as I did from the training at FITA Academy.
G
Aayush

I had the opportunity to work in Australia, but it required an IELTS score. I joined FITA Academy after looking at all the positive reviews. It is indeed the Best IELTS Coaching in Chennai. The classes were interactive and enjoyable. The trainers helped me in every area where I lagged, and I was able to get a high band score. I would highly recommend joining FITA Academy.
K
Kavitha

I have plans to study in Canada. I came across the IELTS Coaching centre in Chennai at FITA Academy and started my classes right away. They provided lots of study materials and sample papers. The trainers were patient and took the time to teach everything clearly. Within a few weeks, I was able to answer all the questions. I am confident that I can score 8 or above in my exam.
R
Radhika

For my first attempt, I studied by myself for the IELTS exam, but I received a low band score. So I made the decision to join FITA Academy and enrolled in their IELTS Coaching centre in Chennai. The classes were interactive, and I could easily approach my trainer. I am extremely satisfied with the training I received here. I now have the confidence to ace the IELTS exam.
A
Alaina

After attending the IELTS Training in Chennai at FITA Academy, I was able to clear my IELTS exam on the first attempt. I really enjoyed the modules and practice sessions. Personally, I found the regular mock tests extremely helpful. Thanks to FITA Academy, I can now apply to all my dream colleges.
Have Queries? Talk to our Career Counselor
for more Guidance on picking the right Career for you!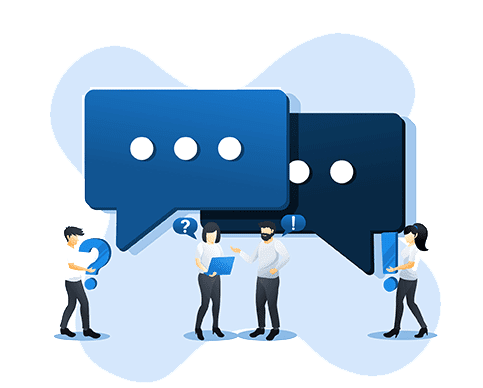 IELTS Coaching in Chennai Frequently Asked Question (FAQ)
Additional Information
English is currently the most crucial language for offline and online communication. It is essential to maintain your industry relevance because it is the internet's primary language. Depending on the industry you work in, words can sometimes make or break your professional life. So, at FITA Academy, we offer you the Best IELTS Coaching in Chennai, a groundbreaking way to gauge your proficiency and versatility with English.
Let us take a look at the importance of the IELTS exam and how it is useful to us.
Importance of taking the IELTS examination
Thousands of organisations worldwide acknowledge the IELTS test record, including businesses, institutions, professional organisations, and governmental authorities.
Demonstrating your language skills is a crucial condition for getting a visa. These reports might decide whether or not you succeed professionally.
You'll gain more command over the English language. When you take the IELTS test, you will be evaluated on all four skills—Listening, Reading, Writing, and speaking.
You will receive instruction in order to develop the English language skills necessary for success. You may learn more about the communication pupils need to study English by taking the IELTS Academic exam.
Above all else, though, your language skills will advance, and you'll have a clear objective in life to strive towards.
The IELTS Training in Chennai at FITA Academy gives the necessary advice and hack to improve your IELTS score.
Here are a few tips to increase your IELTS score
Writing Section
Give each work a thorough analysis, and take your time drafting notes. To ensure that you concentrate on the tasks at hand, highlight or underline any important words.
Prepare your answers. Deliver one idea in each paragraph and use proper paragraph structure.
Don't use the same concepts in different words. Don't copy entire sentences from the question; you won't get credit for it.
There are a total of 2 tasks in this section. Don't stray or deviate from the topic. Be time-conscious and remember that Task 2 is worth twice as much as Task 1. Work on Task 1 for roughly 20 minutes and Task 2 for roughly 40 minutes.
Answers that are written in notes or bullet points will not receive full credit. Pay close attention to your spelling, grammar, and punctuation; errors cost points.
Keep your words formal. Avoid memorisation of sample answers; because examiners are trained to spot them. Re-read your responses numerous times, making any necessary corrections.
Listening Section
Get comfortable listening to numerous native speakers and their various dialects. The recordings you'll hear during the exam may have speakers with British, American and Australian accents.
Be ready for all possible questions. The listening exam typically has six activities or questions. Be sure to practise thoroughly in each one and become familiar with the questions' degree of difficulty.
Attempt the question even if you aren't confident of the response and immediately move on to the next one. Be mindful of your spelling and punctuation.
Nothing can be predicted as to what can go wrong during the examination. Don't let your nerves get the better of you. But by chance, you dont get enough time to look through all the questions; do not panic.
IELTS exam has a system of negative grading for each question unattended. Make sure you don't leave any unattended, even if they are wrong; it will cost you a mark.
Remain calm if you feel the subject is too complex or the speaker is speaking too quickly. At the same time, read, write, and listen to the speaker. Pay close attention to what is being asked of you.
Sharpen your listening skills by watching as many English movies and documentaries as you can without subtitles. You should also tune in to some English radio stations, podcasts, or news networks to enhance your vocabulary and listening skills.
Reading Section
Keep an eye out for the title, headings, and any unique elements like capital letters, underlining, italics, figures, graphs, and tables.
Make sure you comprehend the questions and pay close attention to the directions. Be mindful of the time you spend on each passage and question.
Remember, you're reading for a reason, so don't strive to read every word. Even if you don't know the solution to a question, try it nonetheless; just don't take too long; go on to the next one immediately.
If you are unfamiliar with the topic of the text, don't worry; the text contains all the necessary information. Always use the same words from the reading text in your answers.
Don't panic if there is a word you don't know. In most cases, you would not need to use it. Try to understand the meaning with the given context. Use the proper singular and plural pronouns.
Remember the word limit and try all the questions; there are no consequences for giving the wrong answer, so you have nothing to lose. Pay close attention to what the questions are asking you to do.
Speaking Section
Try your best to speak as much as you can. Speak naturally and fluently without stuttering your words.
Relax, project confidence, and expand on your points. Create your own solutions. Whenever required, ask for clarification.
Avoid memorising prepared responses; the examiner will adjust the question if they detect this. You will be evaluated on your communication skills, so feel free to voice your ideas.
The examiner's questions typically follow a pattern. Test yourself frequently, and if you can, practise at home while recording yourself. This way, you can boost your confidence.
Watch BBC News and a variety of other English television programmes to expand your vocabulary. Use numerous examples to make a positive impression on the inspector.
You can also join the Spoken English Classes in Chennai at FITA Academy to develop your speaking skills.
The IELTS score is valid for a period of 2 years. If you have cleared the exam in August 2022, the score is valid until the end of July 2024. However, some universities do accept the score for 3 years if the student has done a 3-year course in their native country. They must retake the IELTS exams shortly after the course is over. Once the IELTS exam validity period has passed, it cannot be extended. This regulation applies to both the General and Academic IELTS examinations and states that a candidate may appear for the test as many times as desired.
FITA Academy's IELTS Coaching in Chennai offers students the ideal blending of academic and practical instruction. FITA Academy also prepares students for the Academic and General Training IELTS tests. Prior to enrolling, it is crucial to find the best tutoring organisation.
Benefits of joining the IELTS Coaching centre in Chennai at FITA Academy
Learn To Speak Fluently
The IELTS Speaking test is conducted to check your fluency in English. The Speaking test will be conducted for around 11-15 minutes. The IELTS Speaking test can be divided into three parts. The three parts of the speaking exam are listed below. The speaking test is conducted by certified IELTS examiners to check your fluency, coherence, pronunciation, grammar accuracy, and vocabulary.
With our intensive training program, we help you develop your speaking skills by helping you practice various topics that are important such as 'business vocabulary', 'daily life vocabulary', "informal conversation", and "communication with strangers". We also encourage you to interact with native speakers of English through video calls from around the world, which is an excellent way to improve your listening skills.
Know How to Write Properly
The essential part of the IELTS Writing exam is spelling, grammar, and vocabulary. Most of the test-takers completely ignore these areas, and thus they are pushed to a situation where they get a low band score. The fundamental requirements for the IELTS Writing test are an effective writing style and grabbing the attention of the readers. Further, it is advisable to have a writing approach that is out-of-the-box thinking with a good readability score. It is important to stay in coherence with the motto from the very beginning to the end of the IELTS Writing test.
Don't take any middle shifts while writing, as it shall make the examiners eventually lose an impression. The IELTS test-taker should always have this in mind as the write-up should not be something that has more additional information or is repetitive. Rather it should be something that has some interesting facts which make the examiner read till the end. As there are chances where the examiner could stop in between, and it shall impact the overall band score.
The first step towards good writing is learning how to speak. Once you have gotten used to speaking fluently, then you can start taking up the challenge of improving your written English in preparation for the IELTS test.
Developing Mental Strength
Our intensive IELTS Training in Chennai focuses on developing your mental strength by ensuring that your speech and writing skills are completely honed so that you perform well in the IELTS exam. You will be required to prepare materials on different subjects, including 'Business Vocabulary', Daily Life Vocabulary' Informal Conversation' and Communication With Strangers' for the IELTS Exam. In addition to this, you will also be asked to complete tasks such as reading news articles, reading the newspaper, or completing online practice tests to boost your confidence.
Become aware of cultural differences
Our IELTS Coaching centre in Chennai provides you with opportunities to explore and understand other cultures by using real-life examples of daily activities as part of our lessons. These examples are meant to give insights into what people say and do during their day-to-day interactions. The culture classes allow you to experience what goes into everyday situations and help you to become familiar with the terms and phrases specific to these environments. You will be given a chance to observe and participate in conversations with people from different parts of the world and make connections between everyday practices and formal interactions.
Build confidence
We believe that practising makes perfect! That is why most of our trainees find this technique highly effective when preparing for the IELTS exam; after all, nothing beats actually doing it over and over again until you get it right. You will soon realise the need for constant practice as the number of questions increases. Every individual in the world is unique. One technique might not necessarily work for all people. It is advisable to test out many strategies and techniques before sticking with the one that best suits you. There is no room for improvement until you keep working on it.
Try different strategies and techniques
Make an effort to read something you normally wouldn't. You can find a comfortable style by experimenting and broadening your strategies, whether it's for a newspaper or a different kind of fiction. You will find yourself spending a lot of time preparing for the IELTS exam.
Before committing to any particular preparation method, it's important to check each approach's advantages. Do you want to know exactly how many points to aim for? Are you looking to build general knowledge about language by discussing things like grammar tips in detail? You should consider which type of preparation works best for you and the importance of choosing the right book for your level, one that suits you perfectly and allows you to learn quickly from our IELTS Coaching in Chennai.
Solving Practice Papers
You can access a variety of IELTS practice exams and previous years' question papers and keep practising until you are happy with your speed and approach. One thing we guarantee is that once you've enrolled with us, we promise you'll never feel alone because you will always have access to help, either through text messaging or email.
Our trainers are committed to providing you with unlimited personal support, so you don't ever feel awkward asking questions and explaining doubts. Our IELTS Coaching centre in Chennai is designed to ensure that every student receives the same quality of services. We emphasise quality control because we want you to learn and master the concepts and vocabulary more easily because they come straight from authentic sources.
Improved communication
Improve communication skills, which can prove beneficial, especially for students who aspire to work in multinational companies, embassies, etc., where they will be expected to communicate in more than one language and learn more Spoken English as a second language.
Easy Exam Preparation
With our method, you can rest easy knowing that we cover everything that could possibly go wrong during your exam, whether you're in an English-speaking country or another language region. We take care of your test dates and times and tell you when to study. Your exam schedule will depend on the chosen course.
The IELTS Coaching centre in Chennai provides you with predicted topics, tips, and tactics to help you pass this exam with a high score. The mentors at FITA Academy are language experts with more than eight years of experience in language coaching. They aid the students in passing the IELTS exam effectively with a higher band score. The classes start right upon registration and end with the final submission of the assignment. At FITA Academy, we offer opportunities and expert guidance to help you achieve your desired career. Enrol today and get access to these invaluable resources immediately.