Course Highlights & Why Cyber Security Course in Coimbatore at FITA Academy?
FITA Academy offers a comprehensive curriculum that meets all the industry standards and syllabi to become a certified cybersecurity expert.
We provide a customised curriculum to upskill the students' knowledge of various viruses, malware, security concerns, and methods.
Our Cyber Security Training in Coimbatore integrates real-time projects and case studies conducted through live instructor-led training.
FITA Academy's certification training for cybersecurity covers all essential and intricate topics from scratch.
We provide blended course material for accommodating both freshers and professionals seeking in-depth information.
The class schedule is flexible and customisable according to your needs. Students can opt between weekday, weekend and online classes in the comfort of their homes.
To enhance the understanding of each concept, assignments and exercises are provided at the end of each module.
Our placement system features 1,500+ organisations who have partnered with our Cyber Security Training Institute in Coimbatore to ensure a promising career for our students.
Read more
Upcoming Batches
| | | | |
| --- | --- | --- | --- |
| 23-09-2023 | Weekend | Saturday (Saturday - Sunday) | |
| 25-09-2023 | Weekdays | Monday (Monday - Friday) | |
| 28-09-2023 | Weekdays | Thursday (Monday - Friday) | |
| 30-09-2023 | Weekend | Saturday (Saturday - Sunday) | |

Classroom Training
Get trained by Industry Experts via Classroom Training at any of the FITA Academy branches near you
Why Wait? Jump Start your Career by taking the Cyber Security Training in Coimbatore!
Instructor-Led Live Online Training
Take-up Instructor-led Live Online Training. Get the Recorded Videos of each session.
Travelling is a Constraint? Jump Start your Career by taking the Cyber Security Online Course!
Have Queries? Talk to our Career Counselor
for more Guidance on picking the right Career for you!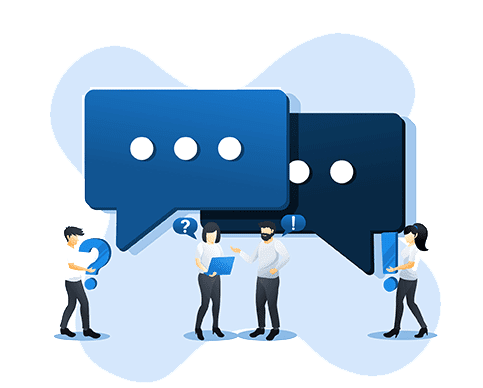 Trainer Profile
Our cybersecurity trainers are industry specialists with over 8+ years of practical experience at reputed organisations.
We provide live workshops led by cyber security professionals who share their valuable firsthand knowledge for an in-depth understanding.
Our expert trainers of Cyber Security Training in Coimbatore provide hands-on training in various cybersecurity tools and techniques.
They enhance the knowledge of the students by providing them with in-depth training in developing industry-relevant skills.
Our trainers incorporate the most recent techniques and methods for cyber security certifications into the modules of the Cyber Security Course in Coimbatore.
To ensure the best learning environment, our trainers put effort into maintaining student-centred and interactive classes.
FITA Academy trainers pay close attention to the conceptual and theoretical understanding of the students.
Our trainers support the participants in creating a professional CV and improving their self-confidence by giving them insightful advice on interview questions and assisting them in preparing for interviews through mock sessions.
Features
Real-Time Experts as Trainers
At FITA Academy, You will Learn from the Experts from industry who are Passionate in sharing their Knowledge with Learners. Get Personally Mentored by the Experts.
LIVE Project
Get an Opportunity to work in Real-time Projects that will give you a Deep Experience. Showcase your Project Experience & Increase your chance of getting Hired!
Certification
Get Certified by FITA Academy. Also, get Equipped to Clear Global Certifications. 72% FITA Academy Students appear for Global Certifications and 100% of them Clear it.
Affordable Fees
At FITA Academy, Course Fee is not only Affordable, but you have the option to pay it in Installments. Quality Training at an Affordable Price is our Motto.
Flexibility
At FITA Academy, you get Ultimate Flexibility. Classroom or Online Training? Early morning or Late evenings? Weekdays or Weekends? Regular Pace or Fast Track? - Pick whatever suits you the Best.
Placement Support
Tie-up & MOU with more than 1,500+ Small & Medium Companies to Support you with Opportunities to Kick-Start & Step-up your Career.
Cyber Security Certification Training in Coimbatore
About Cyber Security Certification Training in Coimbatore at FITA Academy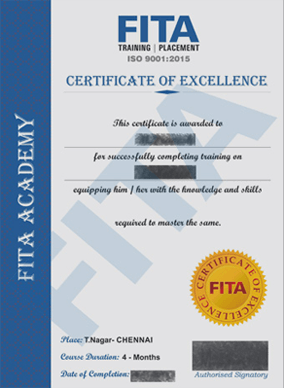 Cyber Security Certification Training in Coimbatore
A certificate of course completion is given to the participant once they successfully complete the Cyber Security Course in Coimbatore. A majority of businesses accept this certification as evidence of your expertise in this field. Our certificate is evidence of the knowledge and abilities you supposedly gained during the course period. It proves that you completed all the tasks and projects necessary to become a competent cybersecurity specialist.
Certifications may set you apart from other candidates seeking the same employment. A certification demonstrates your commitment to your sector of work. Having a certification will help you stand out to employers who may even give certificates the edge over other candidates. This gives you leverage in a lot of situations. A cybersecurity professional may find it advantageous to use certifications as leverage when requesting a raise or promotion. Employers frequently view certification as a greater proof of expertise than merely having taken some training.
The FITA Academy certificate for Cyber Security Training in Coimbatore is enough to demonstrate your understanding of the topic. Mentors at FITA Academy encourage students to obtain international certifications by completing certification-specific training in order to distinguish themselves from other applicants.
Have Queries? Talk to our Career Counselor
for more Guidance on picking the right Career for you!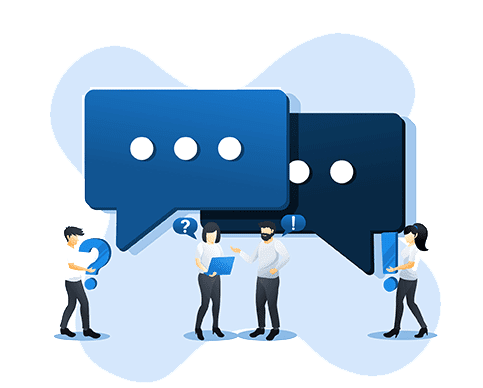 Job Opportunities After Completing Cyber Security Course in Coimbatore
As the global business environment transitions to online and cloud data storage and management, the demand for cybersecurity is at an all-time high. As a result, there is a greater need for cybersecurity professionals who are up to date on the latest developments in AI and data science. The field of cybersecurity has grown tremendously in terms of available jobs and skill sets.
One of the best possibilities for any professional wishing to advance their career is in the field of cyber security, which offers a wealth of well-paying positions as well as job security. Professionals in cyber security will have the chance to concentrate on frameworks and innovations. Cybersecurity will be used in various businesses, from robotics to internet sites. This would allow these professionals to assist a huge number of clients, making a career in cybersecurity a viable one. These cyber security specialists will always be incredibly popular due to the variety of skills they possess while handling all current security concerns.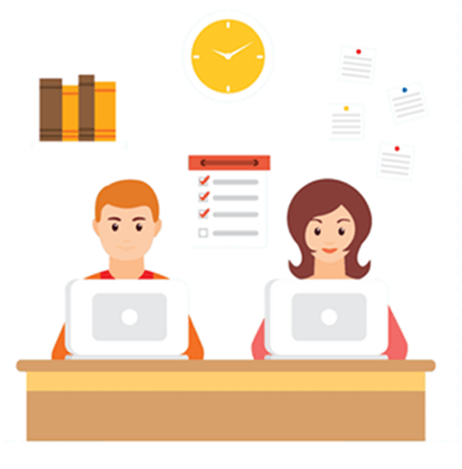 A few of the related roles in this industry include cyber security analyst, network security engineer, CISO, Security Analyst, and many more. Deloitte, EY, PwC, KPMG, VMware and Accenture are a few of the top companies that provide cybersecurity jobs.
The average salary of a cyber security specialist is around Rs 5 lakhs per annum. For the same, the average annual salary is $92k globally. These numbers vary according to one's experience, skills, organisation and location. However, you can be assured of a prosperous career after receiving the certification from FITA Academy on completing our Cyber Security Course in Coimbatore.
Read more
J
Jayanthi

FITA Academy provides the Best Cyber Security Courses in Coimbatore. My trainer taught me all the modern tools of cybersecurity. I was able to clear my certification and look out for more job opportunities after my course completion. I would highly recommend enrolling in FITA Academy, especially if you are a beginner like me.
K
Kiran S

I've found the perfect fit for my curiosity for networking and security at the Cyber Security Training in Coimbatore. Prior to beginning this training programme, I struggled to find solutions. Thanks to FITA Academy, I now have a better understanding of cybersecurity techniques. The classes were enjoyable, and the trainers were also very friendly.
D
Dheeraj

FITA Academy has left a positive impression on me with its interactive teaching method. The modules did not have any traditional methods, and many practical examples were provided. My trainers were also well-versed in this subject. I am grateful for my trainers and staff who supported me in clearing my certifications.
K
Keerthi

I work as a software engineer for a reputable MNC. However, I want to switch my domain and career to cybersecurity. I've benefited from the Cyber Security Course in Coimbatore at this time. I was free to pursue both my professional and educational interests without feeling pressed. I feel ready to put my skills to use in this profession after completing the course.
M
Mohammed Rahim

The company I am working for decided to implement secure cyber practices. I enrolled at the Cyber Security Training Institute in Coimbatore to keep up with my work. I can only bring up favourable comments in their favour. I only have positive comments for FITA Academy. My knowledge and skills in this area have significantly improved. I appreciate my trainers and staff at FITA Academy for their efforts.
Have Queries? Talk to our Career Counselor
for more Guidance on picking the right Career for you!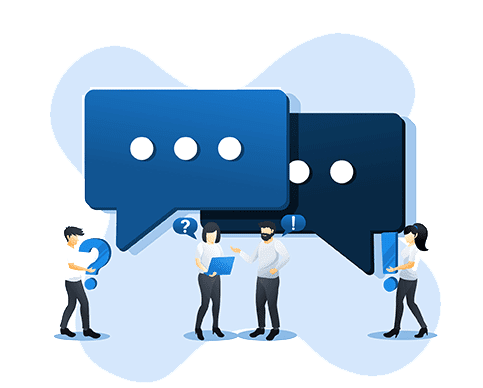 Cyber Security Course in Coimbatore Frequently Asked Question (FAQ)
Additional Information
The use of technology, procedures, and controls to defend against cyberattacks on systems, networks, programmes, devices, and data is known as cyber security. Its objectives are to lower the danger of cyberattacks and safeguard against the unauthorised use of technology, networks, and systems. Computer networks are shielded against hacker attacks and unauthorised access by cybersecurity experts. They achieve this by attempting to foresee and combat cyber threats as well as responding to security breaches when they do occur. In this position, you are crucial to safeguarding the crucial data of your company.
What is the need for Cyber Security?
Today, the network, computers, other electronic gadgets, and software applications are essential to every part of our life. Devices connected to the Internet are vital to all key infrastructure, including the banking system, healthcare system, financial companies, governments, and manufacturing sectors. Some of their data, including intellectual property, financial information, and personal information, may be delicate and vulnerable to unauthorised access or exposure, which could have unfavourable effects.
The ability to penetrate them for financial gain, blackmail, political or social objectives, or even vandalism is made possible by this information for hackers and malicious activity. The global economy could be in danger from additional security breaches as well as the increasingly widespread cyber-attack that compromises the system. To safeguard sensitive data against public security breaches, it is crucial to establish a strong cybersecurity plan.
Furthermore, in order to secure their sensitive customer and employee data from cyberattacks, businesses and organisations—particularly those that deal with data pertaining to personal or public health, national security, or financial records—need to implement robust cybersecurity procedures. The field of cybersecurity is rapidly expanding. Demand for cybersecurity is increasing as the business environment shifts to online management and cloud data storage.
With more people using the internet, commercial organisation data and personal data are more vulnerable to misuse. This has increased the need for cybersecurity specialists that are knowledgeable and proficient in the subject. One of the main drivers of the industry's explosive expansion is the demand for hiring outstanding individuals with a range of levels of experience to keep up with the constantly evolving technical landscape. This career necessitates specific knowledge that is covered in Cyber Security Course in Coimbatore at FITA Academy.
Skills Required By A Cyber Security Expert
Networking and System Administration
A profession in cybersecurity requires a thorough understanding of networking. Understanding the technical components of data transfer will help you safeguard your data since you will have a better understanding of networking. It is advised to pursue networking certifications like the Cisco CCNA and CompTIA Security+. Learning system administration is a further ability that will be useful for you. Computer configuration and upkeep are the only topics covered. You must have a keen mind to explore all of your computer's options and features.
Operating Systems and Virtual Machines
A cybersecurity expert needs to be well-versed in many operating systems, including Linux, Windows, and Mac OS. You should be able to work on any operating system as a cybersecurity expert. VMs let you train and conduct a study in a private setting while also enhancing your abilities. Having experience using Kali Linux, the most well-known Linux operating system for ethical hacking and network monitoring, is the next thing to be competent in. Our Ethical Hacking Course in Coimbatore provides hands-on training using various tools for digital forensics, malware detection, penetration testing, and other related tasks.
Network Security Control
The many techniques used to improve network security are referred to as network security controls. To become a proficient cybersecurity expert, one must understand how a network operates, including routers, firewalls, and other devices. A firewall is a piece of hardware or software that prevents your computer from receiving or sending traffic from the internet. As a cybersecurity professional, you must use a firewall to filter and detect unauthorised users from entering the network. You must also be familiar with remote access, virtual private networks (VPNs), and intrusion detection and prevention systems.
Programming languages
Cybersecurity experts must be able to create code in order to improve the effectiveness and efficiency of their own work as well as to analyse the activities of malicious entities on their networks accurately. Python, Java, SQL, HTML, C/C++, and PHP are the languages used in cybersecurity the most frequently. The ability to write code and a working knowledge of programming languages are not always prerequisites for cybersecurity workers, but they are becoming crucial to success in the sector. This is due to the frequent need for cybersecurity specialists to decipher code and detect harmful activities using the same.
Cloud Security
Organisations are looking for security experts who can work on public and hybrid cloud platforms like AWS and Azure. More businesses are using cloud infrastructure to operate applications and store data. This includes implementing policies and technological safeguards to safeguard cloud-based devices and systems. Building safe systems from scratch is a requirement for cloud security, just like for application development security. Big platform managers with expertise in Microsoft Azure, Amazon Web Services, and the Google Cloud Platform are in high demand.
Artificial Intelligence
AI is ideal for the cybersecurity industry because it improves cybersecurity measures' dependability and consistency. It also helps security experts spot suspicious activities and impart a deeper knowledge of the digital world. In comparison to human capabilities, AI offers an unparalleled degree of automation and support, seeing threats that could otherwise go unreported and neglected. Artificial intelligence may also be taught to grow and change, which will improve its ability to counteract new and evolving threats and hacking methods. Gain an in-depth understanding of the advancements in AI with our Artificial Intelligence Course in Coimbatore.
Different Job roles of a Cybersecurity Specialist
Cyber security analyst
A cyber security analyst aids in the development, implementation, and improvement of security controls and measures. To make sure there are no gaps or signs of security breakdowns, they regularly monitor security access and carry out internal and external security audits. In addition to monitoring the network, a cyber security analyst performs vulnerability assessments, risk analyses, and security evaluations. Along with these duties, the analyst also instructs coworkers on security awareness and protocols, so they are informed of the best practices to adhere to in order to prevent security breaches.
Network Security Engineer
Every firm must have a network security engineer in that role. This person makes sure the organisation's security systems are put in place to stop and counter threats. They are mostly in charge of system maintenance, vulnerability detection, and automation enhancement. They also supervise the maintenance of VPNs, firewalls, routers, switches, and other network monitoring tools. Our Cyber Security Course in Coimbatore provides hands-on training on how to manage network security functions to ensure proficiency.
CISO
The Chief Information Security Officer is a senior executive who ensures the organisation's technology, operations, and vision align with the cyber security plan. In order to prevent security breaches, the CISO collaborates with the staff to identify, create, execute, and manage processes across the whole organisation. Without disrupting the business, they attend to incidents and implement the necessary standards and procedures to reduce security risks. They are also in charge of directing the enterprise security policies and protocols during implementation.
Information Security Manager
An information security manager identifies flaws that make information systems vulnerable to assaults. They are in charge of identifying and preventing cyber dangers in the data, equipment, and networks of the organisation. Businesses that disregard data protection regulations and fail to safeguard sensitive consumer information risk suffering significant damages. As a result, big businesses employ information security managers to guard against hacking into their networks, systems, and data.
Ethical Hackers
Organisations can benefit greatly from ethical hackers since they have a depth of intuitive knowledge and the ability to comprehend the motivation behind other hackers. They examine and analyse the applications, systems, and network vulnerabilities. They also perform security tests periodically depending on the requirements of the firm. The market for ethical hackers is expanding because they offer insider knowledge to safeguard firms from complex cyberattacks.
FITA Academy provides the Best Cyber Security Courses in Coimbatore to ensure a prosperous career in the industry. The course materials meet the current corporate expectations. All the topics necessary for gaining experience in cyber security or other related industry benefits are reviewed in the assignments, practice tests, hands-on sessions, and projects. You can advance your career and gain benefits for employment in cyber security and other fields by taking this course.
The trainers for the cybersecurity course are seasoned professionals with years of expertise. They ensure conceptual, practical, and interpersonal proficiency for acing all interviews. Cyber Security Training in Coimbatore offers a flexible timetable to accommodate the needs and limitations of the students. Our goal at FITA Academy is to help you reach your full potential and stand out from the others.