Course Highlights & Why CCNA Course in Chennai at FITA Academy?
Our CCNA Course in Chennai is a certification-specific program that shares its syllabus with the official CCNA exam and industrial practices.
During the course period, you will gain a thorough understanding of the working of LAN/WAN and ISL operations in Cisco Network Security.
Our curriculum provides comprehensive knowledge of CCNA Routing, Switching, basic Security, and wireless networking concepts and implementation.
Our CCNA Course in Chennai provides hands-on training on the different security software such as DLP, MLP, Firewall, Anti-virus, VPN, IPS and more.
Get access to customised classes according to your convenience at FITA Academy. The students can enrol in either offline classes or live online courses.
Our CCNA Training in Chennai offers both regular-pace and fast-track classes, depending on your availability and time constraints.
During the course, you will be given revision assignments and projects for self-evaluation at the end of each lesson.
We provide a placement support system with a highly regarded network of 1,500+ small and large-scale organisations at our CCNA Institute in Chennai.
Read more
Upcoming Batches
| | | | |
| --- | --- | --- | --- |
| 30-11-2023 | Weekdays | Thursday (Monday - Friday) | |
| 02-12-2023 | Weekend | Saturday (Saturday - Sunday) | |
| 04-12-2023 | Weekdays | Monday (Monday - Friday) | |
| 09-12-2023 | Weekend | Saturday (Saturday - Sunday) | |

Classroom Training
Get trained by Industry Experts via Classroom Training at any of the FITA Academy branches near you
Why Wait? Jump Start your Career by taking the CCNA Course in Chennai!
Instructor-Led Live Online Training
Take-up Instructor-led Live Online Training. Get the Recorded Videos of each session.
Travelling is a Constraint? Jump Start your Career by taking the CCNA Online Course!
Have Queries? Talk to our Career Counselor
for more Guidance on picking the right Career for you!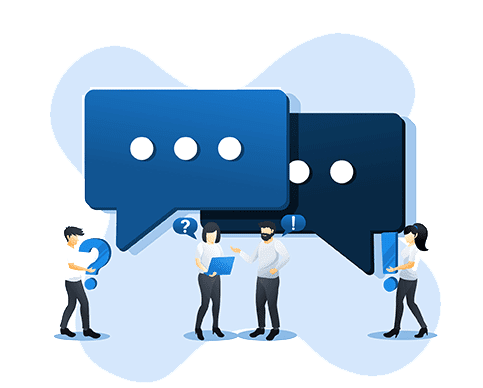 Trainer Profile
Our expert trainers at the CCNA Training in Chennai hold 8+ years of working professional experience.
Our CCNA Trainers at FITA Academy are experts in Networking and are Cisco Certified professionals.
We provide in-depth training with complete real-time practices during the CCNA Course in Chennai.
Our trainers look into the theoretical and practical development of learners in the top CCNA disciplines.
Our experts at FITA Academy offer hands-on instruction to help students pass the Cisco Certification examinations.
Our mentors provide career-related queries and placement assistance to the aspirants during their CCNA Training in Chennai.
Our trainers give individual attention to each student and encourage them to face new challenges.
Additionally, our trainers also help you build a professional resume and prepare you for the Interviews.

Learn at FITA Academy & Get Your
Dream IT Job in 60 Days
like these Successful Students!
Features of CCNA Course in Chennai at FITA Academy
Real-Time Experts as Trainers
At FITA Academy, You will Learn from the Experts from industry who are Passionate in sharing their Knowledge with Learners. Get Personally Mentored by the Experts.
LIVE Project
Get an Opportunity to work in Real-time Projects that will give you a Deep Experience. Showcase your Project Experience & Increase your chance of getting Hired!
Certification
Get Certified by FITA Academy. Also, get Equipped to Clear Global Certifications. 72% FITA Academy Students appear for Global Certifications and 100% of them Clear it.
Affordable Fees
At FITA Academy, Course Fee is not only Affordable, but you have the option to pay it in Installments. Quality Training at an Affordable Price is our Motto.
Flexibility
At FITA Academy, you get Ultimate Flexibility. Classroom or Online Training? Early morning or Late evenings? Weekdays or Weekends? Regular Pace or Fast Track? - Pick whatever suits you the Best.
Placement Support
Tie-up & MOU with more than 1,500+ Small & Medium Companies to Support you with Opportunities to Kick-Start & Step-up your Career.
CCNA Certification Training in Chennai
About CCNA Certification Training in Chennai at FITA Academy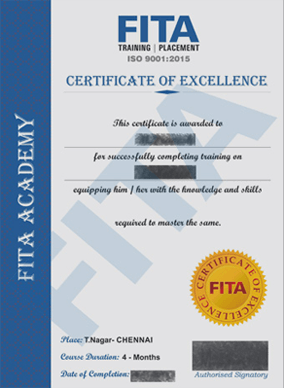 CCNA Certification Training in Chennai
A certificate is given to the participants upon successful completion of the CCNA Course in Chennai at FITA Academy. The majority of organisations accept this certificate as validation of the time and effort put into this topic. This certificate adds credence to the knowledge and abilities you picked up during your training. It serves as proof that you completed all the projects, tests, and assignments necessary to earn the CCNA certification.
In addition to the certification provided at FITA Academy, you will also be able to ace the Cisco Certified Network Associate (CCNA) exam on course completion. The certificate from CCNA Training in Chennai at FITA Academy is sufficient to verify your expertise in this area. However, mentors at FITA Academy advise students to further their skills with relevant certification examinations after completing this course.
Have Queries? Talk to our Career Counselor
for more Guidance on picking the right Career for you!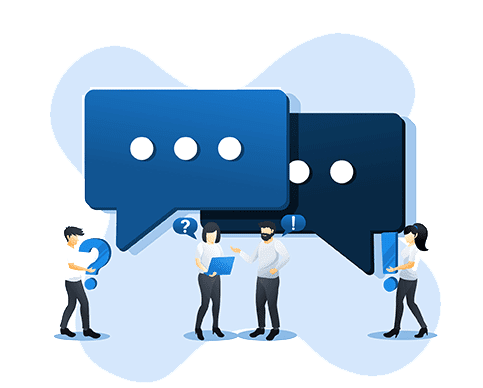 Job Opportunities After Completing CCNA Course in Chennai
The breadth of software developers and network administrators is where the CCNA's scope rests. With the advancement of technologies, there are more CCNA positions available now for new graduates. With the information and experience the students acquire at the time of graduation, the CCNA certification course gives a reasonable package. With networking automation and programming taking up over 70% of any IT organisation's focus, the course's future potential will rise significantly.
An excellent employment chance would result from earning the CCNA scope certification, which is highly sought-after in India. Individuals enthusiastic or working in job roles revolving around Engineering, Programming, Cloud Computing, Administration, System Operations, and Development can benefit from this course. This subject is best for professionals motivated to pursue a career in network simulations.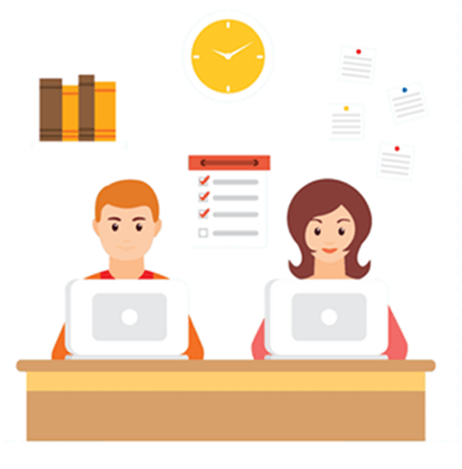 There are 16000+ job openings for CCNA and related careers in India. A few of the job profiles include Network Engineer, Network Support Engineer, System Engineer, Technical Support, Network Security Specialist, Technical Faculty, Senior Technical Analyst, Senior Technical Support Associate, System and Network Administrator, and more. Some enterprises hiring CCNA-certified professionals are IBM India, Wipro BPS, Casting Networks, Accenture, Mphasis and many more.
As of this year, the average annual income for a CCNA-certified expert is approximately $79K globally. In India, this amounts to around Rs 3.5 lakhs. However, these values vary exponentially with time, experience, location, proficiency level, enterprise, and position in the industry you hold. With the CCNA Training Institute in Chennai, you can rest assured about your career growth.
V
Vishaka S

I have cleared my CCNA certification exam after joining the CCNA Course in Chennai at FITA Academy. The classes were interactive and enjoyable. We had practical sessions and assessments safer each module which really helped to understand the concepts very well. Overall, it was a worthy experience to join FITA Academy.
R
Rakesh Chandran

I have completed my CCNA Training in Chennai at FITA Academy. I had no prior knowledge of networking. But after I enrolled here, I can easily work on different security software. Getting the professional CCNA certification has been made much easier with the help of FITA Academy.
S
Shara Khan

I am employed in an IT firm. I took up this course as a challenge to clear my CCNA certification so that I can build my career further. I joined FITA Academy, and they are indeed the Best CCNA Training Institute in Chennai. The trainer was well versed in the subject and could clear all my doubts immediately. I highly recommend going here if you wish to get the best training.
S
Simran M

After my graduation, I joined FITA Academy for their CCNA Training in Chennai. I can proudly say that I learned a lot more practical-based learning here than at my college. The trainers used simple methods and shared their experiences with us to encourage us. Through their support, I was not only able to clear the CCNA certification but also qualified for three interviews. I am now placed in a reputed software company.
A
Abhijith S

After my peer's recommendation, I enrolled on the CCNA Institute in Chennai. It has truly been a life-changing experience. I also had many opportunities to work with different network security software. I was able to get distinction in my CCNA certification exam on my first try. I would recommend FITA Academy to all who wish to ace CCNA.
Have Queries? Talk to our Career Counselor
for more Guidance on picking the right Career for you!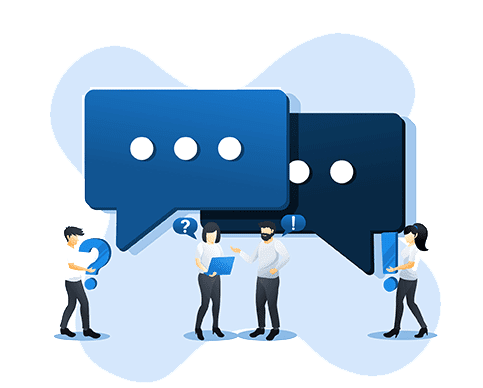 CCNA Course in Chennai Frequently Asked Question (FAQ)
Additional Information
The Cisco Certified Network Associate (CCNA) certification programme teaches the essential technologies of the Cisco Security branch. The Cisco security network is the most popular security network in the world because of features including cost-effectiveness, flexibility, and a variety of security solutions.
For both private and business networks, CCNA is essential.
The majority of homes with high-speed internet can be attacked if they are not properly safeguarded.
Network security benefits the economy and job seekers looking for high-paying positions. Due to increased cybersecurity issues, businesses are looking for expertise. For a rewarding career, enrol in the Chennai Cyber Security Course.
A Cisco network security can help to reduce the risks of data loss, fraud, and manipulation.
Information is particularly sensitive for organisations like clinics and accounting firms. The organisation is responsible for maintaining the security of such data. This involves making sure hackers cannot access your system and creating proper data backups.
Your network will function more effectively and be safer if it has strong network security.
Because so many people rely on technology, network security is crucial.
Having a solid network that isn't slowed down by pointless gadgets and programmes is crucial.
For a deeper insight into the various security software, the CCNA Training in Chennai offers hands-on project-based learning. Cisco provides various security systems to ensure maximum protection.
A few of the Security Systems offered by Cisco
Antimalware and Antivirus Software
Cisco Advanced Malware Protection (AMP) is the only security networking technology in the market that currently goes beyond the basic level of detection to guard throughout the entire assault cycle. Whatever the result of the file, AMP monitors, reviews, and records its operations. AMP provides speedy detection, containment, and eradication of malware threats through the utilisation of cutting-edge global threat information and real-time malware blocking.
Data Loss Prevention (DLP)
DLP refers to a group of techniques, programmes, and methods used to prevent sensitive information from leaving a business. DLP techniques use technologies to find, recognise, and halt the flow of such unauthorised information. The development of corporate communications has led to a huge rise in access to firm data. Insider threats abound and can rapidly expose important information. Learn more about why the government and business authorities need DLP by joining our CCNA Course in Chennai.
Cyberattacks using email are swiftly detected, stopped, investigated, and remedied through Cisco's Secure Email. Using Secure Email to prevent phishing, malware, and ransomware assaults, you may employ a layered approach for your email security defences. With Secure Firewall, more information about attacks on email and other sites can be obtained.
A firewall is one form of security measure that is employed to prevent unauthorised access to or exit from a computer network. A firewall essentially serves as a barrier between a private network and the public Internet. The prime purpose of a firewall is to allow safe data to pass while preventing malicious activities. Firewalls are widely used to prevent unauthorised users from accessing intranets or personal devices that are available via the internet. There are numerous variants and variations of Secure Firewall, a firewall system that is approved by Cisco.
Web security is the supply of restricted access to URLs and websites by limiting websites that are more vulnerable to hackers and viruses. With the help of the Cisco Secure Web Appliance, security teams can instantly determine when and who is visiting particular websites. A web network that delivers strong security, complete control, and profitability is Cisco WSA. With Cisco Web Security Appliance (WSA), several solutions are available to recognise and prevent web-based assaults automatically.
Intrusion prevention System (IPS)
An intrusion prevention system (IPS) is a hardware- or software-based network security solution that constantly searches a network for malicious activity and reacts to it to prevent it from occurring, including monitoring, limiting, or deleting it. Cisco Next-Generation IPS (NGIPS) technology combines enormous amounts of knowledge about global threats to stop outbreaks and reinfection. Join the CCNA Institute in Chennai to learn more about the different applications of networking.
Virtual Private Network (VPN)
Virtual private networks, commonly known as VPNs, are Internet-based connections that are encrypted between devices and networks. The encrypted connection facilitates the exchange of personal information in a secure manner. It prevents undesired parties from eavesdropping on the traffic and allows the user to work remotely. Cisco VPN solutions let companies provide incredibly secure remote access while enhancing flexibility and lowering expenses.
A vital component of any zero-trust strategy is protecting the office where everybody and everything is interconnected. Cisco Identity Services Engine (ISE) enables a flexible and automated regulatory technique, making it simpler to establish highly secure network access administration. ISE streamlines network classification and makes software-defined connectivity possible in both the IT and OT domains. Devices that do not comply may be prohibited or given limited access.
Access permissions can be provided based on role, location, and other characteristics to ensure that the necessary level of access is permitted to the appropriate parties and that questionable item are regulated and corrected. The Cisco Identity Services Engine, Cisco TrustSec, and Cisco Stealthwatch Enterprise are all components of our network visibility and segmentation solution. Cisco Services assists you in integrating technologies, transitioning from other tools, and enhancing your present solutions to reach the optimum level of security.
Endpoint security shields endpoints or access points of end-user devices, such as Computers, smartphones, and other portable devices, from malicious activities and operations. Cisco Secure Endpoint combines user and endpoint security. Through a built-in program named SecureX, it now offers XDR functionalities and more to boost endpoint security and boost the effectiveness of the programme.
Protecting mobile devices from dangerous cyber threats is referred to as mobile security. Businesses today are particularly worried about mobile security due to the growing use of mobile devices for business purposes. When remote employees access company information and software via insecure devices, businesses need an easy-to-use solution that secures their data without reducing worker productivity.
Users of the Cisco platform can manage the devices linked to their networks using a tool called Meraki Systems Manager.
CCNA Routing and Switching certifications are regarded as the most fundamental for Networking professionals because these are the core skills required to enter into a network. CCNA Course in Chennai at FITA Academy provides extensive knowledge and project-based training to the aspirants to secure a job in one of the many certified professional careers. Today, CCNA certification is highly accepted and demanded by the top MNCs in the world.
About various Cisco Certifications
CCIE is a designation held by senior networking engineers with years of experience in this field, but they do not have any formal training on how to design networks
CCNA is an entry-level certification test that certifies basic skills such as TCP/IP communications protocols
CCNP means certified network professional. You need at least 10 to 15 years of work experience before applying for this certification.
CCIA is another certification offered by Cisco and stands for Cisco Internetworking Specialist
Alongside the qualifications mentioned above, you need to have excellent technical knowledge and be a committed person to your work.
Different Roles of CCNA Certified Professional
1. System Engineer - Installing and managing various systems and devices in an organisation is the primary duty of a system engineer. This could contain various PC hardware, as well as any active routers, switches, or other devices. To do this, one needs to become well-versed in the many hardware features of routers and switches.
A few of the responsibilities of a system engineer include:
Operating systems, application software, and system administration tools should be installed, configured, tested, and maintained.
Actively maintain the highest levels of infrastructure and system availability.
Look for potential inefficiencies and bottlenecks in the performance of the programme, find viable workarounds, and collaborate with the developers to put those adjustments into place.
Maintain your redundancy, backup, and security measures.
Communicate with suppliers and other IT staff to resolve issues.
2. Network Support Engineer - Network support engineers are responsible for designing, establishing, and maintaining company computer networks. They concentrate on both user demands and system requirements. To create and maintain fully functional networks, engineers will collect data on servers, routers, and other gear, whether doing so internally or for clients. As senior engineers, they will also be accountable for the charge of budgeting and cost-saving measures for labour and materials. Enrol on the CCNA Course in Chennai to learn more about the job prospects of a Network Support Engineer.
3. Network Administrator - An IT specialist known as a network administrator makes sure that the computer networks of the company that exchange information with one another are functional and meeting the demands of the company. They have the skills necessary to manage and troubleshoot computer networks, as well as apply security concepts to keep networks safe.
Virtual private networks (VPN) are created and maintained by them.
They investigate and fix other employees' network connectivity problems as well.
Install, configure, and maintain switches, firewalls, and other network devices and software.
Using physical and technical measures, secure networks from unauthorised users.
4. Network Engineer - One of the major responsibilities of a network engineer is to plan and set up new networks and connect them together. As a network engineer, you may be required to build a network using Cisco routers, switches, and servers. It requires a thorough understanding of hardware and software devices. They are responsible for designing, constructing, deploying, maintaining, and managing the infrastructure according to predetermined configurations in this capacity. Companies that specialise in designing and managing networks and systems offer well-paid jobs for this role.
5. Network Security Specialist - A network security expert's main responsibility is to safeguard the IT infrastructure against hostile intent. You will be expected to identify, prevent, and repair any problems with the security of your company's IT network. A security associate's duties include identifying security threats by conducting a simple security risk evaluation. One should be proficient in both CCNA Routing and Switching and CCNA Security. A high degree of imagination to identify problems and promptness to address them will be necessary in addition to the abilities that can be learned in order to do the work successfully. Join the Cyber Security Course in Chennai if you wish to build a career in network security.
CCNA skills are an integral part of your networking career. As a credential, CCNA houses both conceptual clarity and practical application needed for the industry. With the CCNA Course in Chennai, individuals can validate their associate-level proficiency in networking in their workspace. Thus, CCNA holders can advance in their networking careers or make essential career choices.
10 Benefits of CCNA Training in Chennai at FITA Academy
Enhanced Learning Curve - This CCNA Course in Chennai is offered by certified professionals who understand how to make it a fun learning experience for you, and they can assist you through your entire journey as an IT professional. They will teach you about networking basics with practical hands-on experience. After successfully completing this course, we are sure that you will learn to be a true network engineer.
Expert guidance during certification exam - Our experts will guide you throughout each step of the preparation process to help you achieve the best possible score in the exam. We have designed the most effective training methods through our advanced infrastructure and technology, which lead to better performance both in theoretical concepts and practical lab work.
Best job opportunities in the industry - In today's fast-paced world where every company is keenly looking for new skills, this course offers you great job opportunities because the demand for Network Engineers is increasing day by day.
Enhance your technical knowledge - This CCNA Training in Chennai helps you enhance your existing technical expertise and enhance your exposure to real-life projects for your career growth. You will develop new ideas and gain confidence while performing tasks and solving problems on the computer.
Easy access to the latest updates - We constantly update the syllabus to keep pace with changes. All the materials we provide are updated regularly.
Knowledge sharing - By enrolling in this course, you not only learn from experienced trainers but also share your experiences with other learners. If there is anything you would like to know or if you want us to add something extra to improve the quality of the course material, just reach out to us.
Flexible timings - The timing of this CCNA Course in Chennai can be customised according to your needs. You can start or continue whenever you feel fit; you can even complete the course over a weekend.
Real-time training environment - We believe that one of the key reasons why students find certain courses difficult is due to their lack of proper facilities to practice what they have learned. At FITA Academy, we provide all the necessary equipment, tools, and resources you need to fully grasp the concepts involved.
Career Growth - There are many avenues and chances available to take you ahead in your career. Once you complete the CCNA Training In Chennai and the certification process, you can easily apply for high-paying job roles in a reputed IT company. We offer guidance and assistance which help our students secure higher-paying jobs and grow professionally.
FITA Academy is one of the leading IT education providers. We provide industry-recognized certification programs as well as advanced IT courses. Learn CCNA with languages like Java, C#, Hadoop, and Python to better understand future programming languages. Our aim is to improve lives by providing education and developing highly skilled professionals that can aid global corporations, organisations or individuals.

FITA Academy is home to the Best CCNA Training Institute in Chennai for your networking solutions. This course deals with some of the top concepts to ensure your absolute proficiency. With this training, you can advance your career in various additional IT disciplines and sectors.
Read more