Course Highlights & Why German Classes in Pondicherry at FITA Academy?
We employ highly-skilled German-speaking trainers with over a decade of expertise in the field of German Language.
At FITA Academy, we adhere to a rigid German curriculum that is ideally aligned with the Global DELF Curriculum.
You can quickly improve your German skills with the help of many practice exercises in this course.
We provide interactive, entertaining, instructor-led German language classes.
Classes at FITA Academy offer a low student-to-trainer ratio, allowing trainers to give full attention to each student.
The German Classes in Pondicherry are available at flexible batch timings, including weekdays, weekends and fast-track options.
Get the most out of your educational experience at German Coaching in Pondicherry at FITA Academy by interacting with professional German tutors to gain essential insights on how to pass the exam.
Read more
Upcoming Batches
| | | | |
| --- | --- | --- | --- |
| 30-11-2023 | Weekdays | Thursday (Monday - Friday) | |
| 02-12-2023 | Weekend | Saturday (Saturday - Sunday) | |
| 04-12-2023 | Weekdays | Monday (Monday - Friday) | |
| 09-12-2023 | Weekend | Saturday (Saturday - Sunday) | |

Classroom Training
Get trained by Industry Experts via Classroom Training at any of the FITA Academy branches near you
Why Wait? Jump Start your Career by taking the German Training in Pondicherry!
Instructor-Led Live Online Training
Take-up Instructor-led Live Online Training. Get the Recorded Videos of each session.
Travelling is a Constraint? Jump Start your Career by taking the German Online Course!
Have Queries? Talk to our Career Counselor
for more Guidance on picking the right Career for you!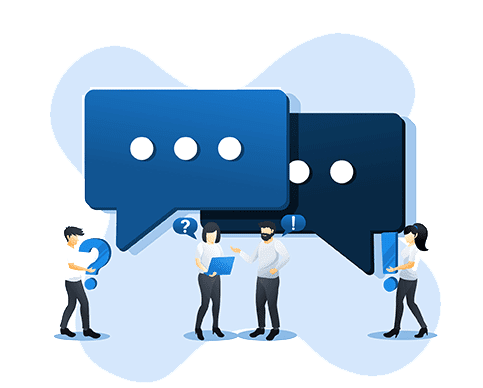 Trainer Profile
Our German instructors have over 8 years of experience in teaching German and are skilled communicators and language specialists.
At FITA Academy, skilled German instructors are capable of instructing students at all six levels of German language proficiency.
The main objective of the German trainers at the FITA Academy's German Language course is to ensure that the students get well-versed to read, write and speak German with ease.
You will be trained and honed in the German Classes in Pondicherry at FITA Academy to become fluent in the German language quickly.
At FITA Academy, German instructors provide in-depth training in both the grammar and structure of the German language.
The trainers at German Language Classes in Pondicherry at FITA Academy lead students towards a global certification in German using the Goethe-Zertifikat.
One of the primary goals of the German instructors at FITA Academy is to provide personalised attention to each student and aid them in speaking smoothly and successfully throughout class.

Learn at FITA Academy & Get Your
Dream IT Job in 60 Days
like these Successful Students!
Features of German Classes in Pondicherry at FITA Academy
Real-Time Experts as Trainers
At FITA Academy, You will Learn from the Experts from industry who are Passionate in sharing their Knowledge with Learners. Get Personally Mentored by the Experts.
LIVE Project
Get an Opportunity to work in Real-time Projects that will give you a Deep Experience. Showcase your Project Experience & Increase your chance of getting Hired!
Certification
Get Certified by FITA Academy. Also, get Equipped to Clear Global Certifications. 72% FITA Academy Students appear for Global Certifications and 100% of them Clear it.
Affordable Fees
At FITA Academy, Course Fee is not only Affordable, but you have the option to pay it in Installments. Quality Training at an Affordable Price is our Motto.
Flexibility
At FITA Academy, you get Ultimate Flexibility. Classroom or Online Training? Early morning or Late evenings? Weekdays or Weekends? Regular Pace or Fast Track? - Pick whatever suits you the Best.
Placement Support
Tie-up & MOU with more than 1,500+ Small & Medium Companies to Support you with Opportunities to Kick-Start & Step-up your Career.
German Certification Language Course in Pondicherry
About German Certification Language Course in Pondicherry at FITA Academy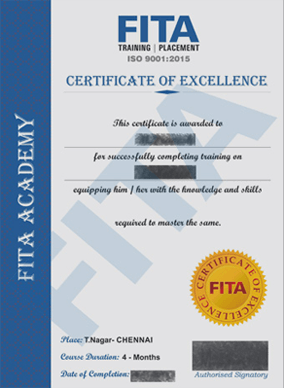 German Certification Language Course in Pondicherry
German course certification is one of the professional credentials that shows a candidate has successfully finished the certification level they chose in their certification program. To receive the German Course Certification at FITA Academy, the candidate must have acquired extensive knowledge of the German language's Reading, Listening, Writing and Speaking abilities.
FITA Academy offers comprehensive hands-on training in the German language as part of our German Certification upon successfully completing this course. At FITA Academy, our German instructors are experts with at least 8+ years of experience instructing students in German language. As part of the German language training program offered by the FITA Academy, our German language instructors will assist you in passing the Goethe-Zertifikat exam.
Have Queries? Talk to our Career Counselor
for more Guidance on picking the right Career for you!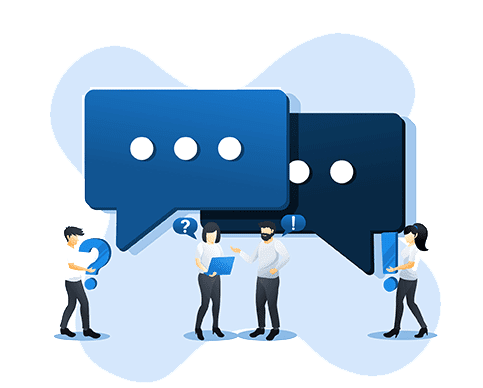 Job Opportunities After Completing German Classes in Pondicherry
German is one of the foreign languages increasingly in demand for academic and professional purposes as a result of globalisation. German language proficiency is acquired by students enrolling in FITA Academy's German Language Classes in Pondicherry, which are necessary for employment with prestigious German companies as well as admission to German Universities.
You have many opportunities in global companies like Amazon, which hire content writers, editors and German language translators. Even in the airline industry, you could boost your career by working in Germany-based airlines and airports.
A wide range of professional and academic opportunities will become available if you are proficient in German communication since it is the primary language of communication for almost 220 million people worldwide.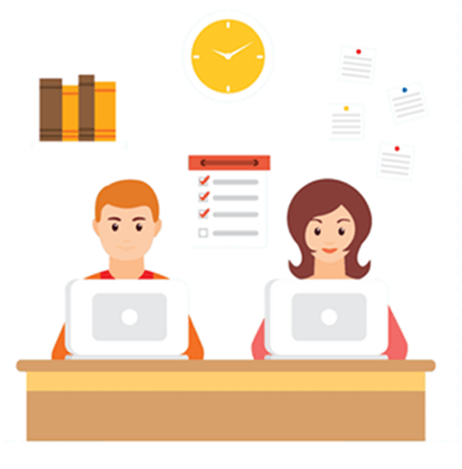 V
Vijay N

The FITA Academy offered excellent German classes in Pondicherry. I signed up for the A1 course. I am pleased with their coaching. I now have additional plans to complete till my B1 level at the FITA Academy. I am confident that I will also pass this certification level with their help and coaching. Thank you, FITA Academy.
N
Nithyashree L

My colleague suggested that I enrol in FITA Academy's German Classes in Pondicherry. I am happy I decided to learn German at this institution. I was able to pick up the language more quickly because of the well-designed course framework and frequent evaluation sessions. Additionally, my trainer was well-versed in German. During class, he made sure that we spoke only in German. A sincere thanks to him. Fantastic job, FITA Academy.
G
Gokul A

I took a German Language Course in Pondicherry at FITA Academy, and I found the material is current and extremely useful. The instructor was competent and patient. I will highly recommend this institution to my friends.
H
Hannah Kirsten

My dream is to study in Germany for my Postgraduate degree. Therefore, I had to learn German. All levels of learners will benefit significantly from the German classes offered in Pondicherry. I had no trouble learning this new language. The outcomes of their students reflected the efforts of FITA Academy. My Gratitude to FITA Academy.
A
Vishnuvardhan

The best German language institute in Pondicherry is FITA Academy. The curriculum is very apt for all students. During the classes, I felt no pressure at all. It was a seamless and easy experience. I am happy I picked this centre for this course.
Have Queries? Talk to our Career Counselor
for more Guidance on picking the right Career for you!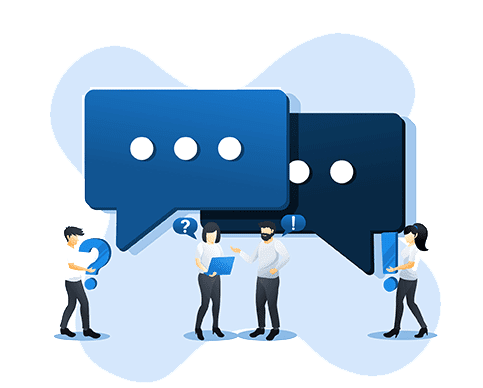 German Classes in Pondicherry Frequently Asked Question (FAQ)
How learning German helps in a Professional career?

Germany is considered an economic and manufacturing powerhouse since it is the home of many global companies like Volkswagen, BMW, Mercedes- Benz, Siemens, Adidas, and Lufthansa.
They also conduct the most prominent trade fairs for new technology and consumer electronics.
Berlin is becoming a hub for new innovative startups and coined the name "Silicon Valley of Europe."
So learning the German language at FITA Academy's German Classes in Pondicherry significantly boosts your career and helps you have a better future.
Read more
Additional Information
A global village where individuals worldwide may easily connect has replaced the once-large world that existed before due to technological advancement and innovation. Learning new languages was made possible by the incredible global connectivity of humans. Learning a new language will unlock the floodgates to more knowledge and job options. So studying German will undoubtedly open doors to rich international professional opportunities.
German is becoming one of the most critical languages in the world. Native language to more than 100 million people. More than 200 million people in the world can read, write and speak the German language. It is also the official language of countries such as Australia, Liechtenstein and the co-official language of Belgium, Luxembourg, and Switzerland.
German is the second most widely spoken language globally because it is simple to learn. People are frequently persuaded to believe that learning German is a tiresome task. Ironically, studying German is a piece of cake if you are well-versed in English, considering that German and English are related. Many English words can be found in German as you learn them. Examples of words that have been translated from German include Kindergarten, Wanderlust, Angst, Doppelganger, and Cobalt. The grammar and several word sounds in German are similar to English.
Science, literature, academia, arts, poetry, philosophy, innovators, and intellectuals spoke German. Additionally, German is widely used online. German is the fourth most common language in terms of internet domains with the .de extension. It is one of the top languages where the majority of website materials are published, along with English and Russian.
Various Levels of German Certification
Level 1: German A1 Certification
Greetings, Basic Phrases, colours, Objects, Genders, and the German Alphabet. Forming simple sentences like introducing yourselves, questioning the locality, and the fundamentals of communication. Grammar-Nouns, pronouns, verbs, prepositions and tenses.
Level 2: German A2 Certification
Able to understand expressions and sentences frequently used in contexts related to work, shopping, and one's immediate environment. The ability to speak German to describe your education and experience. Grammar: Sentence connectors, Clauses, Degrees of Comparison, and Modal verbs.
Level 3: German B1 Certification
Comprehend subjects pertaining to one's school, profession and leisure. The ability to speak in German with assurance in everyday situations. Have the calibre to respond intelligently to both routine and interest-related topics. Grammar: In-depth knowledge of the tenses and clauses, direct and indirect speeches.
Level 4: German B2 Certification
Capable of understanding the central theme of complex sentences on abstract subjects. You are able to speak and sound like a native speaker in native conversations. Express detailedly on various topics, including those relevant to current events: increased word knowledge and familiarity with new words.
Level 5: German C1 Certification
Ability to comprehend the implicit meaning behind a variety of topics and texts. Having the ability to speak freely and without searching for the right words.Able to communicate effectively in both social and professional environments. Able to make structured, detailed and precise statements on complex topics and apply different means of text related to the process.
Level 6: German C2 Certification
Understand daily situations with ease, and be able to summarise information from various spoken and written sources. Express oneself proficiently with precision and accurate pronunciation. Comprehend the finer nuances and the meaning of complex words and topics.
How long does it take to learn German?
The time it takes to learn German varies depending on a number of factors, such as your prior experience of learning foreign languages and how enthusiastic you are and taking into account the amount of time you have to study each day.
The Foreign Service Institute (FSI) estimates that 750 hours of study are needed for English speakers to become proficient in German. If a person spent approximately 25 hours per week doing so, it would take about 30 weeks to master the language. It is critical to remember that this estimate may only apply to select people and is based on a rigorous language learning curriculum. If you have less time to dedicate to studying, it could be challenging to learn German with only modest progress.
The level of proficiency you want to achieve will also affect how long it takes you to learn German. You can most likely grasp the foundations of conversation within a few months of the start. However, if you want to acquire German fluency and advanced reading, writing and speaking skills, it may take several years of persistent practice and study. Join German Classes in Pondicherry to learn to speak German fluently and have better career opportunities.
Tips and Strategies to Study German more efficiently
Set clear goals
Define your language learning goals, whether it is becoming conversational in the German language, passing a specific exam, or understanding German literature. Having clear objectives will help you stay motivated and focused.
Create a study plan
Develop a structured study plan that includes specific tasks and milestones. Allocate dedicated time for studying German daily or week, and stick to your schedule. Consistency is vital when it comes to language learning.
Immerse yourself in German
Surround yourself with German as much as possible. Listen to German music, podcasts, or radio stations, and watch German movies and TV shows. Read German books and news articles. This helps improve your listening skills, vocabulary and overall language comprehension.
Practice speaking
Actively practise speaking German, even if you are a beginner. Find language partners or join conversational groups where you can interact with native or fluent German speakers. Speaking regularly will boost your confidence and help you become more comfortable in real-life conversations.
Use language-learning resources
Utilise a variety of resources to enhance your German learning experience. Online platforms, textbooks, mobile apps and language courses can provide structured lessons, grammar explanations, vocabulary exercises and interactive activities. Find resources that align with your learning style and preferences.
Focus on grammar and vocabulary
Dedicate time to learning German grammar rules and building your vocabulary. Grammar provides the structure for constructing sentences, while vocabulary expands your ability to express yourself. Practice exercises and repetition can reinforce these elements.
Take advantage of technology
Also, with the classes, take advantage of language-learning apps, online dictionaries, flashcard systems and language exchange platforms. These offer convenience, interactive features and opportunities for feedback and practice.
Keep a language journal
Maintain a journal to record new vocabulary, phrases, and grammar rules. Reviewing your journal regularly will reinforce what you have learned and serve as a reference for future study sessions.
Find a study partner
Learning with others can provide support, motivation, and opportunities for practice. Find a study partner to interact with learners and have an interactive study..
Practise regularly and be patient
Consistent practice is crucial for language learning. Aim for regular study sessions, even if they are shorter in duration. Be patient with yourself and celebrate small victories along the way. Learning a language takes time and effort, so don't get discouraged by occasional setbacks or difficulties.
Utilise flashcards
Create flashcards to help memorise vocabulary, verb conjugations, and grammatical rules. Review them regularly, either using physical or digital flashcards.
Practise with authentic materials
Engage with authentic German materials such as newspapers, magazines and websites. Start with more straightforward texts and gradually increase the difficulty as your skills improve. Authentic materials expose you to real-life language usage and cultural nuances.
Listen to podcasts or audiobooks
Listening to German podcasts or audiobooks can help you improve your listening comprehension and pronunciation. Choose topics that interest you and gradually increase the difficulty level as you progress.
Practise writing
Regularly practise writing in German to improve your grammar, vocabulary, and sentence structure. Start with simple sentences and gradually move to more complex texts. You can also join online writing communities or find a language partner to provide feedback on your written work.
Use mnemonic techniques
Mnemonic techniques can help you remember vocabulary words or grammar rules more effectively. Create associations, mental images, or stories to connect new information with something familiar or memorable.
Watch German movies or TV shows with subtitles
Watching German movies or TV shows with subtitles can help you improve your listening skills and familiarise yourself with colloquial expressions. State with subtitles which you are most comfortable with.
Take breaks and review regularly
Refrain from overloading yourself with too much information at a time. Take regular breaks during your study sessions to allow your brain to process and consolidate what you have learned. Review previous material regularly to reinforce your knowledge.
Immerse yourself in German culture
Explore German culture, traditions, and history to deepen your appreciation for the language. This can be done by reading books, watching documentaries, attending cultural events, or planning a trip to Germany.
In conclusion, German Classes in Pondicherry offer valuable opportunities for students to develop language skills and cultural understanding and open doors to various personal and professional opportunities. By studying German, students can enhance their communication abilities, access German literature and media, immerse themselves in German culture and broaden their horizons.
To make the most of German classes, students should set clear goals, create a structured study plan, immerse themselves in the German language, practice speaking with native speakers, utilise language-learning resources, focus on grammar and vocabulary, use technology and remain patient and persistent.
Learning a new language is a journey that requires dedication, practice and a positive mindset. German classes can provide the guidance and resources needed to progress effectively. Still, ultimately it is up to the students to embrace the learning process and actively engage with the language. With consistent effort and a passion for learning, students can achieve proficiency in German and reap many benefits that come with it. Enrol in German Language Classes in Pondicherry at FITA Academy to get trained under affluent trainers and speak German fluently.
Read more