Course Highlights & Why Data Science Course in Pondicherry at FITA Academy?
Our trainers are Data Science professionals with extensive experience who are skilled in the field.
We offer in-depth Data Science Classes in Pondicherry that combine theoretical concepts with practical implementation.
Students can use interactive visualisations to practise what they learn while also building models using machine learning techniques, analysing datasets from real-world situations, and creating visualisations.
We offer students Data Science Training in Pondicherry on the weekends, during the week, and during fast-track sessions with our flexible batch timings.
We offer affordable Data Science Training in Pondicherry with a certification upon completion.
We have more than 1,500+ partners working with us at our Data Science Training Institute in Pondicherry to support job placement.
All students who complete the training successfully receive 100% Placement Assistance from FITA Academy.
Read more
Upcoming Batches
| | | | |
| --- | --- | --- | --- |
| 23-09-2023 | Weekend | Saturday (Saturday - Sunday) | |
| 25-09-2023 | Weekdays | Monday (Monday - Friday) | |
| 28-09-2023 | Weekdays | Thursday (Monday - Friday) | |
| 30-09-2023 | Weekend | Saturday (Saturday - Sunday) | |

Classroom Training
Get trained by Industry Experts via Classroom Training at any of the FITA Academy branches near you
Why Wait? Jump Start your Career by taking the Data Science Training in Pondicherry!
Instructor-Led Live Online Training
Take-up Instructor-led Live Online Training. Get the Recorded Videos of each session.
Travelling is a Constraint? Jump Start your Career by taking the Data Science Online Course!
Have Queries? Talk to our Career Counselor
for more Guidance on picking the right Career for you!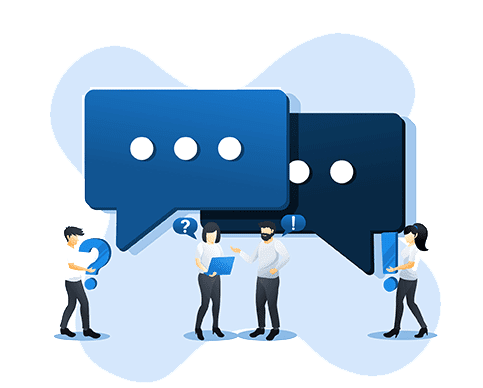 Trainer Profile
The instructors at FITA Academy are the top professionals in their area and have more than 8 years of expertise in data science.
The instructors give the students in-depth, hands-on instruction and assign them real-world assignments so they can work on actual projects in the business.
The Trainers instruct the students on the methodology and the most recent tools and algorithms used in data science.
Our curriculum can be tailored to the needs of each student and is very flexible.
We offer our students classes on weekends and during the week. To learn the most from the convenience of your home, you can also choose to enrol in Data Science online courses.
As part of the training, instructors at FITA Academy assist students in developing solid resumes and provide them with essential interview tips.
Features
Real-Time Experts as Trainers
At FITA Academy, You will Learn from the Experts from industry who are Passionate in sharing their Knowledge with Learners. Get Personally Mentored by the Experts.
LIVE Project
Get an Opportunity to work in Real-time Projects that will give you a Deep Experience. Showcase your Project Experience & Increase your chance of getting Hired!
Certification
Get Certified by FITA Academy. Also, get Equipped to Clear Global Certifications. 72% FITA Academy Students appear for Global Certifications and 100% of them Clear it.
Affordable Fees
At FITA Academy, Course Fee is not only Affordable, but you have the option to pay it in Installments. Quality Training at an Affordable Price is our Motto.
Flexibility
At FITA Academy, you get Ultimate Flexibility. Classroom or Online Training? Early morning or Late evenings? Weekdays or Weekends? Regular Pace or Fast Track? - Pick whatever suits you the Best.
Placement Support
Tie-up & MOU with more than 1,500+ Small & Medium Companies to Support you with Opportunities to Kick-Start & Step-up your Career.
Data Science Certification Training in Pondicherry
About Data Science Certification Training in Pondicherry at FITA Academy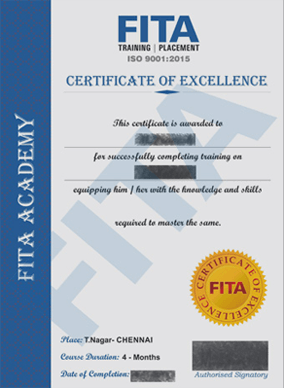 Data Science Certification Training in Pondicherry
Data Science course certification is a professional credential that demonstrates a candidate's capacity to gain comprehensive subject knowledge in addition to understanding all of the critical tools and algorithms used by data scientists. The learner would have the best career possibilities in MNCs with this qualification. With this certification, you'll have the tools you need to start working in the field of data science. With this qualification, you can easily land the job and create a good impression on the interviewer.
You will be able to make wise decisions by developing a thorough understanding of the critical services in this Data science field. This is a fantastic chance for those who want to jump-start their careers in Data Science. To start their careers off on the right foot, they can enrol in the Data Science Course offered by the FITA Academy in Pondicherry. They will be able to pursue a rewarding career in Data Science.
After successfully completing the Data Science Classes in Pondicherry, the candidate is given a certificate of completion. This certificate serves as proof of the knowledge and abilities you supposedly gained during the enrolled period. It serves as proof that you have completed all the tasks and projects necessary to become a successful Data Science professional.
Have Queries? Talk to our Career Counselor
for more Guidance on picking the right Career for you!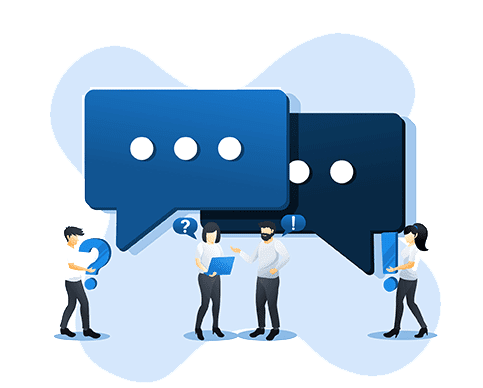 Job Opportunities After Completing Data Science Course in Pondicherry
The demand for data science is increasing at an unheard-of rate due to the creation of applications utilising Big Data and AI. P&G creates time series models of the demand for its products using data science to decide which series to produce in the future. Netflix, in contrast, employs data science to comprehend audience viewing habits in order to choose which shows to produce in the future.
But the supply does not match the demand. The time is ideal to pursue a career in data science. Data scientists are becoming more and more in demand by employers. Data scientists' expertise is needed to manage the massive amounts of data flowing into social media and e-commerce websites. The majority of businesses also believe that hiring data scientists is the best way to adopt artificial intelligence.
Even though most big businesses are getting ready to invest in data mining operations, several smaller businesses are also prepared to follow suit.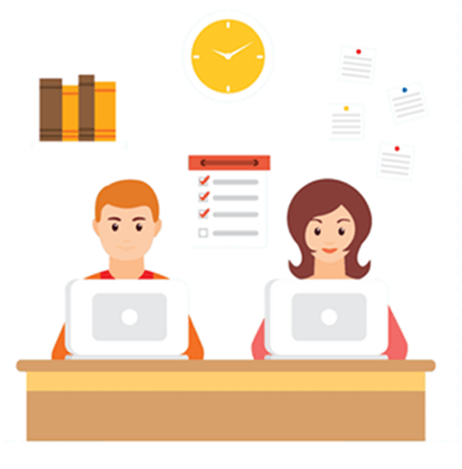 According to projections, the sum of all these factors will result in a 30% increase in the number of data science jobs over the course of the upcoming year. In fact, now is the ideal time to broaden your understanding of data science and hone your skills.
A
Aisha Muhammad

The Data Science Course in Pondicherry at FITA Academy has been a transformative experience for me. The trainers are highly knowledgeable and bring real-world expertise to the classroom. They guided us through the entire data science lifestyle, from data cleaning and preprocessing to advanced machine learning algorithms. The course curriculum was comprehensive, covering a wide range of topics such as data visualisation, statistical analysis, and predictive modelling. The practical assignments and hands-on projects gave me the opportunity to apply my learning to real-world datasets. Thanks to FITA Academy.
P
Priyadharshini

I had a very good experience learning a Data Science course in Pondicherry at FITA Academy. The trainers were industry experts who provided in-depth knowledge and practical insights into data science techniques and methodologies. The course structure was well designed, covering all the essential topics, including machine learning, data visualisation and big data analytics. The hands-on projects and real-world case studies helped me gain confidence in applying data science concepts to solve complex problems. Thank you, FITA.
K
Karthikeyan

The Data Science Classes in Pondicherry at FITA Academy were very useful in furthering my career. The trainers were experienced professionals who provided a comprehensive understanding of data science concepts and techniques. The practical sessions were interactive and engaging, allowing me to explore real-world datasets and apply machine-learning algorithms. FITA Academy provided an engaging learning environment, and I am thankful for the valuable skills and knowledge I got during the course.
R
Rohan Joshua

The Data Science Training in Pondicherry at FITA Academy was great. The trainers were incredibly passionate and knowledgeable. They made complex concepts easy to understand and provided hands-on experience with popular tools and technologies in the field. The practical exercises and projects allowed me to apply what I learned and build a strong portfolio.
Have Queries? Talk to our Career Counselor
for more Guidance on picking the right Career for you!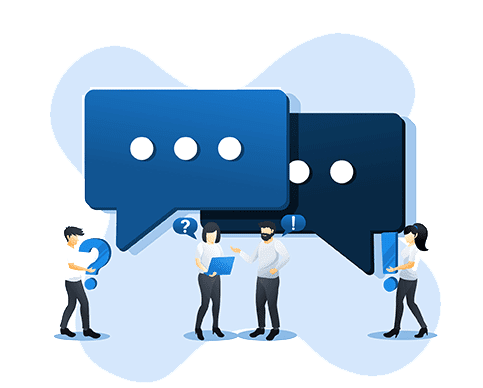 Data Science Course in Pondicherry Frequently Asked Question (FAQ)
Additional Information
In the era of digitisation, the volume of data generated by individuals, organisations, and machines has skyrocketed. This vast amount of data holds tremendous potential for generating valuable insights and driving informed decision-making. Data Sciences, a multidisciplinary field that combines statistics, computer science, and domain knowledge, has emerged as a powerful tool for extracting meaningful information from complex datasets.
Data Sciences encompasses a set of techniques and methodologies used to extract knowledge and insights from structured and unstructured data. It involves various stages, including data collection, cleaning, transformation, analysis, and visualisation. The primary goal of Data Sciences is to derive actionable insights and predictions that can drive better decision-making, enhance operational efficiency, and solve complex problems.
Critical Concepts in Data Sciences
Data Collection
Data Scientists collect data from various sources, including databases, sensors, social media, and online platforms. They employ web scraping and data mining techniques to gather relevant information.
Data Cleaning
Raw data often contains errors, missing values, and inconsistencies. Data Scientists employ data cleaning techniques to rectify these issues and ensure the accuracy and integrity of the dataset.
Data Transformation
Data scientists transform raw data into a suitable format for analysis. This involves data integration, aggregation, and feature engineering tasks.
Statistical Analysis
Statistical techniques from the foundation of Data Sciences. Data Scientists utilise methods such as hypotheses testing, regression analysis, and time series analysis to uncover patterns, relationships, and trends within the data.
Machine Learning
Computers can learn from data and use machine learning algorithms to anticipate or act on the future without being explicitly programmed. Data sciences frequently employ methods like classification, clustering, and regression.
Data Visualisation
In data sciences, effective communication of insights is essential. Charts, graphs, and interactive dashboards are examples of data visualisation techniques used to show complex information visually appealing and clearly.
Applications of Data Sciences
Data Sciences find applications in numerous domains, revolutionising industries and shaping decision-making processes. Some prominent applications include:
Healthcare
Data Sciences contribute to medical research, disease diagnosis, drug discovery, and personalised medicine. It enables the analysis of patient records, genetic data, and clinical trials to improve patient outcomes and optimise healthcare delivery.
Finance
Data Sciences play a vital role in fraud detection, risk assessment, algorithmic trading, and customer segmentation in the financial sector. Predictive models based on historical data aid in making investment decisions and optimising portfolio management.
Retail and E-commerce
Data Sciences empower retailers to analyse customer behaviour, forecast demand, optimise pricing, and personalise marketing campaigns. Recommendation systems leverage user data to provide tailored product suggestions, enhancing the shopping experience.
Manufacturing and Supply Chain
Data Sciences facilitate predictive maintenance, quality control, and supply chain optimisation. Organisations can improve efficiency, reduce downtime, and enhance product quality by analysing sensor data, production records, and logistics information.
Energy and Utilities
Data Sciences help in energy management, demand forecasting, and optimising power distribution. Innovative grid technologies leverage real-time data to enhance energy efficiency and grid reliability.
Transportation and Logistics
Data Sciences enable route optimisation, demand forecasting, and predictive maintenance in the transportation sector. Real-time data from sensors, GPS, and weather conditions allow organisations to make informed decisions and improve operational efficiency.
Challenges in Data Sciences
While Data Sciences offer immense opportunities, they also pose challenges regarding data privacy, ethical considerations, and the need for skilled professionals.
Data Privacy
With the proliferation of data, ensuring privacy and security becomes crucial. Organisations must comply with data protection regulations and implement robust security measures to safeguard sensitive information. Balancing the benefits of data analysis with individual privacy rights remains a significant challenge.
Ethical Considerations
Data Sciences raise ethical questions regarding data usage, algorithmic bias, and fairness. As algorithms make critical decisions impacting individuals' lives, transparency, accountability, and fairness must be prioritised to avoid potential biases and discrimination.
Skilled Workforce
Data Sciences demands professionals with diverse skill sets, including statistics, programming, data visualisation and domain knowledge expertise. The need for more skilled data scientists poses a challenge for organisations seeking to leverage the power of data.
Integration of Data Sources
Integration of data from various sources and formats can be complex and time-consuming. Organisations need efficient data integration strategies to harness the full potential of their data assets.
Real-time Analytics
The ability to promptly process and analyse real-time data streams is becoming increasingly important. Developing scalable and efficient algorithms to handle high-velocity data streams is a challenge that data scientists need to address.
Future Trends in Data Science
Artificial Intelligence (AI) and Machine Learning (ML)
The development of AI and ML algorithms will lead to more precise predictions and automated decision-making. To solve complicated problems, methods like deep learning and reinforcement learning will be crucial.
Internet of Things (IoT)
The proliferation of IoT devices will generate vast amounts of data. Data Sciences will be essential in extracting valuable insights from IoT-generated data and enabling more intelligent and efficient systems.
Explainable AI
There will be a rising need for comprehensible AI models to support their judgements as AI becomes more commonplace. Gaining users' trust and ensuring the ethical usage of AI will depend on their ability to understand and analyse information.
Data Governance and Ethics
Organisations will focus more on establishing robust data governance frameworks, ensuring data quality, and addressing ethical concerns. Transparency, accountability, and fairness will build trust with customers and stakeholders.
Data Sciences have emerged as an assertive discipline that unlocks the potential of data, driving innovation, and informed decision-making across various industries. With the ever-increasing volume of data, addressing privacy, ethics, and skilled workforce challenges becomes paramount. Data sciences have a bright future as technology develops further and is shaped by developments in AI, IoT, and ethical issues. Gaining a competitive edge and bringing about significant change in the digital era will require harnessing the power of data.
Read more