Course Highlights & Why Data Science Course in Salem at FITA Academy?
Students are instructed by qualified industry professionals in accordance with industry standards.
A thorough syllabus provides students with good information.
Interactive training with instructors to expand students' knowledge.
Students receive specialised attention to help them on their professional path.
Instructing fundamental and advanced concepts connects learners with all key subjects.
FITA Academy has successfully trained 50,000+ students to achieve their goals in careers.
In order to give students a wide range of job prospects, FITA Academy maintains partnerships with more than 1,500+ companies.
Read more
Upcoming Batches
| | | | |
| --- | --- | --- | --- |
| 30-11-2023 | Weekdays | Thursday (Monday - Friday) | |
| 02-12-2023 | Weekend | Saturday (Saturday - Sunday) | |
| 04-12-2023 | Weekdays | Monday (Monday - Friday) | |
| 09-12-2023 | Weekend | Saturday (Saturday - Sunday) | |

Classroom Training
Get trained by Industry Experts via Classroom Training at any of the FITA Academy branches near you
Why Wait? Jump Start your Career by taking the Data Science Training in Salem!
Instructor-Led Live Online Training
Take-up Instructor-led Live Online Training. Get the Recorded Videos of each session.
Travelling is a Constraint? Jump Start your Career by taking the Data Science Online Course!
Have Queries? Talk to our Career Counselor
for more Guidance on picking the right Career for you!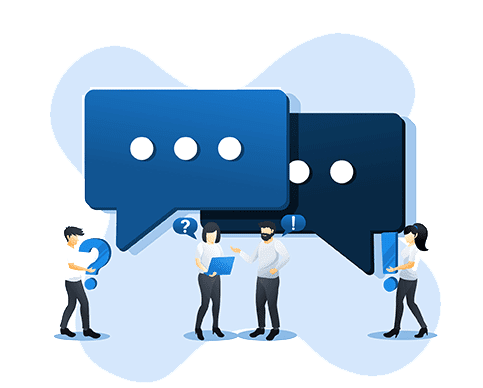 Trainer Profile
The trainers at FITA Academy are the best in the industry and have more than 8 years of experience in data science.
The instructors have a lot of expertise in working on tasks connected to actual circumstances.
They have extensive training and experience working as professionals in international corporations.
They have excellent practical and theoretical knowledge of data science topics and are qualified specialists in our institute.
The instructors give the students in-depth, hands-on instruction and assign them real-world assignments so they can work on actual projects.
The instructors will familiarise data science methodology with the latest tools and algorithms.
The instructors help students reach their career goals by giving them the personalised support they require.
As part of their training, instructors at FITA Academy provide students with the required interview tips and support in creating an effective CV.
Trainers assist students in developing their technical Data Science abilities so that they can succeed in the area.

Learn at FITA Academy & Get Your
Dream IT Job in 60 Days
like these Successful Students!
Features of Data Science Course in Salem at FITA Academy
Real-Time Experts as Trainers
At FITA Academy, You will Learn from the Experts from industry who are Passionate in sharing their Knowledge with Learners. Get Personally Mentored by the Experts.
LIVE Project
Get an Opportunity to work in Real-time Projects that will give you a Deep Experience. Showcase your Project Experience & Increase your chance of getting Hired!
Certification
Get Certified by FITA Academy. Also, get Equipped to Clear Global Certifications. 72% FITA Academy Students appear for Global Certifications and 100% of them Clear it.
Affordable Fees
At FITA Academy, Course Fee is not only Affordable, but you have the option to pay it in Installments. Quality Training at an Affordable Price is our Motto.
Flexibility
At FITA Academy, you get Ultimate Flexibility. Classroom or Online Training? Early morning or Late evenings? Weekdays or Weekends? Regular Pace or Fast Track? - Pick whatever suits you the Best.
Placement Support
Tie-up & MOU with more than 1,500+ Small & Medium Companies to Support you with Opportunities to Kick-Start & Step-up your Career.
Data Science Certification Training in Salem
About Data Science Certification Training in Salem at FITA Academy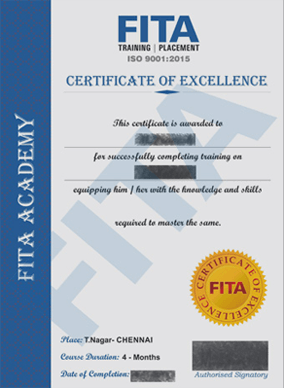 Data Science Certification Training in Salem
Data Science Course Certifications verify a person's ability to complete complex Data Science projects. Additionally, it states that the individual possesses adequate knowledge of the Data Science life cycle, which comprises gathering, maintaining, processing, analysing, and communicating the Data. Additionally, having a certificate from a Data Science course on a resume or curriculum vitae has a positive effect. It increases the likelihood of getting an interview and being given priority.
For beginners and software experts alike, FITA Academy's Data Science Course Certification in Salem offers training and certification programmes to advance their knowledge of data analytics. The training is provided by knowledgeable instructors with ten years of expertise in the big data industry, and they will assist you in deepening your understanding of data science.
You can obtain satisfying employment in your field of interest with the aid of the Data Science Training in Salem and become a qualified expert. Enroll in Data Science classes offered by FITA Academy in Salem to discover more about the job prospects in data science.
Salem residents can sign up for reasonably priced data science courses at FITA Academy. Enroll in our certified online or classroom Data Science certification programmes to start learning immediately. We provide a variety of batches to accommodate various timetables. Utilise our training techniques to ensure you don't miss any classes.
At FITA Academy, we provide hands-on instruction which is the most effective method of learning. As a result, we give our students tasks to complete in order to put what they have learnt in class into reality. Additionally, we ensure that every student receives individualised attention to succeed in their careers.
Our Salem data science training programme is designed to provide participants with a thorough knowledge of the ideas behind data science and how it is used. Candidates who successfully complete the training programme will also obtain a certificate in data science. Your capacity to work as a data scientist will be demonstrated by this certificate.
Have Queries? Talk to our Career Counselor
for more Guidance on picking the right Career for you!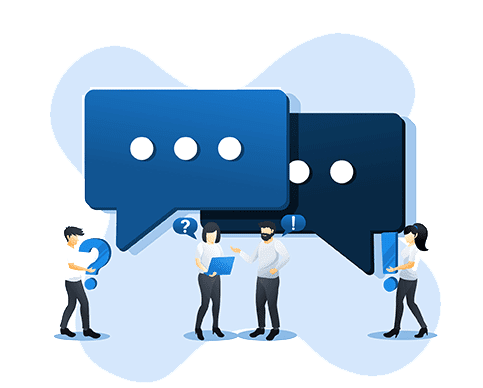 Job Opportunities After Completing Data Science Course in Salem
There is a huge demand for skilled Data Scientists in India. Based on various reports on recent years, There are numerous data scientist jobs available for the aspirant after completing the FITA Academy's Data Science Training in Salem. The amount of data generated as a result of the development of technology is enormous, and there is an increasing need for knowledgeable individuals who can use data science to address problems.
This skill is beneficial for individuals interested in job roles surrounding Analysis, Engineering, Big Data, Business Intelligence, Statistics, Machine Learning, Architecture, and Integration. It is best suited for computer science enthusiasts, graduates, and undergraduates who want to advance their careers as Data scientists. Some of the global organisations that hire Data scientists include Wipro, IBM, Amazon, Splunk, Accenture, Walmart and many more. The average salary of a Data Scientist in India is 10.5 lakhs per annum. The average salary for the same is $95k per annum globally. With experience, locality, organisation and these figures can change exponentially.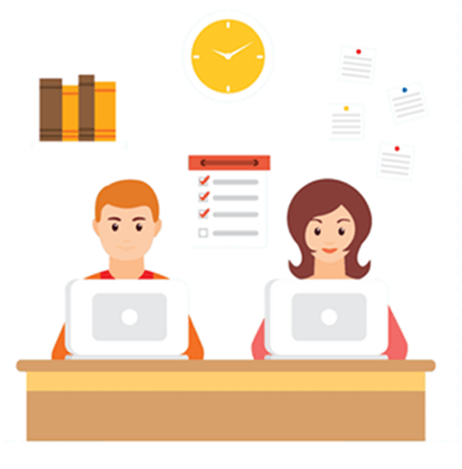 You can be assured of a promising career after your course completion at the Data Science Training Institution in Salem. The field of Data Science is multidisciplinary and in the process of diversification of various job roles based on the needs of the industry. Top firms are in the process of establishing separate teams to work on Data and extract useful insights for Business Development Strategies of the organizations. Various Job roles involved in Data Science are listed below.
SAS Analyst
Data Analyst
Research Analyst
Business Analyst
Statistical Analyst
Hadoop Developer
Analytics Manager
Analytics Consultant
On average, a fresher in Data Science can earn between Rs. 6-8 Lakhs per annum. With 4-5 years of experience and an excellent skill set, a Professional Data scientist earns above Rs. 15 Lakhs per annum.
More than 20% of Job vacancies in India are available for freshers with strong fundamentals in Statistics, Programming language, Data Visualisation and enthusiastic to learn and develop themselves regularly.
Data Analysts with knowledge in Python are most sought by various top MNC. Candidates with excellent skills in Python can join Data Science Training in Salem at FITA Academy to update themselves with industry-relevant skills in Data Analytics and make a successful career in Data Science.
IT Professionals willing to make a shift in their career path can opt for Data Science since it promises a better future with its phenomenal growth in the Indian IT Sector. Candidates willing to work in a dynamic and challenging environment can opt for the Data Science field to escape job roles that are monotonous with the minimal scope of the advancement of knowledge. Salem, the Silicon Valley of India, accounts for 24% of total Data Science related job vacancies in India.
Data Science is one of the highly paid jobs in recent times and will set to make a huge footprint in the Indian IT Sector.
Read more
R
Raju

Learning data science was a worthwhile experience. Here, a teaching strategy emphasising application was presented. My instructor was very professional and thoroughly covered all the topics. All inquiries were responded to without delay. The training programmes were excellent. Numerous real-world instances were provided.
S
Shankar

A nice site to receive Data Science Training in Salem from professionals in the field is FITA Academy. I found it more comfortable to take classes without interruptions due to the flexible scheduling. They provided instruction with hands-on projects throughout the practical sessions, which was more beneficial for me to advance my technical knowledge. Many thanks to the trainer and FITA Academy.
K
Kani

I would like to thank FITA Academy for giving the best Data Science coaching. They gave the right coaching starting from the basics to advanced concepts. Trainers provided in-depth course coverage about the data science concepts. FITA Academy is the best platform to learn Data Science Courses. Now I got placed in an MNC company through FITA Academy placement support.
M
Mahesh

I have completed my Data Science Course at FITA Academy. I had a very good experience in the training session. Trainers taught me the concepts clearly and easily. Thank you FITA Academy for providing this wonderful training.
A
Avinash

I am Avinash and I have finished my data science Course at Fita Academy. Tutors way of teaching is very good. They clarified my doubts in each session and trainers provided practical training with live projects. I am very satisfied to complete my course at FITA Academy and now I have the confidence to clear my interview.
Have Queries? Talk to our Career Counselor
for more Guidance on picking the right Career for you!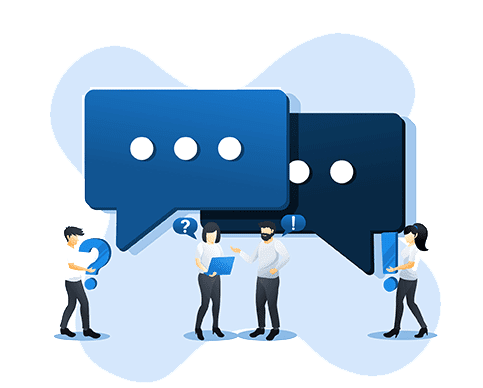 Data Science Course in Salem Frequently Asked Question (FAQ)
Additional Information
What Is Data Science?
Modern technology produces an enormous amount of data that needs to be managed. This data is largely unorganised. Since then, data science has evolved to assist in extracting business insights from these massive amounts of created data.
Data Science, also known as data-driven science, assists people and businesses in developing models, algorithms, and procedures that are useful in solving real-world business challenges.
Why Data Science?
Data's potential has recently been realised and will play a significant role in the growth of organisations in the future.
Data science assists in formulating business plans for the benefit of enterprises by performing predictive analysis on the vast amounts of data that an organisation has collected.
The majority of industries, including banking, e-commerce, finance, gaming, healthcare, education, telecommunications, travel, and tourism, use data science.
Incorporating automation into workflows is something that organisations around the world are in favour of doing, and Data Science will power such automation processes by employing Big Data and Machine Learning approaches.
Since it processes large amounts of data and determines consumer spending trends and the items that customers desire in firms, data science significantly helps marketing.
Based on a user's search history and purchasing habits, businesses can push the products that are most likely to be favoured by consumers using data science.
In the near future, business organisations will have a critical need for skilled data scientists to manage and extract potential insights from the massive amounts of data in order to establish a clear roadmap for the enterprises due to rising Internet penetration and data proliferation.
Why Learn Data Science?
A data scientist researches data that is generated and helps companies to predict business growth and trends. Data scientists are in high demand today and this consequently motivates students to take up training in Data Science.
Data Scientist – Skills Required
Database Management
SQL
Grip on Statistics
Mathematical Skills
Programming Skills
Simulation and Optimization Skills
Completing the comprehensive Data Science Course in Salem at FITA Academy, a student can take up any one of these jobs depending on the qualifications they possess and the experience they have otherwise.
Why Data Science Training In FITA Academy Salem?
We at Salem FITA Academy, one of the greatest options for all the most recent courses, make sure that students leave us completely satisfied after completing the course here.
We have gone to great lengths to ensure that students are engaged in current initiatives in order for this to happen. We make sure that students are comfortable with analytical methods including data visualisation, data exploration, and predictive analysis by teaching every facet of data science. Additionally, we have prominent machine learning techniques included, and the course has been created to meet the demands of the labour market right now.
Why FITA Academy?
FITA Academy is the center that brings out the best in the students with training modules that covers all the topics. Join the Data Science Course in Salemwith FITA Academy to understand the different concepts used to analyze the data.
The training from FITA Academy for data science will make an individual think like a data scientist.
The different business problems and connections of the data with the problems are well explained in the data science training. The trainers are from top companies with many of years of experience. Data Science Course in Salem is very useful to understand the different business problems.
The data science subject is related to science, math, and statistics. At FITA Academy the relationship between different topics is explained in detail with practical examples. The examples for the course and the real-time projects mark FITA Academy as the factors to learn from it.
The time and the comfortable classes are the demand of the students to learn regularly with a motto to get placed. At FITA Academy the time and the location are provided as per the convenience of the students to keep the students happy and motivate them for learning.
FITA Academy data science training is suitable for students from different streams. Spending time and learning with interdisciplinary talents will create an interest in the course. Data Science Training in Salem is the best training to learn extensively about different business data.
Responsibilities Of Data Scientists
Processing of the data.
Cleansing the data.
Analyzing the future of the business and minimizing the problems.
Develop the models for machine learning
Enhance the value of the business.
Use different methods for data mining.
Use the ad-hoc analysis for the data analysis with data.
TheData Science Course in Salem with FITA Academy will help the learners to know about the different methods to process the different types of data.
Future Of Data Science
Data requirements are increasing in the business and the sensors, IoT devices are used to take the data to find solutions. The Data Science Course in Salem with FITA Academy will prepare the students for future changes in technology.
In the time period of five years, there will be models to use different types of data for different analyses which improves the analysis.
Data science Engineers will be placed even in the startups to promote the business. Marketing data analysis is also on the rise in the industry now. Data Science course in Salem is the best course for beginners and experienced.
According to the latest report from job portals, there are more Data scientist job vacancies. The global market will demand more data scientists in future.
Knowledge about the different technologies like R, SAS, Python, and Apache Hadoop is essential to pursue the job of a data scientist.
There will be an invention of algorithms for the consumers to improve their satisfaction. Data Science Training in Salem with FITA Academy will help with the new concepts of algorithm in the data science field with in-depth coverage of the syllabus.
Read more