Course Highlights & Why Tally Course in Bangalore at FITA Academy?
We provide the best Tally Classes in Bangalore by integrating practical training with real-time examples and projects for an extensive learning experience.
Our course offers hands-on training using Tally ERP9 and other concepts such as GST, Inventory Configuration, Financial Accounting and more.
We provide you with the right skills to manage reports, sales, funds, multi currency, accounting and purchases with ease.
The class timings are customised to meet the needs of the students. They can opt for offline classes, live online classes, fast-track and normal-paced classes.
To meet the global standards for today's modern world, we provide the students with two levels of certification for this course at FITA Academy.
We offer a flexible schedule for our students. Students can take part in either weekend or weekday classes.
We prioritise the education and career of the students by providing additional tips on clearing interviews and building resumes.
With 1,500+ partnerships with small to large-scale companies, our Tally Institute in Bangalore provides 100% placement support.
Read more
Upcoming Batches
| | | | |
| --- | --- | --- | --- |
| 23-09-2023 | Weekend | Saturday (Saturday - Sunday) | |
| 25-09-2023 | Weekdays | Monday (Monday - Friday) | |
| 28-09-2023 | Weekdays | Thursday (Monday - Friday) | |
| 30-09-2023 | Weekend | Saturday (Saturday - Sunday) | |

Classroom Training
Get trained by Industry Experts via Classroom Training at any of the FITA Academy branches near you
Why Wait? Jump Start your Career by taking the Tally Course in Bangalore!
Instructor-Led Live Online Training
Take-up Instructor-led Live Online Training. Get the Recorded Videos of each session.
Travelling is a Constraint? Jump Start your Career by taking the Tally Online Course!
Have Queries? Talk to our Career Counselor
for more Guidance on picking the right Career for you!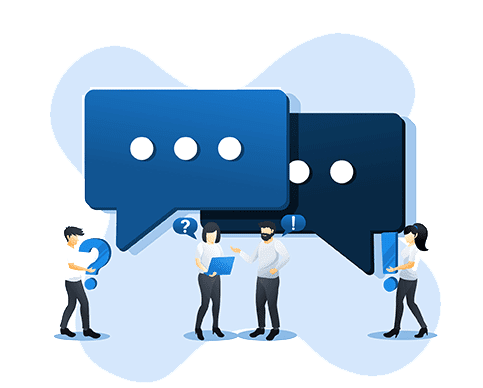 Trainer Profile
At FITA Academy, we have the best professional trainers with over 8+ years of expertise, ready to give you a worthy experience.
Our trainers guide the learners to work on real-time casework to increase their exposure to practical knowledge of the subject matter.
To provide the aspirants with a thorough learning program, trainers of our Tally classes in Bangalore provide hands-on training in various basic and complex applications of the tally ERP9.
Our expert trainers integrate the latest tools and techniques surrounding Tally and its certifications in the course modules.
The classes hold no more than 5 students in each batch to ensure interactive and student-centric classes.
Having years of working experience in different industries, our trainers share their knowledge and skills to mould the aspirants into the finest professionals.
Mentors of Tally Institute in Bangalore help students build their unique resumes and conduct numerous mock interviews to build self-confidence.
For an extensive training program, our trainers offer the best resources and real-time projects.
Features
Real-Time Experts as Trainers
At FITA Academy, You will Learn from the Experts from industry who are Passionate in sharing their Knowledge with Learners. Get Personally Mentored by the Experts.
LIVE Project
Get an Opportunity to work in Real-time Projects that will give you a Deep Experience. Showcase your Project Experience & Increase your chance of getting Hired!
Certification
Get Certified by FITA Academy. Also, get Equipped to Clear Global Certifications. 72% FITA Academy Students appear for Global Certifications and 100% of them Clear it.
Affordable Fees
At FITA Academy, Course Fee is not only Affordable, but you have the option to pay it in Installments. Quality Training at an Affordable Price is our Motto.
Flexibility
At FITA Academy, you get Ultimate Flexibility. Classroom or Online Training? Early morning or Late evenings? Weekdays or Weekends? Regular Pace or Fast Track? - Pick whatever suits you the Best.
Placement Support
Tie-up & MOU with more than 1,500+ Small & Medium Companies to Support you with Opportunities to Kick-Start & Step-up your Career.
Tally Certification Classes in Bangalore
About Tally Certification Classes in Bangalore at FITA Academy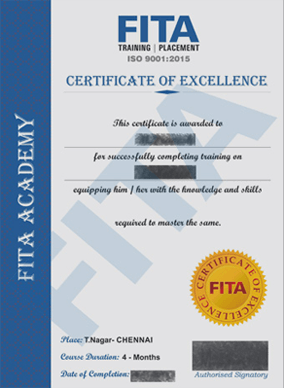 Tally Certification Classes in Bangalore
Following the successful completion of the Tally Course in Bangalore, applicants are given a certificate of completion. The majority of businesses accept this certificate as evidence of your expertise in this area. In general, certified professionals make more money than uncertified ones. This certificate verifies the knowledge and abilities you acquired within your anticipated enrollment period. Acquiring at least one of these certificates enhances your interview performance and credibility.
Obtaining these qualifications improves the candidate's chances of landing a job at a multinational corporation in addition to giving them a thorough knowledge of Tally with ERP 9. FITA Academy offers two levels of certification for its Tally Course in Bangalore
Level 1: Tally- Advanced Accounting Professional
Level 2: Tally- Expert Accounting Professional
In the first level, you will be trained to become proficient in Tally, GST, Reports, Inventory Configuration, Ledgers, Financial Accounting and Sales. During the expert level, in addition to the previous topics, you will also gain a thorough knowledge of complex subjects such as Tally Vault, Tally Audit, Tally Budget, Controls, Multi Currency, Multi Language and Payroll Accounting and more.
A certificate from FITA Academy is good enough to authenticate your proficiency in the subject. However, mentors at FITA Academy encourage students to extend this knowledge by taking part in global certification oriented programs, much like their Tally Classes in Bangalore. It helps to set apart your resume and gain better prospects.
Have Queries? Talk to our Career Counselor
for more Guidance on picking the right Career for you!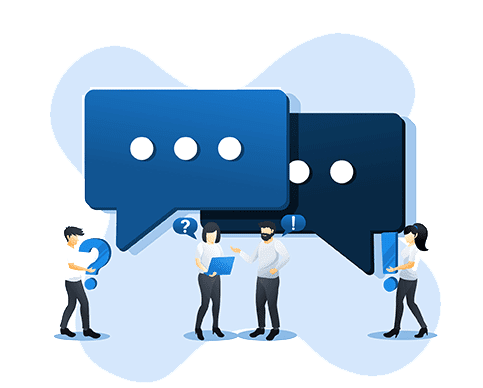 Job Opportunities After Completing Tally Course in Bangalore
The domestic and global markets for Tally are expanding. Students may work as independent contractors for small and medium-sized enterprises, helping them with their accounting requirements. Account management is one of the most important aspects of any business's operations and is crucial to its expansion. It gives professionals a tally experience that is acknowledged in the business, enabling them to advance in their jobs faster than others.
The Tally program is in ever-increasing demand. The importance of accounting is becoming more widely recognised these days. After completing the Tally Course in Bangalore, students may choose from a range of jobs in the private and public sectors. They are demanded in various sectors, including banks, financial institutions, and other commercial enterprises. According to one's educational qualifications and experience, there are numerous employment opportunities available. At present, there are over 26,000+ job vacancies available in multiple job portals for Tally related roles, and eventually, this count will vary based on the demand.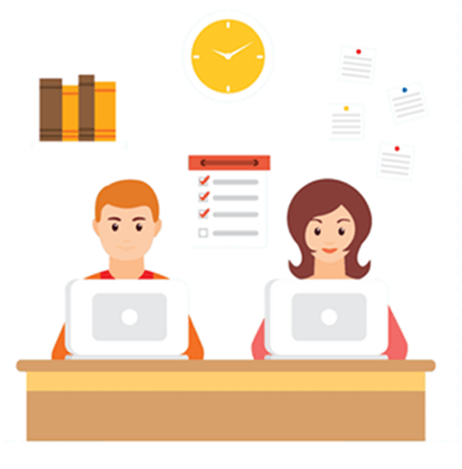 A few of these roles include accountant, tally operator, chartered accountant, auditor and many more. People who have finished a Tally course are employed by numerous companies in India. A few of the top recruiting companies include PWC, Capgemini, IBM, Infosys, Accenture, Flipkart and many more.
The average salary of a Tally specialist working in India is Rs. 2 lakhs per annum. For the same, on a global scale, a Tally specialist earns around $50k annually. FITA Academy's Tally Classes in Bangalore offer training on computerised accounting to streamline and increase the dependability of the entire accounting operations. The sole purpose of a Tally certification training is to improve your knowledge and abilities. The minimal requirement to work as a tally specialist is a certification degree or graduation.
Read more
B
Bijish M

FITA Academy has helped me in getting my dream job as an Accountant in a software company. The Tally Classes in Bangalore were interactive and informative. My trainer helped me gain better knowledge by providing real-time examples and projects. I was able to clear both my certifications with ease. Thanks to my trainers, FITA Academy, and the team for providing full support for the placement and the valuable training.
A
Ananya Pandey

I have completed my certification from Tally Course in Bangalore at FITA Academy. I was able to learn about new tools and techniques after joining their tally classes. I also had the chance to participate in projects and seminars. The trainers motivated me and were extremely helpful. After the course completion, I passed multiple interviews and finally joined the company of my choice.
Y
Yusuf

I found the Tally Institute in Bangalore to be very beneficial for my career. I was able to gain a lot of useful knowledge from the trainers because they were all experts in this field. I was able to learn the topics much better because of the many tasks and projects we had to complete. I could not have wished for a finer training programme to devote my time to.
K
Keerthana S

I have been working as an accountant in a medicine firm for the past few years. I joined the Tally training Institute in Bangalore in hopes of upskilling my abilities. I was able to gain a thorough understanding of all the features in tally and use it to my benefit. My trainer used real examples and discussed a variety of concepts when teaching, which made me feel more assured. I highly recommend enrolling at FITA Academy.
J
Jacob

Having completed my Tally Training in Bangalore, I can genuinely say that FITA Academy is the best in town. I am grateful for my mentor, from whom I was able to gain extensive training and who guided me on the right path. The environment there was very friendly and open. I was able to clear my doubts immediately and enjoyed learning this tool.
Have Queries? Talk to our Career Counselor
for more Guidance on picking the right Career for you!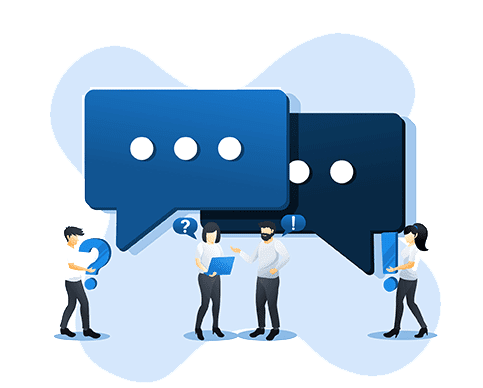 Tally Course in Bangalore Frequently Asked Question (FAQ)
Additional Information
Tally is robust accounting software that is powered by a technology known as a concurrent multi-lingual accelerated technology engine. The program is a user-friendly platform and is made to simplify the complicated daily tasks involved in an organisation. Tally offers complete solutions for inventory, data integrity, and accounting principles. Tally offers features that cover international business. Tally software has an intuitive user interface that makes it straightforward to use.
Tally is a popular accounting and auditing tool among organisations because of its high performance and short lag times. Regardless of their size, whether small, medium, or large, any firm may use Tally to meet all of their essential requirements without breaking the bank. The most recent edition of Tally ERP 9, which provides organisations with ERP, or enterprise resource planning, introduces a new and the most efficient and efficient version. Tally can now safely execute numerous other business procedures linked to company resource management in addition to accounting.
What are the advanced features of the Tally tool?
The use of Tally software can manage all billing data for both payable and receivable purposes. It aids businesses in allocating payments for both current and past-due invoices. Using the billing information, the software also assists in separating excellent consumers from poor ones.
The software allows the user to keep track of bills for both trading and non-trading entities. The user may effortlessly keep track of new bills, receipts, payments, and modifications made against the bills.
The use of various currencies in international trade transactions has expanded among many companies. Companies find it challenging to register transactions as a result of exchange rate volatility. The use of Tally software makes managing international currency transactions simple.
The special voucher entry method in Tally software makes a variety of transactions simple. The feature can be used in several ways. The voucher is a record that contains the specifics of numerous commercial transactions, according to accounting language. The platform has also been supplied with a number of accounting vouchers, each of which is utilised for a certain purpose.
The General, Sales, and Purchase Ledgers are all combined into one ledger by the Tally programme. To make managing accounts easier, the ledgers have been divided into categories. The idea of unified ledgers makes it easier to enter data and create records concurrently.
The software employs various interest computation techniques that are unique to each transaction. The user can obtain a thorough statement of the interest earned once the computation is complete. The report aids in determining the balances that should be paid.
One of the most popular accounting programs in India is Tally ERP 9. It is full enterprise software designed for small and medium-sized businesses. It is a GST programme that combines function, control, and internal customizability in the best way possible. The greatest accounting software is ERP 9. Other business programmes like inventory, finance, sales, payroll, purchasing, and more can interact with this software.
Different Job Roles Of A Tally Specialist
All financial matters inside a business are handled by an accountant, including maintaining and analysing financial records. To keep their business in good financial status, they might be responsible for tasks like payroll calculation and bank statement reconciliation. An accountant's duties can be extremely varied, ranging from reviewing financial records and carrying out financial audits to comparing bank statements and computing taxes when completing annual reports.
Accountants must have the highest level of honesty possible as they supervise financial records, and they must have excellent communication skills in order to convey complex information in a way that is simple to grasp. In addition to their knowledge of finance, Tally Course in Bangalore at FITA Academy provides training on upskilling interpersonal and communication abilities required for an excellent accountant.
Chartered accountants play a wide-ranging and significant role as fully qualified accountants. Briefly said, they examine financial records and offer information about them, with particular attention paid to financial reporting, taxes, business finance, business recovery, and bankruptcy. They are frequently in charge of examining financial records and dispensing financial counsel that the recipient may use to save costs or boost profitability.
In addition to working in a variety of organisations, chartered accountants can also work in public and private enterprises, as well as in industry and public practice. CAs are in charge of managing finances, carrying out financial audits, giving financial guidance, coordinating with customers and organisations, providing financial counselling to clients and evaluating risks. Our Tally Training in Bangalore provides hands-on training in taxation, recording different accounts and information on how to create accounts for a proficient career as a Chartered Accountant.
Auditors examine the financial records of businesses and other organisations to make sure they are accurate and compliant with the law. They may be auditing their own or another organisation's financial records, and they may also serve in an advisory capacity by suggesting cost- and risk-cutting initiatives. The financial accounts of organisations are examined by auditors to make sure they are accurate and legal. They ensure adherence to internal control policies and laws, which protects assets.
Auditors analyse goods to documentation to confirm assets and obligations. They also take charge of evaluating the effectiveness of internal control mechanisms. They examine documents, reports, operational procedures, and records to make sure that internal control processes are being followed. A proficient chartered accountant assembles, evaluates, and summarises operating data and trend information to provide customised audit and control reports. They possess technical and practical knowledge through engaging in professional societies, attending educational programmes, and reading professional publications and content.
The position of financial analyst is essential for the division of a firm responsible for financial planning and analysis. They are in charge of estimating the company's potential growth and assessing financial statements. This may involve making future revenue and expense projections, budgeting, and modelling the capital structure. The Tally Classes in Bangalore provide a thorough understanding of how to monitor a company's financial plan, which is an essential role of a financial analyst.
The analyst can calculate the differences between forecasted values and actual values by analysing the company's performance as well as changes and market trends. The task of the analyst is to identify and elucidate the causes of these variations. Analysts may frequently convey their results to administration and investors and may help in directing and planning the company's strategies.
Benefits Of Obtaining Tally Certification from FITA Academy
Gaining certification as a tally specialist opens up work options with organisations that require skilled individuals to tally their accounts.
Companies require qualified individuals who can act swiftly and decisively without needing to spend time on staff training.
One important factor in why organisations choose tally certification is the reassurance and dependability of accounting data.
By obtaining the certification, highly qualified tally specialists have demonstrated their proficiency and talents. Your abilities will make it simple to manage the tally software's complexity.
The certification from Tally Institute in Bangalore is a wise investment in your future and profession. It gives you a chance to develop personally and look into new possibilities for careers that fit your interests.
One of the most crucial elements when thinking about career options is obtaining certifications that will enable you to develop your skill sets in line with what employers currently need.
Additionally, because certification criteria are constantly changing, workers who maintain their certifications remain relevant to potential employers.
It also helps one's career while letting potential employers.
Getting accreditation from FITA Academy will help you increase your pay if you already work in the accounting and finance industry.
It will effectively depict your career advancement because it opens up a wide range of job opportunities.
By earning your certification as a tally professional, you may broaden your skill set and prove your expertise in the tally.
FITA Academy is the best Tally Training Institute in Bangalore, allowing you to begin your profession with confidence. We make an effort to give you useful approaches that are currently being used in this industry. We offer broad information as well as tailored advice for students who select particular certification programmes. With our connections to over 1,500+ organisations, you can be certain of a well-paying job. Our tally classes will propel your career to greater heights. Tally Course in Bangalore is a certification-specific course that acknowledges and incorporates the requirement for international standards in your professional career. Considering that the future of tally may be the most promising, it may be the greatest decision you can make for your career.
Read more