Course Highlights & Why Dot Net Training in Bangalore at FITA Academy?
The Dot Net course will familiarise students with the component framework of Dot Net IDE.
The students will be introduced to the programming concepts in Dot Net framework.
Practical training of ASP.NET controls will be provided to create websites.
Trainees will be taught to develop user interactive web pages using ASP.NET controls.
Hands on demonstrations of ADO.NET connectivity will be provided to create simple data binding applications.
A delineated explanation will be rendered on the data access mechanism provided by ADO.NET.
Students will understand the connection of application security.
Trainees will get their hands on the development of WebService and consume WebService.
Theoretical knowledge of generics types, methods, creation of classes and inheritance, structures, interfaces, constraints and generics along with late binding.
The practice of troubleshooting to manage the fault, error logging as well as debugging will be provided.
Read more
Upcoming Batches
| | | | |
| --- | --- | --- | --- |
| 02-11-2023 | Weekend | Saturday (Saturday - Sunday) | |
| 04-12-2023 | Weekdays | Monday (Monday - Friday) | |
| 07-12-2023 | Weekdays | Thursday (Monday - Friday) | |
| 09-12-2023 | Weekend | Saturday (Saturday - Sunday) | |

Classroom Training
Get trained by Industry Experts via Classroom Training at any of the FITA Academy branches near you
Why Wait? Jump Start your Career by taking the Dot Net Training in Bangalore!
Instructor-Led Live Online Training
Take-up Instructor-led Live Online Training. Get the Recorded Videos of each session.
Travelling is a Constraint? Jump Start your Career by taking the Dot Net Online Training!
Have Queries? Talk to our Career Counselor
for more Guidance on picking the right Career for you!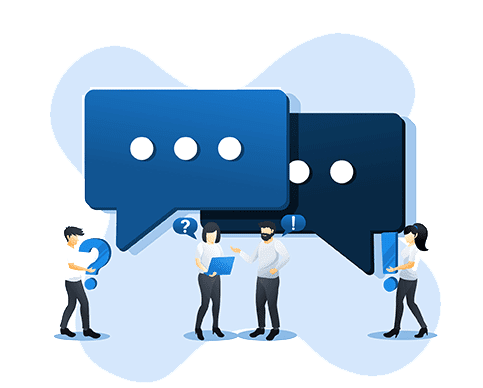 Trainer Profile
Our instructors holds industrial experience as a corporate trainer as well as a developer in a wide range of software industries.
The experts have trained 1000+ candidates on various courses at national as well as international level.
Our mentors detains the experience of developing projects on platforms like WPF using Dot Net frameworks.
The subject matter experts of FITA Academy are well versed with the modifications and advancements made in the field of Dot Net.
Our faculty endeavours to use their experience and knowledge in betterment of the student's career development.

Learn at FITA Academy & Get Your
Dream IT Job in 60 Days
like these Successful Students!
Features of Dot Net Training in Bangalore at FITA Academy
Real-Time Experts as Trainers
At FITA Academy, You will Learn from the Experts from industry who are Passionate in sharing their Knowledge with Learners. Get Personally Mentored by the Experts.
LIVE Project
Get an Opportunity to work in Real-time Projects that will give you a Deep Experience. Showcase your Project Experience & Increase your chance of getting Hired!
Certification
Get Certified by FITA Academy. Also, get Equipped to Clear Global Certifications. 72% FITA Academy Students appear for Global Certifications and 100% of them Clear it.
Affordable Fees
At FITA Academy, Course Fee is not only Affordable, but you have the option to pay it in Installments. Quality Training at an Affordable Price is our Motto.
Flexibility
At FITA Academy, you get Ultimate Flexibility. Classroom or Online Training? Early morning or Late evenings? Weekdays or Weekends? Regular Pace or Fast Track? - Pick whatever suits you the Best.
Placement Support
Tie-up & MOU with more than 1,500+ Small & Medium Companies to Support you with Opportunities to Kick-Start & Step-up your Career.
Dot Net Certification Course in Bangalore
About Dot Net Certification Course in Bangalore at FITA Academy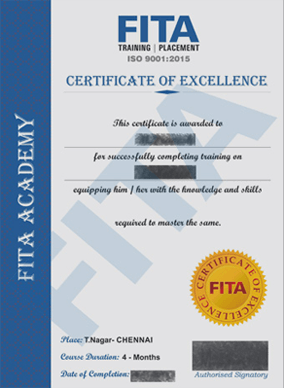 Dot Net Certification Course in Bangalore
The Dot Net Course in Bangalore at FITA Academy is holistic and thorough curriculum on the fundamentals of Dot Net space and net coding using C#. The course highlights the basic aspects of Dot Net development including the study of C# language, visual studio environment, winforms and web forms projects, as well as data connections. Dot Net has ended up being a programming support for aiding the developers in the age of web applications and mobile desktop that can be implemented. In the present IT market where innovation is progressing at a speedy rate, the requirement of talented designers is tremendously expanding. The certificate of Dot Net Training Institutes in Bangalore at FITA Academy will act as a key of success by adding it to your resume. The procured certificate will be considered as a testimony of the skills and knowledge acquired during the study of the course.
The Dot Net certification holds a noteworthy importance for its persistent and thorough training given to the learners alongside the labs equipped with advanced technology and modified concepts. The addition of this accreditation in your resume will lead to increased worth of your professional profile and expansion of your career opportunities. The Dot Net Training in Bangalore at FITA Academy aims to fortify the abilities and enhance the skills of the trainees transforming them into proficient Dot Net programmers. The panel of experts in FITA Academy will empower our scholars to create enthralling web applications which will give a high salary package in the near future career path. There are a number of career prospects available for Dot Net technology professionals and are also paid well by the IT companies. The remittance of a fresher in the field of Dot Net varies from Rs. 5,00,000 for every annum to Rs. 7,00,000 every annum. With broad experience and capability in abilities, the salary package can expand upto Rs.9,00,000 per annum.
Have Queries? Talk to our Career Counselor
for more Guidance on picking the right Career for you!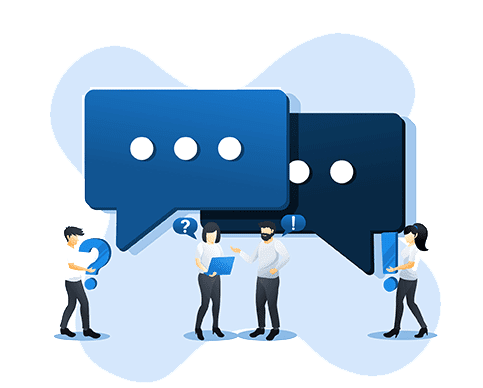 Job Opportunities After Completing Dot Net Training in Bangalore
Dot Net is a programming language used by the developers to create software tools and similar products which can be functioned in numerous system environments. In the contemporary world where constant evolution of technology is taking place, the Dot Net programming detains a noteworthy position in planning and developing software tools for numerous web based applications. Considering its versatility, Dot Net has a tremendous growth prospect in future. The demand of a skilled Dot Net programmer is at its peak and the companies are offering best salary packages to the eligible and proficient Dot Net programmer.
The duties will be assigned to the individual at this position will entail design and development of system applications which can be implemented on multiple platforms. Attaining the advanced skills and knowledge of this field can open up a path of career options for the students. One of the job position our students can opt for is iOS engineer who abides by the responsibilities of designing and building applications for iOS platforms, work in collaboration with the team to explain, plan and deploy new features, locate and eradicate bottlenecks and fix bugs.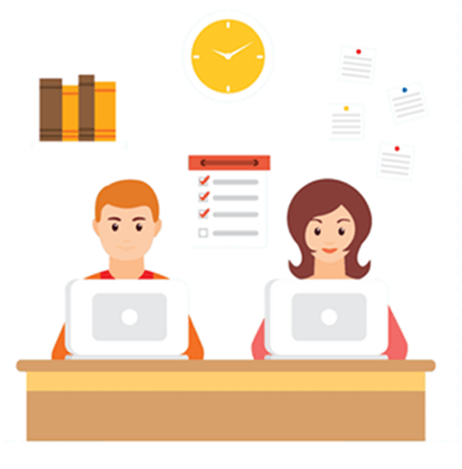 In today's age of web development, a wide range of industries use Dot Net to develop website applications for their companies. Hence they seek to hire a skilled web engineer who can perform the tasks of writing well structured, functional and efficient code by using best software development practices.
Moreover, they are delegated the responsibilities of creating website layout, user interface by using standard HTML/CSS practices, collect and filter specifications and necessities based on technical needs. Apart from the above mentioned career options, the students can even strive for the ideal job amongst the immense business opportunities available in the field of application development. Some of the career options having tremendous demand and high pay are- android applications development, robotics process automation, web development, cloud computing and windows applications.
Read more
G
Gauransh Ahuja

I pursued Dot Net training in Bangalore at FITA Academy and it was a great learning experience as the faculty explained each and every test clearly. The issues pertaining to the course and placement were resolved immediately. I highly recommend this course to my acquaintances.
G
Gatik Acharya

The faculty of FITA Academy provides instructive assignments and industry based tasks which made the course highly beneficial for students. I really appreciate the hard work and diligence of the trainers.
H
Hardin Pandey

I am currently working as an iOS engineer in LinkedIn. I obtained Dot Net course in Bangalore at FITA Academy and procured by ideal job through guidance and assists the placement cell in FITA Academy. if anyone wants to pursue DotNot course, then FITA Academy is the best institute to opt.
Have Queries? Talk to our Career Counselor
for more Guidance on picking the right Career for you!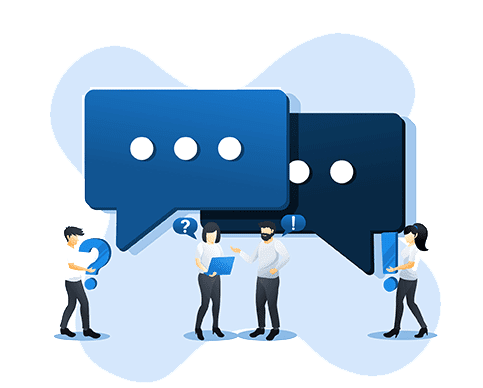 Dot Net Training in Bangalore Frequently Asked Question (FAQ)
Additional Information
Dot Net provides a solid foundation for developing every kind of applications including windows form based, console based, component libraries and web servers. Pursuing Dot Net Training Institutes in Bangalore at FITA Academy will help you to create such varied types of applications. The distinct modules encapsulated in the educational framework of the course will The first module of the curriculum framework incorporate introduction to the Dot Net initiative and the Dot Net platform. The module will deal with understanding the existing development scenario, challenges faced by developers, understanding the Dot Net platform and its layers, getting familiar with various components of Dot Net platform and the functions performed by them. Moreover, the faculty will impart the knowledge of the structure of a Dot Net application. The second module of the course highlights the concept of code management and language features of C# where students will learn about first VB.NET and C# program, a series of hands on demonstrations will be given on models of JIT (Just in time compiler) and Debugging along with detailed explanations of managed versus unmanaged methods or translations.
The topic of C# language features will render practices of control statements and arrays n C#. An equal emphasis has been laid on the concept of object oriented programming where the module will explicitly delineate the concept of procedural programming, classes, inheritance, polymorphism, delegates and events, structures along with comprehensive explanation of CSharp and VB.NET as object oriented programming languages Dot Net Training in Bangalore at FITA Academy has been planned and developed by panel of experts keeping in mind the modifications made in this field. The curriculum framework is precise and offers rehearsed live projects and cases for clear understanding of the course. A rigorous study of the course will assist our scholars in in procurement of crucial skills to successfully create and deploy interesting and functional applications for web services, windows, web sites and mobile applications in combination with technology like C#, visual basics, MVC and ASP.NET. The thorough training in practical sessions and meticulous study of the best practices will induce professionalism in our scholars helping them to attain their ideal job position in a preeminent industry.