Course Highlights & Why Power BI Course in Bangalore at FITA Academy?
Interactive sessions from the Best Power BI Training Institutes in Bangalore offer practical instruction in Power BI, Power BI DAX, Power BI Desktop, and Power BI Q&A.
The course includes real-time projects and technical training to create a virtual setting for practical experience with concepts.
Our Power BI Course in Bangalore offers students both regular pace and fast-track classes with its customisable classes.
The course offers learners a flexible schedule. To better serve our students, FITA Academy offers both weekday and weekend programs.
Industry professionals developed the course contents to have a thorough knowledge of how to employ Power BI tools to manage business difficulties and enhance business operations.
Our course offers practical examples of numerous subjects, including data connections, data manipulations, and data cleaning, to ensure extensive learning.
We provide 100% Placement Support for all eligible students who complete the Power BI Training in Bangalore successfully.
The FITA Training Academy has a robust network collaboration with more than 1,500+ organisations of all types, including small, medium, and big companies.
Read more
Upcoming Batches
| | | | |
| --- | --- | --- | --- |
| 02-11-2023 | Weekend | Saturday (Saturday - Sunday) | |
| 04-12-2023 | Weekdays | Monday (Monday - Friday) | |
| 07-12-2023 | Weekdays | Thursday (Monday - Friday) | |
| 09-12-2023 | Weekend | Saturday (Saturday - Sunday) | |

Classroom Training
Get trained by Industry Experts via Classroom Training at any of the FITA Academy branches near you
Why Wait? Jump Start your Career by taking the Power BI Course in Bangalore!
Instructor-Led Live Online Training
Take-up Instructor-led Live Online Training. Get the Recorded Videos of each session.
Travelling is a Constraint? Jump Start your Career by taking the Power BI Online Course!
Have Queries? Talk to our Career Counselor
for more Guidance on picking the right Career for you!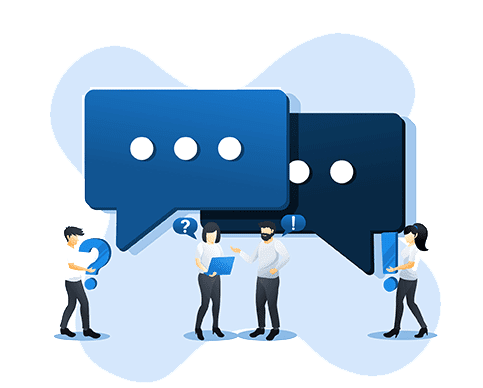 Trainer Profile
Our mentors help students develop their conceptual and theoretical knowledge by using a range of resources.
The trainers of the Power BI Course in Bangalore deliver numerous real-world implementations through live projects and practical exercises.
The trainers of FITA Academy are firm believers in blended learning and employ it in the course modules.
Trainers usually hold interactive sessions to answer students' queries and advise them on how to improve their business intelligence skills.
Our skilled Power BI trainers have 8+ years of expertise in the business intelligence and data analytics industries and provide an in-depth overview of the topics.
Each class is subjected to no more than five students to optimise interactions. This also encourages students to come out of their shells and be more confident under the guidance of our expert trainers of the Power BI Training in Bangalore.
Our trainers provide valuable insights about Interview questions and handling interviews with mock sessions.

Learn at FITA Academy & Get Your
Dream IT Job in 60 Days
like these Successful Students!
Features of Power BI Course in Bangalore at FITA Academy
Real-Time Experts as Trainers
At FITA Academy, You will Learn from the Experts from industry who are Passionate in sharing their Knowledge with Learners. Get Personally Mentored by the Experts.
LIVE Project
Get an Opportunity to work in Real-time Projects that will give you a Deep Experience. Showcase your Project Experience & Increase your chance of getting Hired!
Certification
Get Certified by FITA Academy. Also, get Equipped to Clear Global Certifications. 72% FITA Academy Students appear for Global Certifications and 100% of them Clear it.
Affordable Fees
At FITA Academy, Course Fee is not only Affordable, but you have the option to pay it in Installments. Quality Training at an Affordable Price is our Motto.
Flexibility
At FITA Academy, you get Ultimate Flexibility. Classroom or Online Training? Early morning or Late evenings? Weekdays or Weekends? Regular Pace or Fast Track? - Pick whatever suits you the Best.
Placement Support
Tie-up & MOU with more than 1,500+ Small & Medium Companies to Support you with Opportunities to Kick-Start & Step-up your Career.
Power BI Certification Training in Bangalore
About Power BI Certification Training in Bangalore at FITA Academy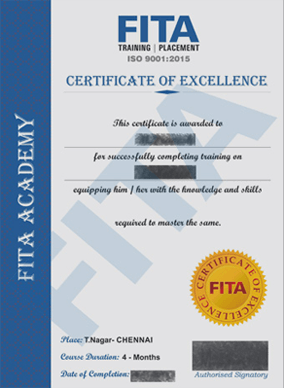 Power BI Certification Training in Bangalore
A certificate validating the student's knowledge and acquired skills will be given to them once they have successfully completed the Power BI Training in Bangalore at FITA Academy. This certification is crucial since it validates your competence in utilising Power BI to manage reports and dashboards. It also shows that you are competent at creating reports, updating a Power BI workspace, and exchanging and distributing information. Our power bi course in Bangalore, which was created in collaboration with Microsoft, shows you how to evaluate and interpret data with Microsoft Power BI swiftly.
Several governmental and private organisations and colleges around the world endorse the FITA Academy's certification. Additionally, the potential of your skills will rise significantly as a result of the certification appearing on your resume. The trainee will have more employment options thanks to their increased professional value. Additionally, it puts you on the right track to assembling the project portfolio you'll require to win over future employers. Additionally, obtaining a certification from the Power BI Institutes in Bangalore increases your pay when you start new employment.
The following concepts will be assessed on the Microsoft Power Bi exam:
Cleaning, converting, and loading the data to prepare it.
Analysing the data to improve efficiency.
Data visualisation for dashboards and reports.
Examining the information to carry out an in-depth analysis.
Workspace configuration deliverables are deployed and maintained.
Have Queries? Talk to our Career Counselor
for more Guidance on picking the right Career for you!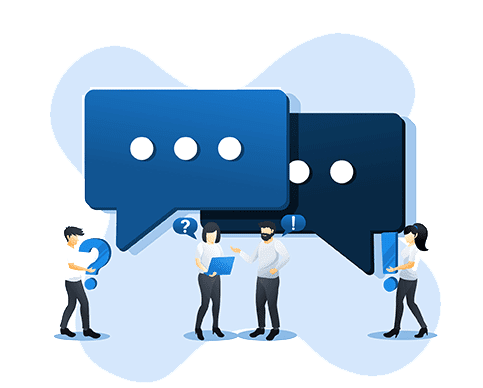 Job Opportunities After Completing Power BI Course in Bangalore
Data is the most crucial tool that companies should employ while deciding on their future expansion and corporate strategy. Because every company must regularly deal with such a large volume of data, it is not practical to manually evaluate the data. Despite the fact that there are other data monitoring solutions available, Power BI has emerged as the industry leader in business intelligence and data visualisation. Power BI has been a favourite tool among businesses and isn't going to lose popularity anytime soon.
Businesses now have improved decision-making abilities that enable them to choose the best course of action going forward and ultimately lead to increased growth. Given the importance of the Power BI developer function in any organisation, it means that there will be a constant need for power BI programmers. Therefore, you can anticipate getting attractive career prospects in reputable firms if you have demonstrated knowledge in the sector and have some qualifications to support your abilities. The quality of jobs and compensation packages rises as you gain experience.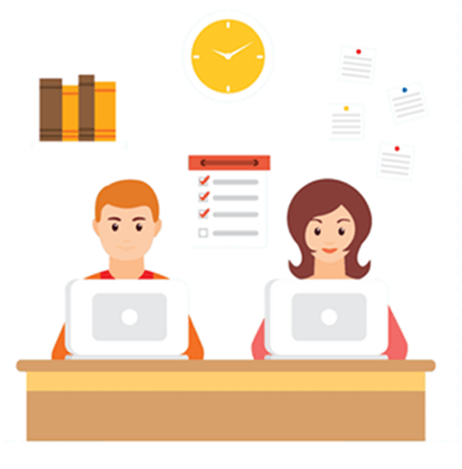 Currently, over 23,000+ job vacancies related to Power Bi are available on various job portals. Power BI Developer, Data Analyst, BI Project Manager, Software Engineer and Senior BI Analyst are a few of these job titles. Among the top employers of Power BI specialists are TCS, Accenture, Infosys, IBM, Capgemini, and others.
In India, the average annual income for a Power BI developer is Rs. 5.4 lakhs. On the other hand, one can earn up to $82k a year doing the same profession globally. Additionally, the salary scale varies depending on the organisation, region, skill level, and experience. Get off to a strong start by joining the Power BI training in Bangalore to ensure a successful career.
Read more
D
Devika S

I have just completed the Power BI Course in Bangalore at FITA Academy. I can say that it was definitely worth my time and money. The instructor was friendly, and he made sure to keep the class lively and engaging. The placement team at the FITA Academy was also wonderful to work with. With their guidance, I got placed in my dream job.
F
Farooq Khan

FITA Academy has helped me start off my career in the Business Intelligence field. The classes gave me an in-depth understanding of many tools and techniques. This course intrigued me enough to switch of heart and career. The power bi training institute in Bangalore also offered me a placement support system. I am content with the pace of my career.
S
Shalini Kumar

I am a project manager and have been working in the same MNC for five years. I had started to feel that my career had become static and I should invest more in learning as I did during my college years. Therefore, I enrolled in the FITA Academy's Power BI Course in Bangalore. It has been a profitable experience. I have learned a lot of things that will help me move ahead in my career more wisely.
G
George Hilton

I finished my power bi training in Bangalore at FITA Academy. Since I lacked a technical background, everything was pretty new to me. The trainers inspired me and were really supportive. Not only was I able to pass passed the certification with distinction, but I also cleared many interviews after finishing the training and eventually joined the organisation of my desire.
S
Sharika Menon

After completing my course at FITA Academy, I can truly say that they are one of the best Power BI Institutes in Bangalore. All the trainers were experts in the field, and I was able to learn a lot of meaningful information from them. We had regular assignments and projects that really helped me to understand the concepts better. I could not have asked for a better training program to invest my time in the month.
Have Queries? Talk to our Career Counselor
for more Guidance on picking the right Career for you!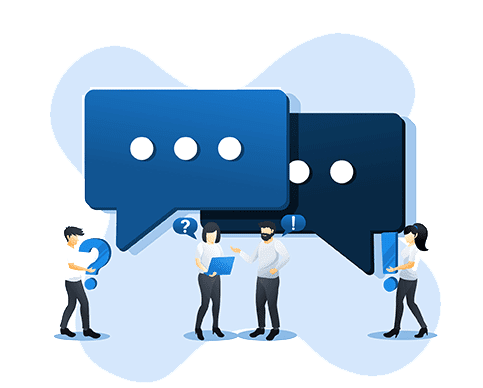 Power BI Course in Bangalore Frequently Asked Question (FAQ)
Additional Information
Power BI is a business intelligence tool developed by Microsoft used for product analyses and visualises raw data to give out meaningful data. It brings together business analytics, data visualisation, and practices to support an organisation's decision-making using data. In Gartner's 2020 BI and Analytics study, Microsoft's Power BI was rated highest due to its strong sales performance and high level of customer satisfaction. Due to its strong cloud-based data visualisation capabilities, Power BI remains to be widely used and popular among all BI tools.
Components of Power BI
One of the key elements of Power BI is Power Query. This may be utilised as a feature of the Power BI Desktop or as an add-in for Excel. With the use of Power Query, you may erase data from multiple sources and extract information from numerous databases, including Oracle, SQL Server, MySQL, and other databases. Additionally, you can retrieve data from documents like text, CSV, or Excel documents. With our best Power BI training in Bangalore, we employ Power BI Query and provide aspirants with hands-on experience.
A data modelling and computation engine are Power Pivot. It is employed in the modelling of both basic and complex data. Power Pivot allows you to define or construct relationships between several tables and compute data that may be seen in Pivot tables. It gives you a lot of room to work on your design. Most of the computations are performed in the strongly functional language known as Data Analysis Expression (DAX), which is the language utilised by Power BI Pivot.
Power View is the primary data visualisation element of Power BI. It is a dynamic element that integrates with data source materials and gathers metadata for data processing. The Power View lists contain a wide variety of visualisation plans. Data can be filtered using Power View for each graphical element or even the full report. Data can be better sliced and diced when using slicers. The user can highlight a certain section of the data or different Power View components to have them interact with one another in dynamic reports.
Power Map is a 3D visualisation tool for geographic data. The visualisation gains another dimension as soon as it appears in 3D mode. In Power Map, you can consider one property as the length of a column in 3D while another is a heatmap image. The data may be highlighted depending on the location. A continent, country, city, or house address are all examples of geographic locations. Power Map uses Bing Maps based on geographical positions to produce the best visualisation.
A new addition to the Power BI suite is Power BI Desktop. It acts as an integrated development tool for Power Query, Power Pivot, and Power View functions. You can create complex queries, models, and reports with it. Learn to develop your business intelligence and data analytics expertise with Power BI Desktop under the guidance of expert trainers at the Power BI training Institute in Bangalore.
Power BI Q&A is a common language engine for the questions and answers in your data model. Users can ask questions and receive answers after creating the data prototype and updating it on the Power BI website. There are several methods and pointers for building your model that will help it provide the best possible answers. Users can ask queries about data visualisations, such as the number of consumers by state, and Power Q&A will respond with a response in map view format with information displayed as bubbles.
Android, iOS, and Windows are the major mobile operating systems (OS) that Power BI Mobile Apps support. You may access interactive reports and dashboards on the Power BI website using these applications. With Power BI, a section of the documents can be highlighted, and a message can be written about it and sent to others. Enrol on the Power BI coaching centres in Bangalore to get practical training on various mobile applications.
The Power BI website allows for the publication of Power BI solutions. In addition to immediately creating reports on the Power BI website, you can also construct dashboards for your results in Power BI and distribute them to others. With Power BI Website, users can divide the data online with the help of a web browser and without the use of any additional software.
Skills Required To Become A Proficient Power BI Specialist
Experience using BI tools and BI systems, such as Power Bi, Tableau, SAP, and others, is required of a Power BI developer.
They must have knowledge of integrating security in Power BI, composing DAX expressions, and producing data-rich dashboards.
Should be able to create unique BI products, which call for expertise in scripting and coding languages like R and Python.
They are required to be well-versed in OLAP, SQL querying, data modelling, data warehousing, and business intelligence (Online Analytical Processing).
It is crucial to comprehend technical elements along with the software development framework to translate needs into technological presence.
Excellent interpersonal skills and the capacity for multitasking.
Comprehensive understanding of data modelling, administration, and visualisation.
Good client management and communication abilities.
Ability to pick up new skills quickly and adapt to a rapidly changing business environment.
Ability to stay current with design and development innovations and best practices.
The ability to explain, express, and discuss with the team while documenting the processes, models, prototypes, and ideas.
Problem-solving mindset and an analytical frame of mind.
The Benefits Of Learning Power BI
Business decisions can be made swiftly by using visual reporting.
By publishing the reports amongst the target audience, marketing models can be improved.
Due to its cloud-based nature, data is accessible anywhere.
The built-in graphics or custom-designed visuals can alter the form of the data into a visual one.
Using the power query, this tool streamlines the data processing procedure.
Data can be integrated with other applications and Microsoft Azure For the production of interactive visualisations.
A customised dashboard that may be changed to improve the user experience. Our Power BI Course in Bangalore provides comprehensive knowledge of various dashboards and tools.
The data is managed securely, and the most recent data is included in the reports.
Power BI's embedded technology handles the memory and speed, so there are no longer any memory-related worries.
The data is analysed, and a natural language user interface is provided using the agile technique and a graphical designer tool. The data analysis does not need any technical assistance. To do the analysis, basic data design and format knowledge are sufficient.
Complex analysis is supported by Power BI. The cloud-based Cortana and Bot framework is used for Power BI's integrated analysis.
As businesses gradually move away from on-premise work environments and toward cloud platforms, Power BI has a lot of potential in the future because it is a cloud-based solution. As a result, we can confidently state that Power BI has a bright future and that anyone interested in pursuing a career in this area should do so. Power BI is a promising career choice because there is a huge demand for competent people in practically every area, including software, commerce, healthcare, and more.
Our mentors at FITA Academy are reputable trainers with years of BI expertise. Live projects, practical exercises, and instructions on certification are all included. Students with little to no prior knowledge can also easily grasp and complete this course. More than 50,000+ students have trusted our certification programs and are now working for different MNCs. Join the Power BI training in Bangalore to kickstart your professional career by employing the materials and opportunities offered there.
Read more