Course Highlights & Why Mobile App Development Courses in Bangalore at FITA Academy?
FITA Academy's Mobile App Development Courses in Bangalore offer a full overview of mobile computing, as well as the frameworks for Android and iOS development.
Students will gain a comprehensive understanding of the components of creating mobile applications, mobile software design, frameworks and technologies, generic UI development, and more.
The Android app development course in Bangalore integrates real-time projects and hands-on training for practical experience using various Android and iOS concepts.
Industry professionals developed the course contents to have a thorough knowledge of how to employ mobile application tools to manage the apps and enhance mobile operations.
Our course provides a flexible schedule for our Mobile app development training in Bangalore. Students can opt for either weekend or weekday classes in their comfort.
Students can customise their classes by either choosing offline or online classes according to their constraints.
We have partnerships with over 1,500+ organisations to ensure a prosperous career for our students.
With FITA Academy, explore more about the certification exams and job opportunities surrounding mobile app development.
Read more
Upcoming Batches
| | | | |
| --- | --- | --- | --- |
| 23-09-2023 | Weekend | Saturday (Saturday - Sunday) | |
| 25-09-2023 | Weekdays | Monday (Monday - Friday) | |
| 28-09-2023 | Weekdays | Thursday (Monday - Friday) | |
| 30-09-2023 | Weekend | Saturday (Saturday - Sunday) | |

Classroom Training
Get trained by Industry Experts via Classroom Training at any of the FITA Academy branches near you
Why Wait? Jump Start your Career by taking the Mobile App Development Training in Bangalore!
Instructor-Led Live Online Training
Take-up Instructor-led Live Online Training. Get the Recorded Videos of each session.
Travelling is a Constraint? Jump Start your Career by taking the Mobile App Development Online Course!
Have Queries? Talk to our Career Counselor
for more Guidance on picking the right Career for you!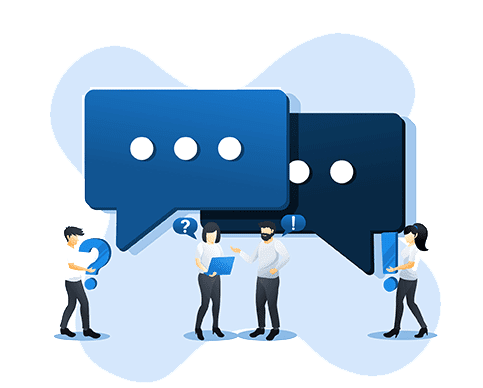 Trainer Profile
FITA Academy mentors have worked in android development and related positions for 8+ years in reputable companies.
Our mentors provide insights on Performance and Multithreading, Graphics and UI performance, and Android / iOS graphics during the Android app development course in Bangalore.
FITA Academy mentors adopt hands-on assessments and student-centric teaching to deliver faster learning results.
To maintain student-centred sessions, each class are held in small batches to ensure maximum interactions and rapport.
The most recent upgrades and modifications in mobile software, tools and techniques are integrated into the Mobile application development course in Bangalore by our expert trainers.
Our trainers have motivated our students to attempt industry-relevant certifications with a success rate of 100%.
They offer placement assistance and encouragement to help students succeed in interviews by helping them comprehend the procedure.
Features
Real-Time Experts as Trainers
At FITA Academy, You will Learn from the Experts from industry who are Passionate in sharing their Knowledge with Learners. Get Personally Mentored by the Experts.
LIVE Project
Get an Opportunity to work in Real-time Projects that will give you a Deep Experience. Showcase your Project Experience & Increase your chance of getting Hired!
Certification
Get Certified by FITA Academy. Also, get Equipped to Clear Global Certifications. 72% FITA Academy Students appear for Global Certifications and 100% of them Clear it.
Affordable Fees
At FITA Academy, Course Fee is not only Affordable, but you have the option to pay it in Installments. Quality Training at an Affordable Price is our Motto.
Flexibility
At FITA Academy, you get Ultimate Flexibility. Classroom or Online Training? Early morning or Late evenings? Weekdays or Weekends? Regular Pace or Fast Track? - Pick whatever suits you the Best.
Placement Support
Tie-up & MOU with more than 1,500+ Small & Medium Companies to Support you with Opportunities to Kick-Start & Step-up your Career.
Mobile App Development Certification Training in Bangalore
About Mobile App Development Certification Training in Bangalore at FITA Academy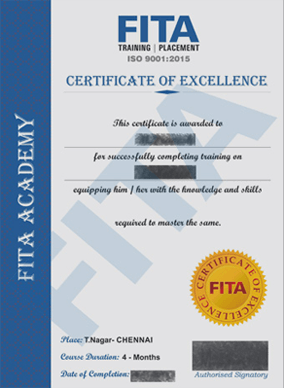 Mobile App Development Certification Training in Bangalore
If you already work in the app development industry, completing an extensive training course and earning a certification could help you climb to a new position that demands more technical knowledge and experience. By taking up Mobile App Development Training in Bangalore and certification courses, you can grow your career and increase your understanding of mobile app development. Because the sector is expanding rapidly, there is always a demand for skilled workers in this profession.
With the Mobile App course in Bangalore, one can learn about fundamental app design ideas, mobile app standards, and how to create native iOS or Android apps under the guidance of expert trainers. Courses also cover the various interface design tools and how to turn application concepts into functional software. Certifications may not only improve your application development abilities, but it validates your skills that help attract many employers. With a certification, you can increase the chance of getting higher pay and better career prospects.
The opportunity to stay current with the industry's shifting trends is provided to students who earn a mobile app development certification, which is crucial for anyone working in this profession. Only certified training, such as those offered by FITA Academy, can teach students how to apply the concepts they learn as mobile developers. The Android App Development course in Bangalore is taught by industry professionals who construct real-world tasks for students to perform proficiently.
Have Queries? Talk to our Career Counselor
for more Guidance on picking the right Career for you!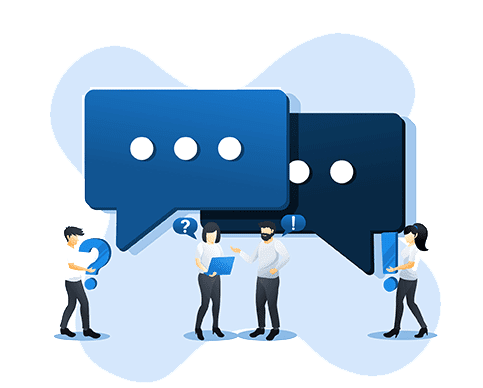 Job Opportunities After Completing Mobile App Development Courses in Bangalore
One of those businesses where everyone wants a piece of the action is mobile app development. Its exponential rise over the last ten years is evidence of its profitability. Presently, there are over 2.8 million apps for Android devices and over 2.1 million apps for iOS. And in the next few years, mobile devices will be used by more than 70% of people worldwide. Millions of mobile applications will be available, and there will be even more mobile devices. It's impossible to think of a day without a mobile phone or other technology because they have ingrained themselves so deeply into our daily life.
The majority of businesses now choose to hire these qualified individuals on a contract basis to work on specific application development projects. This enables the business to guarantee the creation of a high-quality product while also offering direct input and retaining total control during the development of mobile applications. It becomes more difficult for firms to compete in their own markets as the scope of mobile application development expands.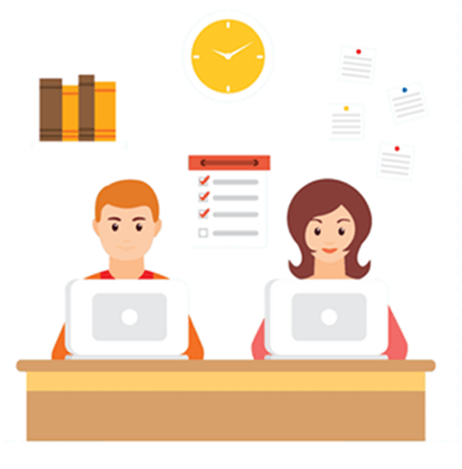 However, for those who manage their mobile application development appropriately, it can open up prospects for their company and brand's growth and expansion that would not have been feasible without it. This course will be beneficial to those looking to build their career in Mobile app development, software engineering, Computer science, mobile computing and other programming-based fields.
The average salary of a mobile app specialist is around 5 Lakhs per annum. The pay scale for the same role globally is $121k per annum. These censuses also vary with location, organisation, experience and skills. With Android App Development in Bangalore, you can confidently face the challenges of the industry.
B
Bhavana

I recently completed the Mobile Application Development course in Bangalore. FITA is the finest place to hone your talents and grow your career. The instructors and faculty were really helpful and welcoming. I frequently had the chance to work on various projects with the direction of my trainer. The time spent at FITA Academy was truly helpful.
J
Joseph

For a very long time, I have been intrigued by android development, but I never knew where to begin. I enrolled in FITA Academy on the advice of my acquaintances. It is, without a doubt, the best Mobile app Development course in Bangalore. My trainer taught using real-world examples and made it very simple to understand the principles. I would heartily suggest FITA Academy to any beginners.
N
Nithish

I have completed my Android app development training in Bangalore at FITA Academy. I was able to learn a lot about the various facets of mobile app development and put it to use in my everyday life. The trainers encouraged me to participate in many tasks but were always there if I needed a hand. I appreciate my trainers and FITA Academy for guiding me in achieving my ideal career.
A
Abhijith

I had an incredible time at FITA Academy. I was able to acquire hands-on training on how to use numerous iOS and Android software platforms efficiently during my Android app development course in Bangalore. All of the trainers were friendly and motivated me to give it my all. After my certification, I was able to land a job as an android developer at a reputed IT firm.
S
Safeek

I came across FITA Academy while looking for quality Mobile App Development Training in Bangalore. The staff and instructors are extremely kind and helpful. Being a working student, I had to miss a few of my classes. After requesting, they immediately agreed to reschedule all of those classes. Their teaching method is both engaging and very simple to understand. It has been, without a doubt, a worthwhile experience.
Have Queries? Talk to our Career Counselor
for more Guidance on picking the right Career for you!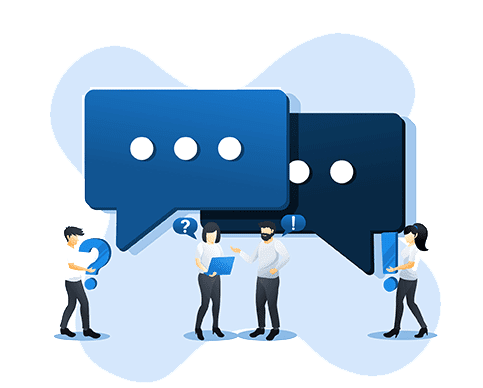 Mobile App Development Courses in Bangalore Frequently Asked Question (FAQ)
What are the requirements for joining the Android app development course in Bangalore?

There are no prerequisites for this course. Some preliminary knowledge on the subject is appreciated but not necessary as we teach each topic in this training program from scratch.

Who are the mentors of the Android App Development Training in Bangalore?

FITA Academy has qualified trainers who will provide you with practical and applied training lessons.
The mentors of our Android app development course in Bangalore are experts with 8+ years of hands-on experience in the industry.
These professionals with significant industry experience share their knowledge on the subject for comprehensive sessions.
They are chosen after multiple screenings and interviews. Only after the approval of our experts are they selected.
To keep the learners up-to-date with the advancements, trainers of Mobile application development course in Bangalore at FITA Academy integrate the latest techniques, tools and in-demand practices.

Does FITA Academy provide placements after the course completion?

Yes. FITA Academy has tie-ups with 1,500+ organisations. These companies have multiple openings for a successful career in mobile app development. Additionally, we have a bustling placement cell that helps all of our students enrolled on the Android App Development Course in Bangalore. Our team members also reach out to students and instruct them in various mock interviews and placement drives
Read more
Additional Information
Mobile application development is the process of designing applications that operate on a mobile device. A typical mobile application works with external computing sources over a network connection. As a result, the mobile development process entails building installable software packages, such as code, binaries, and assets, setting up backend services like data access through an API, and verifying the application on devices.
The market for smartphones nowadays is dominated by two platforms. One is Apple's iOS operating system. The popular iPhone smartphone range from Apple is powered by the iOS software. Google's Android platform is the second. Out of the total number of mobile developers in India, 67% are Android developers, 21% are iOS developers, 10% are both Android and iOS developers, and others are Windows app developers. As a result, there is a huge market for recruiting Mobile app developers.
The expanding scope of mobile application development has played a significant role in this transition to ubiquity. The depth and breadth of these gadgets' utility have increased dramatically over the course of the last few years, rivalling or perhaps exceeding that of any other distinct class of technology. This makes hiring a specialist from outside your company to manage the mobile application development process essential.
Skills Required to Become a Proficient Mobile App Developer
Programming skills
A mobile developer must have programming language knowledge. Android developers normally utilise Java, while Apple iOS developers commonly use Objective-C. Having knowledge of several programming languages is helpful. Advanced programming skills are necessary for mobile application developers, especially for languages like JavaScript, C++, Python, and C#. This will help you stand out from the competition while applying for jobs. Knowledge of programming languages displays your capacity to use such languages to create effective mobile applications.
Backend Development skills
Back-end computing skills can assist you in identifying and correcting system faults before they are released to the public. A mobile app developer may work with platforms, hardware, cybersecurity, databases, and other types of back-end technology. To create a useful mobile application, developers need to be able to design and manage back-end frameworks. A proficient mobile app developer should know how to create applications that safeguard users' personal details. They should also possess database administration to maintain databases and secure information. In order to fix system and equipment problems, developers must understand how software and hardware connect with one another. Identifying the security issues with mobile applications will enable developers to build secure databases.
User interface design
The user interface, also known as the UI, is the most important component of developing a mobile app since it directly impacts the user experience. The apps that get a lot of downloads and regular user involvement are typically the ones that are straightforward, have a distinctive and straightforward interface, and function without a hitch. The contact between the client and the business can be improved by creating a high-quality app with a user-friendly UI, making customers desire to use it again. Understanding UI is vital because it is a key component of developing mobile applications.
Having strong UI design abilities can help you create user-friendly, aesthetically pleasing, and straightforward application interfaces. With our UI UX Training in Bangalore, you may better comprehend a program's compatibility with other programs and identify issues faced by the users with the app interface. This can be achieved by concentrating on the layout and operation of the software's user interface (UI). A strong user interface (UI) can contribute to a mobile app's success and widespread adoption, which can enhance your development career.
User Experience Design
Making mobile apps perform effectively for users requires user experience design. It involves developing human-computer interfaces for mobile apps based on findings from numerous UX studies and the evaluation of user behaviour information. It is essential to how well a mobile application is received by users. Addressing the users, rather than only stakeholders, might convey that you are an economically informed candidate.
Cybersecurity skills
The core purpose of cybersecurity is to protect mobile apps from foreign viruses and attacks, as well as mobile app users' digital data. The need for cybersecurity expertise among developers to create user-safe mobile applications has increased as a result of the growing cybersecurity risks. Your app's user base will increase, and employers will find you more appealing if you know how to encrypt information, safeguard apps from security breaches and potential attacks, and manage security risks. To become proficient in cybersecurity, FITA Academy's Cyber Security Course in Bangalore provides hands-on training using real-time projects and materials.
Analytical skills
In order to develop applications that users will want to use, mobile developers must comprehend consumer wants. A competent mobile developer must possess the capacity to study how users interact with their mobile devices.
Creative and Problem-solving skills
You must write clean code in order to produce user-friendly applications as a mobile developer. When creating applications that assist users with various chores, developers creatively consider how people integrate their mobile devices into their lives. In addition to technical expertise, this position also requires an open mind.
A large part of being a professional mobile developer will involve troubleshooting errors with applications on Android or iOS platforms. You must be able to identify numerous technological issues and comprehend how to fix them.
Different Job Roles
Android App Developer
An Android developer is in charge of creating applications for devices that run the Android operating system. Because of the segmentation of this environment, an Android developer must pay close attention to how well their application works with different Android versions and device kinds. Additionally, they must be well-versed in the patterns and procedures that surround the Android platform. They should be knowledgeable with RESTful APIs to link Android apps to back-end operations and possess a solid understanding of the ideas, patterns, and best practices for Android UI design. Enrol on the Android Training in Bangalore for an in-depth understanding of the Android SDK, various Android updates, and how to work with various screen sizes.
iOS App Developer
For mobile devices using Apple's iOS operating system, an iOS developer is in charge of creating applications. A professional iOS developer should ideally be skilled in either Objective-C or Swift, the two coding languages supported by this platform. They are in charge of creating and managing the code for the core program, making sure it is of high quality, resolving errors in the application, and implementing upgrades into effect. They should also be proficient with iOS frameworks such as Core Data, Core Animation, etc.
Mobile App Developer
A mobile app developer is capable of developing software for smartphones and tablets and is knowledgeable about the newest mobile technology. Maintaining a mobile mindset is necessary for mobile development, making performance, battery, connectivity, and memory allocation even more crucial than in other hardware contexts. With our Android app development training in Bangalore, obtain the best user experience (UX) outcomes by frequently collaborating with our expert designers. A developer should be familiar with how to cope with device fragmentation.
Over 50,000 candidates have trusted FITA Academy with their training since 2012, and many of them are currently working for different IT firms. The methodologies offered by the Mobile app development courses in Bangalore are simple to understand and put into practice, making them accessible to students from various backgrounds. As a result, even people who have limited to no prior experience can gain a lot from this course.
The mentors in this course are certified, skilled trainers with years of experience in the business using Android and iOS-based models. They include the most recent updates and advancements to this technology in order to stay on top of the most recent trends. The mobile development course can be studied through offline or online classes for students enrolled in this program.