Course Highlights & Why Web Designing Course in Bangalore at FITA Academy?
FITA Academy offers the best Web Designing Course in Bangalore by providing a comprehensive understanding of web designing and its applications.
We offer the latest technologies, tools and methodologies in web designing by providing hands-on training using HTML, CSS, JavaScript,
PHP
and MySQL.
Students will be able to create innovative solutions using Laravel, a popular PHP framework.
To meet global standards, the curriculum for our Web Development courses in Bangalore is designed by expert trainers by integrating real-time projects and modules.
We offer a flexible schedule of classes by offering both weekday and weekend classes. Students can also opt for online classes in the comfort of their homes.
A customisable schedule with both normal-pace and fast-track classes is offered that can be chosen according to your constraints.
Our Web Designing Training in Bangalore covers various web designing principles and concepts for creating effective applications.
FITA Academy has partnered with 1,500+ organisations and offers 100% placement to kickstart your professional career.
Read more
Upcoming Batches
| | | | |
| --- | --- | --- | --- |
| 02-11-2023 | Weekend | Saturday (Saturday - Sunday) | |
| 04-12-2023 | Weekdays | Monday (Monday - Friday) | |
| 07-12-2023 | Weekdays | Thursday (Monday - Friday) | |
| 09-12-2023 | Weekend | Saturday (Saturday - Sunday) | |

Classroom Training
Get trained by Industry Experts via Classroom Training at any of the FITA Academy branches near you
Why Wait? Jump Start your Career by taking the Web Designing Training in Bangalore!
Instructor-Led Live Online Training
Take-up Instructor-led Live Online Training. Get the Recorded Videos of each session.
Travelling is a Constraint? Jump Start your Career by taking the Web Designing Online Course!
Have Queries? Talk to our Career Counselor
for more Guidance on picking the right Career for you!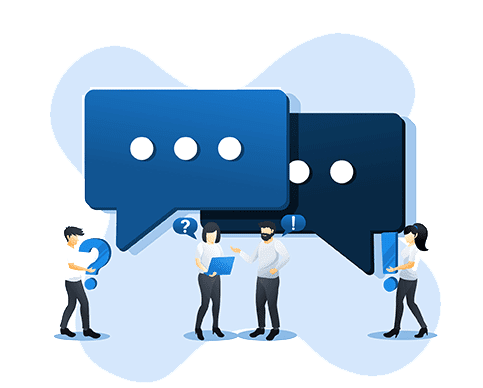 Trainer Profile
FITA Academy trainers have 8+ years of working experience in the industry.
Our Web Designing Course in Bangalore is delivered by expert trainers using simple language so that even those with no technical background can easily grasp the subject.
To help students get a better understanding of the concepts, our mentors integrate real-time projects and examples to develop the skills of the students.
Our expert trainers share valuable information and tips so they can help you learn and also retain all information for future reference.
With our Web Designing Institute in Bangalore at FITA Academy, acquire both theoretical and conceptual proficiency under the guidance of our expert trainers.
Our mentors provide hands-on exercises and practical training using various web designing tools and techniques.
To ensure student-centric classes, our trainers of the Web Development Courses in Bangalore maintain an engaging and interactive session.
In addition to an excellent education system, our mentors provide extensive guidance for clearing interviews and building resumes.

Learn at FITA Academy & Get Your
Dream IT Job in 60 Days
like these Successful Students!
Features of Web Designing Course in Bangalore at FITA Academy
Real-Time Experts as Trainers
At FITA Academy, You will Learn from the Experts from industry who are Passionate in sharing their Knowledge with Learners. Get Personally Mentored by the Experts.
LIVE Project
Get an Opportunity to work in Real-time Projects that will give you a Deep Experience. Showcase your Project Experience & Increase your chance of getting Hired!
Certification
Get Certified by FITA Academy. Also, get Equipped to Clear Global Certifications. 72% FITA Academy Students appear for Global Certifications and 100% of them Clear it.
Affordable Fees
At FITA Academy, Course Fee is not only Affordable, but you have the option to pay it in Installments. Quality Training at an Affordable Price is our Motto.
Flexibility
At FITA Academy, you get Ultimate Flexibility. Classroom or Online Training? Early morning or Late evenings? Weekdays or Weekends? Regular Pace or Fast Track? - Pick whatever suits you the Best.
Placement Support
Tie-up & MOU with more than 1,500+ Small & Medium Companies to Support you with Opportunities to Kick-Start & Step-up your Career.
Web Designing Certification Training in Bangalore
About Web Designing Certification Training in Bangalore at FITA Academy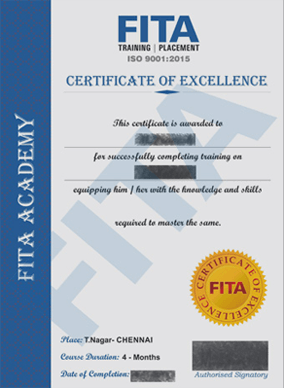 Web Designing Certification Training in Bangalore
Certifications assist you in finding employment as a novice in the field of web design. Companies will occasionally check the institution where you received your training because they frequently hire new pupils based on the trainers' backgrounds and teaching styles. Companies are eager to hire freshmen who have earned certificates from institutions where the entire curriculum is based on real-world projects to prepare students for rapid career advancement and other problems.
Web design certificate programmes can be just as beneficial for your career as they are for honing your talents. Employers frequently seek applicants who are up to date with the newest technical developments and all other associated sectors because web design careers are in high demand. FITA Academy's Web designing in Bangalore doesn't require you to adhere to strict time constraints because our programs are self-paced.
By enrolling on our Web Designing Course in Bangalore, students can enhance their abilities and increase their income. The web design principles are taught to students as part of the web design program. Additionally, it contains design programs like Adobe Dreamweaver and Adobe Photoshop, as well as essential Web coding languages like HTML, CSS, and PHP. Students are given all the equipment and software necessary for website design success during the course.
Have Queries? Talk to our Career Counselor
for more Guidance on picking the right Career for you!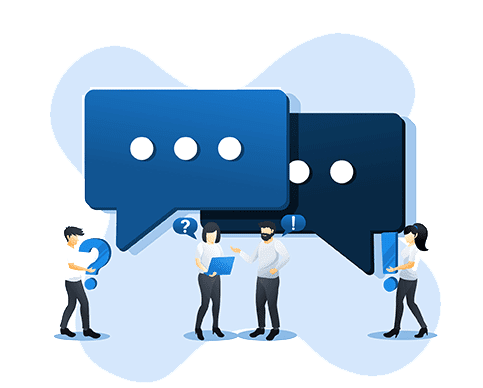 Job Opportunities After Completing Web Designing Course in Bangalore
Web design is a dynamic area, and once you have the necessary skills, you will have the freedom to choose from a variety of prospective career routes. Employers are currently in great demand for web designers. The industry is predicted to expand by 27% in the next few years. Because of the demand, web designers will continue to enjoy monetary gains and a fulfilling career.
Opportunities for website design are currently aplenty in the IT sector, both in India and overseas. The benefits of using your imaginative, creative side and the constant need for websites are the driving forces behind choosing web design as a career. Students that are creative and have a strong sense of design are most suited for website design. It serves as a platform for companies to attract more clients and market their goods and services. Web designers enable website visitors to view web pages on a single platform. One of the industries that offer lucrative employment chances for individuals looking to start their careers in the web design industry is web design.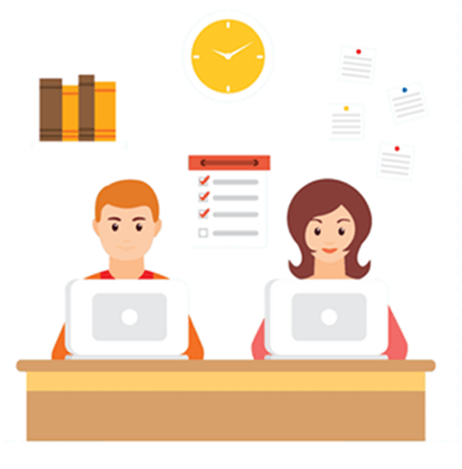 Web designers are in high demand across a variety of industries, including IT organisations, advertising agencies, marketing companies, educational institutions, newspaper and publishing houses, and digital and advertising organisations.
HCL, Tata, Wipro, IIM, Infosys, Deloitte, Oracle, Cognizant, and Lava are a few well-known businesses that employ web designers. Additionally, these firms frequently offer the following job titles: Frontend Developer, Backend Developer, Web Designer, UI/UX designer and Information Architect. With over 44,000+ job vacancies available at present in this field, these censuses can increase with time.
The average salary of a web designer is around Rs. 2.8 Lakhs in India. At the same time, you can earn up to $57k for the same globally. The income range can differ with location, experience and organisation. FITA Academy's Web Designing in Bangalore instils the essential professional abilities for a skilled Web Designer under the guidance of our expert trainers.
Read more
K
Keshav K

I found the Web Designing course in Bangalore really beneficial. The instructor was very informative and patient. Their teaching style is simple, and they provide practical examples for us. The class was interactive, and I learned a lot about design principles and how to apply them. The staff gave me continuous support and guidance for the placements as well. I would highly recommend enrolling at FITA Academy.
S
Simran R

Learning from the experts for my Web Designing training in Bangalore at FITA Academy has changed my life. They have taught me all the topics in a short amount of time, and I am amazed by their unique approach to education. I'm happy I was able to enrol in this Academy and take advantage of the chances that were provided to me.
V
Vimal Prakash

I completed my Web Design Courses in Bangalore at FITA Academy. I had no technical training, so everything was new to me. I felt incredibly supported and inspired by the trainers. After completing the course, I not only succeeded in passing the certification with honours, but I also cleared numerous interviews before finally joining the organisation of my choice.
Y
Yatin Jain

FITA Academy is the best Web Designing Course in Bangalore. As a beginner in this subject, I could understand and carry out the concepts easily. He was never reluctant to answer any questions, even if it meant constantly explaining the same topic to us. The classes were also entertaining and very informative. I am very satisfied with the training that I got during my course period.
J
Jonathan B

Many of my clients found my work to be dull and uninspiring. I enrolled in Web Designing in Bangalore at FITA Academy to enhance my expertise and skills. The teacher provided simple explanations that anyone could understand and connect to. The training as a whole focused on practice rather than just showing a presentation. Thanks to the trainers, I was able to gain improve my abilities and impress my seniors at work.
Have Queries? Talk to our Career Counselor
for more Guidance on picking the right Career for you!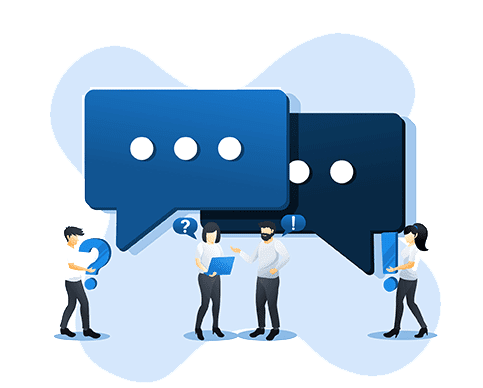 Web Designing Course in Bangalore Frequently Asked Question (FAQ)
Additional Information
Web design is the process of creating websites and pages that convey an organisation's brand and content while also providing a user-friendly experience. Whether you're creating a website, a mobile app, or updating material on a web page, aesthetics and design are essential components. Professional web designers develop a website for their own company by learning web design or work on building websites for other individuals.
Elements of Web Designing
The process of creating websites enables designers to cater to any tastes and offer practical solutions. Every web design includes a number of universal elements.
Layout
The way the content is presented on a page depends on the website's layout. The layout selection is a crucial duty for the designer. It needs to be easy to use, accessible, and uncomplicated. To keep website items organised and in the proper order, web designers might employ white spaces, which are empty spaces. Both desktop screens and mobile devices can have customised layouts made by designers. Web Pages must be mobile-friendly because many users browse websites on their smartphones or tablets. The designer of a website can employ a dynamic template that adjusts to various screen sizes or a smartphone layout that will operate when a non-desktop gadget connects to the webpage to make sure it is prepared for mobile users. The visitors' trust is boosted by a regular pattern between the supports.
Images
Illustrations, photos, icons, graphics and other types of images are used to enhance the text with additional information. Designers can choose photos that go well together with the product that the website promotes to achieve the desired impact.
Visual Hierarchy
The visual hierarchy is the sequence in which the visitor will process the content on the site. It is made by the designer by incorporating a visual pattern into the webpage. The design commands visitors' gaze and behaviour through its visual pattern. For instance, F- or Z-patterns draw attention to the top horizontal area of your website, which is typically where designers place the navigation, the brand's logo, and occasionally a search box. User engagement and brand recognition are sparked by these factors.
Colour Scheme
The colour scheme is an arrangement of hues that complements the brand and sector it stands for. They will choose a dominating hue and a few additional colours to form a palette in order to accomplish this. A colour scheme might be complementing, analogous, or monochromatic. Additionally, designers take into consideration the hues that people are most drawn to.
Typography
The style or typeface of the written text is referred to as typography. Web designers choose one or a few that are appealing and simple to read. They should select a font that is appropriate for the desired audience in order to make the ideal decision. Depending on the industry, purpose, and kind of user for the website, some may look better with serif font types, while others may benefit from non-serif fonts.
Navigation
The tools that let visitors decide where they wish to go on a website are the navigational elements. Depending on the layout and structure of the website, they could appear in the header, body, or footer. These components are crucial since they help people get the information they're looking for immediately. Designers have a range of navigation layouts and designs to select from, such as employing a button to show and conceal menus. They can also include one-click directions and other icons that take users to a particular section of a website, another page entirely, or back to the top of the page.
Readability
On a website, the text should be simple to view and understand in order to be considered readable. Because website visitors typically don't spend much time there, the material on the page should be easy to read so they can find the information they need. The designers can accomplish this by choosing a suitable pixel and size for the text. The text's contrast with the backdrop colours of the website and text also makes it easier to read.
Content
The entirety of the website's information is referred to as the content. Due to the desire of visitors to obtain information fast, it is a crucial component. The likelihood that readers will become customers increases when a website communicates effectively and captures their interest. This can be accomplished by the designer by employing the proper tenor and presenting the correct content on every page of the website.
Job Roles
Front-end Developers
Using web languages like HTML, CSS, and JavaScript, a front-end developer develops websites and applications that people can access and utilise. The visual components of a website that you see were made by a front-end developer. The front-end developer decides how to present the site, where to put images, and how the navigation should look. A large portion of their work includes making sure the design and organisation of the website or application are user-friendly and intuitive. The user interface (UI), which dictates what each component of a site or application performs and how it will appear, is created by front-end developers. Enrol on Web Designing in Bangalore at FITA Academy to equip yourself with practical training to become proficient developers.
Back-end Developers
The professionals that create and manage the systems that allow websites to handle data and carry out operations are known as back-end developers. Storage space, security, and other hidden server-side operations are all handled by back-end developers. Back-end developers need to be very skilled at collaboration as well as possess technical knowledge. You should have the independence to create the web infrastructure as a back-end web developer.
The primary task of a back-end developer is to find the most effective way to create intuitive, user-friendly models and develop them into websites by utilising a variety of tools, frameworks, and languages. This necessitates knowledge of cross-platform functionality and stability. Our expert trainers of the Web Development Courses in Bangalore oversee training and mentoring for novice developers and establish workflows with client teams to ensure continuing support.
UX Designer
In the UX sector, this is the most popular career path and the one with the broadest range of responsibilities. UX designers are professionals who advocate for and create projects with users in mind. This means they are capable of conducting initial user needs research, outlining the project's features and content, defining the layout and data hierarchy, developing wireframes and prototypes, and eventually testing their designs to see how effectively they function.
They are responsible for carrying out user research, which may involve card sorting, user interviews, product testing, and other activities. Learn to create various site maps, trip maps, and other deliverables with the UI UX designer course in Bangalore.
UI Designer
UI designers create all of the displays that comprise a digital user interface, in addition to the unique items that appear on those panels. As a result, they take into account both the general design of each particular screen and the integration of all the other screens. They work late in the UX process because they are tasked with producing high-quality prototypes that serve as markers of how a user interface will seem.
UI designers must be able to verify that their designs adhere to brand rules because their primary focus is on a product's aesthetic aspects. They are also responsible for analysing current designs and conducting user research to understand user demands and product objectives better, either alone or in cooperation with UX designers.
Information Architect
As a product is being designed, Information Architects are concerned with organising and structuring the material and information. In order to make sure the user's journey is simple and logical, they decide how the product is navigated, the hierarchy of its pages, and how pages are organised. An Information architect should have the ability to label navigational components in a logical, clear manner. They should know how to conduct user research to learn how users interact with a product. One role is also to explain the navigation and structure of a website, create site maps, use cases, and user flows. With our Web Development Course in Bangalore, acquire the best resources and expert training to become a professional Information Architect.
Software Developer
A software developer creates and constructs computer programmes that run desktop computers, mobile gadgets, and even automobiles. Along with identifying customer demands, they develop new applications for any market and make adjustments based on user feedback. Daily tasks for software developers include writing clean code, integrating third-party programmes into systems, and determining areas for improvement based on user feedback. They also include developing effective algorithms. A skilled software developer will possess strong analytical and problem-solving skills, as well as a thorough understanding of computer languages and the process of developing software.
Advantages of Web Designing as a career
Feed your imagination - Web Development Training in Bangalore allow you to employ your artistic talents in your everyday work, including graphics and colour schemes. Web design may be a good fit for you if you have a keen eye for beauty and a meticulous approach to design. Furthermore, since most tasks involve something fresh, designers who work for companies rarely become bored.
Be self-reliant - Although there are many chances to work for oneself, many designers also work internally for big businesses or are employees of design firms. Being self-employed gives you the freedom to choose the clients you want to work with, establish your own pricing and working hours, focus on building websites for particular industries, and improve your business and marketing abilities.
Web-based task - Being a Web designer gives you the opportunity to influence how users interact with the Web in addition to working with websites on a daily basis. Additionally, a customer's initial encounter with a firm these days is frequently via its website rather than print items like company brochures or marketing mailers. When you use the Web as your medium, you can significantly influence a company's brand. The Web is constantly interesting because the sector undergoes rapid changes every day. At our Web Designing Institutes in Bangalore, the best practices are developed and improved upon, trends are established, and updated technologies are provided to the students.
Utilise cutting-edge technology - Jobs in web design will give you a chance to use computers and design tools if you enjoy doing so. Work exclusively with expert trainers at our Web Development Courses in Bangalore to acquire hands-on training in design software techniques and become well-versed in using HTML, CSS, and JavaScript.
Work in a booming sector - Every business requires a website and wants to maintain it looking fresh. Therefore, there is a huge need for web designers and developers. The U.S. Bureau of Labour Statistics projects that recruitment of web developers and designers of web and digital interfaces will increase by 23% in the forthcoming years, which is substantially faster than the average for all professions.
The top Web Designing Course in Bangalore can be found at FITA Academy. It looks at the competencies required of both programmers and designers. In order to ensure your complete proficiency, this course covers some of the most important ideas. The course curriculum is updated with what the majority of employers and companies are looking for. This course is also open to participants from a variety of educational backgrounds.
All of the topics necessary for web design competency or other associated professional benefits are reviewed in the assignments, exams, hands-on courses, and projects. You can get career benefits for many other industries and technological sectors with FITA Academy's Web Designing in Bangalore. This course's trainers are certified subject matter experts. They guarantee the technical, soft skill, and creative competency required to ace the interviews.
Read more