Course Highlights & Why Spoken English Classes Trichy at FITA Academy?
FITA Academy provides the Best Spoken English Classes in Trichy, which focus on improving students' social communication skills.
Our course materials are thoughtfully curated and include audio-visual exercises and assessments that concentrate on enhancing speaking abilities and vocabulary.
Students are encouraged to participate in group discussions, critical conversations, and debates to improve their speaking skills.
Our comprehensive Spoken English Classes Trichy integrates the four language skills: learning, speaking, reading, and writing.
FITA Academy offers a flexible schedule to meet the needs of the students that include both weekday and weekend classes.
Students can also choose between regular-paced, fast-track, online, or offline classes to fit their time constraints.
We also offer goal-centred classes and a blended curriculum that caters to all types of learners.
In addition, our Spoken English in Trichy has a placement support system that provides access to a network of over 1,500+ organisations for our students.
Read more
Upcoming Batches
| | | | |
| --- | --- | --- | --- |
| 23-09-2023 | Weekend | Saturday (Saturday - Sunday) | |
| 25-09-2023 | Weekdays | Monday (Monday - Friday) | |
| 28-09-2023 | Weekdays | Thursday (Monday - Friday) | |
| 30-09-2023 | Weekend | Saturday (Saturday - Sunday) | |

Classroom Training
Get trained by Industry Experts via Classroom Training at any of the FITA Academy branches near you
Why Wait? Jump Start your Career by taking the Spoken English Training in Trichy!
Instructor-Led Live Online Training
Take-up Instructor-led Live Online Training. Get the Recorded Videos of each session.
Travelling is a Constraint? Jump Start your Career by taking the Spoken English Online Course!
Have Queries? Talk to our Career Counselor
for more Guidance on picking the right Career for you!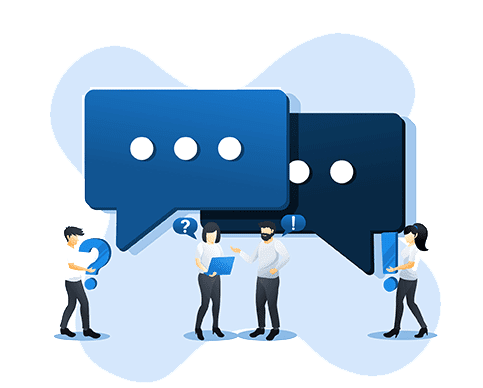 Trainer Profile
FITA Academy's trainers have over 8+ years of expertise in linguistic training and communication.
They employ live projects and practical assessments to boost learners' confidence and learning outcomes.
Our mentors utilise various teaching materials and tools to enhance students' written, interpersonal, and communication skills.
Trainers of the Best Spoken English Classes in Trichy place a high priority on improving each learner's conceptual and conversational clarity.
They are experienced speakers who provide up-to-date information and trends to help students become engaging speakers.
Our trainers ensure student-centred classes by conducting classes in limited batches that promote engaging and open sessions.
Our trainers offer comprehensive Spoken English Classes Trichy, which enable students to become skilled and proficient English speakers.
Features
Real-Time Experts as Trainers
At FITA Academy, You will Learn from the Experts from industry who are Passionate in sharing their Knowledge with Learners. Get Personally Mentored by the Experts.
LIVE Project
Get an Opportunity to work in Real-time Projects that will give you a Deep Experience. Showcase your Project Experience & Increase your chance of getting Hired!
Certification
Get Certified by FITA Academy. Also, get Equipped to Clear Global Certifications. 72% FITA Academy Students appear for Global Certifications and 100% of them Clear it.
Affordable Fees
At FITA Academy, Course Fee is not only Affordable, but you have the option to pay it in Installments. Quality Training at an Affordable Price is our Motto.
Flexibility
At FITA Academy, you get Ultimate Flexibility. Classroom or Online Training? Early morning or Late evenings? Weekdays or Weekends? Regular Pace or Fast Track? - Pick whatever suits you the Best.
Placement Support
Tie-up & MOU with more than 1,500+ Small & Medium Companies to Support you with Opportunities to Kick-Start & Step-up your Career.
Best Spoken English Certification Class in Trichy
About Best Spoken English Certification Class in Trichy at FITA Academy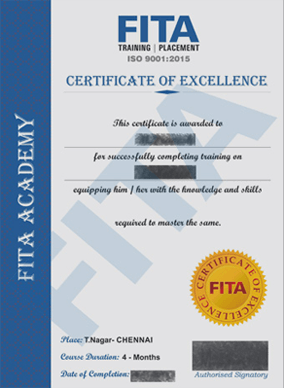 Spoken English Certification Training in Trichy
Upon the completion of Spoken English courses at FITA Academy, individuals receive a certificate that is recognised worldwide as proof of their proficiency in the English language. The certificate validates the skills of the individual in the language, which is assessed through multiple activities and evaluation tests carried out by the institution. Obtaining this certification indicates that the individual has undergone comprehensive English language training and may be given priority during job interviews.
English is a language that is widely used around the world, and obtaining certification can help individuals effectively communicate with people from various cultures and backgrounds. By attending the Best Spoken English Classes in Trichy and obtaining certification, individuals can enhance their self-esteem, confidence, and social interactions, which can have a positive impact on both their personal and professional relationships. Several colleges and universities across the globe mandate that students must possess a basic level of English proficiency, which can be demonstrated through certification.
FITA Academy's certificate is recognised and acknowledged by global organisations as evidence of a person's English language skills. Having strong communication skills, particularly the ability to speak English fluently, is a requirement for most global companies, and certification can serve as proof of one's proficiency to potential employers. Moreover, certification can open up better job opportunities, career growth, and higher salaries.
In countries like Canada, the United States, and the United Kingdom, immigrants are required to demonstrate their English language proficiency when applying for a work visa, permanent residency, or citizenship. International evaluations such as IELTS, TOEFL, and TOEIC are routinely conducted to evaluate an individual's proficiency in the four areas of English language skills: writing, reading, speaking, and listening.
FITA Academy offers a range of Spoken English Classes Trichy that is divided into three levels of certification
Beginner Level
Intermediate Level
Advanced Level
By finishing these courses, students can enhance their speaking abilities and advance their language skills. Obtaining the certification will enhance their career prospects and professional growth.
Have Queries? Talk to our Career Counselor
for more Guidance on picking the right Career for you!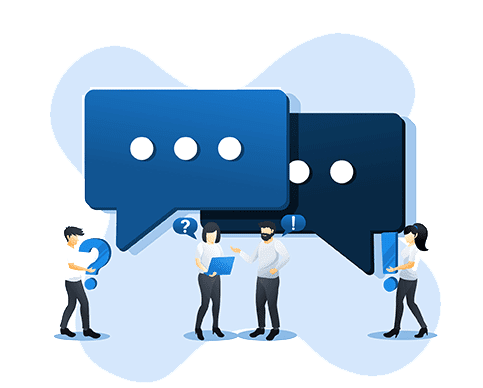 Job Opportunities After Completing Spoken English Classes in Trichy
English has become a global language and a crucial competency in today's world. The need for people who are proficient in this language is increasing rapidly. As English gains more importance in the workplace, there are many job opportunities available for individuals who are fluent in the language.
The demand for professionals who can speak English is high in various industries, and these careers offer competitive salaries. A wide range of career prospects is available to individuals with strong communication skills in English.
The most common career options for English speakers are teaching, customer service, content writing, journalism, and public relations. However, people with excellent spoken English abilities can also excel in sales, marketing, hospitality, tourism, and business. This skill is particularly useful for those involved in international affairs, politics, or diplomacy.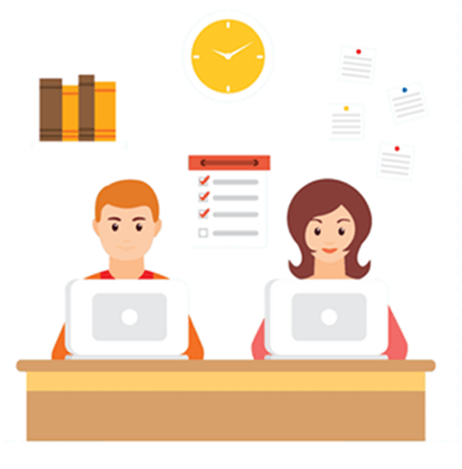 People working in or interested in various fields, such as IT, automation, healthcare, management, finance, law, accounting, tourism, human resources, and hospitality, can benefit from having spoken english skills. In India, the salary for English-speaking professionals depends on their job role and level of experience.
For instance, a customer service executive with excellent communication skills can earn a salary ranging from INR 2.5 to 4 LPA, while an English language trainer can earn between INR 3 to 5 LPA. Similarly, content writers with exceptional English writing skills can earn between INR 3 to 6 LPA, and journalists with good spoken English skills can earn between INR 4 to 8 LPA.
Read more
G
Gopika

As a member of my organisation's HR team, I used to prioritise using my native language. However, I came to understand the importance of being proficient in spoken English. I decided to enrol in FITA Academy's Spoken English certification program, and after completing the course, I can now participate in corporate discussions confidently.
D
David Jacobs

I completed my training in Spoken English in Trichy at FITA Academy. The classes were engaging and captured my interest. My trainers always took the time to respond to my doubts and queries without hesitation. They used relevant everyday scenarios and incorporated enjoyable games and tasks. I thoroughly enjoyed my learning here and strongly recommended FITA Academy.
R
Ramesh

I am completely satisfied with the coursework and training provided by the trainers at FITA Academy. Their training has helped me improve my speaking skills, giving me an edge over my colleagues in my organisation. I strongly recommend enrolling in FITA Academy's Spoken English Course in Trichy if you want to enhance your professional image.
C
Chitra Ravi

I had an excellent learning opportunity at the Best Spoken English Institute in Trichy. My trainers were kind and helped expand my vocabulary and boosted my self-confidence. Their teaching methods and exceptional learning environment helped me to understand myself better and improved my English speaking abilities.
M
Manikandan S

Thanks to the Spoken English Course in Trichy, I now work as a transcriber for a well-respected multinational corporation. My trainers provided continuous support throughout the course and motivated me to take on new challenges. As a result, I now feel confident speaking English and am no longer concerned about making grammar mistakes.
Have Queries? Talk to our Career Counselor
for more Guidance on picking the right Career for you!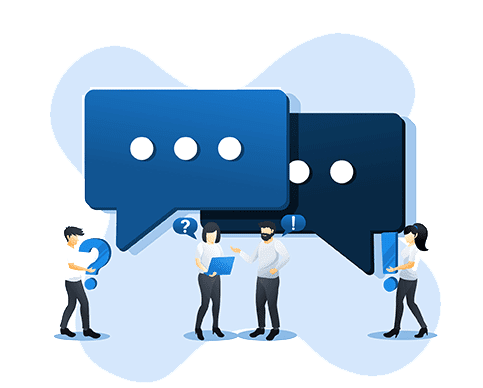 Spoken English in Trichy Frequently Asked Questions (FAQs)
Additional Information
The English language is widely used on the internet and is the most commonly spoken language worldwide, making it essential to have strong communication skills in English for higher salaries and better job opportunities across various industries. Proficiency in English also facilitates international travel, networking, and business dealings. Enrolling in the Best Spoken English Classes in Trichy can help individuals effectively communicate their ideas and become proficient speakers.
Proficiency in English is crucial in most global professions and has become a global language in the field of economics. People who express themselves clearly and effectively in English are respected, and improving one's communication and language skills can enhance their personality and boost work productivity. Acquiring fluency in English can provide individuals with better job opportunities. Furthermore, English is the language commonly used in research, news, and higher education.
Importance of Spoken English
Better job opportunities
One of the main reasons why spoken English is so important is because it can open up a world of job opportunities. In many industries, including business, tourism, and hospitality, the ability to speak English fluently is a key requirement. Employers are often looking for candidates who can communicate effectively with clients and customers worldwide. Having strong spoken English skills can give you a competitive edge in the job market.
Improved communication with people from different cultures
English is an international language that is spoken by people all over the world. Being able to speak English fluently allows you to communicate more effectively with people from different cultures and backgrounds. This is particularly important in today's globalised world, where people from different countries are more likely to interact with each other on a regular basis. The ability to speak English can help you build better relationships with people from different cultures and make you more culturally aware.
Enhanced educational opportunities
English is the language of education in many parts of the world. If you are planning to study abroad or pursue higher education in an English-speaking country, you will need to have strong spoken English skills in order to succeed. Even if you are studying in a non-English-speaking country, having good spoken English skills can be an advantage. Many academic journals, research papers, and textbooks are written in English, so understanding and communicating in English can help you access a wider range of educational resources.
Increased travel opportunities
English is a widely spoken language in many parts of the world. Being able to speak English fluently can make it easier for you to travel and explore different countries and cultures. It can also help you navigate airports, hotels, and restaurants more easily. In addition, if you are travelling for business, being able to speak English fluently can help you negotiate deals and communicate with potential partners more effectively.
Tips for Improving Spoken English
Listen to English as much as possible
The first step to improving your spoken English is to immerse yourself in the language as much as possible. This means listening to English music, watching English movies or TV shows, and listening to English podcasts or audiobooks. By listening to English frequently, you will start to pick up on common phrases and idioms, which will help you to sound more natural when you speak.
Practice speaking with native speakers
Speaking with native speakers is one of the most effective ways to improve your spoken English. This can be done through language exchange programs, hiring a private tutor, or finding a language partner online. Speaking with native speakers will help you to learn the correct pronunciation, intonation, and rhythm of the language. Additionally, native speakers can provide you with feedback on your grammar and vocabulary.
Read Out Loud
Reading out loud is another excellent way to improve your spoken English. You can read anything that interests you, such as books, newspapers, or blogs. When you read out loud, pay attention to your pronunciation, intonation, and pace. You can also record yourself while reading and listen to it later to identify areas that need improvement.
Use Online Resources
There are plenty of online resources available that can help you improve your spoken English skills. You can use English speaking apps which provide interactive exercises, language exchange partners, and other useful tools. You can also watch English language videos on YouTube or enrol in the Spoken English Institute in Trichy, which focuses on enhancing one's spoken English.
Practice with a Mirror
Practising in front of a mirror is an effective way to improve your spoken English skills. It will enable you to see your facial expressions, body language, and mouth movements clearly, which will help you to identify areas that need improvement. You can also observe how your mouth moves while pronouncing different sounds and practice to improve your pronunciation.
Build your vocabulary
The more words you know, the more effectively you can communicate in English. Try to learn new words and use them in your daily conversations. You can also create flashcards or use vocabulary apps to help you memorise new words. Reading English books, newspapers, and magazines can also help you improve your vocabulary.
Focus on grammar
While it is important to focus on speaking fluently, it is also important to speak accurately. Pay attention to grammar rules and practice using them correctly in your speech. You can use grammar books or take online courses to improve your grammar skills. This will help you in avoiding typical mistakes and enhance your language proficiency while communicating in English.
Be confident
Finally, it is important to be confident when speaking in English. Do not be afraid to make mistakes, as they are a natural part of learning. The more you practise and the more confident you become, the more fluent and natural your speech will sound.
FITA Academy provides students with vital tools to enhance their communication abilities in the global business environment. Our training methods employ state-of-the-art techniques and verified approaches to ensure efficient and effective learning. The course material covers crucial subjects such as language structure, dialogue, terminology, and auditory comprehension. The program incorporates various exercises that concentrate on reading, writing, speaking, and listening skills, along with extensive knowledge of pronunciation, tone, nonverbal cues, and stress reduction techniques.
Our Spoken English Institute in Trichy offers a comprehensive course that caters to individuals ranging from beginner to intermediate levels of English proficiency. The curriculum is designed to improve the trainees' speaking, listening, grammar, vocabulary, and pronunciation skills by incorporating several modules covering crucial and contemporary English language aspects. Our program aims to enable trainees to communicate effectively by providing intensive training and consistent practice in speaking, listening, comprehension, and writing. The program also includes accent-neutralisation training that covers diction, proper pronunciation, mastery of vowels and consonants, and comprehension of syllable stress. Through interactive and goal-oriented classes, students are guided to improve their fluency and expressiveness in English.
At FITA Academy, our trainers are highly experienced professionals who have assisted numerous students in improving their English language proficiency over the years. They keep themselves up-to-date with the latest language trends and provide modern approaches and techniques to enhance fluency. Our ultimate aim is to help students achieve proficiency in the language, and our Spoken English Classes Trichy utilise crucial strategies to improve vocabulary and grammar. The course is taught using innovative and effective methods, such as regular assignments, tests, and hands-on activities, which promote competence and confidence. These techniques aid in the development of both personal and impersonal communication skills.
Read more