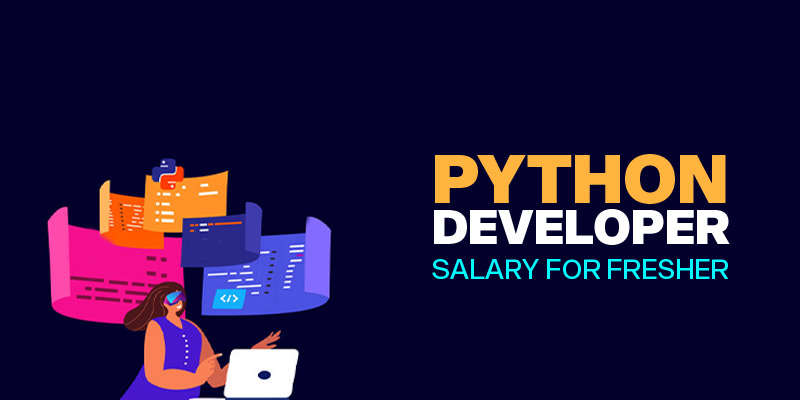 Among various programming languages, Python is widely utilized in IT sectors due to its simplicity and flexibility. If you are fresher and interested in becoming a web developer or software developer, then learning a python programming language would be the right choice.
We might use mobile phones from morning till night, and we are using mobile phones for various uses. For example, we would listen to music on the music apps in the morning. Have you ever noticed how it's operating? Did you use it for various purposes like scrolling Instagram or searching on google for python developer salary?. So, we are scrolling our Mobile phones for different reasons, from reading to entertainment.
Many applications from morning to night have bound us, and these applications are coded and run through a programming language. Python programming language is utilized for running these applications. It is widely utilized for flexibility, scalability, versatility, user-friendly, and simplicity.
If you want to become a python developer, you can join Python Training in Chennai and learn the core concepts of python like strings, Data Type, Data Structure, Control Flow Statements, and Data Operations.
Many top apps like Spotify, Netflix, Uber, Dropbox, Pinterest, Instacart, and many more apps are developed using Python to prove the above statement.
Now, you would have understood the significance of Python and the demand of python developers. According to the survey, more than 1 million Python developers are in demand in the IT sector. So, if you are freshers, you can learn python programming language without hindrance.
So, let's get this blog about becoming a Python developer started. We'll go over the necessary skills, career opportunities, responsibilities of a python developer, average compensation of a python developer, and any other questions bothering you.
Why is Python the top programming language?
Python is an Interpreted, Free and Open-Source programming language that may be used to develop various desktop applications, systems, sites, and platforms. Although this language is not the most popular in the technological world, it is the first choice for beginners and professionals.
Python is also on its way to becoming a pioneer in the field. Python can reclaim the top spot, which Java and C have held for 20 years.
If you want to become a data scientist, you can join Data Science Course in Bangalore and learn Machine Learning, Deep Learning, Artificial Neural Networks (ANN) and Natural Language Processing (NLP)
Types of Job Opportunities
If you choose to learn Python, then you have plenty of job opportunities such as:
Python Web Developer
Software Engineer
Automation Testing Engineer
Data Analyst
Data Scientist
Machine Learning Engineer
DevOps Engineer
Moreover, there are plenty of opportunities for python developers, among various high paying jobs,Python developers are equally paid around 3 to 3.5 lakhs per year. Thiospoay is determined as an average compensation but after gaining experience the pay ranges from 4 to 4.5 lakhs per year. Prominently, it depends on the company, look at the bar diagram for better understanding:
Python Developer Jobs for Freshers Salary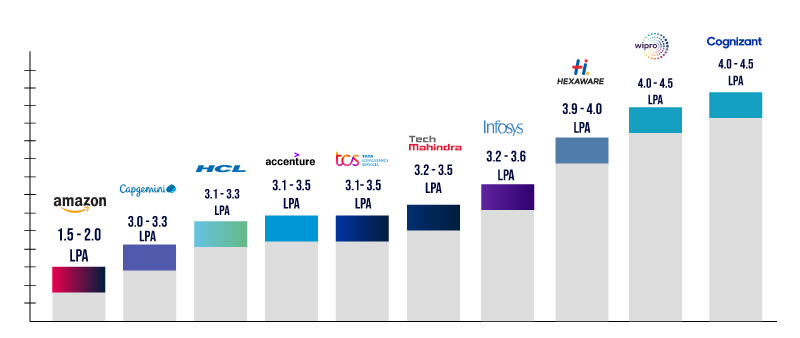 Now,we shall look at the responsibility of a python developer, qualification, skills required to become python developer and road map to become a python developer.
Who is a Python Developer?
Python developers are responsible for various processes in the development cycle. Moreover, they are part of the software development team and are responsible for developing, designing, testing, and integrating software applications. Further, they are responsible for creating web-based applications and app development using the python programming language.
In addition to this, they are responsible for debugging and testing the project created using Python. The python developer also works with the backend development.
However, python developers have no limitations in their work due to thriving technology such as machine learning and data science. As a python programmer or developer, you will be responsible for developing code, troubleshooting, connecting the app with third-party web services, helping with the front-end development team, and making applications for the user interface.
If you want to become a data scientist, you can join Data Science Course in Chennai and Understanding Lists in Python, Understanding Iterators and Generators, Comprehensions and Lambda Expressions.
So, due to the dependability of python features, Python is widely utilized for various developments.
Web Development
Scripting
Design Web Frameworks for new codes
Automation
Deployment Services
Data Analysis
Web Scraping
Python programmers may accomplish a lot with such a simple and adaptable scripting language as Python. In the following sections, we'll learn more about the specific job of python developers and python developer salary in detail.
What is the Demand for Python?
Every programmer has a particular programming language with which they are most at ease.
Top firms like Google, Netflix, Spotify, and Pinterest must have a compelling rationale to adopt Python for their backend services. Python excels in the following features when compared to other backend languages.
Python is well known for its flexibility and simplicity compared to the Ruby programming language.
Java is not as dynamic as Python.
Python can be utilized for machine learning processes or project
Compared to PHP programming language, Python is vital in its flexibility and readability
For a beginner, Python is the best programming language to begin
Unlike the C programming language, Python also dominates the language in its ease of understanding.
If you want to become PHP developer, you can join PHP Training in Bangalore and learn What is PHP, Javascript / Jquery Vs PHP, Client Side Scripting Vs Server Side Scripting and Installation of XAMPP
All the features mentioned above have drawn the attention of python developers. Moreover, it has increased the job opportunities for freshers and professionals, and due to its flexibility, Python provides scope for data analysis and machine learning.
Many industries have developed various applications using the python programming language. Other than IT sectors, many industries have also drawn attention to Python- The industries such as:
Financial Technology
Educational Technology
HealthCare
Python Developer Salary In India
Since the introduction of Python in the coding world, it has been increasing exponentially in demand. Moreover, it is a popular programming language among developers. Due to the market of python developers, the python developer salary for freshers ranges from 2 to 3 lakhs per year. However, the python developer's salary depends on experience, skills, and qualifications.
Python Developer Salary for Freshers Based on the Experience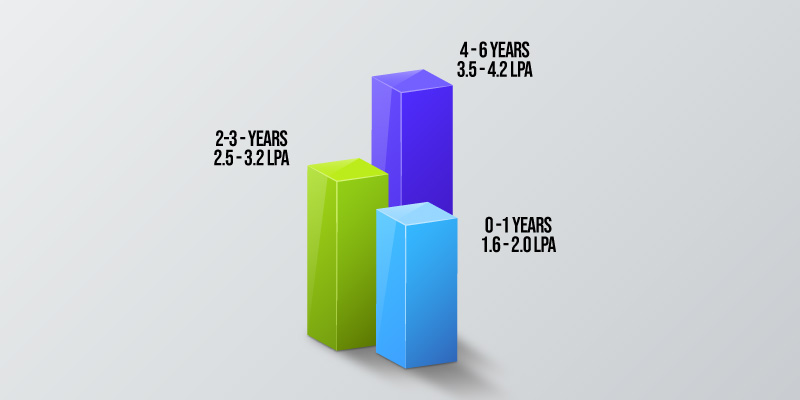 From the above bar diagram, you would have understood the python developer salary in India for freshers. Many factors influence a Python developer's salary, including location, skills, job level, company, and experience. Let's look at the factors that influence Python Developer pay.
Python Developer Salary Based on Location
Many factors affect the python programmer's salary because the python developer's salary may differ based on the location. For example, in Chennai, a python developer would be paid around 3 to 4 lakhs, whereas, in Pune, they will be paid around 2.3 to 3. Therefore, every location has its own demand and compensation. Now, we shall understand through visual representation:
Location-Based Python Developer Average Salary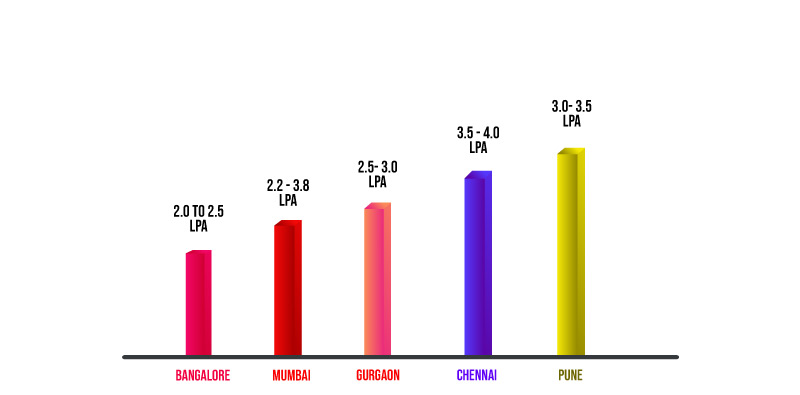 Python Developer Salary Based on Skills
The demand for Python is undeniable. However, the python developer salary for a professional is never determined by the experience, whereas it is evaluated based on skills they acquire or command over the language. Therefore, the competitiveness in the field is fierce.
As a result, if you want a better pay structure, you will need a strong set of skills on your CV.
The graph below explains some of the skills and the typical income.
Python developer salary depends on skills:

How to Become a Python developer?
If you are intended to begin your career as a python developer, the foremost skill you need to acquire is the python programming language.
Moreover, it would be best if you had a profound understanding of python frameworks and tools.
Python Frameworks
Django
Web2Py
Flask
Bottle
CherryPy
Python Tools
Scikit-Learn.
Keras.
Theano.
SciPy
Selenium.
Robot Framework.
TestComplete.
Beautiful Soup
Object Relational Mappers libraries:
PonyORM
Django ORM
SQLAlchemy
Tortoise ORM
Peewee ORM
Join Course
If you are fresher and have no basic understanding of Python, you can join the Python Course at FITA Academy and learn basic to advance core concepts of Python. Join
Python Training in Bangalore at FITA Academy, which would help you understand the Python Dictionaries, Sets and Python Basic Data Types.
Be an active participant in the Python group
Participating in community and communicating with like-minded people. Never put a limitation on your learning. Always learn, grow and intake new ideas or see things from a different perspective. It is not meant to compel you to enroll in professional programming programs but rather to emphasize the importance of continuing to communicate even if you are a self-learner. You can not imagine how much you will learn if you become a more active community member.
Share codes, ask questions, learn new things, and start significant discussions.
So, if you want to share ideas, you need to understand the Python programming language. So, enrolling in the course would give you in-depth knowledge.
If you want to become a Java developer, you can join Java Training in Chennai and learn the core concepts such as libraries, tools, Arithmetic Operators, Logical Operators and Assignment Operators.
Work not for pay but to learn
Practice is the best way to acquire knowledge. Take steps to put more effort into the practice you have performed for months. Take on freelance jobs or start-ups, as they are a great way to learn without putting too much pressure on yourself. You can learn how to handle various obligations, manage your time and studies, and shine a light on your shortcomings and strengths.
Another way to acquire knowledge is through teaching. It will benefit you in two ways:
You can brush up on your previous skills, and you will be able to pass on knowledge to people at the same level as you were a year ago.
Share your thoughts with others and continue to learn as you go.
Attend Webinars and Seminars
There are many pieces of information dupped about Python on the internet. Be attentive and search for any new webinar conducted. Attend everything from simple workshops to in-depth seminars to brush up on your programming fundamentals or be a part of a discussion or concept you have never heard of before. Continue to experiment with new approaches to learning and improving.
Do not get comfortable
Never compromise yourself in learning new things. Never stop learning new things. Never think that you have done and gained coding knowledge; instead, keep learning to code.
Make an effort to see what you're lacking, and don't let your break develop into procrastination. The essential step to becoming a great developer is not how much code you write but how well you write it. Write one line of code every day, but do so efficiently.
Job Responsibilities
Java developers must have the ability to write bug-free code, reusable and flexible.
To construct a dynamic and practical application, work on the server-side for efficient development.
Integrate pieces for the application's front-end development.
Provide solutions for data security and protection.
To develop analytical and innovative solutions and communicate with other teams.
Debug and test the code you've developed.
Scripting: Work on programs that will help you solve problems with data analysis.
If you are interested in becoming a PHP developer, join PHP Training in Chennai and learn Variables in PHP, Data types in PHP – Number, Strings, Date, NULL and Arrays and Variations of Arrays.
Qualifications and skills required
BSc, Btech in Computer Science, or any other related field
Comprehensive understanding of Object Relational Mappers libraries Libraries
Proficient in python Framework( that we mentioned above)
Knowledge of Front-end Technologies like JavaScript, ReactJS, AngularJS, Flutter, Vue.js, Bootstrap, Ionic, and HTML5 Boilerplate. If you want to have a profound understanding of angularjs, you can join AngularJS Training in Bangalore at FITA Academy and learn core concepts such as Data binding, TypeScript,Observables, etc.
knowledge of Version Control Systems
Fundamentals of Machine learning/ Artificial Intelligence
If you want to learn fundamental of artificial intelligence , you can join Artificial Intelligence Course in Chennai and learn Understanding Lists in Python, Understanding Iterators and Generators, Comprehensions and Lambda Expressions
Now, you would have understood the python developer salary, how to become a python developer, Python Developer Salary Based on Skills, and What is the demand for Python?. So, if you intend to become a python developer, you can join the python developer course at FITA ACADEMY and start-up your career as a python developer.
Recent Post: Selenium Tester Salary for Freshers