Course Highlights & Why Ionic Training in Chennai at FITA Academy?
FITA Academy's Ionic Training in Chennai focuses on teaching both fundamental and advanced ionic framework methods.
The practical course will assist students in exploring the latest ionic features such as Cordova and CLI.
The instructors will demonstrate practical techniques for using angular principles in the ionic application.
Students will learn how to create robust and interactive mobile applications.
Persistent engagement in industry-based projects and hands-on demonstrations will make our students career-ready.
The goal of the Ionic Course in Chennai is to familiarise students with hybrid mobile application development.
The faculty will teach you how to correctly build up and run an ionic application.
Students will learn how to use ionic to efficiently apply angular ideas.
Our course is specifically developed for professional usage and is based on the newest and greatest industry practices as well as current market demands and needs.
Our course format is very adaptable in order to meet the varying demands of our various training batches.
We provide instructor-led online and in-person training in various cities.
The trainers of FITA Academy have a professional association with over 1000 organizations to help you with all of your job placement.
Moreover, the faculty will help the students to discover a work culture and job profile that matches their preferences.
Our Ionic Training Institute in Chennai is designed to deliver the ideal blend of academic and practical lessons for a thorough overhaul grasp of ionic technology.
Read more
Classroom Training
Get trained by Industry Experts via Classroom Training at any of the FITA Academy branches near you
Why Wait? Jump Start your Career by taking the Ionic Training in Chennai!
Instructor-Led Live Online Training
Take-up Instructor-led Live Online Training. Get the Recorded Videos of each session.
Travelling is a Constraint? Jump Start your Career by taking the Ionic Online Course!
Have Queries? Talk to our Career Counselor
for more Guidance on picking the right Career for you!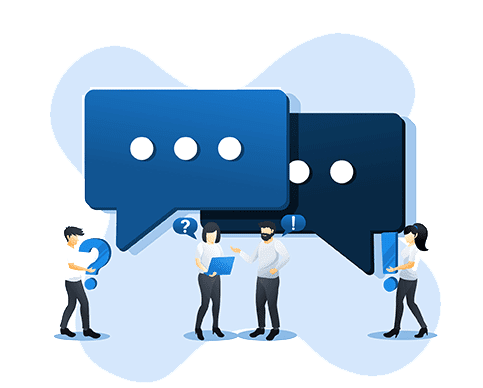 Trainer Profile
FITA Academy's instructional trainers are experts in their fields and use cutting-edge technology to provide the greatest training to our students.
FITA Academy's subject matter experts have more than eight years of practical experience in their respective fields.
The subject matter experts of our Ionic Training Institute in Chennai hold the experience working with prominent organizations such as HCL, Microsoft and Infosys.
The top professionals of FITA Academy aim to offer updated and modified academic knowledge and its practical implementation in a real-world environment.
The Ionic Training in Chennai is designed by highly motivated specialists of FITA Academy to meet the demands and needs of today's industry.
Subject matter experts of FITA Academy aim to provide holistic training to the students by imparting important theoretical and practical classes of the course.
The Trainers will also assist our students in the future implementation of Ionic technology in the creation of applications.
Features
Real-Time Experts as Trainers
At FITA Academy, You will Learn from the Experts from industry who are Passionate in sharing their Knowledge with Learners. Get Personally Mentored by the Experts.
LIVE Project
Get an Opportunity to work in Real-time Projects that will give you a Deep Experience. Showcase your Project Experience & Increase your chance of getting Hired!
Certification
Get Certified by FITA Academy. Also, get Equipped to Clear Global Certifications. 72% FITA Academy Students appear for Global Certifications and 100% of them Clear it.
Affordable Fees
At FITA Academy, Course Fee is not only Affordable, but you have the option to pay it in Installments. Quality Training at an Affordable Price is our Motto.
Flexibility
At FITA Academy, you get Ultimate Flexibility. Classroom or Online Training? Early morning or Late evenings? Weekdays or Weekends? Regular Pace or Fast Track? - Pick whatever suits you the Best.
Placement Support
Tie-up & MOU with more than 1200+ Small & Medium Companies to Support you with Opportunities to Kick-Start & Step-up your Career.
Ionic Certification Course in Chennai
About Ionic Certification Course in Chennai at FITA Academy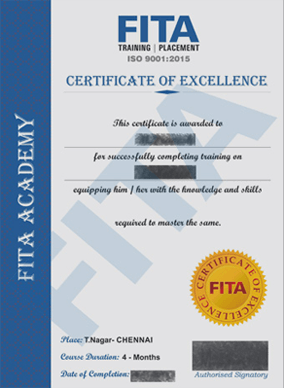 Ionic Certification Course in Chennai
Ionic is an open-source UI platform kit to build independent desktop and mobile applications with the help of programming languages like HTML, JavaScript and CSS. Candidates who participate in ionic certification in Chennai will receive comprehensive training in hybrid application development.Moreover, the programme covers the fundamentals of ionic Android and iOS application set-up, theme development and publication. The ionic certification in Chennai stands as a perfect course ideal for candidates who aspire to build effective and robust applications for everyday usage.Undergoing this course will enable the candidates to have lifetime access to the learning materials as well as a government-approved certification. FITA Academy ionic training in Chennai has been meticulously developed and built for professionals and freshers who want to flourish in their chosen industry. Studying this course will equip learners with industry-based skills and knowledge such as mobile user interface, use of software development kits and the creation of native and hybrid applications.
After the student has gained detailed knowledge and has expertise along with assignments, the certificate awarded will serve as a testament to the student's industry-based skills and information acquired during the course. Incorporating the credential into your CV will have a significant impact on the individual's professional value. Furthermore, students will have access to a wealth of national and international work opportunities along with the possibility of higher pay. Our Ionic Training Institute in Chennai is well-known for its expert faculty and practical training that aligns with the market standards and demands of IT companies. The achievement of this qualification not only broadens an individual's professional prospects but also leads to enhanced yearly salary packages. Obtaining the certification in ionic will not only open up the gate to immense career opportunities but also increase annual remuneration. Aside from the certification, having strong work experience influences the candidate's annual salary package. A technical architect for ionic application development with more than three years of experience would be eligible for a salary package ranging from 2,50,000 per annum to 3,20,000 per annum. The annual package of the individual will keep increasing with the procurement of more work experience and proficiency in skills.
Read more
Have Queries? Talk to our Career Counselor
for more Guidance on picking the right Career for you!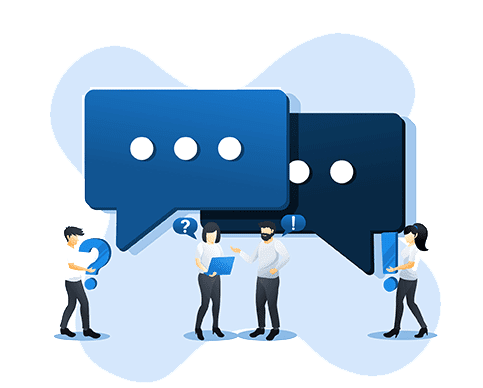 Job Opportunities After Completing Ionic Training in Chennai
In today's ever-evolving technology, there has been a tremendous increase in the number of functional and efficient software programs. Increased internet users have resulted in a massive expansion in software applications. The rapid rise of internet users has prompted many software industries and corporations to adopt a more rapid approach to designing, developing and delivering applications across multiple platforms. Ionic has quickly become one of the most popular and frequently used tools for creating software applications.
The ionic training in Chennai at FITA Academy is designed to introduce and instil the skills and information that are in demand in today's IT businesses.Given are some of the most demanding and lucrative job roles for ionic aspirants- software engineer in ionic, hybrid application developer in ionic, lead developer, an application developer in ionic, Windows hybrid application developer, a full-stack hybrid application developer in ionic, ionic consultant, technical architect for ionic application development and mobile application developer.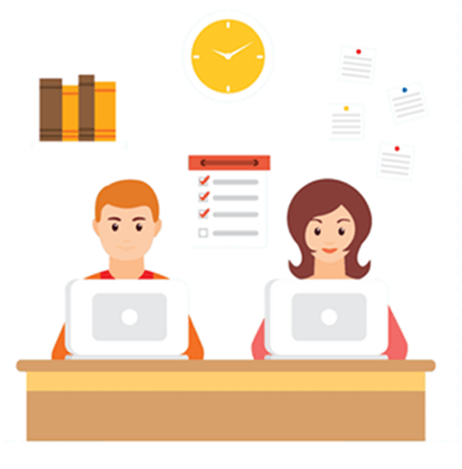 Following the ionic course at FITA Academy will instil the skills in programming languages, including HTML, CSS and JavaScript, which will help the students in developing powerful and efficient user interfaces for application development and securing lucrative job positions in the market. Along with the knowledge of ionic, having good work experience also creates an impact on the annual salary package of the candidate. FITA Academy has an association with more than 800 industries across the globe, which ensures that every student of our Academy will receive proper guidance and assistance to help them strive for their desired job role.
Job Positions and their Responsibilities
Software engineers in ionic- they hold the responsibility of designing and developing, and implementing solutions for mobile hybrid applications.
Hybrid application developer in ionic - designing and creating well-tested efficient, and scalable cross-platform mobile applications for android and iOS platforms.
Technical lead -ionic developer - design architect develop and release applications in the domain moreover work and directly responsible for the end client.
Application developers in ionic- coding, designing application management, troubleshooting, monitoring updates and providing user support. Moreover, they handle some project management tasks to handle new applications.
Mobile application developers- with the help of programming languages and development skills, they create, test and develop applications on mobile devices. They work on prominent operating systems like Android and iOS.
Read more
A
Arvind Kumar

The course is worth investing your time and money as the curriculum of the course is challenging yet informative. The trainers solved all of my doubts during the training and provided extensive practical experience of the concepts. I would highly recommend my acquaintances to opt for Ionic training in Chennai.
U
Urmi Bhattacharya

I liked the syllabus of the course as it provided knowledge of the fundamental and advanced concepts of ionic. I will be looking for similar courses to further enhance my technical knowledge.
S
Suresh Verma

Ionic Training in Chennai helped me acquire all the significant skills and knowledge of ionic technology. The learning by doing method helped me gain work-life experience. The overall session turned out to be an excellent experience for me.
Have Queries? Talk to our Career Counselor
for more Guidance on picking the right Career for you!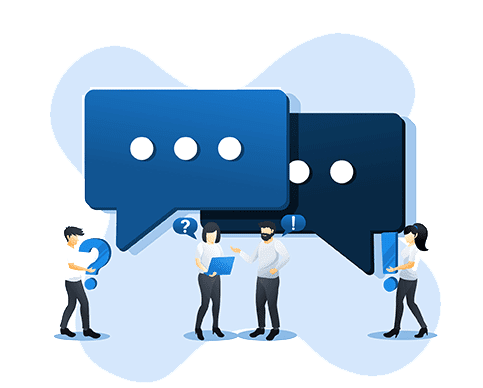 Ionic Training in Chennai Frequently Asked Question (FAQ)
Additional Information
The ionic framework is an open-source framework that allows developers to construct effective and cross-platform software applications for ios and Android-powered mobile devices. The well-planned course of ionic training in Chennai will provide thorough hands-on demonstrations to assist students in understanding how to use ionic with AngularJS. Our course is specifically developed to provide our trainees-
The most practical exposure and industry insights into the software application development, industry for native and hybrid application development and both mobile and desktop applications.
To ensure that students become experts in the professional use and application of ionic for the development of an application for android, iOS, Windows, Mac and operating systems across mobile and desktop applications.
The comprehensive training includes a discrete curriculum that addresses every important ionic subject. The students will learn about the ionic framework, where they will obtain knowledge and practice in ionic installation, as well as a thorough comprehension of the ionic platform.
The faculty will demonstrate how to create, launch and finally scale an ionic application in a simple method. Students will be taught explicitly about ionic framework generators, i.e., the web scaffolding tool for modern web applications.
Moreover, the course of ionic training in Chennai will cover connecting ionic to any database and constructive dialogue in ionic. Furthermore, the course's practical component will explain the ideas of employing EcmaScript features in ionic as well as the practice of analyzing the application with Jshint and gulp jshint.
The theoretical portion of the course will include covering ionic AngularJS extensions as well as constructing and controlling the model object. Students will become more acquainted with ionic back-end services and ionic CLI hooks. Completing the ionic training in Chennai will boost the legitimacy of the skill set of the students and lead to more job chances in software and web development.