Course Highlights & Why Video Editing Course in Chennai at FITA Academy?
At FITA Academy, we guide you in creating cinematic gold videos that will help you become a professional video editor.
Discover complex tools and features, including masking, alpha compositing, image wrapping, smooth camera rotation, file display, and much more.
Weekdays and weekend classes are provided in comfort your time.
In addition, we have fast-track classes if you wish to have a crash course.
All the sessions are recorded, so you can always access these videos if you missed a few classes.
The Video Editing Classes in Chennai will impart basic as well as advanced knowledge of video editing.
The students will be able to design and create videos by making efficient use of the Adobe Premiere Pro software.
At FITA Academy, we first discuss the Adobe software's principles and then utilise examples from real-world projects to exemplify those concepts.
The classes give exposure to hands-on projects like Movie teasers, Promos, Film/Teleserial editing, Colour Correction, Rotoscoping, Wire Removal, and Blue/Green Screen production.
Exploring Features, Tools and Options for editing in Adobe Premier Pro.
We have a partnership with 1,500+ small and middle-scale companies to provide you with job opportunities for a brighter future right after the course completion.
Our professional mentors will work with you to guide you in creating videos that meet the needs of the industry and exceed its expectations.
Read more
Upcoming Batches
| | | | |
| --- | --- | --- | --- |
| 30-11-2023 | Weekdays | Thursday (Monday - Friday) | |
| 02-12-2023 | Weekend | Saturday (Saturday - Sunday) | |
| 04-12-2023 | Weekdays | Monday (Monday - Friday) | |
| 09-12-2023 | Weekend | Saturday (Saturday - Sunday) | |

Classroom Training
Get trained by Industry Experts via Classroom Training at any of the FITA Academy branches near you
Why Wait? Jump Start your Career by taking the Video Editing Course in Chennai!
Instructor-Led Live Online Training
Take-up Instructor-led Live Online Training. Get the Recorded Videos of each session.
Travelling is a Constraint? Jump Start your Career by taking the Video Editing Online Course!
Have Queries? Talk to our Career Counselor
for more Guidance on picking the right Career for you!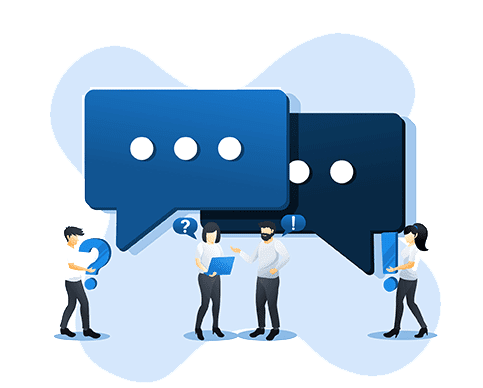 Trainer Profile
The trainers at FITA Academy have 8+ years of experience.
To ensure better interactive sessions, each class only have a limited amount of students.
The expert trainers integrate the latest tools and methods for an easier editing process.
Our mentors are also equipped with a lot of knowledge on special effects and mixing.
They have trained over 50,000+ students who are now placed in various companies.
They also teach you several tricks and shortcuts to make the video more creative and professional.
If creating captivating videos is your passion, join the Video Editing Classes in Chennai at FITA Academy for a head-start on your career.

Learn at FITA Academy & Get Your
Dream IT Job in 60 Days
like these Successful Students!
Features of Video Editing Course in Chennai at FITA Academy
Real-Time Experts as Trainers
At FITA Academy, You will Learn from the Experts from industry who are Passionate in sharing their Knowledge with Learners. Get Personally Mentored by the Experts.
LIVE Project
Get an Opportunity to work in Real-time Projects that will give you a Deep Experience. Showcase your Project Experience & Increase your chance of getting Hired!
Certification
Get Certified by FITA Academy. Also, get Equipped to Clear Global Certifications. 72% FITA Academy Students appear for Global Certifications and 100% of them Clear it.
Affordable Fees
At FITA Academy, Course Fee is not only Affordable, but you have the option to pay it in Installments. Quality Training at an Affordable Price is our Motto.
Flexibility
At FITA Academy, you get Ultimate Flexibility. Classroom or Online Training? Early morning or Late evenings? Weekdays or Weekends? Regular Pace or Fast Track? - Pick whatever suits you the Best.
Placement Support
Tie-up & MOU with more than 1,500+ Small & Medium Companies to Support you with Opportunities to Kick-Start & Step-up your Career.
Video Editing Certification Course in Chennai
About Video Editing Certification Course in Chennai at FITA Academy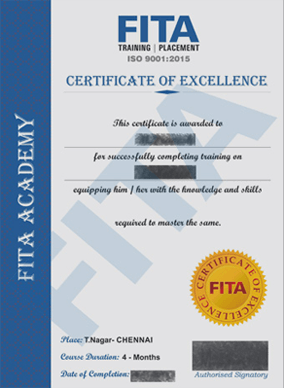 Video Editing Certification Course in Chennai
The continual rise of the internet and media has resulted in a growing demand for video editors and effective training. Our certificate recognises and attempts to excel our students with skills in developing, editing, and mixing video content. A certificate from the FITA Academy will be awarded to the candidate after they have successfully completed the training. The certificate is acknowledged and recognised by organisations all over the world as proof of learned skills and expertise in Adobe Premiere Pro.
Have Queries? Talk to our Career Counselor
for more Guidance on picking the right Career for you!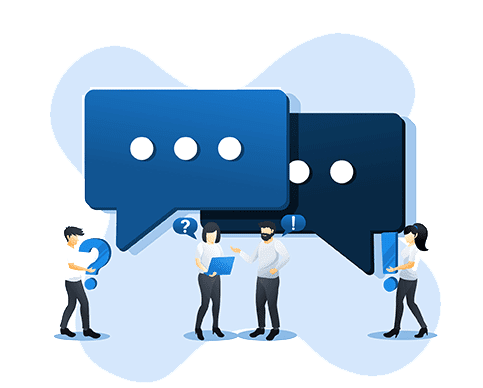 Job Opportunities After Completing Video Editing Course in Chennai
In recent years, video editing has advanced significantly. Powerful video editing software and apps are available. Thus, anyone can create high-quality videos with ease.
Even more intriguing developments appear to be coming for video editing, thanks to Artificial Intelligence, which can revolutionise the process. FITA Academy also provides Artificial Intelligence Course in Chennai where you can gain advanced knowledge.
The growth of the internet has been extremely advantageous for video editors. There are constantly new video editing jobs coming up because so many websites now rely on video content to stay afloat. Numerous creators might choose to hire their own editor on video content providers like YouTube.
Anyone who has a genuine interest in working with video, or even just simple video editing, can easily enter the professional field of video editing. Being a video editor requires both technical expertise and creativity, so if you believe you have these two qualities, you can easily land a fitting job.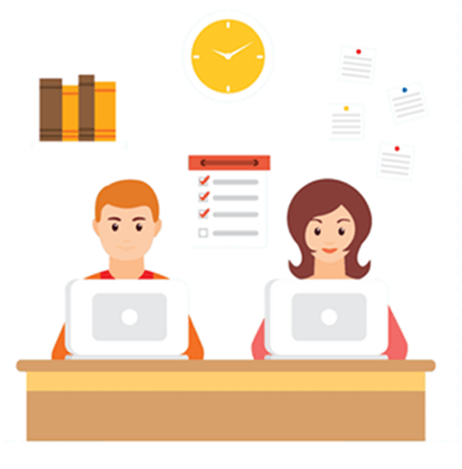 Not all video editing professions require specialised skills to make it into the field. Video editors can also be specialised in areas such as colour grading, sound mixing, cinematography, special effects, and animation. These positions require more training and experience. Get expert training by joining Video Editing Course in Chennai at FITA Academy.
Different roles of a video editor
Film Editor – They work on long-form films, ensuring that the movie stays true to the director's artistic intent. Segments are put together in a sequence, the footage is edited together, and the narrative is developed by a film editor.
TV Studio Editor – They concentrate on changing between cameras, adding overlay graphics, and using other visuals to enhance the viewing experience for viewers of live broadcasts. Creating events live occupies a significant portion of the labour that is done in a TV studio.
Event Video Editor – Many occasions, especially weddings, are frequently videotaped. This job is plentiful and a popular method to get started in video editing.
Web Video Editor – They are engaged in producing short videos that will be uploaded online. As a Web video editor, you can work with countless clients and a range of subject matters. The clients and subjects can change from week to week.
Animator –An animator is someone who makes motion graphics and adds the finishing touches to work. They are proficient in Adobe After Effects as well as the major platforms for video editing.
Colourist – A colourist is a special-purpose editor that specialises in fine-tuning colour and other visual settings to give the production a unified, professional look. Creating precisely contrasted images and movies is the responsibility of a colourist.
Additionally, there are many choices in other media-related disciplines. For schools, news organisations, and a variety of small enterprises, video editing is helpful. You can gain new skills to succeed in your current work in addition to all of these lateral moves. Increasing your worth by learning new talents is the best method to advance in the media.
The average salary of a video editor is Rs. 3 lakhs per annum, and for a Senior video editor, it can go up to Rs. 10 lakhs per annum. The global average salary of a video editor is around $58,000 or €56,000. Companies such as Amazon, Accenture, Buzzfeed and other media entertainment companies actively hire video editors.
In this decade, it is anticipated that the total number of film and video editors will increase by 29%, which is substantially faster than the average for all the other occupations. Over the next ten years, there are expected to be over 9,000 new jobs for editors of movies and videos.
The end result of the Film Editing Courses in Chennai at FITA Academy will be a career path that will help you grow your creative skills and become an expert video editor.
Read more
S
Sridhar Srinivasan

First, I want to praise the outstanding employees, including tutors and office personnel at FITA Academy. The classrooms were tidy and well-equipped. The academy had an excellent infrastructure. The trainer was a fantastic coach who not only instructed you on the course but also offered wise counsel and shared personal experiences.
A
Ashish

The tutors at FITA Academy were excellent, and they went above and above to make sure I felt at ease. No matter how many times I asked, my instructor was always kind to me and would always answer my questions.
V
Vel Murugan

At FITA Academy, I was able to learn a lot more than I had expected. The instructors were great; they were friendly and did a great job training me. I am a working student, so the flexible classes were really convenient. The classes were offered for fair prices that represented good value. The staff members were helpful and constantly checked with me regarding my progress in learning.
Y
Yuvan

I completed my Video Editing Course in Chennai here. My trainer was friendly, and I appreciated how he broke down complex ideas for me to understand. I felt more confident because he always thought with examples and shared ideas. I highly recommend joining FITA Academy.
A
Akash Pandita

I am amazed to see the level of dedication and professionalism the faculty showed during the training. They helped me gain extensive knowledge, and now I can work with Adobe Premiere Pro and other software with ease.
Have Queries? Talk to our Career Counselor
for more Guidance on picking the right Career for you!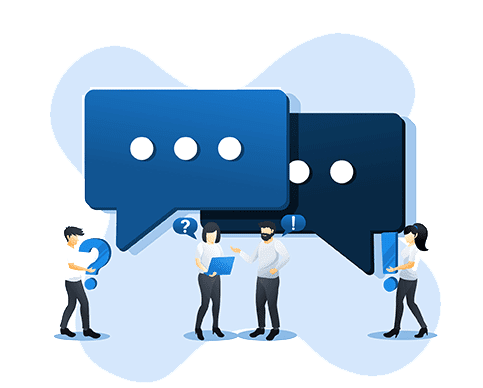 Video Editing Course in Chennai Frequently Asked Question (FAQ)
Additional Information of Video Editing Course in Chennai
Video editors deal with all the various takes, removing the unnecessary portions and arranging them according to the specified flow. The main objective of editing is to make the video as organised and fluid as possible. To do this, the editor collaborates with the director, producer, and others.
Film Editing Courses in Chennai at FITA Academy make the students work on a project as part of their learning. This training lets them gain practical experience to meet the needs of the industry.
Video editing is a massive industry, and it grows each year exponentially. There are many types of video editing, but the main types are,
Linear Video Editing
Linear video editing refers to the technique of copying scenes from one video cassette to another in the order required, utilising two tape VCRs. The initial approach for editing analogue video tapes was linear editing.
Non-linear Video Editing
The process of non-linear video editing involves transferring video data from analogue or digital tape onto a computer. The operator's commands are all stored on a fresh "tape" during the editing process. Using this technique, the operator can cut, copy, and paste scenes in any order while also making any necessary adjustments. It creates brand new video footage quickly and easily.
Offline Editing
Offline editing, to put it simply, is the process of modifying videos using duplicate material from the original source. In that way, the original footage is untouched.
Online eEditing
In online editing, proxy footage is not used. Online editing is the processing of video or graphic editing, carried out as the last step in the creation of a video.
Assemble Editing
Assemble video editing is one of the crucial steps. The assembly edit is the process through which the editor goes over all of the material and develops a rough cut's design.
Learn more about the different editing methods and gain practical knowledge by joining the Video Editing Course in Chennai at FITA Academy.
Video editing is a form of non-linear editing. Video editors take raw video and transform it into a finished product by employing editing strategies such as cutaways, crosscutting, parallel editing, continuity editing, and match cuts. Before a polished final cut of the film is finished, there are several phases of shaping, refining, and fine-tuning that take place.
There are a few categories in which a video editor should be proficient.
Good communication skills
Understanding of Media and telecommunications
Great sense of creativity and imagination
Computers and Electronics
Problem-solving ability
Knowledge of production and processing
Importance of Video Editing
For dramatic or humorous effects, editors might rearrange scenes and move scenes forward or backwards in time. An editor can purposefully withhold material to help set up a twist ending or purposefully prolong a shot, so the audience learns additional information.
Editors look at a movie's structure both scene by scene and in relation to the whole film. In a specific situation, an editor might use slower, longer shots to create tension. The editor of the same film may decide to remove an absolutely unnecessary scene from the picture because they believe the plot is slow-paced and wish to speed things up. Join the Editing course in Chennai to gain more knowledge and excel in the field of video editing
As video editors, they make sure to maintain a smooth transition between shots. It would be awkward if a character suddenly moved forward several steps from where they were before the cut, for example, if a character is walking past a child and the editor cuts to a shot of the child side playing. To ensure that the sequences flow naturally, editors time their cuts. This is particularly crucial for films that need to look to be shot in a single place when edited.
It's safe to assume that one of the most crucial tasks in the film industry is video editing. It's just as vital to finding the proper video editor as it is to get the right camera equipment since expert video editing may help you produce an emotional masterpiece and can make or break your movie.
Although there are many video editing softwares such as iMovie, Final Cut Pro, PowerDirector and many more, Adobe Premiere Pro is the most popular, especially among beginners. The primary purpose of the nonlinear video editing programme Adobe Premiere Pro is to edit video segments into a sequence. Most beginners start with this tool to make a straightforward film with a variety of clips and music.
The versatility of Adobe Pro is fantastic. Beginners can use it with ease, while a master editor can still utilise it effectively. It includes a clip editor, colour correction tools, audio programmes, and even graphics software—basically everything you need to finish a professional video.
Basic things you can do with Adobe Premiere Pro
Existing footage from a camera can be imported and edited into a video.
Editing audio into the video. Its features are significantly superior to other software.
Transitioning can be done between two or more clips.
There are many types of videos that can be edited, such as social media videos, movies, etc.
Join the Editing Classes in Chennai at FITA Academy and master the most popular video editing software Adobe Premiere Pro and get a head-start on your professional career.
Video Editing Course in Chennai - Course objectives
Introduction to video editing
Features and elements o video editing
Introduction and Setup of Adobe Premiere Pro
Essentials of Adobe Premiere Pro
Managing Digital Assets
Exploring Editing in Adobe Premiere Pro
Editing Enhancements
Advanced Enhancements
Working as a video editor is an exciting job. This industry has many opportunities because new and creative ideas keep emerging. You won't need to be concerned about video material disappearing any time soon unless an entirely new form of media is created overnight. Working in an ever-growing industry is a definite sign of a wise career decision. Video editors can move from one entertainment industry position to another without any hassle.
FITA Academy Provides an excellent Video Editing Course in Chennai that will help you start your career without any worries. With our ties with over a thousand organisations, you are guaranteed a well-paying job. Join our classes and bring your creativity to life.