Course Highlights & Why React Native Training in Chennai at FITA Academy?
React Native Training in Chennai teaches students how to develop cross platform applications for both iOS and
android
platforms.
The architecture of a device application will be explained in detail.
Practical demonstrations of creating application code for several platforms will be presented.
The students of FITA Academy will learn to make authentication for various software applications.
The course will provide detailed practical knowledge of creating small reusable components from complex components.
Students will learn how to change application scenes using draw navigators, stack navigators, and tab navigators using programming languages such as CSS, HTML and JavaScript students will be able to create mobile applications.
The goal of the React Native Course in Chennai is to familiarise students with both the foundations in advance capabilities of react native technology.
Practice of storing and retrieving data from many sources such as RESTFUL services, SQLite databases and file systems will be provided to students.
Students will learn how to test and deploy their applications on simulators, emulators and actual devices.
Students will be able to design UI using react native elements with the help of competent faculty direction.
Upon thorough study of the React Native Training in Chennai the students will learn how to publish mobile applications on platforms such as the Google play store and the Apple App Store.
Read more
Classroom Training
Get trained by Industry Experts via Classroom Training at any of the FITA Academy branches near you
Why Wait? Jump Start your Career by taking the React Native Training in Chennai!
Instructor-Led Live Online Training
Take-up Instructor-led Live Online Training. Get the Recorded Videos of each session.
Travelling is a Constraint? Jump Start your Career by taking the React Native Online Course!
Have Queries? Talk to our Career Counselor
for more Guidance on picking the right Career for you!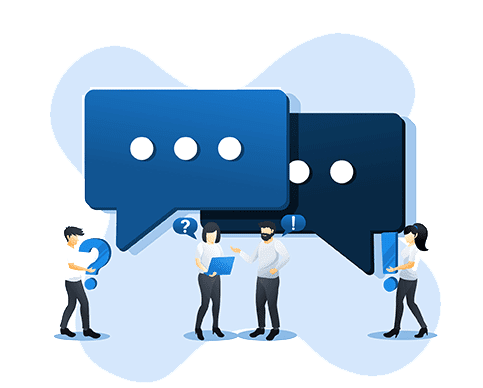 Trainer Profile
The trainers of FITA Academy and certified professional with more than 10 years of expertise in their respective fields.
Our top notch professional trainers have worked on a number of actor projects based on current IT industry standards.
Our instructors have experience of working for a variety of major corporations like HCL, TCS and Microsoft.
Our Mentors provide not only technical skill expertise but also placement preparation and resume building training.
Subject matter experts of FITA Academy aim to provide holistic training to the students imparting important theoretical and practical classes of the course.
The subject matter expert of FITA Academy will assist our students in future implementation of the react native technology.
Features
Real-Time Experts as Trainers
At FITA Academy, You will Learn from the Experts from industry who are Passionate in sharing their Knowledge with Learners. Get Personally Mentored by the Experts.
LIVE Project
Get an Opportunity to work in Real-time Projects that will give you a Deep Experience. Showcase your Project Experience & Increase your chance of getting Hired!
Certification
Get Certified by FITA Academy. Also, get Equipped to Clear Global Certifications. 72% FITA Academy Students appear for Global Certifications and 100% of them Clear it.
Affordable Fees
At FITA Academy, Course Fee is not only Affordable, but you have the option to pay it in Installments. Quality Training at an Affordable Price is our Motto.
Flexibility
At FITA Academy, you get Ultimate Flexibility. Classroom or Online Training? Early morning or Late evenings? Weekdays or Weekends? Regular Pace or Fast Track? - Pick whatever suits you the Best.
Placement Support
Tie-up & MOU with more than 1200+ Small & Medium Companies to Support you with Opportunities to Kick-Start & Step-up your Career.
React Native Certification Course in Chennai
About React Native Certification Course in Chennai at FITA Academy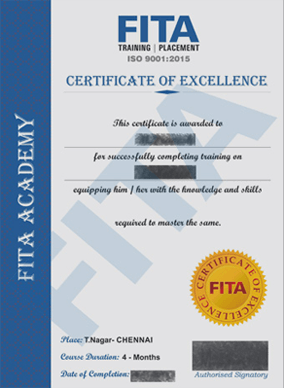 React Native Certification Course in Chennai
FITA Academy gives you the opportunity to become a master of react native and start a business in the industry of technology. You will attend intense beginner as well as advanced react native training sessions which will give you the confidence to use react as a professional tool. You will master the basics of JSX, state management in component, component interaction, and development of an application by using flux architecture. Moreover, the students will also be trained to use reusable components which can be implemented in various projects. The FITA Academy provides both the option of online and offline classes. The industry oriented react native classes have been designed to provide the students a maximum learning benefit. The React Native Course in Chennai is highly popular because of the immense resources its trainers provide in the form of real-world examples, projects, case studies, sample code and practice sessions. Upon completion of the React Native Training in Chennai you will receive a certificate which will be quite valuable for your career. This FITA Academy's accreditation will serve as a testament to the student's industry oriented abilities and information gained throughout the course. Incorporating the certification as a useful credential in your CV will help you to expand your professional network in the IT business.
Furthermore, having the certificate will serve as a proof of your ability, proficiency and understanding of the subject. This will aid you in passing the recruitment procedure in various companies. FITA Academy's credential is widely recognised and accepted by a variety of sectors on a national and worldwide level. Obtaining the certificate will demonstrate students competency not only in technical knowledge and abilities but also in soft skills such as team management, communication skill and leadership skills. Having proficiency in these skills will tremendously boost the market worth of the candidate. As industries throughout the world seek to employ professionals and experienced workers, they also pay them well. An individual's compensation will be determined not only by his or her certification but also by years of work experience the candidate has. A react native engineer with one years of work experience would be entitled for an yearly package of approximately Rs.1,40,000 per annum. On the contrary, a react native specialist with five years of work experience will be eligible for a salary package of approximately Rs.5,60,000 per annum.
Read more
Have Queries? Talk to our Career Counselor
for more Guidance on picking the right Career for you!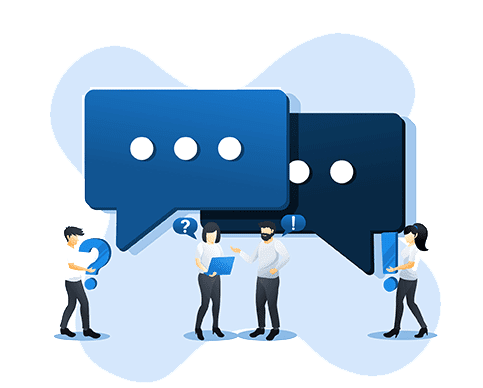 Job Opportunities After Completing React Native Training in Chennai
Web development is one of the most popular and in demand skills in today's world as it offers various job prospects in a variety of fields. With expansion of different work positions, the career scope of web development is constantly expanding. A boom of native mobile app developers has conquered the world of mobile application development. The features and functionality of the reactive native framework have carved out a niche in the industry causing a rush in many industries to recruit react native web developers.
Developers use the react native framework to create mobile applications. The purpose of the complete React Native Training in Chennai is to facilitate knowledge and abilities in developing applications for both android and iOS platforms. Procuring a mastery in react native can boost your career as a mobile developer.
If you have knowledge about Java, CSS and HTML5, you can opt for React Native Course in Chennai and start delivering your robust, cross platform, high-quality mobile applications. React native is an excellent path to propel your mobile development career and grab the attention of potential customers, developers and employers across the world.
FITA Academy gives you the opportunity to make your dream come true. The React Native Training in Chennai will include extensive examples of contemporary JS features, state management component interaction and application development by using the flux architecture.
The course will help you adjust your work profile as well as your social media profiles since it has a profitable and lucrative career option in today's world. All trainers have years of experience in the area and will walk you through the training guaranteeing that you designed your own application correctly from scratch.
Companies such as Myntra, Instagram, Facebook and Airbnb are seeking to employ front end development engineers, react native development experts, react native software development engineers, react native developers, react native software development engineers and for various other positions. Furthermore, learning react native skills and knowledge might lead to the possibility of working as a freelance web developer.
React native engineers are another highly demanding profession in this sector. To apply for this role, you must have an understanding of JavaScript native platform abilities as well as its practical implementation in real life.
The engineer will be incharge of building pixel perfect UIs for android and iOS mobile platforms, finding and correcting issues in order to improve applications and writing tests to ensure highest quality of the product.
Read more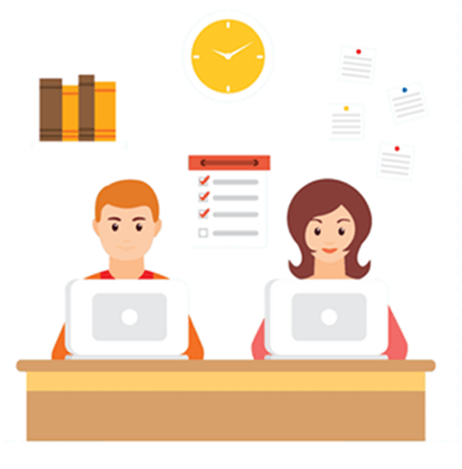 R
Rahul Kumar

Currently I am working as a junior application developer and I landed my first job with the support of FITA Academy. Learning react native course was one of my best decisions. I highly appreciate the tutors of the react native course for resolving all of my doubts and helping me to learn some complex concepts of react native with ease.
S
Suman Gupta

I have completed my React Native course from FITA Academy. I am highly satisfied with the training provided by the faculty. The trainers conducted the classes in an easy, understandable and effective manner making the class highly engaging. Moreover, the trainers kept us updated about the current job opening and demands of the industries in the market.
A
Akash Pandita

My learning experience at FITA Academy was incredible. I found it as an ideal course with highly qualified instructors assisting you at every level of training. This course was made more relevant by the mix of instructional assignments and industry-based projects.
Have Queries? Talk to our Career Counselor
for more Guidance on picking the right Career for you!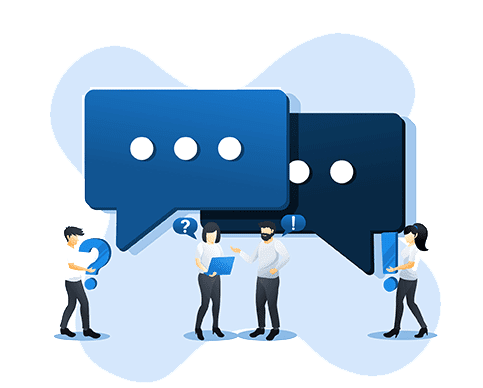 React Native Training in Chennai Frequently Asked Question (FAQ)
Additional Information
React native is a framework for creating native applications for android and iOS mobile devices. The developers use React native framework to create mobile applications. The React Native Course in Chennai at FITA Academy has been carefully prepared by specialists for the candidates who want to learn how to build mobile devices.
React native applications are built with a combination of XML - Esque markup and JavaScript which is also popularly known as JSX. Considering that react native has counterpart rights, you may reuse the same components for both android and iOS applications. Leading to the consequence of developing react native applications easily and rapidly.
Furthermore, the react native Bridge requests native rendering Apis in Java and Objective-C. As a result the applications created should be extended with the use of real mobile UI components rather than Web use to make them more eye-catching and engaging to consumers. Aside from that, react native pays attention to the user interface features allowing applications to load quickly and work more smoothly.
The course will begin with an overview of react native which will include theoretical concepts of its features as well as practical training on how to create a basic react native application. The faculty will cover props and styling in react native as well as container and representational components.
The practical part of React Native Course in Chennai will cover the concept of debugging, animation and execution of iOS and android applications. The training is aimed to provide maximum practical experience as well as critical industry related insights to the students.
With intensive training and consistent practice modern JS functions, Application development using flex framework React Native Course in Chennai will help you customize your job profile on social media profile as you have lucrative job opportunities in today's world.
The developers use the native react framework to create state component mobile applications. The course fulfills the purpose of imparting fully comprehensive training in Chennai with knowledge and skills to develop applications for android and iOS platforms.
Furthermore the experienced faculty of the course will familiarise students with react native functionality and features such as declarative UI, cross platform development and platform agnostic native elements. The constant practice will enable the students to recreate interactive and robust applications through the effective use of react native technology.
The students will construct a react native application using class-based components and functions. By the end of the course,the students will get proficient in integrating the react native application into iOS or android operating systems.