Course Highlights & Why Robot Framework Test Automation Training in Chennai at FITA Academy?
The Robot Framework Test Automation Course in Chennai will provide the students with a detailed explanation of theoretical principles as well as hands-on practical training.
The faculty will assist the students and rate their ability to use RF to support a variety of technologies incorporating automation interfaces such as JMS JDBC SOAP along with other network protocols.
Students will learn how to program in languages such as python and
Java
to automate tasks.
The students will gain the ability to incorporate the page object model during the practical classes.
The students will be taught how to use PyCharm, the windows command line, and JenkinsCI platforms to execute the tools.
The course will educate the students on the usage of dynamic test automation tools to easily and swiftly automate software tests.
The conceptual structure of this course is in line with the current industry best practices and methodologies.
The faculty will attempt to introduce students to the various aspects of the robot framework as well as its functionalities.
Students will learn about several external libraries that are supported by the robot framework.
For a better understanding of the course, projects, case studies, debates, and practical assignments will be given to the students.
Read more
Classroom Training
Get trained by Industry Experts via Classroom Training at any of the FITA Academy branches near you
Why Wait? Jump Start your Career by taking the Robot Framework Test Automation Training in Chennai!
Instructor-Led Live Online Training
Have Queries? Talk to our Career Counselor
for more Guidance on picking the right Career for you!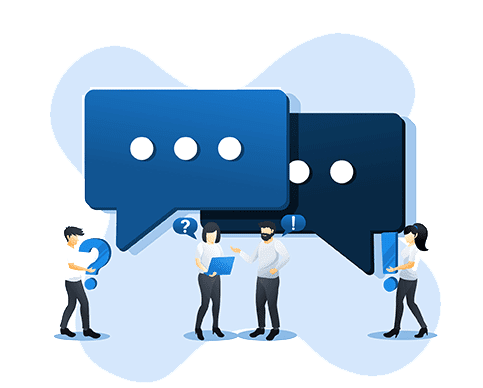 Trainer Profile
Robot Framework Test Automation Training in Chennai is offered by subject matter experts with over eight years of professional experience and their specialized area.
Our mentors are familiar with advanced techniques and strategies of robot framework and aim to incorporate their experience into their lessons.
Our professional experts have completed numerous projects to create automated tests for various mobile applications and website platforms.
Our subject matter instructors provide the skills and confidence to succeed in the field of robot framework test automation.
FITA Academy experts have conducted more than 2000 sessions and workshops for more than 30,000 students of various age groups.
Features
Real-Time Experts as Trainers
At FITA Academy, You will Learn from the Experts from industry who are Passionate in sharing their Knowledge with Learners. Get Personally Mentored by the Experts.
LIVE Project
Get an Opportunity to work in Real-time Projects that will give you a Deep Experience. Showcase your Project Experience & Increase your chance of getting Hired!
Certification
Get Certified by FITA Academy. Also, get Equipped to Clear Global Certifications. 72% FITA Academy Students appear for Global Certifications and 100% of them Clear it.
Affordable Fees
At FITA Academy, Course Fee is not only Affordable, but you have the option to pay it in Installments. Quality Training at an Affordable Price is our Motto.
Flexibility
At FITA Academy, you get Ultimate Flexibility. Classroom or Online Training? Early morning or Late evenings? Weekdays or Weekends? Regular Pace or Fast Track? - Pick whatever suits you the Best.
Placement Support
Tie-up & MOU with more than 1200+ Small & Medium Companies to Support you with Opportunities to Kick-Start & Step-up your Career.
Robot Framework Test Automation Certification Course in Chennai
About Robot Framework Test Automation Certification Course in Chennai at FITA Academy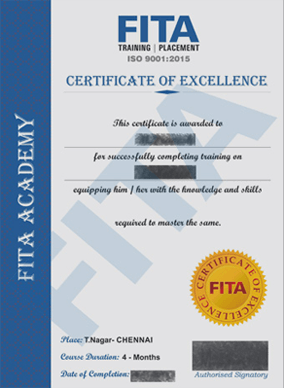 Robot Framework Test Automation Certification Course in Chennai
After the complete study of the Robot Framework Test Automation Course in Chennai, the FITA Academy grants you a certificate. The certification given stands out as a testimony to the industry-oriented skills and knowledge gained during the thorough study of the course. The certificate of FITA Academy is recognized and accepted by national as well as international universities along with companies across the world. The FITA Academy is extremely famous for its updated curriculum framework which is aligned with advanced customizations in the robotic facility industry. The knowledge, as well as skills imparted to the students, corresponds to the trends and requirements of the test automation industry. The students will get proficient in the installation and configuration of robot framework plus libraries for selenium database API and more. Adding the certification of the Robot test framework to your resume will add significant value to your career prospects which will result in job opportunities and professional exposure for the candidates.
The professionals of FITA Academy will help the students to create and run their very first selenium test automation script in just a few minutes. Moreover, a series of demonstrations will be displayed on the creation of the selenium web driver test automation script easily. Acquiring such skills along with this certificate will offer the candidates tremendous job opportunities to show up in innumerable companies. And additional placement assistance and demo interviews provided will prepare our students for the arduous process of getting hired as an employee in a prominent company. FITA Academy teachers have associations with over 500 companies and industries to ensure that our students can obtain their desired job position in an exceptional organization. The salary package in the field varies based on the work experience certification and skills the candidate possesses. A fresher with certification in Robot Framework Test Automation Training in Chennai is eligible for a salary package of Rs. 5,40,000 per year. On the other hand, an individual having experience of more than two years along with certification and Robot Framework Test Automation training in Chennai will be eligible to receive a salary package of Rs. 7,50,000 per year.
Read more
Have Queries? Talk to our Career Counselor
for more Guidance on picking the right Career for you!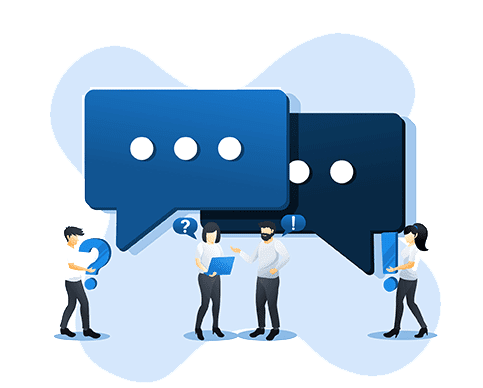 Job Opportunities After Completing Robot Framework Test Automation Training in Chennai
The robot framework is an open-source automation framework with a wide range of applications. It may be used to automate test processes and robotic processes (RPA). A robotic framework along with being an open and extensible framework can also be utilized in conjunction with almost any other tool to construct powerful and adaptable automation solutions. Robot framework has immensely become a priority for many technical organizations which prefer test-driven and agile development. It is widely used by innumerable marketing organizations to reach their potential audience. Robot framework has a structure for automating tests in general the framework is mostly used for acceptance or quality assurance testing as it is built in a tabular sent tax it will be simple to use. Moreover, the Robot framework is independent of operating systems as well as applications. The primary aim of using the robots is remembered for acceptance testing and acceptance test-driven development. The proliferation of robot frameworks is huge. In addition to using keyword-driven code writing, it also incorporates IronPython and Jython.
With its various benefits and features, this automated framework is popular among top enterprises and organizations given its importance and functionality, the demand among professionals has increased significantly, especially as the amount of software applications has grown across the world. After getting certified the important job opportunities that trainees will find in the market are- test analysts, test engineers, network automation engineers, automation engineers, automation test software engineers, and QA engineers. The responsibilities of an automatic test engineer incorporate analyzing application requirements and creating a layout of documents. Moreover, the candidate is also responsible for creating comprehensive test structures and executing the test. Along with that they also hold the responsibility of analyzing document results. FITA Academy is affiliated with more than a hundred corporate and noncorporate organizations across the world. This will ensure that students have the professional skills and knowledge to accomplish their desired job. In FITA Academy the course curriculum framework for Robot Framework Test Automation Course in Chennai is designed to provide students with a hands-on experience that will help them to build confidence and the execution of automated test processes. If you are required to run automated tests on a variety of browsers, databases file systems, mobile devices as well as on API's then this is a perfect course for you. The testers with no such required programming experience will appreciate how easy the robot framework is to learn as well as to execute. Even if the candidate is a professional user of selenium web driver or cucumber then they will appreciate how capable and elegant the concept of robot framework is for test automation.
Read more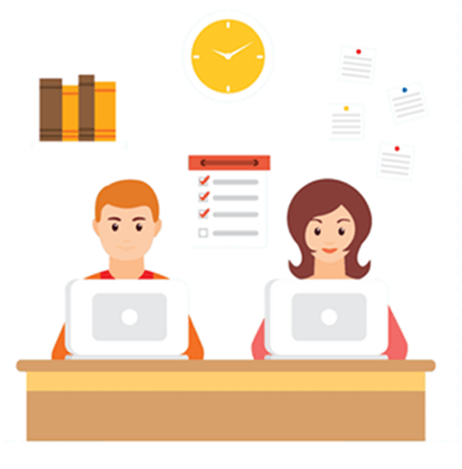 G
Gaurav Sharma

I completed my Robot Framework Test Automation Course in Chennai from FITA Academy. The trainers clearly explained each concept with real-time examples in a professional manner that is very appreciable.
S
Saanvi Pandey

The detailed content and hands-on sessions of the course provided maximum exposure in this area guidance and mentoring from professional experts made learning of this course very easy and interesting. I highly recommend this course to my friends.
D
Darsh Patel

When I started this course I had no knowledge of test automation. However, the thorough study of this course and the dedication of the experts helped me find my career path in test automation.
A
Arushi Gupta

Robot Framework Test Automation Training in Chennai is an amazing course for people who are starting their careers in test automation. The course is well organized, clean as well as easy to follow. The subject matter experts are very knowledgeable and conduct the course systematically. I highly appreciate the good work of the FITA Academy professionals and look forward to more such interesting courses.
Have Queries? Talk to our Career Counselor
for more Guidance on picking the right Career for you!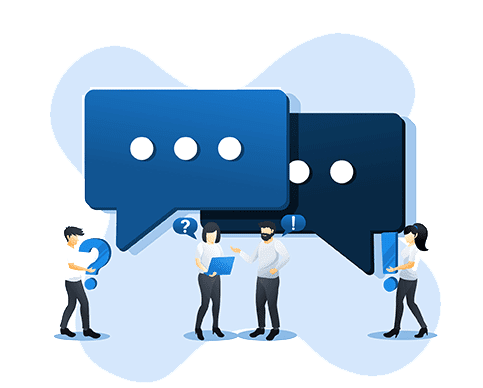 Robot Framework Test Automation Training in Chennai Frequently Asked Question (FAQ)
Additional Information
As an open-source test automation platform, it offers distinct test case designs making the automation of any script easier. The Robot Framework Test Automation Course in Chennai curriculum framework includes a full description of each important topic. If you are already an experienced user of selenium web driver cucumber or QTP/UFT, you will quickly learn how elegant and capable the robot framework is as compared to these tools. The detailed course of Robot Framework Test Automation training in Chennai Will provide you with an overview of the free open-source test automation tool robot framework. Beginning with the comprehension of the robot framework the students gain knowledge of the robot framework features benefits and limits the class will next move on to actual demonstrations of how to set up a robot framework environment the faculty will teach students how to install Python and create parts for Windows as well as how to use PIP, wxPython for Ride IDE, and the Ride robot framework.
Furthermore, a series of demonstrations on configuring the part on UNIX, Linux and adding the python directory to the path will be provided to the students. In this case, students will learn how to develop test cases and run them efficiently. The process of setting up the projects, and important libraries, writing test cases in tabular form, using tags for executing the test cases, and finally using resource files for test cases will be covered in the course. The students will be taught the concept of developing their own robot framework with learned skills and tools under the guidance and supervision of the subject matter experts.
The project cases will be provided to the students for a better grasp of the concepts. The students will be given sufficient exposure to keyword and data-driven test cases in later models of the course. The following modules will help the students to get their hands on the testing of the workflow of test cases utilizing keywords or data-driven styles. The FITA Academy professors will endeavor to support the students by providing crucial notes and study material throughout the course.
In the subsequent modules of the course, the students will get properly introduced to the keywords and data-driven test cases and the test case workflow using a keyword or data-driven style. Throughout the course, the faculty of FITA Academy will help the students to set up projects in Ride, Important the selenium library test cases using chrome and Firefox browsers where students will be provided with additional knowledge about text fields, radio buttons, checkboxes, drop-down menus variable come online by revelation keywords using the selenium library of the robot framework and using available keywords.