Course Highlights & Why Java Course in Madurai at FITA Academy?
FITA Academy prepares students to solve real-world problems by teaching them how to read and modify java programs.
Our Java Training in Madurai aims to develop skills in executing java programs, including basic data types, control flow constructs, and syntax of a high-level, general-purpose language.
The course integrates practical lessons and live projects to ensure industry-relevant training.
Our Java certification course offers comprehensive training on validating and documenting input in java programs.
Students will gain knowledge of object-oriented paradigms in java programming to develop various software solutions.
FITA Academy offers a flexible schedule, including weekend, weekday, online, and offline classes for the comfort of the students.
Our course curriculum provides demonstrations on software development using java programming language, including writing, compiling, and implementing programs using recursions, arrays, manipulative strings, and text documents.
Students will also learn to develop robust programs in java by implementing exception handling.
Read more
Upcoming Batches
| | | | |
| --- | --- | --- | --- |
| 23-09-2023 | Weekend | Saturday (Saturday - Sunday) | |
| 25-09-2023 | Weekdays | Monday (Monday - Friday) | |
| 28-09-2023 | Weekdays | Thursday (Monday - Friday) | |
| 30-09-2023 | Weekend | Saturday (Saturday - Sunday) | |

Classroom Training
Get trained by Industry Experts via Classroom Training at any of the FITA Academy branches near you
Why Wait? Jump Start your Career by taking the Java Training in Madurai!
Instructor-Led Live Online Training
Take-up Instructor-led Live Online Training. Get the Recorded Videos of each session.
Travelling is a Constraint? Jump Start your Career by taking the Java Online Course!
Have Queries? Talk to our Career Counselor
for more Guidance on picking the right Career for you!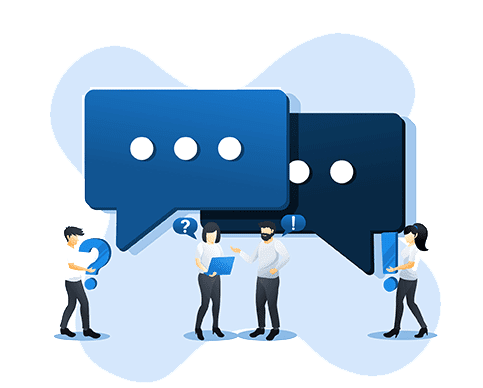 Trainer Profile
Our mentors have over 8+ years of experience in the Java programming language and related fields.
Trainers of the Java Course in Madurai hold extensive knowledge and guide the students on how to apply the acquired skills in real-time projects.
They integrate various tools, platforms, libraries, and in-demand packages to keep learners up-to-date with modern technologies.
The mentors at FITA Academy employ hands-on training and real-time projects to enhance the understanding of Java concepts.
Our trainers provide a blended learning course that covers the fundamental and complex subjects in the curriculum.
Mentors of Java Training in Madurai provide goal-centred classes and certifications through interactive learning sessions.
Additionally, our trainers offer personalised career guidance and advice to help participants reach their full potential.
Features
Real-Time Experts as Trainers
At FITA Academy, You will Learn from the Experts from industry who are Passionate in sharing their Knowledge with Learners. Get Personally Mentored by the Experts.
LIVE Project
Get an Opportunity to work in Real-time Projects that will give you a Deep Experience. Showcase your Project Experience & Increase your chance of getting Hired!
Certification
Get Certified by FITA Academy. Also, get Equipped to Clear Global Certifications. 72% FITA Academy Students appear for Global Certifications and 100% of them Clear it.
Affordable Fees
At FITA Academy, Course Fee is not only Affordable, but you have the option to pay it in Installments. Quality Training at an Affordable Price is our Motto.
Flexibility
At FITA Academy, you get Ultimate Flexibility. Classroom or Online Training? Early morning or Late evenings? Weekdays or Weekends? Regular Pace or Fast Track? - Pick whatever suits you the Best.
Placement Support
Tie-up & MOU with more than 1,500+ Small & Medium Companies to Support you with Opportunities to Kick-Start & Step-up your Career.
Java Certification Training in Madurai
About Java Certification Training in Madurai at FITA Academy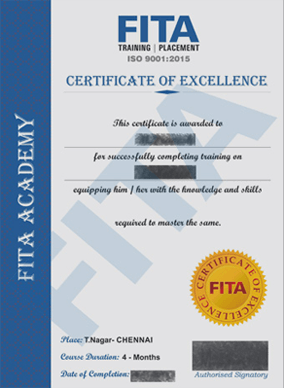 Java Certification Training in Madurai
In today's competitive job market, having a Java certification can give you a significant advantage over other candidates. Java has gained significant popularity as a programming language, and there is a growing need for Java developers. Hence, recruiters are seeking candidates with validated skills and proficiency in Java. A Java certification can be an advantageous asset in your pursuit of a job in Java development. It can provide access to new roles, higher income, and career advancement opportunities. As programming languages constantly advance, a certification can keep you updated on the most recent technologies and trends.
Earning a Java certification after completing Java Training in Madurai can open up many job opportunities. Java developers are in high demand in various industries, including finance, healthcare, retail, and technology. It demonstrates your commitment to the profession and provides tangible proof of your abilities. With a Java certification, you can stand out from the competition and demonstrate your proficiency to potential employers. It can also lead to higher-paying positions and career advancement opportunities.
One of the significant advantages of earning a Java certification is that it enhances your programming and coding abilities. By attending a Java course in Madurai, you can gain in-depth knowledge of Java programming and acquire the necessary skills to be a successful Java developer. With the guidance of expert trainers, you can learn Java from scratch and improve your existing skills and be ready to tackle complex Java projects.
Have Queries? Talk to our Career Counselor
for more Guidance on picking the right Career for you!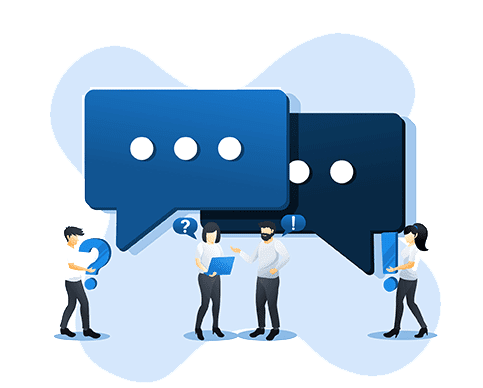 Job Opportunities After Completing Java Course in Madurai
With its increasing popularity, Java is widely used across various industries and applications, making it a highly sought-after skill in the job market. Java has a vast career scope with various roles in the finance, healthcare, retail, and technology industries.
Numerous computer science enthusiasts who wish to advance in their careers seek out Java certification programs. Upon finishing the course, the FITA Academy helps students secure suitable and fitting employment opportunities. Organisations that aim to accelerate their digital transformation often employ Java to enhance their brand visibility, operations, and results.
Industries that use Java include finance, where it is used for online trading platforms and banking systems. Healthcare also uses Java for electronic medical records and patient management systems. Retail companies use Java for inventory management systems and e-commerce platforms, while technology companies use Java for web development, gaming, and software development.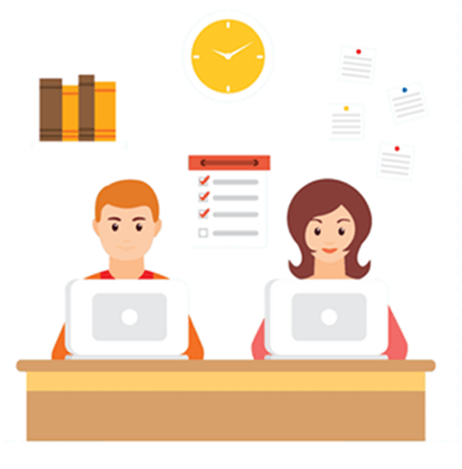 Java developers are responsible for designing and developing Java-based applications, web services, and mobile applications. Java programmers write code for software applications using Java and other programming languages. Several other positions in the field of Java include project managers, software engineers, design leads and Java architects. Major companies such as IBM, Accenture, Capgemini, TCS, Cognizant, Infosys, and Wipro are among those that actively recruit Java developers.
The salaries of Java developers vary based on various factors such as location, experience, skills, and industry. According to various job portals, the average salary of a Java developer is around $74,000 per year on a global scale. The average income of a Java developer in India is around 4,50,000 INR annually. Salaries can range from 2,50,000 INR to over 10,00,000 INR per year, depending on experience and skills. The skilled professionals at Java Training Institute in Madurai devote their time and energy to developing the students into proficient java designers, enabling them to succeed in the highly competitive job market.
Read more
S
Sanjay Kumar

I signed up for Java Class in Madurai at FITA Academy and was able to receive expert guidance from certified trainers. Their teaching methods are very informative and simple to understand. I was able to clear my Java certification with ease. Additionally, their placement programs helped me secure a job that fulfilled my requirements. I strongly endorse FITA Academy for anyone who wants to start afresh.
S
Simran George

I joined FITA Academy for my Java Training. My trainer taught me the coding concepts in a clear and concise manner. Even though I was a novice, I had no difficulty comprehending the concepts, and my queries were addressed promptly. I was provided with practical knowledge and was given the opportunity to take the certification exam and attend numerous interviews. I am grateful to FITA Academy for the opportunities given to me.
A
Akhil M

I was able to make progress in my Java programming skills thanks to FITA Academy. I can now code better than my peers. My trainers helped me develop my practical skills, and I was able to work on real-time projects. I can now implement my codes with ease and rectify flaws quickly. If you are looking for the Best Java Training Institute in Madurai, I would highly recommend FITA Academy.
K
Keerthi L

FITA Academy has given me practical knowledge on utilising my Java expertise in various scenarios. The trainers and staffs were also amiable and supportive and helped me to master the skills to perform efficiently. Moreover, I could work at my own pace without any pressure, which made the whole process fulfilling.
V
Venkateshwaran

In order to grow in my profession and enhance my abilities, I needed to obtain certification. Based on the recommendations of my colleagues, I decided to enrol at the Java Institute in Madurai. I was able to gain hands-on experience and learn about Java and its associated tools. My trainers were experts in Java and shared their working experiences, which helped me to expand my understanding of the subject matter.
Have Queries? Talk to our Career Counselor
for more Guidance on picking the right Career for you!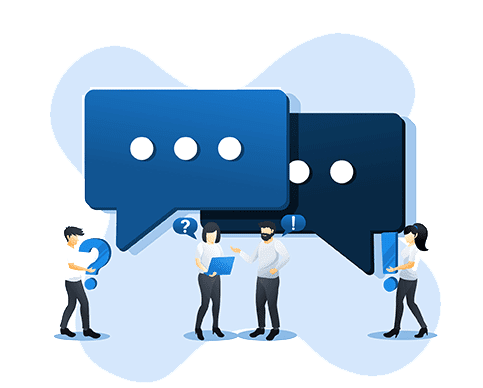 Java Course in Madurai Frequently Asked Question (FAQ)
Additional Information
Java is a high-level programming language that was first introduced in the mid-1990s. Java is a versatile language that has the ability to create various types of software, including desktop, mobile, and web applications. It is designed with an object-oriented approach, meaning that it is structured around the idea of objects rather than methods or routines. Several large corporations utilise Java, mainly for creating applications and other related activities.
Java also comprises essential features and concepts, including arrays, loops, functions, data structures, Object-Oriented programming, XML, and frameworks like Hibernate, Spring, and Service-Oriented Architecture (SOA). To gain hands-on training in Java software, it is recommended to join a JavaCourse in Madurai. Java is a highly favoured programming language among developers due to its multitudes of benefits, such as exceptional performance, durability, safety, adaptability, and compatibility with various operating systems.
Platform Independence
A fundamental feature of Java is its ability to operate on different platforms. Java applications can execute on any device with a Java Virtual Machine (JVM) installed without concern for the specific operating system. As a result, Java is widely used for creating applications that can run seamlessly across various platforms, including Linux, Windows, and Mac OS X.
Java Library
The Java class library contains pre-written code that can be used to perform common programming tasks, such as file I/O, networking, and database connectivity. This makes it easier and faster to develop Java applications, as developers can use pre-written code instead of having to write everything from scratch.
High Security
Java also has a strong focus on security. The language includes features such as automatic memory management and type checking to prevent common security vulnerabilities, such as buffer overflows and null pointer exceptions. Additionally, the Java Security Model provides a framework for implementing secure systems and preventing unauthorised access.
Various Roles and Responsibilities
Java Developer
Java developers are responsible for designing, developing, and maintaining Java-based applications. They use Java frameworks, libraries, and tools to write high-quality code that meets the project requirements. They also collaborate with cross-functional teams to ensure the application is robust, scalable, and user-friendly.
Java Architect
Java architects are responsible for designing and implementing the overall architecture of Java-based applications. They are in charge of creating a blueprint for the application, selecting the appropriate technologies, and defining the system's structure and components. They also oversee the development team to ensure the code is aligned with the architecture and meets the application's objectives.
Java Technical Lead
Java technical leads lead the team in Java development and provide technical guidance and mentorship to their team members. They make sure that the team adheres to best practices, coding standards, and quality assurance processes. Additionally, they collaborate closely with project managers to ensure that the task is completed within the specified timeframe and budget while meeting the client's requirements.
Java Project Manager
Java project managers are responsible for overseeing the entire Java development project, from planning and design to implementation and deployment. They are in charge of creating project plans, managing budgets, assigning tasks, and ensuring the project is delivered on time and within budget. They also collaborate with stakeholders to ensure the project meets their requirements and expectations.
Java Software Engineer
Java software engineers are responsible for designing, developing, and maintaining Java-based software products. They use Java frameworks and tools to create code that is efficient, maintainable, and scalable. They also collaborate with cross-functional teams to ensure the software product meets the company's requirements and quality standards.
International Java Certification
There are international qualifications available for Java programming. Obtaining a certification can improve your knowledge of the language and demonstrate your proficiency to potential employers, increasing your chances of employment. Some of the well-known certifications are the Oracle Certified Associate (OCA), Oracle Certified Professional (OCP), Oracle Certified Expert (OCE), and Oracle Certified Master (OCM).
Benefits of Java Training in Madurai at FITA Academy
In-Depth Learning – Our expert trainers provide comprehensive learning of the language, its syntax, and its features. It facilitates a comprehensive comprehension of programming principles and concepts.
Industry-Relevant Skills – FITA Academy's advanced curriculum aims to provide students with sought-after industry skills and knowledge. This enables students to be job-ready and well-prepared for the industry.
Hands-On Experience – Trainers of FITA Academy include practical projects and exercises that enable students to gain hands-on experience with the language. This can help students develop their problem-solving skills and improve their ability to work on real-world projects.
Personalised Learning – Our Java Course in Madurai offers a personalised learning experience where students can interact with instructors and peers, ask questions, and receive feedback. This enables students to learn at their own pace and better understand the material.
Certification – We offer verified certifications that impart the necessary skills, abilities, and expertise in a specific area. This certification also serves as proof of their professional status. In case they switch to a different profession or career, the employer can trust that they have the required expertise to deliver the desired outcomes without any concerns or doubts.
Career Opportunities – FITA Academy helps students gain an edge in the job market by offering placement assistance. It can open up many career opportunities. With the demand for Java developers increasing, there is a growing need for individuals with verified skills and expertise in the language.
Networking – We provide opportunities for students to network with industry professionals and other students. This can help students build connections and develop relationships that can be beneficial for their careers.
Reasonable Pricing – The expense of enrolling in our software programming certification training is relatively low when compared to the benefits that the participants will gain. Additionally, we offer affordable courses to all our students without compromising on the quality of the education.
Enhanced Knowledge – Our curriculum is all-encompassing, enabling you to gain practical experience while undertaking various activities. Furthermore, our trainers provide comprehensive instruction to ensure that you have a thorough understanding of the subject matter, in addition to helping you secure a job.
Java Course in Madurai at FITA Academy offers advanced training on several critical and intricate features such as generics, modularity, servlet container, annotations, networking, collections, JDBC, XML parsing, and JMS. Our trainers are experts in their field, providing practical examples to help enhance the student's skills. Our training methodology includes a combination of theoretical classes, practical workshops, and real-world examples.
FITA Academy provides extensive training on fundamental language features and design principles, equipping students with a deep understanding of the subject matter. Upon completing the course, participants can readily integrate into professional settings. With IT professionals consistently seeking out new skills, certification programs present a valuable opportunity to enhance their abilities. FITA Academy is the Best Java Training Institute in Madurai, providing learners with the means to obtain new Java-based knowledge and expertise.
Read more