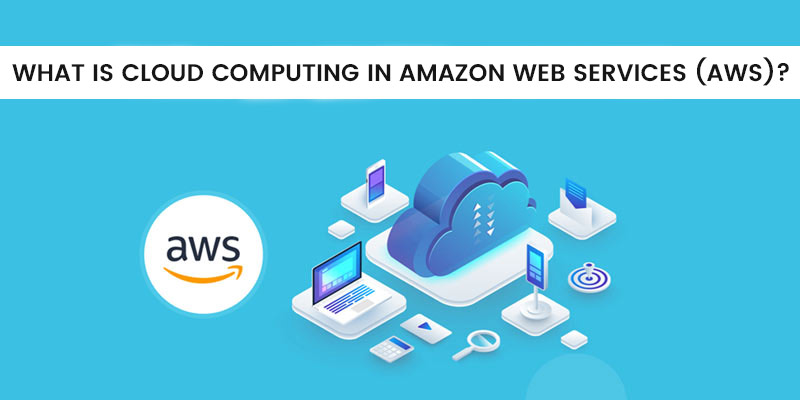 We are all familiar with Amazon. Unless you are a techie, you would be less aware of AWS. Amazon Web Services (AWS) in cloud computing is a web service launched by Amazon in 2006. AWS provides the largest cloud computing system in the world.
With AWS, you can research and create more quickly by utilising the most recent technology. As far as cloud computing environments go, AWS is made to be the most flexible and secure one. AWS Training in Chennai at FITA Academy provides the required training to acquire the necessary professional and technical skill sets to be a successful AWS cloud specialist.
Before we dig deep into the AWS cloud platform, let us first start with the basics and take a brief look at cloud computing.
What is Cloud Computing?
A network of servers located online that are used for data archiving and retrieval is known as cloud computing. Cloud computing refers to the delivery of various services over the Internet. Data storage, servers, databases, networking, and software are a few examples of the tools and programmes that make up these resources.
The majority of the time, you only pay for the cloud services you actually use, which helps you cut expenses, manage your network more effectively, and scale as your company's needs evolve.
You can use public or private clouds for computing. For a price, public cloud providers offer their services over the internet. On the other hand, limited numbers of users can access private cloud services. A network of connections that provides hosted services makes up these services. There is also a hybrid option, which combines elements of both public and private services.
To learn more about the different cloud computing services, join Cloud Computing Training in Chennai for extensive learning and comprehension.
Let us now dive deep into the world of AWS. Let's first look at what is meant by AWS.
What is AWS?
AWS stands for Amazon Web Services. AWS has the capabilities to assist you in developing complex applications with versatility, scalability, and dependability, whether you need computation power, cloud storage, media distribution, or other capabilities.
AWS cloud service offers the biggest and most vibrant community. AWS is being used by clients from almost every sector and of every size, including startups, large corporations, and government agencies. The foundation of AWS is designed to meet the security standards of the military, major banks, and other institutions of high security.
AWS technologies often operate in a variety of settings according to the needs of the user. The user should also be able to access the specified server map and the configuration type that was utilised for that particular task.
Since AWS is a service-providing platform, let us take a look at the different types of services provided.
What are the services in AWS?
AWS technologies provide over 200 different types of services to the user. There are three main services in cloud computing. And all of them are provided by AWS. They are IaaS, PaaS, and SaaS
IaaS, or Infrastructure as a Service, is a form of cloud computing service that provides necessary processing, storage, and networking resources on demand, pay-per-use. IaaS products enable businesses to manage their cloud-based business resources.
PaaS, or Platform as a Service, gives you access to computing platforms, which typically comprise an operating system, an environment for running programmes, a database, web servers and more. Businesses and developers can host, create, and deploy application services using PaaS technologies.
SaaS, or Software as a Service, is a software distribution method in which a server hosts programmes and makes them accessible to end customers through the internet.
DaaS, or Desktop as a Service, is a service in which customers are provided with virtual desktops through the Internet that is registered on a per-user basis. It provides safe and reasonable desktop service delivery.
Join AWS Online Training at FITA Academy to get practical learning on the different AWS services.
As a developer, it is necessary to understand the features of a platform. Let us take a look at the different components of AWS.
What are the components of AWS?
Data Management and Data Transfer
The necessary data must be transferred into the cloud in order to execute HPC applications on the AWS cloud platform. To safely send vast amounts of data, there are numerous data transport methods available. This solves problems like slow transfer, expensive networks, and security difficulties. AWS Snow and AWS Snowmobile are the devices within AWS that have a secure layout to transport big data in and out of the server.
Additionally, you may automate the transfer of data between on-site storage and the AWS cloud servers. There are methods for secretly connecting to AWS from your location. This lowers the cost of the network, boosts bandwidth to offer more throughput, and ensures a stable network experience.
Compute & Networking
Several compute instances are available, and they may all be tailored to meet your requirements. Additionally, it takes care of monitoring your application and modifying its capacity to keep up a consistent and predictable performance at a reasonable price.
Moreover, it takes a little while to build up application scaling across many services and resources. Higher bandwidth and decreased inter-instance delay are possible thanks to the improved networking choices of the AWS cloud service.
Storage
The pricing and storage options should be taken into account when choosing a High-Performance Computing solution. AWS services offer a variety of adaptable block, object, and file storage solutions that permit the storage of both persistent and temporary data. There are three main storage spaces in AWS. They are Simple Storage Service (S3), Elastic block storage (EBS) and CloudFront.
It permits distributing memory quantities in accordance with the required size. Without undertaking a data transfer effort, you can store and access many types of data on the cloud. Additionally, you can move your load from on-premises to the cloud using the AWS cloud service.
Automation and Orchestration
To make the most of the network, you must automate the schedule of submitted jobs along with the job submission process. It is crucial to automate the task submission procedure and scheduling of submitted jobs in accordance with specified criteria.
By dynamically allocating computer resources based on demand, AWS services enable you to conduct thousands of batch computing tasks. AWSBatch and AWS ParallelCluster are the primary services provided by AWS to enhance automation and streamline business processes.
AWS offers services designed exclusively for use with AWS technologies that assist you in implementing DevOps at your business. These automatically deploy manual activities, assist developers in managing complicated big data information, and keep programmers in charge of the high speed offered by DevOps. Learn this cloud computing system at DevOps Training in Chennai and gain expertise in different cloud computing platforms.
Operations and Management
A system administrator is in charge of keeping an eye on the network and minimising the budget. There are a variety of management and tracking services available to help one optimise resource use, manage the application, receive a comprehensive view of programs and services, and respond to success factors.
Amazon Cloudwatch is a device that is specially built to monitor and manage IT managers, developers and operators. You can monitor your apps, comprehend various operations, and take appropriate action using the data and insights provided by CloudWatch.
Visualisation
Without transporting a significant quantity of data, you may quickly evaluate the outcomes of design models using the AWS cloud service. The dynamic programs can now be accessed remotely over a common network and delivered to any workstation.
Amazon AppStream 2.0 and NICE DCV are the two main services provided by AWS to optimise the visualisation process. The process of designing is greatly sped up with the aid of remote visualisation.
Security and Compliance
To execute apps in the cloud, you must understand legal safety and security administration. AWS cloud platform provides a number of rapid templates and safety services that aid in securing the AWS network and preserving customers' privacy and information.
Having read about AWS, it is natural to get curious about the scope and roles of an AWS specialist. The scope of AWS tells us about what it holds for us in the future.
Scope for AWS
With a vast majority of the global market shifting towards cloud computing, AWS technologies have been on the rise by being their top priority. Leading MNCs like Netflix, Apple, Tesla, Airbnb, Epic Games, and Adobe are among many that have migrated to AWS.
96% of tasks completed by most professionals who have integrated AWS into their workstations have been successful. People interested in careers in engineering, testing, administration, analytics, business management, web product development, and devops operations will find this skill useful.
Make sure you enrol in well-organized, professional AWS Training in Bangalore that is led by specialists if you want to be eligible for these employment chances. By enrolling in an AWS course, you will gain comprehensive knowledge of the architectural concepts and services offered by AWS and be well-equipped to stay ahead of the curve in your field.
Conclusion
In this article, we have briefly looked at cloud computing and AWS in cloud computing. We have also checked out the different services provided by AWS. In addition, we have also taken a look at the different components of AWS and their specific services.
If you are looking for a change in career to the field of AWS and related jobs, AWS Interview Questions and Answers are available at FITA Academy.
Recent Post: 10 Tips to Increase Your IELTS Reading Score