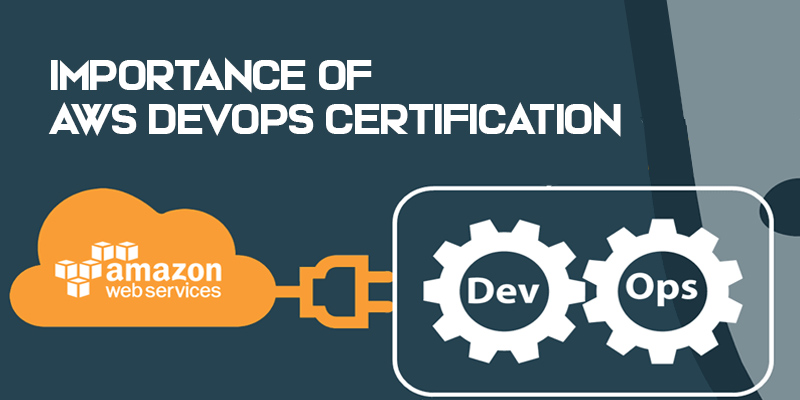 AWS DevOps Certification
AWS and DevOps are the emerging technology and have endless growth in the IT profession, now you should be aware of how important it is to get a Certification. And, which is a better platform for the highest player in the booming cloud industry, AWS.
Why should we go for AWS DevOps Certification?
Since this AWS DevOps Certification proves your technical skills in AWS and DevOps, definitely you need to have a minimum of two years of experience in DevOps and AWS skills which includes operating, managing AWS environments and provisioning.
Let see the qualifications to attempt this certification exam:
If you have passed any of the certification exams at the associate level then you can choose this certification easily.
Associate-level exams include AWS Certified Solutions Architect, AWS Certified Developer, and AWS Certified SysOps Administrator.
If you are from the below- mentioned environments, then switching to the AWS DevOps certification brings benefit to you:
AWS SysOps Administrator
Application Developers
Software Tester
AWS Solutions Architect
Integration Specialist
AWS Developer
System Architect
DevOps Engineer
Why DevOps?
DevOps helps the development and the IT operators as a team which leads to improving the efficiency and productivity level. It helps to develop the relationship between the customer.
There are two parts:
Development team
Operations team
The development team works on improving the software and developing the code worked correctly.
After this, the code got released and it is handled by the operations team. They check the applications and performance of the code by its operations team.
The operations team works on the release and execution of code and the development team works on programming, debugging, and analysis.
What is AWS?
Amazon Web Service (AWS) is a comprehensive cloud computing service, which provides the platform for database storage and the contact delivery is provided by Amazon. It is a cloud computing market that started in 2016 and has been providing perfect service delivery. Nowadays, many people are interested in AWS and they aspire to learn AWS concepts and functions. AWS Certification in Chennai at FITA Academy is the best place to learn AWS Concepts under expert guidance.
What is DevOps?
DevOps is the part of software operation development practices which combines the relationship between software development and IT operations. DevOps aims to improve and the collaboration and communication between these two business segments. It helps in the growth of businesses by improving productivity and the quality process. It helps to bring out the operational team and the development process which comes under one roof to increase and improve the performance of IT.
This process of developing, reviewing, implementing, and tracking for better results persists to continue in the organization with the implementation of the DevOps practices. Get to know more about DevOps techniques, interested candidates can register for DevOps Training in Chennai.
Do you want to know more about DevOps Certification and its benefits? Go through this link.
Why do you need an AWS DevOps Certification?
AWS DevOps Certification is the certification program that verifies the technical knowledge in expanding the applications on the AWS platform, operating and provisioning DevOps cycle on the AWS platform. This AWS Online Training involves the DevOps professional exam that needs advanced technical skills to get it. This Certification exam verifies students in managing tools in automation processes, developing a secure, reliable system, robust and designing on AWS.
With the above-mentioned points of this certification, also you will be able to code effortlessly and pick the right services for the particular application, along with gaining in-depth knowledge of automation after completing the AWS DevOps course.
Scope of an AWS Certified DevOps Engineer
Once you complete this certification, you will see the openings towards substantial job offers and interview calls. The average salary of an experienced AWS Certified DevOps Engineer is up to 71,434.00 INR.
If you really want to pursue DevOps or AWS, this is the best time, as AWS DevOps is the new trending buzzword. FITA's AWS Training in Bangalore and DevOps Training in Bangalore has been designed to support you to develop advanced technical skills which are required to successfully clear the AWS Certified DevOps Engineer of professional examination.
Recent Post: How to Become a Hacker?