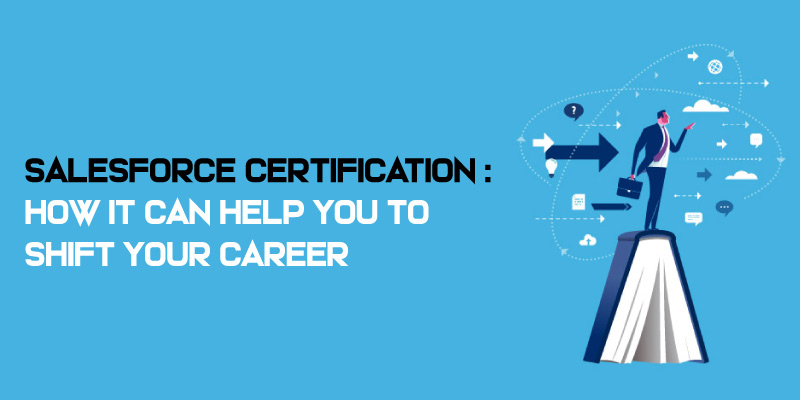 Salesforce is one of the world's top certifications providing some of the highest wages for trained and certified professionals today. The average salary for Salesforce specialists is between 4 to 5 Lakh per annum. So, in this blog, you will read about the top Salesforce Certifications and all the other related Salesforce Certifications.
Salesforce Introduction
Salesforce provides various software solutions and platforms for users and developers. Through Salesforce, we can access a wide range of products and services in the cloud, social, and mobile domains. Salesforce technology is based on cloud computing and it allows customers to handle their sales data at one stop. It is a leading software that has a plethora of products and solutions for small and medium companies.
Salesforce provides solutions for sales, marketing, and developers (you can build applications using their app builder). It provides various software solutions to customers. Tech giants like Facebook, Google, and all the nearby call center use salesforce services to solve their problems.
Sales Cloud is used by an organization sales team, Marketing cloud is used by the marketing team, chatter social application helps to connect employees and various other services.
Job roles of Sales Forces talents are Salesforce admin, developer, consultant, analyst, architect, and project manager. Know more about the Salesforce cloud via Salesforce Training in Chennai, getting guidance from FITA Academy experts will be more helpful.
Comparison of Salesforce CRM and SAP CRM
| | | |
| --- | --- | --- |
| Criteria | Salesforce CRM | SAP CRM |
| Third-party explanation | Excellent | Work in SAP ecosystems |
| Availability | Cloud | Both Cloud and on-premise |
| Industry-specific reports | Customization is time-consuming | Industry-specific versions for over a dozen enterprises |
| Standard | User interface | Extremely intuitive |
As we all know about Salesforce is one of the top certifications which will give you a complete host of skills. It is a globally used CRM tool. FITA Academy is offering in-depth knowledge and industry-designed training in Salesforce. Join the Salesforce Training Online to learn the frequent updates in Salesforce.
It promotes weightage to your profile
You can get a certification within a short period
You can clear one or many certifications
Here are top Salesforce Certifications
Salesforce Certified Application Architect
Salesforce Advanced Administrator Certification
Salesforce Sales cloud consultant Certification
Salesforce Platform App Builder Certification
Salesforce Administrator Certification
Salesforce Certified Technical Architect
Salesforce Platform Developer 1 Certification
Salesforce Force.com Developer Certification
Salesforce Service cloud consultant Certification
Salesforce Certified System Architect
If you want to learn Salesforce, then join FITA Academy.
Which type of Salesforce certification is best to choose from?
Salesforce has a huge number of certifications, you should know what you're interested in about the certifications. It may be one or many certifications. All these depend on your interest, background, salary, growth and all those things. Since Salesforce is a top domain and a full ecosystem within itself, if you have more than one certification it would add on to your credentials which means taking on more than one certification would move you to a higher position. FITA Academy offers real-time projects and practical Salesforce CRM training in Chennai with certified professionals.
Recent Post: Why AngularJS is better than JavaScript?