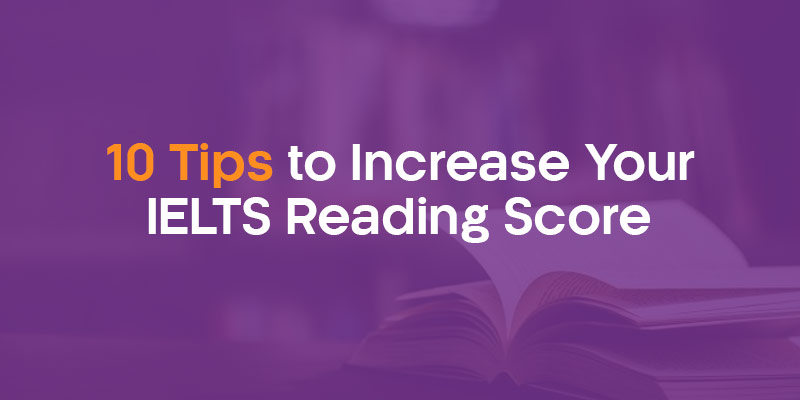 The abbreviation for IELTS is International English Language Testing System. It is a major language examination for all citizens and students who wish to go abroad. IELTS classes in Chennai offer the best classes to help you clear the exam with flying colours.
IELTS is a competitive exam that is necessary to migrate to a country where English is the dominant language. So if you wish to study, migrate or work in countries such as the UK, USA, New Zealand and more, you will require to clear the exam and present the reports.
If you have plans to move abroad for education or work, consider joining FITA Academy for your IELTS coaching, where you are provided with plenty of resources and taught by expert trainers.
IELTS exam consists of four parts: reading, listening, speaking and writing. Reading can be the easiest or most complicated, depending on how you have prepared. In this article, we will be looking at 10 IELTS reading tips and tricks that will help you increase your reading score.
IELTS tricks and tips to increase your reading score
1. The most crucial aspect - time
Use your time wisely. The 40 questions you must answer within one hour. Give each question equal priority. And if you can't seem to find the answer, move on and go to the next question. There are many reading techniques in IELTS. But you will definitely find this tip in all the suggestions.
Do not waste your time on one question. It will be challenging for you to answer all the questions. Practice your time management and try not to spend more than 70 seconds on a question.
Don't stress about the deadline at first. Look for the smallest of details and make an effort to correctly answer each question. Once you've gotten the hang of it, steadily speed your pace until, in a couple of days, you learn to complete all 40 questions in roughly 40 to 45 minutes while still having time to review and amend your answers.
2. Scanning
Scanning is the process of fast reading to find relevant data. Always strikethrough crucial details and numbers. You don't have to read the entire sentence. Pay attention to details like names, dates, figures, statistics, etc.
Instead of going through the entire content and sometimes even wasting time doing so, scanning through the passage will give you information on that particular subject. Being good at scanning will increase your flexibility, and you will be able to go through multiple passages before the given time.
3. Skimming and Summarising
Reading quickly to acquire a broad picture of the content is known as skimming.
To understand the topic of the text, carefully read the opening paragraph. Pay close attention to the opening few sentences of each paragraph because they will reveal the core topic of the text.
After reading through the content twice, you will be able to summarise the content based on what you understood. Summarising will help you leave out the unimportant points and stick to the most important ones.
Always pay close attention to the last paragraph because it usually contains the summary.
The three S- Skimming, Scanning, and Summarising- are among the most helpful reading techniques in IELTS.
4. Vocabularies
One of the hardest things any person attending the IELTS examination faces is comprehending the new vocabulary. You will come across plenty of new words. It is important to search for the meaning of the word right away and expand your vocabulary.
Even if there is a new word that you do not know the meaning of in the question, do not panic. Put the content and the context of the sentence into great consideration. You will definitely find an appropriate answer. Most of the unfamiliar words will hold their answers within the paragraph. It is important that your comprehensive English ability is good enough to examine the intricate passages.
You can also consider joining the Spoken English Class in Chennai, which will help you increase your vocabulary and comprehension skills.
5. Keywords
Keep a look out for keywords while you are reading. These keywords will help you find the answers as well as understand the passage better. A keyword can be anything from an obvious date or place or something more subtle.
Determine the keyword from the question, and then search the text for it and any possible synonyms. Keep an eye out for keywords because they allow you to read the section more quickly when you go back and review it.
Your keywords can also be synonyms or closely related words rather than the precise word used in the text. Therefore, you should try to comprehend their meaning in order to connect them effectively with the appropriate paragraph. However, your ability to paraphrase and use adjacent phrases will enable you to comprehend the question's intent.
6. Active reading
You must develop your reading skills. You can only accomplish this by regularly reading in a style that allows you to paraphrase while employing synonyms and deduce the meaning of the question because the language in the question might not correspond to the language in the text.
The rigorous time constraints of IELTS will severely test your ability to finish the questions in the allotted time. In order to locate your answers fast, you must improve your speed reading abilities. This means that you must be able to quickly scan the paragraph in order to find the information.
7. Re-read the questions
The questions are prepared in such a way that they make the answers look obvious, but there is always an underlining to it. What you think might be the answer might now always be it. It is important to read the question and the passage a few times to get a clear understanding of the question and content.
Although it might not look like much, these IELTS reading tips and tricks will definitely make a difference in the results.
8. Paraphrase
By rephrasing and utilising your own words, you may concentrate on the key idea. It gives you the ability to refine a concept, develop an idea, and help you understand the questions better. It eliminates repetition and improves the clarity of the content.
9. Try different strategies and practice
Every human being is different from each other. Sticking to one strategy doesn't always work for everyone. It is better to try out different approaches and methods and adhere to the one that suits you the best. Unless you keep practising, there is no room for improvement.
Go out of your way and read something you usually wouldn't. Be it a newspaper or a different novel genre, exploring and expanding your strategies will help you find a comfortable style.
There are many IELTS practice tests and previous years' question papers that you can get access to and keep practising until you are satisfied with your speed and strategies.
You can join the IELTS Online Classes that will help you improve your skills and get grades above your expectations.
10. Dont leave any questions unattended
At the time of the examination, there is no telling what can go wrong. Make sure the nerves don't get the best of you. But by chance, you dont get enough time to look through all the questions. Do not panic.
IELTS exam has a system of negative grading for each question unattended. Make sure you don't leave any unattended even if they are wrong; it will cost you a mark.
You can boost your projected results and increase your level of confidence by using these IELTS reading academic tips.
Importance of taking the IELTS examination
You will receive a test record that is recognised and approved by thousands of organisations worldwide, including employers, universities, professional bodies, and government agencies if you take an IELTS test.
An essential requirement for acquiring a visa is demonstrating your language ability. These reports can be the deal breaker in your career success.
You'll improve your mastery of the English language. Some students prefer certain skills over others. When you take the IELTS exam, you will be assessed on all four skills—Listening, Reading, Writing, and Speaking.
You will be taught to gain the proficiency in English that you require for success. If you take the IELTS Academic test, you'll learn more about the kind of language that students require in order to study in English.
But above everything, your language will improve, and you will have a clear goal in life that you will have the motivation to work towards.
Conclusion
In this article, you have looked into the essential IELTS reading academic tips that will help you ace the exam. These tips will help one overcome nerves and answer all your questions on how to improve reading skills in IELTS. In addition to that, we have also briefly looked at why the exam is so important and well-known across the globe.
You can easily excel in this exam by having enough practice and guidance from the IELTS Classes in Bangalore.
Recent Post: Difference between the Router and Switch one must know about