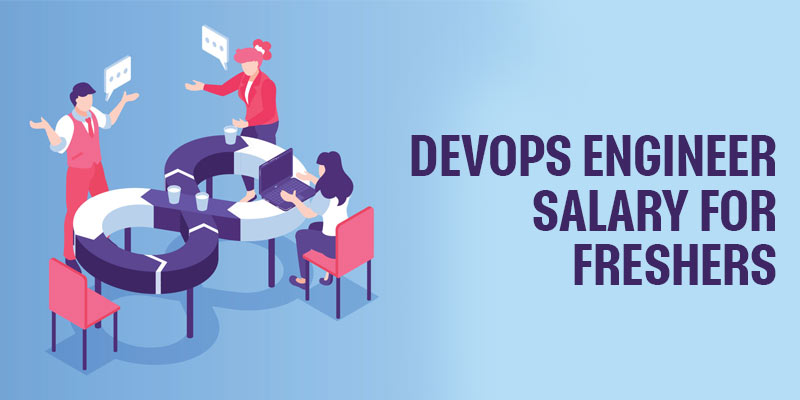 In the world of technology, we have plenty of opportunities to begin. Among various IT-related career fields, DevOps has evolved with plenty of job opportunities for freshers. The demand for DevOps professions is witnessing a spike in the digital economy.
According to the server, it is stated that the demand for DevOps engineers increased to 5% compared to previous years' static. According to the job portal, there are more than two lakh+ jobs in many top job portals like Linkedin, Naukri, etc. Moreover, many leading companies like Accenture and cognizant hire freshers with relevant skills, and DevOps engineer salary in India ranges from 3 to 3.5 lakhs per year.
If you are interested in becoming a DevOps engineer, pou can join DevOps Training in Chennai and learn the core concepts such as DevOps Principles, DevOps Ecosystem, Linux Versions, Package Management, Networking essentials, SSH configuration and many more.
In this blog, we shall discuss DevOps salary in India, the roadmap to becoming DevOps engineers, skills and the responsibility of DevOps engineers.
Why DevOps is Demanding
The demand for DevOps engineers is increasing aggressively, and many IT-based technologies quickly switch to DevOps-related technologies. Many companies like Amazon, Netflix, Google and Walmart and many leading software-based companies utilize DevOps in their day-to-day processes to improve efficiency and delivery time.
Many software-based companies utilize the DevOps development lifecycle to integrate and deliver software products and services to clients worldwide. As every company stays competitive, the demand for DevOps professionals is surging. DevOps engineers are one of the high-paying jobs in the IT sector. Companies like Accenture, Barclays, and Facebook continually hunt for qualified candidates. However, those with DevOps skills and advanced DevOps certifications frequently generate more revenue.
Now, we shall look at DevOps engineer salary in India for freshers, and compensation depends on the company:
Salary of DevOps Engineer in India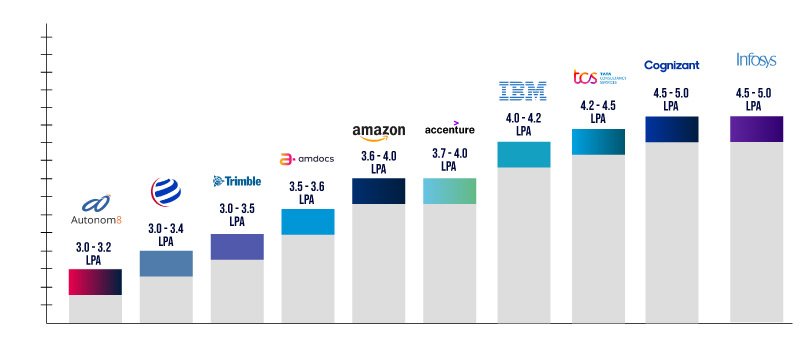 Moreover, there are plenty of job opportunities for freshers to begin their career in these companies. Even e-commerce giants such as Amazon, eBay, and others are quickly adopting DevOps, resulting in a plethora of job prospects for DevOps experts.
Types of Job Roles
Engineers in this field are continuously in high demand. The list goes on and on. That is the crucial reason for the high DevOps compensation in India. The ever-increasing demand for goods and services.
What is DevOps?
DevOps is a tool that aids the organization in providing applications and services more efficiently than the actual deliverance. Moreover, DevOps tools help businesses improve their software-based products at high velocity.
This efficiency helps the organization deliver their product much quicker than the traditional software development infrastructure of software development. The flexibility of the DevOps tools and contribution to the organization's development helps the business evolve through cutting-edge market competition.
It's a phrase that arose through the fusion of two closely related concepts. Agile operations or agile infrastructure. Agile and Lean management application to business is called the agile process. The second notion is substantially larger, requiring an in-depth understanding of how coordination between operations and development teams adds value across the software development lifecycle.
What does a DevOps Engineer do?
DevOps Engineers are responsible for working closely with the software development team, system engineers and other IT to supervise the code outsourcing. DevOps engineers are not assigned to manage one particular process; instead, they must integrate with the development team and be responsible for the entire application development lifecycle. That is why DevOps engineers must be highly skilled, and also, it is mandatory to have a profound understanding of DevOps methodology.
Responsibilities of DevOps Developer
If you intend to begin your career as a DevOps engineer, you have specific responsibilities which help you get a high paying job in the industry.
Project Planning
DevOps engineers are responsible for the project planning and processing. However, they are in the response of building applications, testing and releasing.
Product Development
As a DevOps engineer, you are responsible for building, developing, and handling the IT team. To outsource the product, they must deploy, set up, and execute reusable components to meet the technical requirement, maintain script, test data, updates, and many more.
Product Deployment
Using configuration management technology, DevOps Engineers design and implement automated deployment solutions. This enables them to deliver new components, enhancements, and patches directly into production.
Performance Management
Apart from testing the applications, DevOps engineers are assigned to update and enhance the performance.
Maintenance and Troubleshooting
The two main tasks of a DevOps engineer are troubleshooting and maintaining. Using strategy, DevOps engineers are responsible for building and maintaining applications.
DevOps RoadMap
Understanding of Cloud Service Platforms
To become a DevOps engineer, you need to acquire the knowledge of cloud computing. It is necessary to know cloud computing platforms because every organization, from small to big, runs on cloud infrastructure. So, acquire cloud computing skills.
If you want to begin your career as DevOps engineer, learn Cloud computing Training in Chennai and learn your chosen cloud platforms-Amazon Web Services, Microsoft Azure, VMWare and Salesforce.
Knowledge of Using Tool
As a DevOps engineer, you must be familiar with the methodology of tools implementation. It is an essential skill for DevOps engineers. Moreover, you must have knowledge of monitoring tools such as Sensu, PagerDuty, Datical Deployment Monitoring Console, Tasktop Integration Hub, Librato, Prometheus, Kibana and Splunk. Having a profound understanding of these tools will help you make essential error fixation.
Knowledge and Experience of Application Deployment
A DevOps Engineer should be able to deploy to the production server. Knowledge of how to configure and deploy software in a production environment using tools like Docker and Puppet is advantageous.
Knowledge of Types of Testing
As a DevOps engineer, you must comprehensively understand testing, such as Continuous Testing, Continuous Delivery, and Continuous Integration. Moreover, better knowledge of these tools will help you while testing the environment.
Knowledge of Source Code Management Tool
As a DevOps engineer, you should know the process of automation and should know to build commits constantly. Further, you should use an automation server and knowledge of the Source Code Management Tool.
Skills of Source Code Management
As a DevOps Engineer, you should be proficient in at least one source code management tool:
Team Foundation Server, Kallithea, Helix Core Version Control, GitLab, Bitbucket Server, Subversion, Mercurial, GIT, GitHub and Gerrit.
Join AWS Training in Bangalore and learn Accessing AWS, Creating a AWS Account, AWS Management Console and three important services models of cloud computing- Software as a Service (SaaS), Platform as a Service (PaaS) and Infrastructure as a Service (IaaS).
DevOps Engineer Salary in India
DevOps engineer salary in India for freshers depends on their skills, qualification, and experience. Many factors affect the salary of DevOps engineers; the main cause is location. The DevOps fresher salary merely depends on location. The average DevOps fresher salary ranges from 3 to 3.2 lakhs per year.
Experience-based DevOps engineer salary in India for freshers

The above bar diagram demonstrates the average compensation, but the pay scale may increase after gaining years of experience.
Location-based DevOps fresher salary

Skill-based DevOps engineer salary in India

Moreover, if you are interested to learn python, join Python Training in Bangalore and learn the Lists in Python, Python Dictionaries, Python Basic Data Types, and sets in python.
Most Demanding Sklills
If you are intending to learn one programming language , then choose Java and join Java Training in Chennai and core concepts of java, java tools, libraries, features of java, etc.
DevOps Engineer skills
We are confident that this must-have has inspired you to pursue a career as a DevOps Engineer! In India, the need for DevOps Developers is currently at an all-time high. We hope you liked our blog on the salaries of a DevOps Developer in India. Master the abilities and gain recognition for yourself as a DevOps engineer. Join DevOps Training in Bangalore and learn DevOps Ecosystem, Networking essentials, SSH configuration and introduction to GIT.
Recent Post: Data Scientist Salary for Freshers