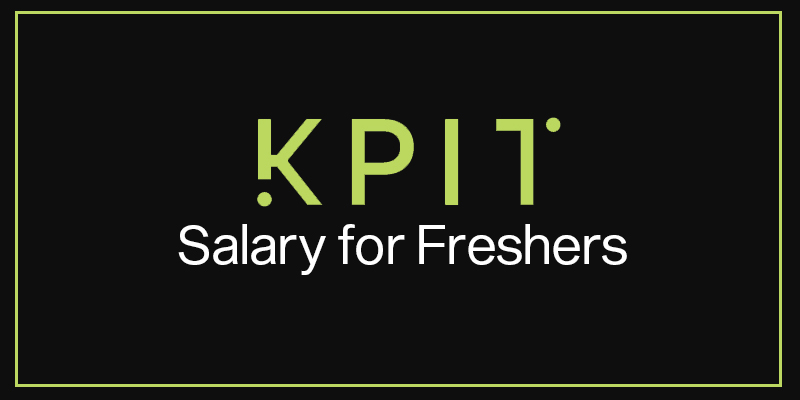 Kirtane and Pandit Information Technologies (KPIT) Global multinational company is based in Pune, Maharashtra. The KPIT salary for freshers could be a warm welcome for the new graduates with a dream of an IT career. The business operates development hubs in several locations throughout the world, including Europe, the US, Japan, China, Thailand, and India. The KPIT fresher salary differs not only based in different countries but also within the same country.
The company is also well renowned for being the world's biggest maker of engineering products. A committed group of smart, youthful people is the secret to the business's enduring reputation. And now, the business has begun to employ recent graduates with a competitive KPIT Salary for Freshers. Let's talk about the applicant's suitability for the position.
Demanding IT Skills at KPIT Technologies Limited
According to the recent research of CompTIA's team based on Cyberstates, the most in-demand IT skills of today's age are divided into four groups based on their frameworks. They are,
Development
Infrastructure
Data
Security
The topmost technical skills from the four categories are briefed below for the benefit of the freshers to make use of it.
If you want to become a web developer at KPIT Limited, enrol yourself in the Full Stack Developer Course in Chennai and gain comprehensive knowledge in the front end, back end and database levels of web development.
Programming Languages
The most widely used programming languages include Java, Python, PHP, C++ and Ruby. Programming languages use classes and functions to intimate the commands. Programming is so important because it tells a computer to do the same tasks over and over again so that people don't have to do them repeatedly. Instead, it can be done automatically and correctly by the software.
Cloud-Native
Cloud-native is a way to build and run apps that can use as much computing power as needed on public or private clouds. Cloud-native platforms automatically set up, configure infrastructure and divide up resources based on the needs of an application.
IT teams aren't tied to one cloud because they can run apps and services wherever they make the most of it. The platforms automatically check for problems and fix them, whereas before, this would have had to be performed manually. Teams can use open source automation and container technologies to build their own platform, or they use a paid platform like AWS, Microsoft Azure, or Google Cloud Platform.
Amazon Web Services (AWS) is the most commonly used cloud platform for small to large-scale companies in the IT industry. Hence gain a certification from the AWS Training in Bangalore to unlock the job opportunities worldwide.
Machine Learning
Machine learning comes under the domain of Artificial Intelligence, that has become one of the most important skills to learn in the technology world. It is useful for programmers and data professionals. Simply put, Machine Learning lets a user give a computer algorithm a huge amount of data and have it analyse the data and make decisions as well as recommendations based on the data.
Automation
Automation increases efficiency, which is exactly what many companies need. IT professionals can use automation at every level, from the help desk to cybersecurity. Automation saves time, money, and effort and also cuts down on mistakes made manually. This gives your business more time to focus on its main goals. Tasks that are done quite often can be performed quicker. When processes are automated, each task is done exactly the same way, and there is no room for error.
Automation of software testing is booming in every single company of product and software development. Join the Selenium Training in Chennai and gain knowledge of the most important and widely used automation tool in the industry. The certification will help you to increase your KPIT Salary for Freshers and achieve sooner hikes and promotions.
Cybersecurity Analytics
Cybersecurity is important because it keeps all information from being stolen or damaged. This includes sensitive data, information that can be used to identify a person, protected health information (PHI), personal information, intellectual property, data, and information systems from the government and industry. Without a cyber security programme, an organisation can't protect itself from data breach campaigns, which makes it an easy target for cybercriminals.
UI UX Designing
Proper UX design is important because it can help to increase productivity, lower costs for customer support, and make it easier to keep customers and bring in new ones. Each of these benefits appeals to businesses that are going through another tough year and trying to improve their bottom line. IT professionals can become experts in the tech industry by learning UX design skills like researching target markets, visual design, coding, and project management.
Enrol yourself in the UI UX Training in Bangalore and start your career as a design expert of websites, applications and software.
KPIT Salary for Freshers based on Technical Job Roles
The employers structure the salary for any job role in a company based on the role's importance in achieving its goal and the number of responsibilities shouldered to them. Though a high salary is necessary to lead a better life, job satisfaction is the foremost important thing as you travel towards the end of the day. Below is a chart of differences in the KPIT package for freshers based on various technical job roles.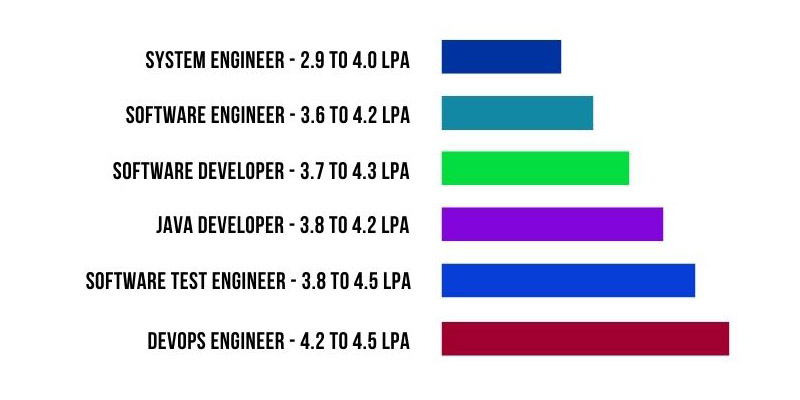 Various Technical Job Roles, Responsibilities and Qualifications at KPIT Technologies Limited
Data Scientist
A data scientist collects, analyzes, and makes sense of very large amounts of data. The job of a data scientist is a combination of the jobs of mathematician, statistician, and computer professional. For this job, you must use advanced analytics tools like machine learning and predictive modelling. A data scientist needs a large volume of data to develop hypotheses, draw conclusions, and look at customer and market trends. The KPIT fresher salary for Data Scientists ranges between 4.3 to 4.5 LPA. Join the Data Science Course in Chennai to gain all the professional skills required to become an efficient data scientist in the industry.
Responsibilities
They perform data mining, which is the process of getting useful information from good data sources.
Using tools for Machine Learning to choose features, make classifiers, and improve them.
To perform preprocessing on both structured and unstructured data. Improving data collection so that all relevant information is included.
Data that will be used for analysis must be cleaned, checked for accuracy, and processed.
Analysis of large amounts of data to find patterns and their insights.
Making prediction systems and algorithms for Machine Learning (ML).
Getting results across in a clear way and coming up with solutions and plans to deal with business problems.
You can join the Artificial Intelligence Course in Bangalore to learn about machine learning, which might help you gain data science proficiency. This can also help you to boost the KPIT fresher salary for a data scientist in the company.
System Analyst
A systems analyst uses IT to solve business problems by utilizing analysis and design techniques. Systems analysts can be the change agents who figure out what changes need to be made in an organisation and design systems to make those changes happen as well as train and motivate others to use the systems. A systems analyst often works with a business analyst. Both job roles are commonly considered synonymous as some of their responsibilities are the same, but they are two distinct roles in this field.
Responsibilities
Analysis and evaluation of the current systems of the company.
To identify new system requirements.
They suggest solutions for process improvement.
They communicate with users to find out their other needs and requirements.
They work with the IT team and developers to make new systems and improve the existing systems.
To test and fix problems often.
You can groom yourself by earning certification in the CCNA Course in Chennai (Cisco Certified Network Associate) to gain proficiency in the System Analysis field.
Software Engineer
As a software engineer, you will work in an environment that is always changing because of new technology and the strategic direction of your company. You'll build, maintain, audit, and improve systems to meet specific needs. A software engineer tests both hardware and software systems to find and fix problems. Writing diagnostic programmes, creating and writing code for operating systems and software to ensure they work well is also part of the job.
Responsibilities
Write and test the codes, make changes and rewrite them as needed, and communicate with other programmers to make improvements to the project.
Research, design, and write new software programmes (like business apps or computer games) and computer operating systems.
They evaluate the software and systems that help in the functioning of computers and other hardware.
They create new programmes by analysing existing ones and finding places where they could be improved.
Integrate existing software products and get platforms that don't work well together to work together.
Join the Python Training in Bangalore as a software engineer should be strong in the computer programming and coding domains.
Core Java Developer
A Java developer is someone who uses the programming language to make apps and software. A Java developer is a professional programmer who specialises in Java. They may work with web developers and software engineers to add Java to business software, websites, and apps.
They are involved in the entire process of making a product. They must be able to figure out the problem, analyse it, and come up with a good solution. Other tasks may include gathering and writing down user needs, analysing data, and testing for quality assurance.
Responsibilities
Designing, implementing, and maintaining Java applications for mission-critical systems that are often high-volume and low-latency.
Getting high performance and availability. They take part in all parts of the development process.
Writing code that is well-designed, efficient and testable.
They help in the process of analysis, programming, testing, and fixing bugs in software.
Managing the creation of Java and Java EE applications and making sure their designs meet requirements.
Making software parts and getting them ready for release.
Support continuous improvement by looking into other options and technologies.
Take up Java Training in Chennai to gain a comprehensive knowledge of the IT industry's most widely used programming language.
KPIT Salary for Freshers based on Non-Technical Job Roles
Though technically skilled labour is essential for a company's growth, the non-technical labours lay the foundation for it and assist them throughout the process of achieving the company's goal. The non-technical labours of KPIT Limited are well paid and the salary for each role again gets varied. The KPIT fresher salary for non-technical job roles is given below in the picture for a better understanding.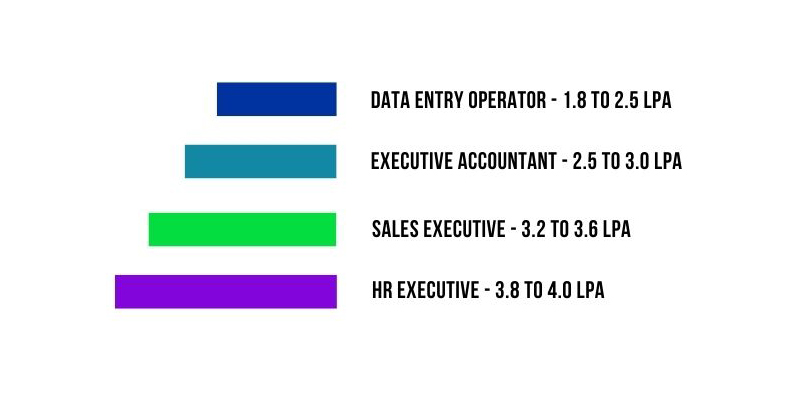 KPIT Salary for Freshers based on Location
Commonly, working in abroad earns you more money for the same role than in your home country. The salary of a job role can also differ within a country based on the lifestyle of people, cost of living and the relocation expenses. Below is a bar chart of the difference in the KPIT fresher salary for both technical and non-technical job roles.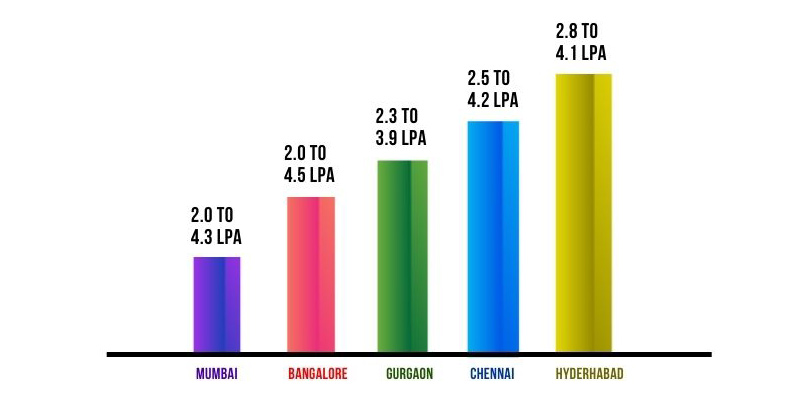 Employee Welfare at KPIT Technologies Limited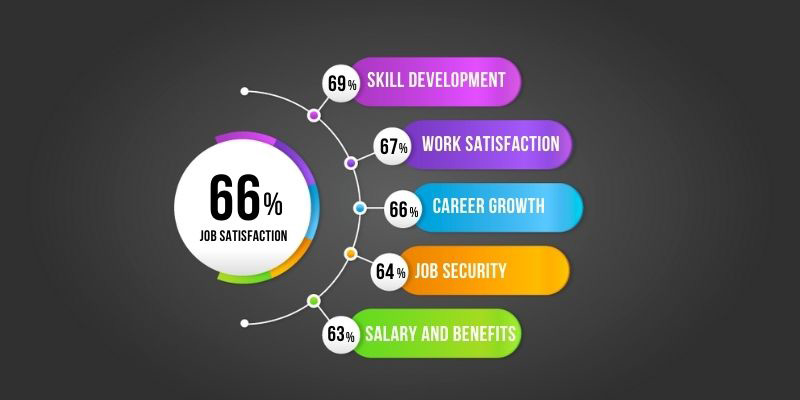 Joining KPIT would be better for fresh graduates regarding career growth and job benefits. Many perks come with working for the company apart from salary benefits.The organisation helps you reach your goals and encourages you to follow your dreams. KPIT works with its employees to use their ideas and innovations to help the business grow. It gives you inspiration and helps to make your ideas better. The company looks out for families and children through medical insurance and ensures the employee's children are educated through their educational program.
You can improve your professional and personal skills by working at this company. The organisation also gives you the option of moving to different places around the world. Regular pay raises are given to people whose jobs are permanent. They also get bonuses and other perks of the employee welfare programme. You can join IELTS Coaching in Bangalore to crack your IELTS exam and migrate to foreign countries for your career growth.
So, we strongly encourage new graduates to look for open positions and apply for them. Also, the average KPIT salary for freshers seems reasonable at this point, and anyone who wants to work there can do so without worrying about the salary structure. It will grow as you gain experience and improve in your field.
Recent Post: Loops in Java - Types, Syntax and Examples