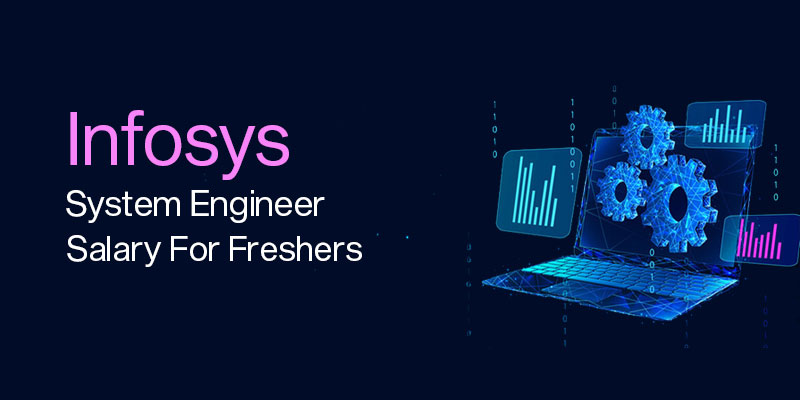 Have you ever dreamed of working in an Indian Multinational Information Technology Company? You can make your dream come true by applying for Infosys Limited. Infosys System Engineer Salary is fascinating to the fresh graduates from Engineering. Infosys provides unique opportunities for its employees to attain self-growth at every level of their designation. The initial training provided at Infosys is top-notch for any beginner to upskill their professionalism in their area of interest. Check out this System Engineer Salary in Infosys for a better vision before applying for it.
Infosys Limited
Information Systems (Infosys) Limited provides business consulting, outsourcing, and information technology services. It is the second-largest Indian IT company and the 602nd largest public company in the world according to Forbes Global Ranking. Infosys is known for caring about its employees. It gives the entry-level employees a lot of job opportunities in a challenging and interesting place to work.
The knowledge of Java is significant in the field of Information Technology as it is the foundational programming language for any kind of coding. Get placed in Infosys by joining the Java Training in Chennai. Infosys makes sure that its employees get the best training for their jobs so that they can work on projects easily.
The company trains its employees on how to use its products and also helps them figure out everything at the beginning. Infosys has become a well-known brand name over time, and its popularity has made it one of the dream companies to work for. Another reason to work at Infosys is that the brand has a good name in the market.
System Engineer and Salary Approximation
Systems engineers are very important in the complex world of computers. Their main job is to figure out what a customer or stakeholder needs and what a system needs to do in the early stages of making a product or service. Systems engineers are in charge of coordinating the work of different teams, testing, and evaluating new products or systems. Usually, they will work with a project manager and an engineering team and be in charge of communication between different groups. Systems engineers will also work on each step of a process, from the first plan to validation and implementation, with a focus on performance, testing, scheduling, and budgets.
The System Engineer Salary in Infosys ranges between 3.5 to 3.9 LPA for freshers. You can also increase your pay scale by taking up the Python Training in Bangalore. Having knowledge of more than one programming language can be an added advantage to receive promotions and hikes. Freshers at Infosys get a promotional offer if they do well during their first year on probation. This depends on how well they perform during probation. Based on their capacity, how well the person did, and how much money the company made, we could expect a 6 to 10% increase.
Infosys System Engineer Salary for freshers based on Location
Infosys System Engineer Salary for Freshers is not just based on a person's skills and work experience. It also depends on where the company is and how much it costs to live in that area. Here is a chart of the differences in pay based on where you live.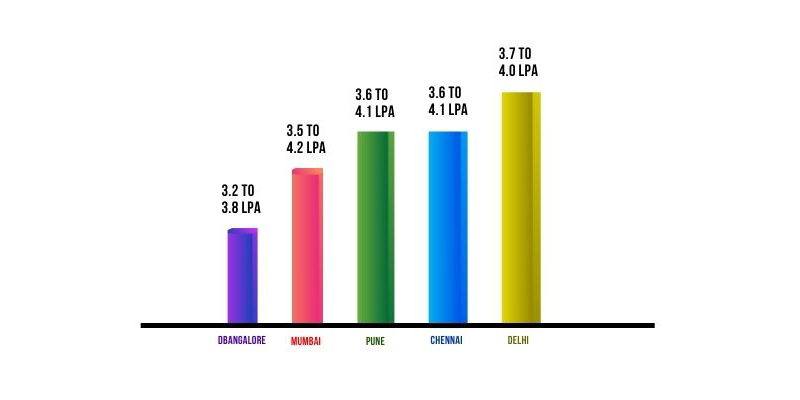 Roles and Responsibilities of System Engineer
The system Engineer role can be divided into two categories - Technical Process and Management process. In the first category, technical problems and their solutions, such as the integration of computer systems and networks are involved. Coordinating and organising the technical work in its life cycle falls under the latter category.
Infosys System Engineer Salary structure is high as they carry out the below-mentioned significant roles of the company. A few of the specific significant roles of a System Engineer are as follows,
Manages and keeps an eye on all the organization's systems and infrastructure to make sure they are in line with company rules or SOP (standard operating procedure).
In a service development cycle, they define the needs and functions of the customer.
Helps in the coordination of testing and evaluation performed by different teams in order to create the best design and put it into action.
Installs, configures, and tests system management tools, operating systems, and application software.
Make sure that systems and infrastructure are available at the highest level.
Warranty and support activities are carried out by them.
Evaluates the systems that are already in place and gives the IT support staff technical direction.
Plans and puts in place of system automation as needed to make things run more efficiently.
Watches over the creation of custom software and hardware needs of the company.
Works with other professionals to make sure deliverables are of high quality and follow the rules, policies, and procedures of the organisation.
Deals with the work process, methods for optimising work, and tools for managing risk in the given projects so that they can be completed successfully and meet the needs of the stakeholders.
Infosys System Engineer Salary Based on Experience
Salary is directly proportional to the working experience of an individual. As the number of years in work grows, the salary grows too. It's their reward for continuing to learn and getting better in their fields over the years. The Infosys System Engineer salary in India also depends on how much the person has worked in the field before. The Senior System Engineer Salary in Infosys is shown below in the form of a graph.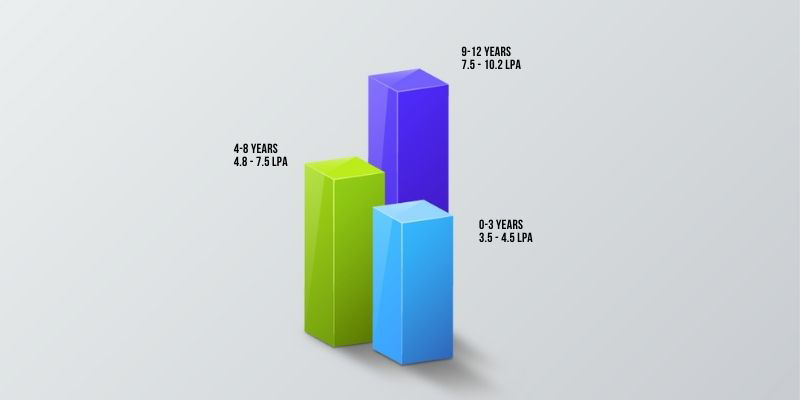 Eligibility Criteria to become System Engineer at Infosys
Systems engineers usually have a bachelor's degree in software engineering or computer science. Besides a System Engineer holding a degree, they also need to know about and have experience in the following area to increase the Infosys System Engineer Salary.
Experience in the performance tuning of application stacks like JBoss, Tomcat, Ruby, Apache, and NGINX.
Cloud Experience particularly in Amazon Web Services (AWS).
Experience with virtual box and VMware virtualization.
Network experiences like TCP/IP are also appreciated.
Systems engineers are in high demand all over the world, and if they get a professional certification, they have an even bigger advantage over other candidates. A few of the certifications necessary to boost the System Engineer Salary in Infosys are as follows,
Microsoft Certified Systems Engineer (MCSE)
Cisco Certified Network Associate (CCNA)
CompTIA A+
Network+
Certified Information Systems Security Professional (CISSP)
Certified Systems Engineering Professional
The CCNA Course in Bangalore opens the door for numerous job roles including Network Engineer, System Engineer, Network Security Specialist, Network Administrator and Information Technology Manager.
Infosys System Engineer Salary based on Technical skill sets
Earning an additional certification in the technical skill sets can easily hike your salary when you join as a fresher. All of the technical skill sets you possess can be the key factors for your promotion in the due course of time.
| S.No. | Technical Skill Sets/Certifications | Salary Structure |
| --- | --- | --- |
| 1 | CCNA (Cisco Certified Network Associate) | 4.2 to 4.5 LPA |
| 2 | Cloud Computing | 3.7 to 4.0 LPA |
| 3 | Java | 3.8 to 4.2 LPA |
Demanding IT Skills
Systems engineers should be good at communicating, working with other people, managing projects, and making decisions. They should also be good at analysing, solving problems, and resolving conflicts since they work with many different departments and stakeholders who may have different project goals.
Systems engineers should also be skilled in information security, integration, and data architecture in addition to the skills listed in the previous sections. Since a system engineer has to work with coding, exposure to the programming languages like C and C++ is necessary. A systems engineer should also have some knowledge of math, application development, and systems software.
Salary for other Job roles for freshers at Infosys
Infosys has so many other vacancies for job roles like Data Science Analyst, Associate Business Analyst, Associate Consultant, Associate Finance, Business Development Associate, Designer, Operations executive and so on. A few of the major job roles and their pay scale are given below in the chart. Infosys System Engineer Salary also works under the same theory. The difference in the salary structure of a System Engineer in Infosys is given below in the table.
Data Science Analyst could be an interesting job role in recent times. Data Science Course in Chennai nourishes you with professional skills and provides you with the opportunity to work on a real-life project during the course period. It is never late to take up a new career.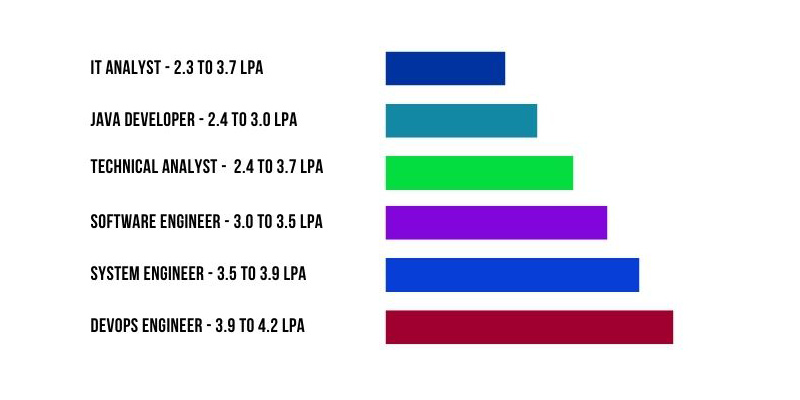 IT Analyst
IT analysts are experts in information technology who look at how information systems work and make improvements to them. They use their skills to find business opportunities and risks by evaluating and creating information solutions. They also look at how IT works with people and give advice to companies on how to use IT.
Prerequisites
Graduate of Information Technology or Information Systems or Computer Science.
Knowledge of database, system security and troubleshooting.
Experience in project management.
Good at both oral and written communication.
Software Engineer
Software engineers pay attention to how engineering principles can be used in software development. Their job is to use software programming languages to analyse and change existing software, as well as to design, build, and test end-user applications that meet user needs. Focus is also on the large and complicated software systems that comprise an organization's core systems.
Prerequisites
Major qualifications of an individual to become a software engineer includes,
Computer Programming and coding - Java, Python, C# /.Net, Ruby, Mean
Software testing and debugging skills
Problem solving and logical thinking skills
Good written and verbal communication
Object-Oriented Design (OOD) skills
Joining the Python Training in Chennai could be inevitable for any IT veteran as it is the general-purpose programming language and can be deployed anywhere including daily life.
Technical Analyst
A technical analyst is a trained professional who has the skills and knowledge to look at the financial market and find important patterns in time that can be used for trading. Technical analysts often work in brokerage firms, banks, or government agencies that deal with money and investments.
Prerequisites
Besides a bachelor's degree in finance or economics, a technical analyst should possess the following skills
Certifications in computer programming courses like C++, C# and SQL.
Good communication skills
Science and Mathematical skills
Analytical Skills
Logical Thinking
DevOps Engineer
A DevOps Engineer is someone who knows about the Software Development Lifecycle and how to use automation tools to build digital pipelines (CI/CD pipelines). DevOps Engineers work with developers and IT staff to make sure code releases go smoothly. They are developers who get interested in deployment and network operations or sysadmins. They love scripting and coding as they move into the development side where they can improve the planning of tests and deployment.
Are you a developer considering taking up the DevOps Engineer job role? Enroll yourself with the best DevOps Training in Chennai. FITA Academy is one of the renowned institutes for learning DevOps for your bright future.
Prerequisites
The foremost prerequisite in becoming a DevOps engineer is to own a bachelor's degree in Computer science or in any equal field that focuses on software development. Further, an individual should possess the following qualifications to become a professional DevOps engineer.
Certification in Cloud Computing, particularly in AWS (Amazon Web Services) is appreciable.
Exposure to Automation technologies.
Expertise in scripting languages like Python, JavaScript, Powershell and GNU utilities.
Knowledge of Configuration Management (CM) tools like Puppet, Ansible and so on.
Amazon Web Services is trusted by numerous firms from small to large scale because of its features. This means a jackpot of job opportunities for an AWS certified individual. Take up the AWS Training in Chennai and get yourself certified without any late.
Java Developer
A Java Developer is a computer programmer who designs, builds, and manages Java software and apps. Java is used by most large companies to build software systems and back-end services. During the software development lifecycle, from idea to testing, a developer is in charge of a number of tasks that have to do with Java. The developer has to come up with information solutions for users by development, implementation, and maintenance of Java-based components and interfaces.
Take up the Java Training in Bangalore to open the doors of numerous job opportunities available in the IT sector. Because Java is the most widely used programming language of the age.
Prerequisites
A Java Developer should possess a bachelor's in Computer Science or a related field. Possessing the following other skills can help you with easy recruitment.
Exposure to Object-Oriented Programming (OOP) skills.
Experience in working with HTML, CSS, and JQuery.
Knowledge of Java testing tools like JUnit, Selenium, and Cucumber.
Knowledge of Java EE components.
Teamwork and effective communication skills.
Join the Selenium Training in Bangalore and learn the automation testing process as you learn its tool to perform across browsers for web applications. Automation is software testing other software. Automation is one of the advanced technologies used in the IT sector recently. Hence, it could be a promising career in the near future.
Choosing any job role in Infosys would yield you an amazing salary package with alluring knowledge of experience. Infosys could be a perfect place to start your IT career for high exposure with proper guidance from expert trainers. You can also try taking up the data science role in your career because of its demanding needs in the field. Join Data Science Course in Bangalore and build a strong career for your future.
Recent Post: Ethical Hacker Salary for Freshers