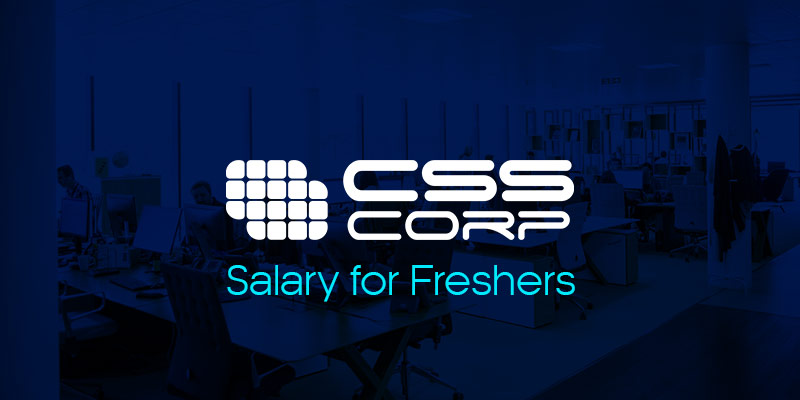 CSS Corporation is a digital innovation company specializing in intelligent IT solutions. The company also provides geospatial data for effective cloud and networking services. It is one of the leading industries with more than thousands of younger employees. Due to its rapid progression in cloud-networking services, the company is primarily looking for cloud and network engineers to innovate the technology. Besides, there are numerous vacant positions for other IT roles with an excellent CSS Corp Salary For Freshers.
In this article, we intend to deliver adequate information concerning the open positions, the company's work environment, essential qualification criteria for different job roles, application procedures, broader career opportunities, and the respective salary structure.
Who is eligible to apply?
IT aspirants wishing to accelerate a featured career with CSS corporation must meet specific preliminary criteria for applying. Some of the primary criteria are as follows.
Passionate about transforming automation technologies.
Strong desire to pursue a career in data science and analytics.
Interest in exploring and innovating digital technologies.
An applicant with diligence, innovation, and intellect to improve company business.
So, a candidate with the capabilities mentioned above is encouraged to look for various CSS Corporation Jobs. These qualities are given more preference compared to qualification standards. A candidate with any bachelor's or master's degree is also eligible to apply. In addition, CSS also expects a set of additional skills from freshers to get selected. The list of different skills are
Good written and communication skills.
Ability to manage transactions and payments.
Capable of providing coaching and training to other colleagues.
Excellent in creating and managing documents.
Collaborative skills for cooperative business growth.
Strong problem-solving and logical skills.
Flexible to work hours and capability to make an immediate decision in critical situations.
Further, if you don't have sufficient qualifications, don't be underestimated. Improve your additional qualification standard by joining Software Testing Training in Chennai. The prime reason behind this course suggestion is that the company primarily focuses on developing and deploying software testing methodologies to provide a reliable application. Therefore, software testing certification would be advantageous.
How to search and apply for freshers jobs?
Looking for various fresher positions is an easy task. In order to do this, you need to follow the below-mentioned instructions.
Visit their career site at https://www.csscorp.com/careers/
Click over the career tab followed by "Latest Openings."
Then, using their job search console, apply the appropriate filters.
You can search for relevant vacant positions with respect to job roles, experience, and work locations.
Once you find your desired job, click on it to apply.
Based on our search, CSS calls for DevOps, Full-Stack, and Cloud Developers. So, if you are looking for any job roles, we suggest obtaining a certificate by enrolling in DevOps Training in Chennai. This course will enrich you with fundamental and advanced development operations concepts. Further, we will provide information on resources and coaching centers in the upcoming section for other significant roles.
How are candidates selected and what is the interview process?
CSS Corporation hires fresh candidates through four interview phases to select the qualified candidates, some of the interview rounds are
Online Aptitude Test Round: The candidate's numerical and logical skills, problem-solving, and analytic skills were examined through this round.
Group Discussion with Peers: Candidates who are qualified in the first round will be assessed with communication and leadership skills through a peer group discussion.
Technical Interview Round: Here, the technical, quantitative, and logical skills of candidates are tested.
Personal Interview with Human-Resource Manager: This is the last interview phase, in which the qualified applicants are interviewed by the Human-Resource Manager directly.
CSS Corp Package for Freshers
CSS Corporation offers a wide range of annual salary packages for freshers to experts. Furthermore, the salary package for freshers varies depending on the candidate's qualifications and additional skills. Nevertheless, the figure below shows an average estimate of a Fresher Salary estimated from the salary review.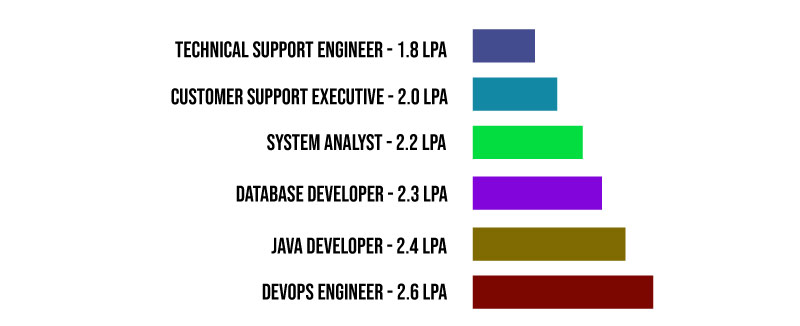 Are you bothered about CSS's smaller salary packages? Do you want to boost your average salary? Then we recommend enrolling in a Data Science Course in Chennai to obtain additional data science skills for a greater salary hike. This course will cover all aspects of data science, data modeling, data structures, and database management.
CSS Corporation's Leading Fresher Job Positions
CSS Corporations has hundreds of job vacancies for freshers and experts. But, we have shortlisted and selected the leading fresher job positions which you can apply for a competitive CSS Corp Salary for Freshers. The top six leading positions are
Technical Support Engineer
Customer Support Executive
System Analyst
Database Developer
Java Developer, and
DevOps Engineer
Let's discuss the fundamental skills requirements, job roles and responsibilities in the following section.
Java Developer
Java developers create web-based software, desktop, and android applications using numerous scripting techniques. They work with Microsoft products, Adobe software, and Mobile applications. CSS Corp Fresher Salary for a Java Developer ranges from 2.0 to 3.0 Lakhs Per Annum, which is affordable at the initial stage. Therefore, if you want to apply for this role, you need to acquire certain skills, which are
Solid understanding of HTML, Javascript, SQL, MySQL, and Java 8.
Strong skills in programming and computation algorithms.
Relevant experience in software modification and development.
A Java developer is associated with a wide range of complex technical tasks. Some of them are as follows
Redefine the existing software through new scripting codes.
Develop and Deploy software to auto-correct the issues associated with the system.
Test and Validate the software for error-free performances.
Document every test phase of software development and testing.
Employ new algorithms and data structures to build reliable software tools.
In order to become a Java expert, we recommend joining Java Training in Chennai, where the course will teach you Java fundamentals and advanced topics such as Software Architecture best practices, Loose Coupling & Maintainability, and Avoiding Collisions.
Technical Support Engineer
Technical support engineers are responsible for affording IT support to the company staff and external clients. They also provide support to test engineers and other technical assistants. If you want to apply for this job position, we suggest you to acquire significant essential skills in advance; the skills are
Strong computer and system management skills.
Excellent critical thinking and analytical skills.
Good communication and interpersonal skills.
Knowledge of client control systems and CRM.
As a technical support engineer, you are assigned certain job roles and responsibilities, which are
Manage both incoming and outgoing calls for good customer relationship management.
Gather new information on system updates, hardware, and software.
Provide technical support to problems concerned with system hardware.
Ability to work in web and network-based technologies and computation codes.
If you want to be a great technical support engineer, you should learn about hardware and software testing, which you can achieve by enrolling in a Software Testing Course in Bangalore. This course will cover software testing, software life-cycle management, and software engineering and validation approaches.
DevOps Engineer
DevOps Engineers work with integrated solutions and technical IT operations. DevOps engineers are in high demand in all the emerging IT sectors. So, as a fresher, if you want to join this position with a competitive CSS Corp salary for freshers, you are required to acquire some technical skills before applying. Some of the technical skills, such as
Strong skills in CI, CD, KPIs, and Pipeline concepts.
Excellence in DevOps, Cybersecurity, and configuring tools.
Good communication and collaborative skills.
Skills in providing IT and technical support.
If you join as a DevOps Engineer, you need to accomplish the following essential tasks and responsibilities, which are
Develop the KPIs based on clients' requirements.
Implement various automation and testing strategies for business growth.
Lead teams and other colleagues with good management skills.
Manage a good relationship with clients and stakeholders.
Schedule the dates for launching software and updates.
Review and Validate the codes made for software.
Suppose you are willing to gain additional skills in development operations before applying for jobs. We recommend joining DevOps Training in Bangalore at FITA Academy. This course will cover Linux principles and source control using Git, Ansible, Docker, Puppet, Nagios, Kubernetes, and DevOps on the AWS Cloud.
Database Developer
Database developers play a significant role in designing, debugging, and maintaining computer databases. They ensure extensive data storage while maintaining the security standard. Freshers who are looking for this kind of job position with a reasonable CSS Corp salary for freshers are required to possess critical skills, which are
Strong computing skills in Oracle, MySQL, Unix.
Knowledge of Data Analytics, SQL Databases, Talent Studio, NoSQL.
Good verbal and communication skills.
Excellent knowledge of data structures and database management.
As a database developers, they have a wide range of responsibilities to fulfill, which are as follows
Build and Deploy the online database as per the client's requirements.
Implement numerous testing procedures for excellent performance.
Execute performance algorithms for error-free services.
Generate operation manual for deployed databases.
Provide reliable databases to the clients without any problems.
To provide customized and satisfactory services, you need to enrich yourself with expert data science and database management skills. So, we suggest joining a Data Science Course in Bangalore. This course will teach you fundamental and advanced databases and data structure concepts.
Customer Support Executive
The Customer Support Executive is responsible for affording consumer support to customers and clients. The CSS Corp salary for freshers for this job role is acceptable compared to other job positions. If you want to apply for this job posting, you need to acquire specific technical and non-technical skills, which are
Good communication and interpersonal skills.
Ability to lead a team for better customer support.
Skills in CRM (Customer Relationship Management)
Basic computer and management skills.
A customer support executive is concerned with critical job responsibilities, which are
Manage a team of executives to provide excellent customer support.
Improve the day-to-day customer service process.
Train the standardized services for client's delivery.
Review, Recruit, and Intake freshers for new job roles.
Gather information about surveys and feedback provided by the customers.
Gain additional product knowledge to attract customers with better communication.
In order to provide satisfactory services and attract more clients, you need to focus on your communication skills. Therefore, we suggest joining Spoken English Classes in Bangalore to boost your consulting services for practical customer care support and management.
System Analyst
System Analysts perform the efficiency and quality of systems. They also resolve problems existing within the system and execute fixing procedures to fix them. Freshers seeking this kind of job role can try for this position as the company compensates with a good CSS Corp salary structure. In order to apply for this analyst position, you need to acquire significant skills, which are
Relevant experience in system analyzing and system troubleshooting.
Good skills in monitoring the system performance.
Strong analytical and problem-solving skills.
Good interpersonal and leadership skills.
As a system analyst, you need to fulfill the following key roles and responsibilities, which are
Check and Maintain the system software, hardware, and network failures.
Collaborate with internal teams to meet the system requirements.
Plan and Implement effective system resolving strategies.
Propose cost-effective solutions to all the problems.
Evaluate and Validate the techniques for efficient work.
Ensure system requirements and propose scheduled maintenance.
In order to automate the system analyzing and monitoring process, we suggest you acquire relevant skills in robotics-based automation techniques by enrolling in RPA Training in Chennai. This course will teach you the techniques to integrate systems with automated robots for effective management.
What are the fresher benefits at CSS Corporation?
CSS Corp offers a wide range of advantages and incentives to its employees. The following is a list of benefits.
CSS Corporation undertakes the responsibility to cover life and health insurance policies. It also provides financial assistance to meet medical expenses.
The company also provides work-from-home opportunities during the pre and post-pandemic periods.
Paid leave offs during maternity and paternity. Also, you can take additional leaves based on your requirements.
The company also provides salary incentives and bonuses during festive occasions.
You can avail of international relocation opportunities anytime as the company has numerous global offices worldwide.
The CSS Corporation also has work offices in a variety of international regions. We recommend cracking the IELTS with IELTS Coaching in Bangalore would be beneficial because this course will add extra credits to process your immigrant application.
Job Satisfaction range of freshers at CSS Corp
We have calculated an average work satisfaction rate at CSS Corporation based on previous employee opinions and ratings. The fresher job satisfaction rate is 68%, where 62% percent contribute to salary and benefits, 68 percent to work-life balance, career progression, and work satisfaction, and 72 percent to job security. The graph below depicts the average work satisfaction rate.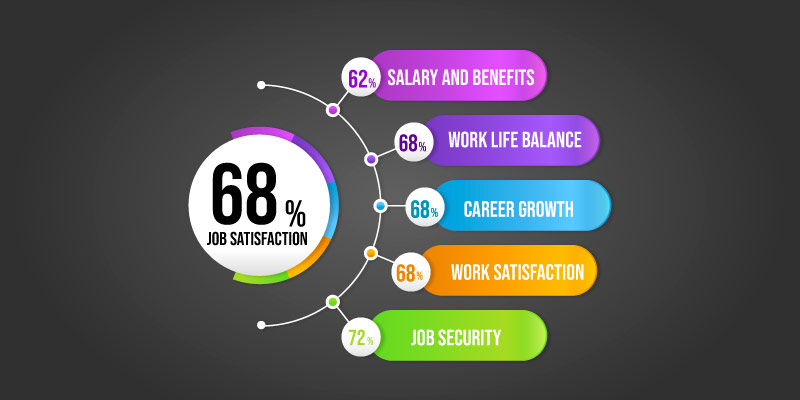 Nowadays, building an IT career has become the dream of all IT aspirants. So, to provide sufficient information regarding CSS Corporation and their vacant job positions, we have done extensive research on application procedures, freshers' benefits, the requirement of significant academic and technical qualifications, and the CSS Corp salary package for freshers. The average fresher satisfaction seems excellent compared to other IT companies. Therefore, we encourage all the tech aspirants to approach and get recruited into this fantastic tech firm. Finally, concluding our article, we suggest that to begin an extraordinary IT career with an Artificial Intelligence Course in Chennai would be meritorious.
Recent Post: Microsoft Salary for Freshers