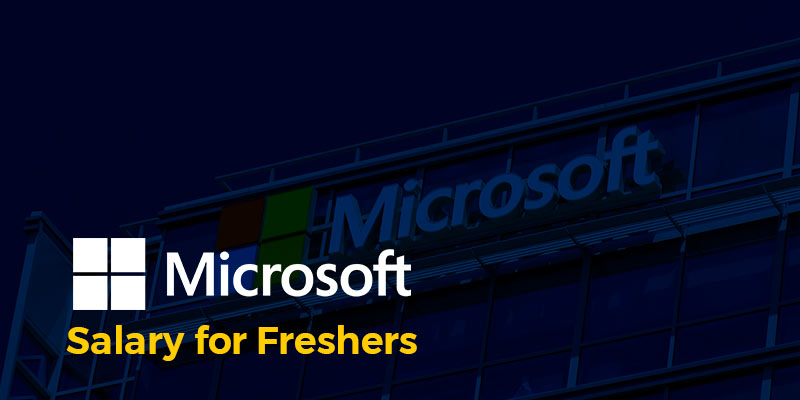 Microsoft Corporation is an emerging software-based multinational company headquartered in Redmond, Washington. The company is famous for selling personal computers, consumer goods, computer software, and cloud-based applications. The corporation has been at the top of the Fortune 500 ranking for years.
Besides, the company is well-known for being the world's largest software product manufacturer, competing with Google, Apple, Amazon, and Meta. The company's consistent reputation relies on a dedicated workforce of younger minds and brilliant employees. And this is the reason behind recruiting freshers rather than experts. So, we can find several career opportunities with excellent Microsoft Salary for Freshers.
In this blog, we have discussed the overview of Microsoft's corporation, the availability of various open positions, the qualifying requirements for distinct job roles, application procedures, attractive freshers benefits, and perks, along with the Microsoft Salary Package for Freshers.
Who is eligible to apply?
Microsoft is an inspiring and innovative company. So before briefing about the qualification requirements, we would like to share our insights into the applicant's interest. These characteristics will decide whether or not you are eligible to apply for Microsoft jobs. Therefore, some of the unique qualities are
The candidate is enthusiastic about beginning an incredible career with Microsoft.
Passionate to know about Microsoft products like Windows (OS) Operating System.
Interest in exploring Microsoft products like Azure, Microsoft 365, and Xbox.
Good skills in software products and cloud computing.
The Candidates with these qualities have higher chances of getting recruited during the Human-Resources interview round. So, we suggest freshers develop these qualities before appearing for an interview. Besides, Microsoft considers younger aspirants with any bachelor's or master's degrees. However, the candidates will be selected based on their skills and performance in interview sessions.
As part of developing your Microsoft product skills, we advise you to take an additional certification course in one of the Microsoft products through Cloud Computing Training in Chennai.
How do candidates get selected?
Microsoft undertakes fresh candidates through a series of non-technical and technical interview phases. The interview phases are as follows.
Virtual Interview Phase - In this phase, the candidate needs to participate in a virtual video session with one of the company's representatives. Here, the candidate's communication and collaborative skills will be evaluated by HR.
Technical Interview Phase - Candidates who have qualified in the first round will be allowed to participate in the second phase. You can expect a variety of technical questions from subjects such as algorithms, operating systems, database structures, and database management.
System Design Phase - All the finalized candidates are assessed with system design skills. You can expect a variety of tasks from Microsoft products like Microsoft Azure, Dropbox, Cloud-computing, and Microsoft Technology-driven Engines.
What is an average Microsoft Salary for Freshers?
The Microsoft Freshers Salaries vary from freshers to experienced professionals. Usually, the salary package ranges from 2.2 to 4.0 Lakhs Per Annum. Further, Microsoft provides 67 different types of job roles to freshers. Still, we have selected the top seven jobs and estimated their average salary structure, which can be seen in the below chart.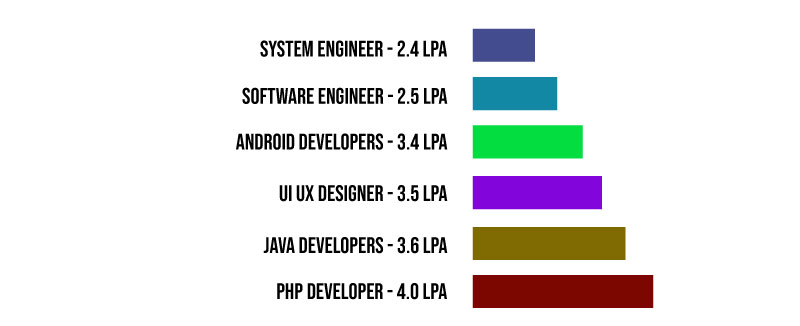 Are you unhappy with lower salary packages in your current company? Do you want to see a salary increase in the next few years? Then do an AI Course since it is the most advanced and has a strong reputation in the same way as Machine Learning and Data Science do. In such a case, joining a certification course through Artificial Intelligence Course in Bangalore might increase the average Microsoft Package for Freshers.
Until the previous section, we have discussed the eligibility, application procedure, and salary details. Let's discuss the specific job roles and responsibilities of each position. Here, we have considered the top leading job roles, especially for freshers.
Software Engineer
Software engineers employ different software development strategies to design and build software. They are also responsible for modifying and testing software products for enhanced performance. If you want to become a software engineer at Microsoft, you need to acquire significant technical skills before applying, the skills such as:
Excellent programming skills in PHP, Python, Java, and C++.
Basic understanding of software suites and tools.
Outstanding coding and computing capabilities.
Knowledge in SDLC (Software Development Life Cycle).
If you join a software engineer, then you are assigned to fulfill the following key roles and responsibilities are:
Develop, Test, and Validate the software testing methodologies.
Manage software programs and create documents for the software development process.
Report the software development progress to the client and internal project teams.
Research, Analyze, and Implement new software modification technologies.
Keep track of the software development life cycle.
Monitor and Evaluate the performance of system software.
Share software data with the internal teams for better software development.
We recommend taking a Software Testing Course in Chennai will help you make yourself unique among all the competitors who are applying for this role. This course will teach you to test and assess software applications using various methodologies.
System Engineer
System engineers monitor and maintain the system performances. They ensure system efficiency and integrate computing networks, followed by network infrastructure building. All IT companies require system engineers so that freshers can choose this ever-demanding position. If you want to become a great system engineer with a reasonable Microsoft Salary for Freshers, you need to obtain particular skills, which are
Good programming skills in Perl, Ruby, Python, and C++.
Knowledge of OSI networking technologies.
Strong skills in TCP/IP sectors with troubleshooting and configuring technologies.
Basic understanding of Linux and Unix-based operating systems.
Usually, a system engineer is associated with numerous job tasks and responsibilities. Some of the significant tasks were as follows
Install and Configure the computing infrastructure and networking servers.
Monitor and Improve the currently existing network infrastructures for better connectivity.
Configuring the system with newly updated applications and operating systems.
Implement best approaches to ensure efficient backup options.
Collaborate with IT staff for better IT support.
As a system engineer, you need to gain more technical skillset ineffective computer system management. So, if you want to enhance your knowledge in robotics-based system management, we suggest learning RPA by joining RPA Training in Bangalore. This course might improve your automation and management skills.
UI UX Designer
UI UX Designers play a significant role in attracting customers and online users. They ensure the user interface and user experience of websites and software applications. Freshers seeking to join this specific position with a feasible Microsoft Fresher Salary are required to acquire the fundamental technical skills such as:
Expertise skills in JQuery, Visual design, and Web-designing.
Good graphical skills through Adobe Photoshop and Illustrator.
Excellent UI and UX graphic design skills.
Predominantly, UI UX Designers are responsible for a wide variety of key tasks and duties, which are as follows
Provide better suggestions for the improvements of UI UX Design for a better user experience.
Design and Develop effective brand strategies for the company's business.
Create and Edit high-quality charts, storyboards, sitemaps, and data flow diagrams.
Test and Validate the modules, pages, advertisements, screen layouts, and hyperlinks.
Collaborate with internal and external teams for better digital experience designs.
Provide new research strategies for UI and UX Research.
Join a UI UX Design Course in Chennai to better understand the fundamentals of interactive designs and to become a certified UI UX Designer. This course will teach you product objectives, user profiles, market analysis, and significant success guidelines. This course will provide you with a foundation in user experience, interface, and advanced systems. At the same time, the average salary of a UI or UX Developer in India varies from 1.6 to 4.2 Lakhs Per Annum.
Java Developers
Java developers are powerful coders who tend to design various software, android applications, and tools. They also work with front and back-end systems of products such as Microsoft apps, PDF readers, and mobile applications. Microsoft also considers non-experienced candidates but still pays a good Microsoft fresher salary, ranging from 2.0 to 3.0 LPA. So, if you want to apply for this job role, you need to acquire numerous technical skills, which are
Fundamental skills in HTML, MySQL, Javascript, SQL, Java 8.
Good technical and problem-solving skills.
Strong logical and analytical skills.
Good verbal and communication skills.
As a Java developer, you are confined to a wide variety of critical tasks and responsibilities are:
Create and Modify either new or existing applications using javascript.
Identify and Refix problems associated with the client's software.
Test and Validate the software applications for customer businesses.
Manage the document to record each and every software test phase.
Collaborate with teams to work with Algorithms, Data Structures, and Oops.
Before applying for the Java Developer role, acquire all the advanced skills in Java Scripting and other concepts by joining Java Training in Bangalore at FITA Academy. This course will impart you the fundamentals of Java, software architectures, and the development of software modules.
PHP Developers
PHP developers are responsible for developing web-based applications using language scripting. They also work with the front-end and back-end of websites to integrate applications and online services. If you want to apply for a PHP developer role with an affordable Microsoft Salary for Freshers are required to acquire the skills such as,
Good skills in HTML, Javascript, JQuery, CSS3, SVN, MySQL, Git, and Website Frameworks.
Basic programming skills in Python, Java, Ruby, and Perl.
Strong interpersonal and communication skills.
Ability to collaborate with IT staff for better development of web platforms.
If you join as PHP Developer, you need to fulfill specific job roles and responsibilities, which are
Report the requirements of websites and applications.
Develop PHP Modules for writing back-end codes.
Identify and resolve complex issues associated with software applications.
Test and Validate the back-end functionalities.
Modify and Improve the existing applications for superior performance.
Obtain a PHP certification with PHP Training in Chennai to become an evergreen and ever-demanding PHP developer. In India, a Microsoft Starting Salary of a PHP Developer ranges from 2.2 to 4.2 LPA, depending on the company. However, it varies due to a variety of reasons. Are you looking for PHP job vacancies and salary information? Check out PHP Developer Salary For Freshers.
Android Developers
Android developers create apps and software required for android-based operating systems. Also, they modify and correct the errors concerned with various sets of android versions. In our current android age, the demand for android developers keeps on increasing, therefore freshers who want to apply for this role are required to possess the following essential skills, which are
Good skills in SQLite, CSS, Python, HTML, iOS
Strong programming skills in HTML 5, Java, Python, and Android OS.
Knowledge of Android Development Suite and Mobile Application Development.
As an android developers, they are confined to the following key roles and responsibilities are:
Develop and Modify all versions of android applications.
Gather consumer data for implementing safety and security measures.
Review and Refix all error codes before launching an application into the market.
Collaborate with UX and UI Designers for a better application usage experience.
Test and Validate the android applications and android OS.
Develop updates and error-fixing codes for existing applications.
Create new application features for app updates.
If you want to become an exceptional Android Developer at Microsoft Corporation, we suggest obtaining a certification in android by joining Android Training in Bangalore. This course will enrich your advanced android development skills.
What are the freshers benefits and employment perks available at Microsoft?
Being the most popular company, Microsoft provides a wide range of benefits to freshers, including salary packages. Let's give an enlist of various freshers benefits,
The company empowers your dreams and helps you to achieve your goals.
Microsoft affords a great interactive platform to exchange ideas and get feedback from peers. It enables you to improve your thoughts through support and motivation.
The company takes responsibility for taking care of family and children, thereby affording an education and insurance assistance.
Through its work environment, you can develop your professional and personal skills.
The company also provides an option to relocate yourself to various international locations.
Regular salary increments for permanent employees. Also, salary with additional bonuses.
Freshers who are looking for job posts with excellent Microsoft Starting Salary need to migrate to various international offices. In order to clear that, you need to clear the IELTS Exam. For effective preparation and tips, we suggest you join IELTS Coaching in Chennai would be beneficial. The IELTS Score Card will improve the visa application process so that you can get a permanent visa to relocate.
How far are freshers satisfied with their work at Microsoft?
Freshers are greatly satisfied to work with Microsoft. Based on the reviews provided by previous employees and Microsoft alumni, our average job satisfaction rate shows that the company contributes to a satisfaction rate of 83%, which is pretty higher compared to other competitive companies. Therefore, we suggest looking into various satisfaction percentiles and moving forward with applying.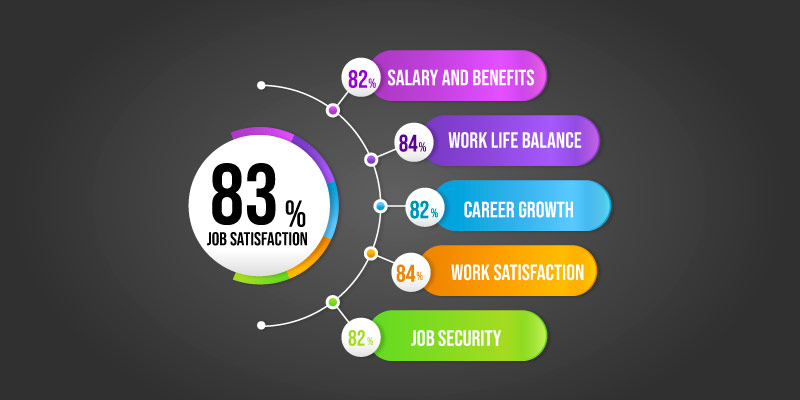 Compared to all the IT industries, Microsoft provides a great workspace with a broader opportunity for career growth. In addition, previous employees are delighted with their roles which can be seen from the average job satisfaction rate discussed in the earlier section. Therefore, we highly encourage freshers to look for various open positions and utilize them to get into this company. Further, the average Microsoft Salary for Freshers seems affordable initially, and all the applicants can apply for this company without worrying about the salary structure. It will drastically increase with an increase in your work experience and performance. Finally, we hope that we have provided you with fundamental instructions to seek Microsoft jobs.
Recent Post: Zensar Technologies Salary for Freshers