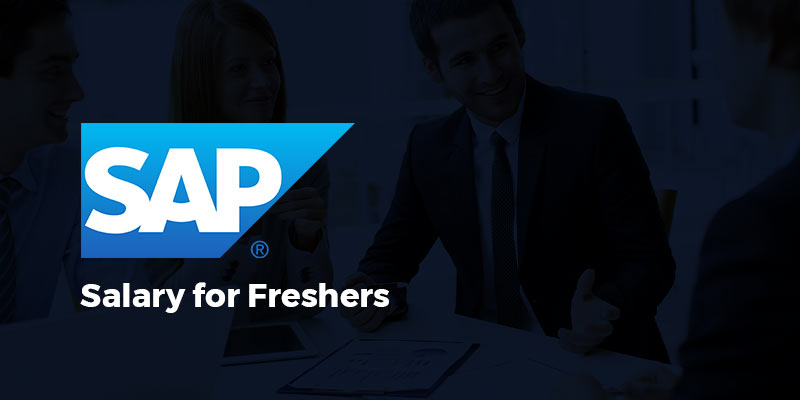 SAP is an international software enterprise headquartered in Wittenberg, Germany. It is well-known for hiring young talents with competitive SAP Salary for Freshers who prefer to begin an advisory services career. The company uses ERP (Enterprise Resource Planning) software to outsource satisfactory advisory services worldwide. This blog will provide you with an overview of job opportunities, application procedures, roles and responsibilities, and career prospects. If you are interested in system software solutions and cloud computing, SAP is a great place to start. Let's talk about the application procedure and eligibility requirements.
Who is eligible to apply?
Before discussing eligibility requirements, we share some unique criteria for freshers who will determine their interest and passion for joining an innovative company like SAP. Based on the feedback of hundreds of SAP Employees, we define three qualities for you, which are as follows.
I passionate about SAP Industry and ready to begin an incredible career with this company.
Primary understanding of SAP's ERP software and Products.
Interest in performing excellency in the enterprise, business, and consulting services.
If you are a candidate of this special quality, then you have landed on the right platform to explore SAP Career opportunities. In addition, those whose insights do not match our presented quality are advised to begin an IT career with futuristic ambition. Are you worried about your career? The time has come to explore numerous courses at FITA Academy. Choose any course of your interest and get placed into your desired IT Firms across India.
Besides, apart from the above-mentioned qualities, the candidates need to meet the certain qualification and skills criteria before applying for SAP Vacant positions. Some of the key skills are as follows.
Strong interpersonal and problem-solving skills.
Cognitive intelligence and intellectual capabilities.
Good communication and administration skills.
Excellent programming skills with an understanding of trending scripting languages.
Innovative skills with a passion for exploring technologies.
Freshers with the above-mentioned add-on skills are likely to get selected during the interview round. Because these skills will define the fresher's talents and their capabilities to fulfill any kind of role at SAP so that they can be compensated with a competitive SAP Salary For Freshers. Furthermore, the candidate also needs to meet certain academic qualifications to get into SAP. Some of them are as follows.
The candidate must have obtained any degree in engineering, technology, and computer science (BE/ B.Tech/ ME/ M.Tech/ MCA)
The candidate must not have any academic gaps and no backlogs during the time of applying.
Candidates with an academic mark of 60% or above are given more preference for top positions.
Are you worried about your qualifications? The wasted time during the college days? Still, you have time to improvise your academic and professional skills. In order to increase that, we suggest taking part in Python Training in Chennai at FITA Academy would be beneficial to you. This institute is filled with IT experts who train their candidates in accordance with real-life applications. Here, you can improvise your skills for successful campus placement.
How to search for freshers' roles and apply for them?
It is the simplest way to search and apply. If you are new to their site, follow the below-mentioned instructions to search for desired roles and apply.
Log in to the official career site at (jobs.sap.com).
Type and search for matching jobs in the search console.
The website allows filtering your job search based on work location, experience, and expertise domains.
If you find any matching job, then click on it to apply.
After successful submission, you will be contacted by an HR representative in a week or days.
How are Candidates interviewed and selected at SAP?
The placement cell of SAP allows candidates for recruitment through two different options, which are
Online Interview Mode
Online Test - The online test for SAP recruitment comprises 25 aptitude questions and 2-3 code tasks. An online exam is just a preliminary screening test conducted before the critical interview. The test includes quantitative and logical reasoning questions, as well as coding problems.
Technical Discussion Panel - If you qualify for the first interview round, you will be allowed to take the technical discussion panel, where you can expect questions from subjects such as SQL, C, C++, Java, Data Structures, and Operating Systems.
Managerial Interview Session - In this round, your thought process, answering strategy, and verbal and communication skills will be assessed by the managerial team. So, we recommend pursuing Spoken English Classes in Chennai to gain more communication skills for all kinds of interview processes.
Interview with Human-Resource Manager - The HR interview is the last step in the SAP Recruitment Process. Here your qualities and flexibility will be assessed to meet the company's culture. Once you clear this final session, you will be offered an appointment letter to join SAP.
Offline or Off-Campus Recruitment Mode
SAP Solutions steer its recruitment cell to perform various off-campus selection campaigns to hire freshers for their preferred roles. The off-campus recruitment consists of three testing rounds which are
Written Test - The written exam round is a significant part of the SAP Off-Campus Recruitment Process. It comprises multiple-choice questions and technical questions based on reasoning and coding skills. There are also 23 coding questions. You need to answer carefully for successful consideration.
Technical Interview Panels - First-round qualified candidates will be allowed to take this assessment. Here, You can expect questions from subjects like Java, Operating systems, Coding, and so on.
Managerial Interview Panels - This interview is like the technical panel. For illustration, the applicant may be asked to create an algorithm for software applications.
SAP Salary Structure
The SAP Package for Freshers ranges from 1.2 to 3.2 LPA and differs from freshers to experienced professionals; however, we have estimated the intermediate salary package for diverse positions at SAP Solutions shown below.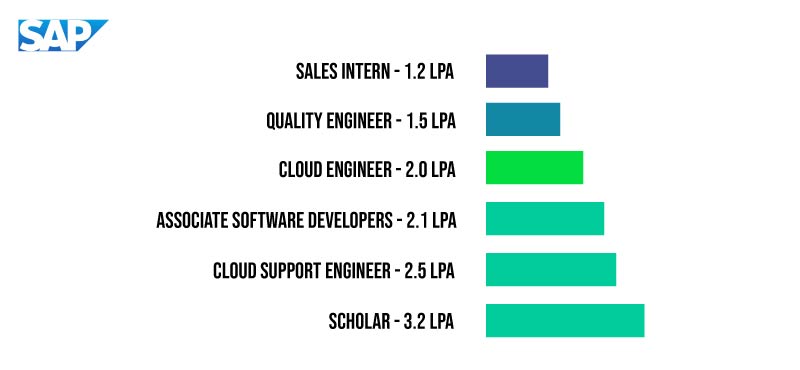 The salary as mentioned above is approximated and can vary according to the actual salary package. Now, let's discuss the essential skills required and each job role's key roles and responsibilities in the following section.
If you aim to get a job with an increased salary package, we suggest acquiring advanced understanding of AI through an Artificial Intelligence Course in Bangalore would be a plus. This course qualification would improve your skill standard and may hike your salary package.
What are the prime roles and responsibilities of each job at SAP?
Sales Intern
Sales interns work with the company's sales team, and they join to gain more experience and skills in sales management. They are hired to provide exceptional talent and experience in their appropriate sector. If you are willing to join SAP with a good SAP salary for freshers are required to acquire skills such as
Skills in conducting research and analysis.
Manage calls and emails for an effective client relationship.
Skills in maintaining consumer connections.
Good interpersonal and administrative skills.
If you join as Sales Intern, you will be responsible for the following critical tasks, which are
Collaborate with senior managers and company staff to accept specific responsibilities.
Perform desktop research and collect data.
Participate in Meetings, Workshops, and Industrial events.
Update the records and documents.
Review the sales reports with senior staff.
Suggest new ideas for better sales and business growth.
Implement newer sales strategies and procedures.
If you wish to enhance your skills in sales, there is an exciting course called digital marketing. Nowadays, this marketing strategy has doubled the sales of the small and large industrial sectors. Therefore, we suggest joining a Digital Marketing Course in Chennai would be highly beneficial.
Quality Engineer
Quality engineers are associated with various tasks such as developing quality standards, inspecting tools, procedures, and products, assembling quality control systems and identifying corrective measures. If you are willing to apply for this role with excellent SAP Salary For Freshers, you need to possess specific fundamental skills, which are
Good interpersonal and collaboration skills.
Troubleshooting skills for resolving technical issues.
Must have certification in ASQ and QA Tools.
Strong analytical and problem-solving skills.
In addition, if you get selected for this job position, you need to fulfill a variety of key roles and responsibilities, which are as follows.
Designing and implementing quality standards.
Developing effective procedures for quality control assurance.
Monitoring and evaluating the quality performance of systems.
Test and Validate the company's products to ensure the quality and standard as per the client's requirements.
Develop and Execute control systems for the improvements of systems.
Assure that workflows, methodologies, and products meet the safety standards.
Analyze and fix the development or production-related issues.
Developing corrective measures for enhancements.
Examine the codes, standards, and methodologies.
Cloud Engineer
Cloud engineers maintain and design the cloud infrastructure. They are also associated with creating cloud solutions for businesses; coding for cloud infrastructure; working with cloud networks. If you want to apply for this specific job position with a reasonable SAP Salary For Freshers, you need to acquire basic skills beforehand, some of which are
Knowledge of Cloud platforms and infrastructures.
Skills in Data Storage, Data Security, and Databases.
Excellent Programming skills in Python, Java, and C/C++.
Strong understanding of networks and clouds.
As a cloud engineer, you are required to complete the following key job responsibilities, which are
Work with Engineering and Development groups to design the best cloud infrastructure.
Modify and Improve the current cloud infrastructure.
Design, Develop and Implement cloud-based modular systems.
Follow best practices and methodologies to deliver cloud infrastructures to the clients.
Ensure the system performance and enable data storage.
Identify and Resolve problems associated with clouds.
Suggest new development strategies for the improvement of cloud networks.
Interact with clients by offering cloud support and services.
Suppose you are keen to explore the fundamentals and applications of cloud and cloud-based infrastructures. In that case, we recommend taking part in AWS Training in Bangalore. This course may enrich you with skills in web and cloud-based services.
Software Developer
Software developers play a critical role in developing and modifying existing software. They are associated with software programming and software development. Freshers who want to join for these positions with good SAP Salary for Freshers are required to acquire specific skills such as
Good skills in software programming and development.
Skills to identify issues and fix bugs.
Strong knowledge of software testing methodologies.
Knowledge of Software development life cycle.
As a software developer, you need to accomplish the following key responsibilities, which are
Ensure the software adapts to the new hardware changes.
Control the testing and validation systems.
Manage the software development documentation process.
Collaborate with teams to resolve technical difficulties.
Analyze the gathered data for implementing new software specifications as per hardware requirements.
Evaluate software and hardware interfaces for enhanced performance.
Employ scientific and mathematical models to build new software systems.
Acquiring knowledge in advance is an effective way to attract recruiters to consider your skills; in order to gain more skills in software testing, we suggest joining Software Testing Course in Chennai would be advantageous. This course will help you acquire all the fundamental strategies to develop and test software.
Cloud Support Engineer
Cloud Support Engineer works at the cutting-edge technologies of cloud computing and cloud-based services. They also provide technical support to clients for better cloud performances and assist in resolving issues related to it. This role is a prominent position, and you can apply with a good SAP Salary for Freshers. Before applying, you need to acquire basic skills such as
Knowledge of NoSQL, SQL, Hadoop, ETL.
Troubleshooting skills using TCP, HTTP, HTTPS, and SDN.
Good scripting skills in Scala, Python, Java, and HBase.
Relevant experience in cloud support and visualization technologies.
If you join as a cloud-support engineer, you need to fulfill the below-given responsibilities, which are
Evaluate the systems for problems and issues.
Utilize reliable applications to resolve clients' cases.
Recover data when the cloud is corrupted.
Develop successful and reliable solutions for Amazon Web Services and Cloud-Stack.
Monitor the cloud performance and issues associated with DNS, Firewalls, and network-related problems.
Document the troubleshooting and keep track of fixed services.
If you want to become an exceptional cloud support engineer, you need to acquire advanced skills in programming and scripting in various popular languages. So, we recommend joining Python Training in Bangalore would benefit you from learning the most demanding programming language.
How are freshers benefited from SAP Solutions?
The company provides numerous benefits and perks to keep their employees engaged and sustained for years. It is one of the most influential business strategies for every company. Nevertheless, freshers always approach SAP for their good SAP Fresher Salary and Employment benefits. Some of them are as follows.
SAP provides a variety of family and child care services for medical and survival support.
The company also covers the financial responsibility of employees' children for their education.
The company also allows international relocation options to relocate their employees based on their needs.
The company also compensates for emergency travel during unforeseen circumstances.
SAP also covers health and life insurance policies to benefit the worker's family.
SAP has a fantastic and innovative workspace for expanding our knowledge for professional growth.
The company also gives more preference to the work-life balance of all employees.
IELTS is an important exam to process your visa application and authorize your language skills to avail all the international benefits. Since SAP has this option, we encourage freshers to participate in IELTS Coaching in Bangalore. The language experts will help you acquire essential skills in a foreign language and develop good interpersonal skills.
Are Freshers Satisfied with their Job at SAP?
Yes, freshers are exceptionally satisfied with their job at SAP. Based on the review and rating provided by the SAP Alumni and current working employees. We have estimated an average job satisfaction percentage, where the SAP contributes 82% of the Job satisfaction rate overall. In addition, Work-life balance and job security hold 88%; work satisfaction is found to be 80%, and career growth and salary benefits are around 76-78%. You can refer to the below-given chart for more information.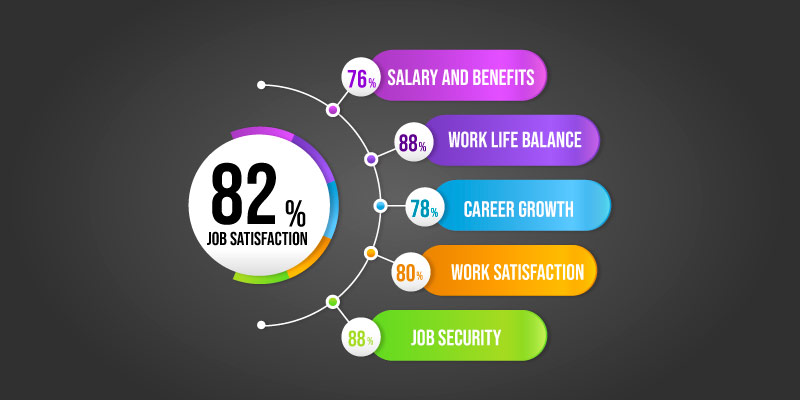 SAP Solutions is entirely different from other IT companies as it gives more preference to the younger talents. This is the reason behind the high SAP Salary for Freshers and numerous employment benefits. It always concentrates on and considers each and every employee's personal opinion and helps them succeed in life parallel to professional growth. If you start a career with SAP, you will be recognized worldwide by the IT sector. Further, the company also tends to contribute a greater job satisfaction, so we encourage freshers to look for various open-positions and grab every opportunity for their career and professional growth. Finally, before ending our discussion, we suggest that taking advantage of the data science course provided through Data Science Courses in Chennai would be the best to step into your featured IT Career.
Recent Post: CSS Corp Salary for Freshers