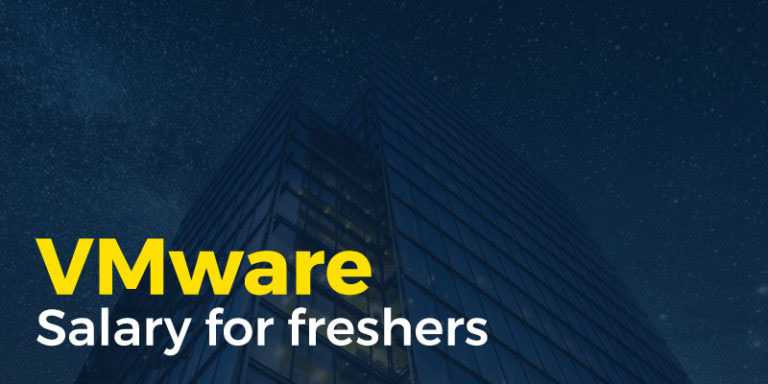 VMware, Inc. is a virtualization technology company that delivers software architectures for operating in the cloud and cloud-based computing. The corporation's primary headquarters is found in California, the United States. Because of the firm's fast growth, there was a greater need for employees, which resulted in the opening of many new positions offering a competitive Vmware Salary for Freshers.
This blog will provide you a comprehensive and condensed explanation of Vmware Inc., including vacant positions, recruiting and eligibility requirements for freshers, and a wide range of job perks and salary structures.
Who can Apply for VMware Tech Jobs?
In order to be considered for a variety of open roles at VMware, Freshers need to fulfill specific educational and technical qualification requirements. These requirements are as follows:
Applicants must have a bachelor's degree in a relevant field, such as engineering, technology, science, commerce, or computer application.
Additionally, applicants from any academic field are eligible to apply to the company for technical and non-technical positions.
In addition to this, the candidate must not have any academic backlogs and have a minimum academic percentile of at least 60 in all subjects.
In addition, the candidate for fresher positions at VMware Technologies needs to have the following interpersonal qualities to be considered for recruitment. The following are some of the most important skills:
Strong verbal and communication skills are necessary for effective interaction.
Strong coding skills, including comprehension of languages like Python, Java, PHP, CSS, Javascript, and others.
Functional knowledge of database management systems such as MongoDB, MySQL, and Oracle.
Understanding object-oriented programming and networking fundamentals are essential.
Do you possess fewer qualifying standards? Were you experiencing any frustration over your job application? Enrolling in PHP Training in Chennai at FITA Academy will increase your employability for a position with VMware. This course will provide you with a fundamental introduction to PHP and MySQL and their website development applications.
How to search for freshers vacant positions?
You will need to go to their official career page to search for various available positions suitable for a fresh graduate like you. For a more efficient search, follow the steps that are given below.
Go to the VMware career website at (https://www.vmware.com/in/company.html) for more information.
To explore the several open positions currently available, navigate to the Career page.
When you find the job role you are looking for, you can apply for it by clicking on the link.
Before submitting your application, you should read all of the relevant instructions and prepare the essential papers.
Your application will be sent once you have finished providing the required information and have clicked the "submit" button.
Joining a Java Training Course in Bangalore will allow you to obtain a certification in Java programming and the associated concepts. This certification will provide extra support for your academic credentials. By completing this course, you will have a solid understanding of Java, Javascript, and Oops principles.
Vmware Package for Freshers
At VMware, the starting salary package for freshers ranges from a minimum of 2.0 to a maximum of 5.0 Lakhs Per Annum. However, this package varies from entry-level workers to those with more experience. On the other hand, based on the company's alumni's compensation review, we have calculated an estimated average Vmware Salary For Freshers, which can be seen in the chart below.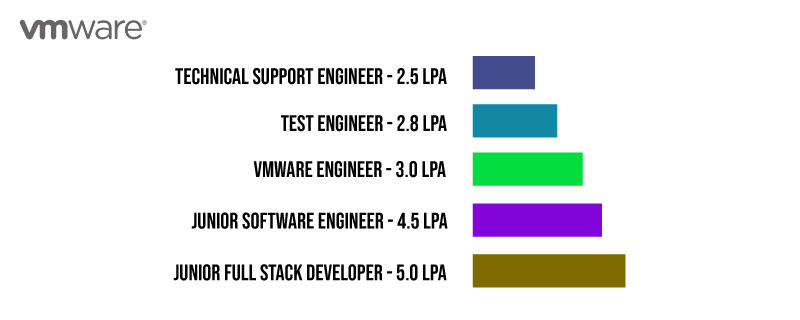 Were you concerned about the limited salary packages offered by VMware, Inc.? Do you want to see a rise in your salary within the next few years? If this is the case, you should enroll in a Data Science Course in Chennai because this course is demanding and has an excellent reputation comparable to that of Machine Learning and Artificial Intelligence. Therefore, if you obtain this additional certification, there is a good chance that you will notice a rise in your salary within the first year of working at VMware, which may lead to fantastic Vmware Salaries.
What are the various job roles and the responsibilities associated with them?
There are many different job opportunities available at VMware, the most competitive industry among all IT companies worldwide. Therefore, let's talk about the top five employment roles chosen for freshers and the essential abilities and duties for each position.
Junior Full-Stack Developer
Full-Stack Developers are experts equipped with a wide range of skills and can develop websites and user interfaces. They are highly skilled experts in the back-end and the front-end development processes. In addition to this, they are responsible for developing network servers, databases for websites, and coding for mobile platforms. If you are interested in applying for this position with good Vmware Fresher Salary, the qualifications you need to acquire are as follows:
Expertise in front-end programming languages such as CSS, HTML, and Javascript is mandated.
Experience that is relevant in Javascript Frameworks, in addition, to React, Angular JS, and Amber.
Strong ability to code in Python, Ruby, PHP, Java, and.NET, among other languages.
Knowledge of database management systems such as Oracle, MySQL, and MongoDB.
Excellent verbal and problem-solving skills.
If you want to work at VMware as a full-stack developer, you are required to accomplish a variety of essential job tasks, such as
Create the architecture for websites' front ends, and their back ends.
Create online apps that make use of fully working databases and servers.
Make sure that the optimization of mobile phone applications and cross-platforms.
To produce dynamic web designs, you should work along with graphic designers.
APIs and Android applications should be designed, developed, and validated.
To distinguish yourself as an extraordinary and unique full-stack developer, you must acquire front-end and back-end architecture expertise. Therefore, it would be beneficial to gain further certification in Full-Stack development. Hence, we strongly suggest that you enroll in the Full Stack Developer Course in Bangalore at FITA Academy. You will acquire all of the core skills necessary to become an expert in full-stack development with the guidance of experts and trainers at this institute.
Junior Software Engineer
Junior Software Engineers are in charge of engineering and updating existing applications or software. They also control the documentation process, which involves creating flowcharts and diagrams based on the software developer's instructions. This work role is quite attractive compared to other software development jobs; however, if you are interested in joining with a competitive Vmware Fresher Salary, you must acquire the following key skills to be selected for the position.
Strong skills in both solving problems and working with numbers.
Computational fundamentals, including an understanding of data structures and algorithmic frameworks.
Strong skills in both reasoning and analysis.
Skills in identifying and fixing software bugs and debugging source code
Skills to manage well with others and communicate effectively.
You are required to carry out the following necessary responsibilities and activities to maintain your position as a junior software engineer:
Determine the recurring patterns that cause software problems and look for ways to improve them.
Boost the program's performance by developing and putting into innovative action tactics.
In addition to reviewing and maintaining the current code databases, make sure they are kept up to date.
Implementing new technology requires close collaboration with design teams.
Create automation frameworks and tools of the highest possible quality.
We highly recommend that you enroll in Software Testing Training in Bangalore to obtain certification in software testing. This course will put you on the path to becoming a fantastic software engineer with a lot of experience. You will walk away from this class with a fundamental understanding of the SDLC and several software testing approaches.
Technical Support Engineer
Technical Support Engineers provide technical assistance to clients and customers. They also deal with systems to upgrade software, repair hardware problems and troubleshoot network server faults. Freshers interested in this position for a feasible Vmware Fresher Salary must have basic technical abilities such as
Skills in Desktop and also in Technical Support.
Familiarity with the hardware and software systems of computers.
Capabilities in managing networks and protecting them are also required.
Solid knowledge of online services, operating systems, and application programming interfaces (APIs).
Having the ability to manage remote PCs with Teamviewer is a valuable skill.
Having the ability to troubleshoot complicated hardware and software-related issues is essential.
Communication skills and good written skills.
In the case that you are selected for this post, you will be required to carry out the critical tasks and responsibilities listed below to offer IT assistance, which are as follows:
By using remote access, you may address problems affecting your customers' PCs.
Set up the new computer networks and the gear and software.
Determine the cause of problems with the computer hardware, network servers, and software applications, and then solve them.
Keep up a positive relationship with all of your international customers.
Please include job reports and data documenting the history of system problems.
Fresh technical support engineers need to educate themselves on other ideas and get more expertise as they progress in their roles. In addition to the workplace, the CCNA Course in Chennai is where you should enroll to understand sophisticated networking ideas. The fundamentals and advanced concepts of networking, network administration, and network servers will be covered in this class.
Test Engineer
Test Engineers play a significant role in determining whether or not a product is of a certain quality. They carry out several tests to ensure the product's quality, including examinations of its speed, usefulness, durability, and safety. If you are interested in working for VMware in this position with an affordable Vmware Fresher Salary, you need to acquire essential technical skills such
Expertise in testing and evaluating relevant items.
Abilities to carry out a selection of different types of testing procedures.
Competence in quality management and control systems (QMS).
The capability of upholding the quality level stipulated by the rules at all times.
Capacity for problem solving and analysis at a high level.
As a Test Engineer, you are needed to complete the following essential tasks and duties, which are
Examine and enhance the performance as well as the functions of a system.
Perform quality control inspections to guarantee that the items are free of errors.
Analyze the test findings and record them for use in future problem-solving scenarios.
Determine the causes of the problems related to the present systems, and then fix them.
Create automated testing systems to conduct regular inspections.
Excellent problem-solving and managerial skills.
As a test engineer, you must manually process the task. However, the modern world requires more integrated devices to process and function faster to get more significant outcomes. As a result, we recommend that you learn more about the automation process and apply it to your professional activities to automate the process. Hence, enroll in RPA Training in Bangalore.
VMware Engineer
VMware engineers utilize VMware software to connect Windows servers to cloud networks. They also work on responsibilities including installing VMware solutions, troubleshooting the VMware environment, and providing technical support. If you wish to apply for this specialist job role for a good Vmware Fresher Salary, you must have particular technical and non-technical abilities. The abilities are as follows:
Certified expertise in Microsoft's Virtual PC Cloud.
Strong programming abilities in Windows servers, Microsoft Web Services, Storage Area Network architecture, Citrix, Websphere, and C++.
Solid background in VMware ESX and the products that are associated with it.
Strong verbal and interpersonal communication abilities.
Competency in both analytical and technical tasks.
If you join a VMware Engineer, you require to accomplish the following key roles and responsibilities, which are
Analyze the existing network infrastructures and system components to determine whether or not they satisfy the company's requirements.
Ensure that the software and hardware of the network are optimized so that VMware integration is possible.
Create and carry out VMware-specific individualized solutions.
Build several different servers for virtual machines within a single physical host computer.
Integrate and connect Windows servers to various cloud and network environments.
Develop and Implement virtual desktop infrastructure.
Install and configure operating systems to protect against potential security breaches and bug fixes.
Compelling documentation of the procedures used by VMware is required.
Help the customers and clients with any technical issues they may have.
Maintain up-to-date knowledge of VMware's products and technology.
VMware engineers are mostly well in all the fundamental and advanced abilities required to do their duties. If you want to learn more about the rising IT industry, "Artificial Intelligence," we recommend enrolling in a certification course through Artificial Intelligence Course in Chennai. This course may provide you with AI algorithms that will allow you to automate and combine engineering processes with advanced AI bots. Furthermore, AI Certification may boost the likelihood of obtaining a high VMware Salary for Freshers.
What are the freshers benefits at VMware Inc?
In contrast to other IT firms, VMware offers exceptional employee benefits and perks. Here are a few examples.
The corporation pays for its employees' life and health insurance coverage.
The company raises the annual salary of all employees based on their productivity and work quality.
Allows the use of a specialized FSA (Flexible Spending Account) account for discounted purchases and emergency expenses.
In addition to health insurance, the organization offers plans for accidental death, physical disability, dental, vision, and cars.
The firm offers paid time off for maternity and paternity leave.
Allows newcomers to take advantage of worldwide relocation options to become immigrants.
This IT corporation offers financial and retirement programs to its elderly staff.
Employees benefit from a variety of advantages and savings on purchase orders.
Finally, the organization offers expert assistance to employees to help them advance in their careers and studies.
In the same way that other organizations do, VMware provides possibilities for migration worldwide. You're thinking about leaving the country and starting a new life somewhere else and enrolling in an IELTS Coaching in Bangalore. You will be given additional certification and scorecards from the coaching center, which may assist in getting your visa application processed more quickly.
How far are freshers satisfied with this company?
We have calculated an average job satisfaction rate as a way to encourage students in the direction of getting additional information about the working environment. Using this rate, one may determine the percentage of former VMware workers satisfied with their jobs. As per our calculations, the typical ratio of employees happy with their jobs at VMware is 80 percent. You can find the detailed information in the below image.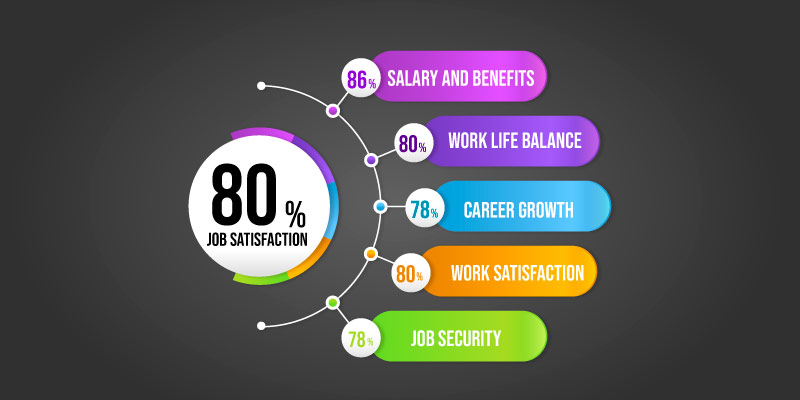 So far, we have covered all of the information needed to apply for VMware employment. The organization appears to provide excellent career and compensation benefits to new employees. As a result, we value freshers who seek and apply for various employment jobs at VMware based on their qualifications because the firm offers a competitive Vmware Salary For Freshers. After a successful career with VMware, you will be known by all IT organizations throughout the world. Furthermore, your work experience and reputation with VMware will offer you new career prospects. As a result, it would be ideal to begin a distinguished IT career at VMware with a Python programming certification obtained through Python Training in Chennai.
Recent Post: Intel Salary for Freshers