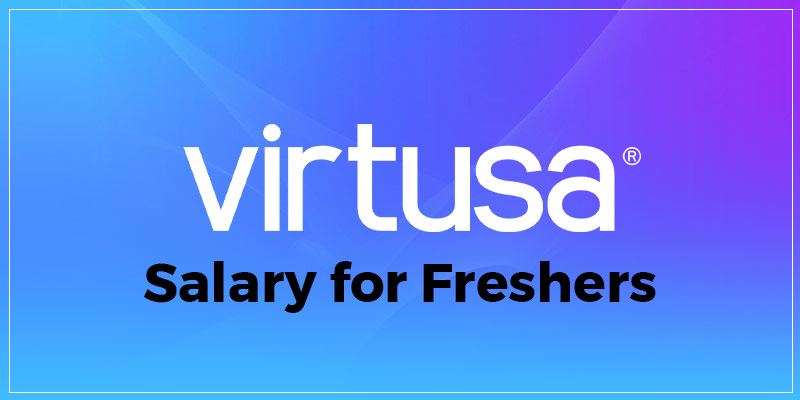 Virtusa is a leading digital company that helps global clients to speed up their business through its digital IT Services. The Services include consulting & design, digital engineering, cloud transformation, and managed services. Virtusa affords services to the greatest companies like Amazon, Google Cloud, Oracle, Adobe, and miscellaneous. Freshers and professionals are recommended to look for virtusa careers. Employees at virtusa hold global merit and recognition with a good virtusa freshers salary.
Applicable Candidates for Virtusa Freshers Jobs
Virtusa looks for aspiring, bold, self-motivated, and passionate applicants for their responsive roles. The applicant needs to work with a team to speed up their potential and career prospects. If you are one of them, then go ahead to explore the career page. Let's discuss the ways to get hired into virtusa, its career benefits, and salary packages for freshers as well as experienced professionals.
Approaches to Get Hired Into Virtusa
Virtusa hires freshers and professionals through its 52 CoE (Center of Excellence) centers. Interested students can approach their nearby Virtusa centers or campuses for placement. Besides, virtusa intends to set up 70 more excellence centers across the nation to create a wonderful gateway to IT aspirants. According to Hindu Businessline, you can find and locate some CoEs at Vellore Institute of Technology (VIT), SRM Institute of Science and Technology, and Sathyabama University.
Virtusa Salary Package
Virtusa holds a perfect firm for IT aspirants and freshers with a good initial package. The virtusa salary for freshers ranges from 2.12 LPA to 4.5 LPA (Lakhs Per Annum) whereas the salary of experienced professionals ranges from 3.3 LPA to 10 LPA.
Salary Structure at Virtusa
The virtusa package for freshers varies for different designations from freshers to experienced professionals. The following table enlists an average virtusa freshers salary and experts salary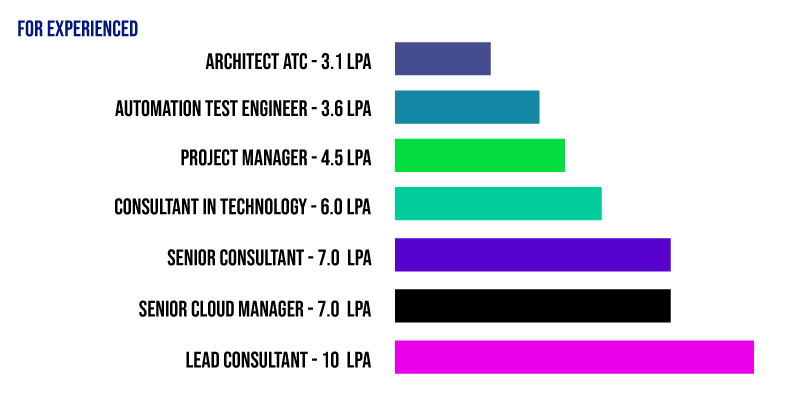 Freshers who wish to increase their average salary package are advised to enroll in and complete Data Science Course in Chennai. It will probably increase your skill demand in the IT Job market with a reasonable salary package.
Career Benefits
Freedom of Innovation - The workspace and engaging environment at virtusa enable you to innovate your ideas. Both Junior and Senior associates encourage and support your innovation. Then, virtusa offers international collaboration with multi-national companies to innovate your passion.
Spark Your Dreams with Virtusa - For aspirants who want to transform and innovate IT technologies, Virtusa seems to be the best and perfect platform. Virtusa sparks your dreams and personifies through its global services. It affords a wonderful platform to grow parallel to the development of this IT industry. Any novel works you innovate with Virtusa are recognizable and stand superior among all IT sectors.
Growth Your Professional Career - Virtusa is best known for its "Work Hard & Play Hard" philosophy, which means that hard work is reflected in the quality and quantity of results they produce. There exists innumerable opportunities to explore and dive in to professionalize your career.
Diversified Core Areas and Multidisciplinary Skills - Virtusa provides a series of IT services to global industries such as: banking, finance, communication, consumer product, health care, life insurance, media, software, transportation, logistics, travel, and hospital services and are not limited to. So, interested candidates can engage with any core areas to develop their featured careers.
Test Your Ability and Productivity - Virtusa provides a greater platform to test your ability and capability to produce unique and innovative technologies with global clients. In addition, you can assess your productivity through the completion of a number of projects assigned within a given frame of time.
Qualification Criteria for Virtusa Freshers Jobs
IT Aspirants for Freshers willing to kickstart their career at Virtusa with a good virtusa freshers salary need to complete either Graduation or Post Graduation degree. The professional degree should be B.E/ B.Tech or M.E/M.Tech or MCA with a good percentile (60% or above). If you are a fresher who has completed your recent graduation, you can apply to various posts at the Virtusa Careers. Add a supplemental skill set to your resume through learning AWS Training in Bangalore so that your application might get noticed.
Fundamental Skills Required
Freshers seeking career opportunities at Virtusa require fundamental skills such as scientific and critical thinking, problem-solving and problem assessment, ability to work in groups or teams, good leadership quality, intellective and innovative thoughts, flexibility with work hours, and so on.
Eligibility, Roles, and Responsibilities for Freshers at Virtusa
Consultant
Consultant role is concerned with skills such as AWS Boot, Hibernate J2Ee Java Javascript, Linux Microservices Python Rest Services, Spring SQL, Web. Some of the responsibilities of a consultant at virtusa are:
Consultant needs to combine and establish businesses strategically.
Need to follow novel design with proven methodologies.
Utilize comprehensive tools for the transformation and business development.
Become an exceptional consultant through learning Python Training in Chennai at FITA Academy. The leading institute is popular for best IT training and placement for freshers.
Software Engineer
Software engineers who want to dive into virtusa with an excellent virtusa freshers salary require advanced software skills such as Java, Oracle, Python, Searching, Security, Software Engineering, and Spring Boot. In addition, some of the significant roles of a software engineer were:
Build software modules for business solutions
Gather and Process business data for better outcomes
To become a Best Software Developer at Virtusa, enroll in and complete Java Training in Chennai, the leading programming course responsible for transformation of digital and information technology services.
Associate Engineer
Associate engineers at Virtusa have shared services, delivery, project, 2LS Support, and maintenance have different kinds of roles and responsibilities to do. To join as an associate engineer at virtusa, you must have good communication skills, stronger interpersonal skills, and good knowledge of java programs. Your hiring process follows three sets of interview processes from online assessment tests to HR interviews.
Mostly, associate engineers fulfill the following tasks;
Deal with global companies for a better organizational and logistical structure
Monitor on training and placement of industry candidates
Maintain good administration, Human-resource management, and PMO processes.
Enhance your skill set for best administrative services through excellent communication skills by completing Spoken English Classes in Bangalore.
Eligibility, Roles, and Responsibilities for Experienced Professionals at Virtusa
Lead Consultant
Lead consultant at virtusa must have the following skills to get onboarded: SQL, Java, AWS, Python, ETL, Javascript, Hadoop, Hive, Rest, SOAP, Web Services, Agile, Automation, Automation Testing, Data Modeling. A lead consultant has the following key responsibilities
Creating, Developing, and Deploying containers using EKS and Helm
Utilizing Teamcity and Jenkins to configure CI/CD Pipelines
Automation Programs using Ruby, Python, Powershell, and Grafana
Git related services
Architect (ATC)
To join as an architect at virtusa with good virtusa fresher package, you must have the following skill criteria: 10+ years of IT experience in business intelligence and data integration, good knowledge on data warehouse BI implementations, data schema creation, ETL and front-end development, strong knowledge of Oracle, SQL Server, DB2, IBM Technologies, and data modeling and data architecture. Some of the key responsibilities of an architect are:
To maintain the standard of data architecture
Ability to work collaboratively with IT and business team
Lead the full data cycle of an end-end source system to the targeted system
Monitor the health status of source data
Must ensure the code development capability with database and architecture system
Suggest better approaches to improve the data reliability, quality, and efficiency
Senior Cloud Manager
Virtusa expects their cloud managers to have desired skills such as cloud technology, digital transformation, solution-led approach, sales experience, revenue working model, pipeline work, and cloud partner. Alike other professionals, cloud managers have the following key roles:
Successful acquisition of international partners, sales, integration, and referral partners.
Visualize metric-driven campaigns for a better understanding of cloud performance
Ensure all the necessary digital, marketing, and product tools are required for their channel.
Educate and train other partners at Virtusa for the development of new partners and wider opportunities.
Be supportive of works related to sales, trades, channel marketing, and other interdisciplinary businesses.
Learn Data Science Courses in Bangalore to become expertise in cloud data architecture and cloud computing. This course may increase your chances of getting a higher promotion and high virtusa freshers salary.
Project Manager
Virtusa demands IT, aspirants, to have the following eligibility criteria to get onboarded as Project Manager: BCA or MCA with 7-8 years of work experience, knowledge on COTS, SaaS, ERP, Cloud Implementations, Advanced Programming, DevOps, and PMO Structure. Further, some of the key roles of you as a project manager are:
Responsibility to monitor the status and delivery of projects assigned to you.
Establish a good relationship between the facets of technology and operations
Governing the practices of project management and system
Dealing with other partners to drive the innovation into success
Responsibility to deliver high-quality projects and artifacts
Consultant in Technology
As a technology consultant, you need to be excellent in C#, OOPS concepts, WebAPI, ASP.NET MVC, development of web application, implementation of REST API, and microservices. So, once you get hired into the virtusa at a good virtusa fresher package, you need to fulfill the following key roles:
Executing complex applications through Microsoft or .NET core technologies.
Building APIs for frontend and other applications
Build small and distributed microservices.
Reconfigure or Rearchitect the existing applications for advanced versions
Automated streamline deployment and DevOps flow.
Improve your consultancy services to clients through pursuing Dot Net Training in Bangalore. The .NET course has been revolutionizing the development of mobile, web, and computer applications.
Automation Test Engineer
Virtusa hires Python Test Automation Engineer among the professionals with a strong background in Python script, automation framework, creation and implementation of test automation, knowledge in Linux operating system, SQL, and Microsoft and UNIX OS servers. As a Python Test Engineer, you might be having the following roles and responsibilities:
To achieve most test automation coverage up to 75%
Functional automation in Python
Automation Solution spanning multiple platforms
Develop and Establish novel goals for new and existing features
Enroll in for DevOps Training in Chennai to enhance the automation techniques and approaches for automation solutions and achieving new existing features.
Senior Consultant
Professionals with expertise in Oracle PL SQL, Database Developer, Oracle 12c, SQL, PL, SQL Writing packages, SSIS, SDLC, and 12+ Years of experience are likely to get hired into Virtusa as Senior Consultant with good virtusa salary for freshers. Some of the key roles and responsibilities of senior consultants are
Design and Development of SDLC and related Projects
Execution and Management of Oracle and SQL Projects
Services offered through Virtusa
Design & Consulting Services: It deals with strategizing roadmaps, outlines for the company's goal and prospect.
Digital Engineering Services: It deals with use of digitalized tools for enhancing digital transformation, and performance.
Cloud Transformation Services: It deals with services like digital infrastructure, intelligence and analytics, development of applications for user-friendly experience, development of apps for ensuring digital security of IT sectors.
Managed Services: It helps IT clients and industries to grab newer opportunities to transform and globalize the modern digital world.
Types of Clients served through Virtusa
As discussed earlier, Virtusa offers a variety of services from banking & financial services to travel & hospitality. Some of the best served clients were:
Industrial Capital Management: Virtusa utilizes its digital engineering tools to serve several banking and financial companies across the world. The Virtusa XLabs has been affording banking services through API Banking modules, data science and block chain solutions.
Communication and Transmission Services: Virtusa uses AI-driven automated Omni-channel Transformation services to cover a wider network area. It aids CSPs (Communication Service Providers) to have robust infrastructure for reliable transmission.
Consumer Goods and Commodities: The sales and export of Product and Sales company has been greatly accelerated by Virtusa through its CPG (Consumer Packaged Goods) - an artificial intelligence and data driven module.
Health Care and Management: Due to the volume of global patients, Virtusa has extended their digital healthcare solutions to monitor real-time data of patients. Its robust model delivers competitive, financial, and regulatory requirements.
Virtusa in Life Sciences: Its digital life science interface aids medical experts to monitor chronic disease management, acquire patient data through pharmaceutical and medical devices, AI/ML based data sharing and management. This digital interface provides an ideal solution for virtual care.
IT Firms and Software Worlds: Virtusa affords numerous IT services to global clients. Pro services such as data collection, data assessment, analytics, tech and publication companies, content delivery, and miscellaneous.
Insurance Policy Firms: Its digital transformative technology and user interfaces has enabled 2000+ Insurance industries to speed up their business.
Small Scale Software Vendors: It encourages small scale software vendors to sustain their operations smoothly through affording product modernization, digital care and support. This has made them serve world-class IT services across nations.
Industrial Manufacturing and Services: Virtusa afford newer digital models, smart technologies to modernize manufacturing industries. Its smart services enabled industrial investors to acquire new technology partners and smart investments.
Digital Media Industry: Virtusa has been serving 25+ global media's and 2000+ specialized media across the world. It aids in preserving their track records and makes them 100% referenceable.
Import & Export Transportation Services: Virtusa uses its digital transformation tools to modernize the transportation and logistics services worldwide. It enables manufacturers and retailers to have direct interlink for their import & export services.
Transportation and Hospitality Services: Alike other services, Travel, Transportation, and Hospitality services redefines the global era of digital marketing. Therefore, Virtusa offers its digital services and products to modernize it.
Employment Benefits at Virtusa
Freshers at Virtusa are offered with a variety of employment benefits listed below.
Employees at Virtusa are provided with free snacks, coffees, drinks, and other essential food items.
Virtusa covers health, life, and medical insurances and policies to all of their workers.
Since covid-19 pandemic, the company has been providing WFH (Work From Home) opportunities to all employees, any desired candidate can avail this option at any time.
Freshers before getting on boarded as professional employees, they are provided with proper soft-skill training and safety procedures to undertake.
For the well-being of physical and mental health, the company has multiple gymnasiums across accommodation centers.
In order to keep their employees engaged, Virtusa offers team outings and vocational tourisms to a variety of geographical locations.
Any employee willing to relocate to any of the virtusa's international offices, they can make them available to this option. Learn and crack IELTS Coaching in Chennai to get your VISA processed.
Finally, the company supports child care and education assistance to their employees' children for their bright future.
The firm "Virtusa" holds a tremendous amount of opportunities with adequate facilities for IT and related aspirants. Working with Virtusa, freshers and experienced professionals have both career, financial merits, and good virtusa freshers salary. Since Virtusa attracts numerous tech giants and global clients (such as Adobe, Amdocs, Appdynamics, AWS, Azure, FIOS Insight, GenRocket, Google Cloud, Oracle, and so on), it opens up numerous pathways for Virtusians to get into any international industries. Hence, from the given research insight, we highly recommend you explore and apply for various tech posts at Virtusa.
Recent Post: Amazon Salary For Freshers