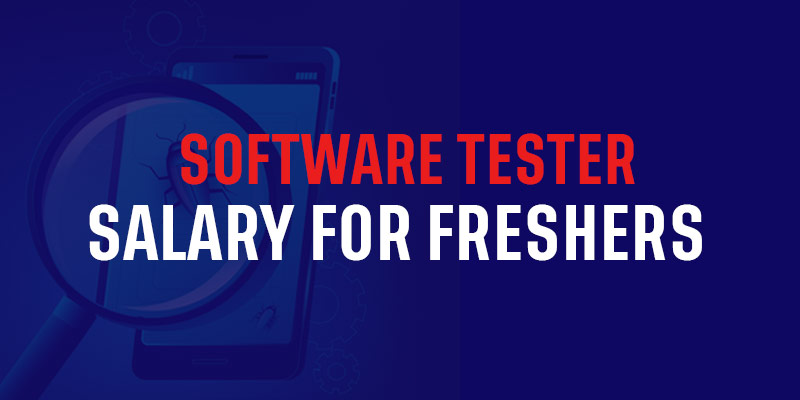 All the user-friendly application and software we use today has undergone numerous tests to suit our convenience and satisfy our needs. The Software Testing Engineer plays an equal role as the software developer. The Software Tester Salary for Freshers in India is huge as they are fairly paid for their notable contribution to software development. The production cycle ends, and the software gets ready to market only when it undergoes all the tests that a Software Testing Engineer puts it through. The Manual Tester Salary for Freshers exponentially changes with their skills, location, experience and the type of tests they perform.
Software Testing Engineer
A software tester's major duty is to manually test software applications to ensure the standard of the final result meets the client's expectations. Testers will raise defects when application faults are discovered, and implementation deviates from the given product requirements. Take up the Software Testing Training in Chennai to learn more about the manual testing process of software.
The test team's project and size can significantly impact the software tester's activity. Test leads can distribute the work in large QA (Quality Assurance) teams, so testers must concentrate on test execution and reporting errors. In small QA teams, a software testing function may involve other tasks like test authoring, planning, and status reporting.
Software Tester Salary for Freshers based on Companies
The Software Testing Engineers are fairly paid for their involvement in the production cycle to make the software more user-friendly based on their needs. The average manual tester salary for freshers ranges between INR 3.0 to 3.7 LPA in India. This gets varied depending on the company you get placed. Below is a table of Software Tester salary structures based on different companies.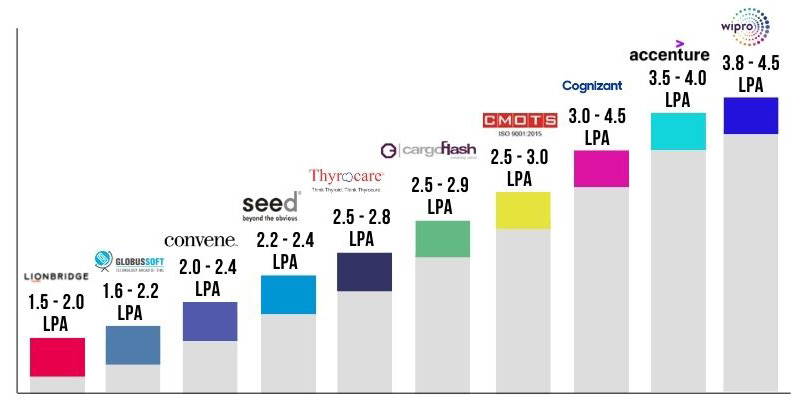 Duties of a Software Tester
Review the project requirements, specifications and design the user documentation.
Based on the needs of the product, they create functional test cases and test procedures.
Execute functional test cases to ensure product quality according to specifications.
Sanity, smoke, functional, and regression testing should be conducted.
They perform bug reporting and error analysis.
They help with test design, requirement analysis, and test documentation.
The Selenium Training in Chennai will help you to carry out these tasks by automating them. The automation software testing type is growing vigorously in the IT industry and Selenium is one of its popular tools.
Software Tester Salary for Freshers based on Location
The market rate is the range of wages for a certain position in a region or throughout the nation. Companies use the cost of living index to determine a role's wage structure. The index serves as a gauge for a location's essential costs, such as housing, travel, food, and utilities. Other than this, different nations' income tax rates are also considered when a company plans on the salary structures for job roles. Below is a comparison chart of Manual Tester Salary for freshers based on different cities within India.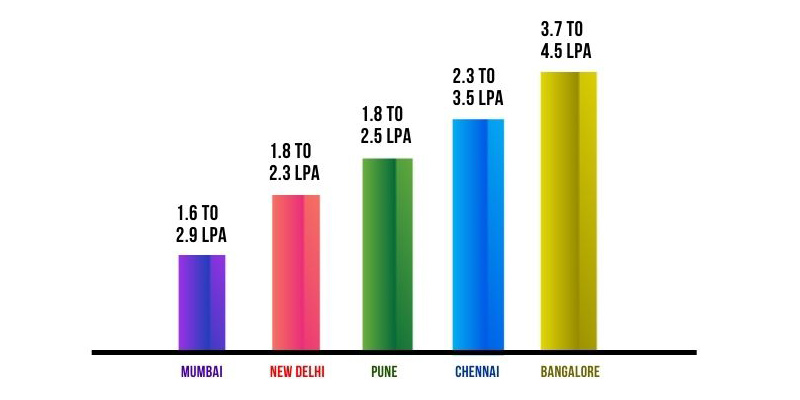 Technical skills required to become a Software Testing Engineer
DevOps and Agile Methodology
The methodologies of Agile and DevOps are essential for testers. The Agile working methodology makes the test project move faster and easier. Compared to DevOps, which demands cross-functional teamwork from development analysis to quality assurance, the product is produced with higher quality in a short span of time. Learning these strategies enables individuals to adjust to the project's various working methods. Join the DevOps Training in Chennai to increase the pay scale of the Software Tester fresher salary in India.
Knowledge of SDLC
The software industry uses the Software Development Life Cycle (SDLC) method to plan, create, and test high-quality software. The goal of the SDLC is to create high-quality software that meets or exceeds customer expectations while finishing on schedule and under budget. It comprises a thorough plan outlining how to create, maintain, replace, and modify or improve particular software. The life cycle outlines an approach for enhancing the general software development process and the quality of the final product.
Automation Tests
Before software is involved in the production, automated testing is a procedure that verifies that it is working correctly and that the criteria are being met. This software testing technique employs predefined sequences that testing tools carry out. Automated testing tools carry out software tests, which record results and evaluate them compared to earlier test runs. Enrol yourself in Selenium Training in Bangalore since it isone of the world's most widely used automation testing tools.
Latest Technologies and Programming
Software Testing Engineers should be updated on the most recent web and mobile technologies. It enables them to comprehend the application, evaluate its scalability, and execute proper testing procedures. With a basic understanding of programming, testers' ability to comprehend the application's functional component is improved, and the likelihood of errors and application inefficiencies is decreased.
Good Interpersonal and Communication Skills
Software Testers must establish effective communication skills to learn, solve problems, and broaden their expertise during various application stages. Good writing, speaking, listening, and reading skills should be developed by manual testers. They can more clearly convey requirements to the team, communicate problems to the developer, turn the requirements into test cases, and produce reports with the aid of communication.
Furthermore, it enables them to communicate their ideas to technical and non-technical people. You can enrol in a Communication Course as it is important to establish yourself stronger in your workspace.
Documentation Skills
Every tester needs to develop the critical skill of documentation. It aids in determining the right requirement and carrying out the appropriate action. A well-documented test makes it easier to follow requirement changes, review the testing procedure, identify anomalies, write reports and log off work.
Software Tester Salary for Freshers based on Skills
Based on the different technical skills you possess, the Manual tester salary for freshers differs significantly. The above-mentioned are the most widely known technical and soft skills of a Software Testing Engineer.
| S.No. | Software Tester Technical Skills | Salary |
| --- | --- | --- |
| 1 | | 4.3 to 4.5 LPA |
| 2 | DevOps | 3.7 to 4.0 LPA |
| 3 | Agile | 3.5 to 4.0 LPA |
| 4 | Appium | 3.8 to 4.2 LPA |
Join the Appium Online Training from wherever you resid and learn more about the automation testing tools. This will help you increase your salary and instantly receive promotions at work.
Why Software Testing?
During the software's implementation, programmers could make a mistake. This may be due to different factors, including the programmer's lack of experience, the algorithm's wrong implementation due to complex logic, or even human errors. Software testing is necessary to identify the flaws and mistakes committed during development.
It is crucial since it guarantees the customer's dependency on the company and their contentment with their application is upheld.
Ensuring product quality is crucial. Delivering high-quality goods to customers aids in acquiring their trust.
Testing is required to supply clients with services like the delivery of high-quality products or software applications that require less maintenance and, as a result, produce outcomes that are more accurate, dependable, and consistent to the clients.
It is crucial to ensure that the application doesn't meet any failures because it could be costly in the long run or at later stages of development to produce it again.
If a company or startup sells only one product, poor software quality may prevent customers from buying the product, which could lead to losses that the company may not be able to recover from.
You can now take the Software Testing Online Course at FITA Academy to earn a certification in this field. The certification is necessary as too many candidates compete with you in the IT sector for this role.
Software Testing Engineer Salary based on Experience
The salary of any job is directly proportional to the candidate's experience in the field. The salary increases with the number of years in the field. Similarly, the Manual Tester salary for freshers is the initial pay a company gives you. It increases gradually with your experience in the field. A bar diagram is given below to understand how experience affects the salary.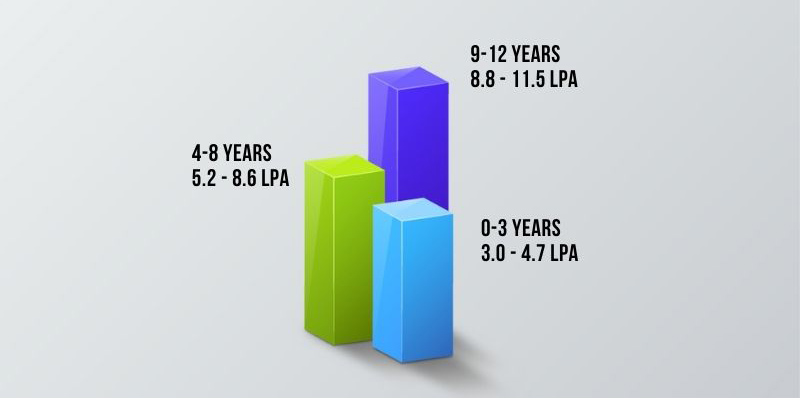 Different Roles in Software Testing
The Manual Tester Salary for freshers also varies depending on the job role you hold in the field. The software testing field involves the following job roles,
Manual Tester - Performs manual test scenarios and report defects.
Automation Tester - Prepare and execute automated tests using tools and document the executed tests.
Performance Tester - They run load and stress tests to assess the stability and response times of the application. They report results from performance tests.
Test Analyst - They monitor and tweak the testing procedure. Participate in developing quality measures, testing, analysis, and reporting.
Test Lead - They plan and coordinate tests for the team.
Test Manager - They manage the test teams and coordinate with them for better results. They also elaborate the test plans and strategies.
The salary structures of the roles that are attained through experience from the above are tabled below for your reference.
| S.No. | Software Tester Role | Salary |
| --- | --- | --- |
| 1 | Performance Tester | 3.0 to 3.8 LPA |
| 2 | Test Analyst | 4.0 to 4.4 LPA |
| 3 | Test Lead | 5.0 to 7.6 LPA |
| 4 | Test Manager | 8.0 to 10.5 LPA |
Thus, you can gradually increase your the Manual Tester Salary for Freshers through constant efforts, skills and experience.
Demand for Software Testing Engineers
There is steady growth in this field as Companies ensure the program is free of bugs or any other issues. Due to the performance drawback, Testing became the sole dependency of perfection for the IT industry. The software Testing field is a never-ending sector in IT, owing to its global needs and demands. The software products' quality is at par with excellence, which relies upon the Software Testing Engineer at three levels - Development, Release and Acceptance.
There's a huge demand for software testing in the market as its scope is proportionately increasing. The impactful revolution in the IT industry paves the way for further enhancement of Software Testing. This sector has carved out a niche with the existence of Big data, IOT and Cloud. This highly competitive Testing industry has created new paradigms in the same sector.
Though the existence of Agile and DevOps has not ended the need for testing, it's carried out in a whole new dimension in sprints. Due to the increase in sprints, there creates an increasing need for testing and automation. Since the demand for software testing is tremendous, take up this Software Testing Course in Bangalore to open the door for numerous job openings in the IT industry.
With Widened scope across the globe, Testing comprises some significant tools such as Selenium, Testing Whiz, Ranorex, Cucumber, Katalon Studio and many more. These tools aid in the effective performance of the Tester. The reason for a tester's tremendous growth depends upon the Tester profile's precedence. Security Testers with high skills and resources are in increasing demand. Hence, The growing demands of a Software Tester are significant and beneficiary for the growth of Software development and the IT industry.
Software Tester Salary for Freshers based on Testing types
Software Testing is a vast field and it involves numerous types of tests. The test varies according to the end user's needs, the type of product developed and the phase of the test cycle. A mind map of different types of tests and the phase where it takes place in a test cycle is given below for your benefit.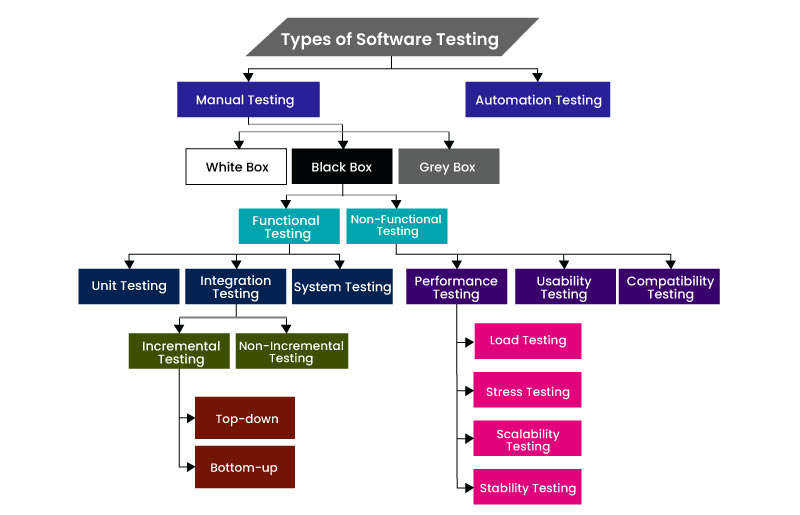 The major two types of tests and its salary are briefed below.
Manual Tester
Manual testers create test cases or scenarios with 100% test coverage, run each one individually, and then check the results. They ensure that any reported bugs are forwarded to the development team to resolve before being tested again. When a new programme is put through manual software testing, human testers examine it for quality without the aid of automation software or scripting. The goal is to find errors or flaws, confirm that the product is error-free, and reaffirm that it complies with the required functional specifications. Learn more about this testing type by enrolling in the Manual Testing Online Course. They are vital in filling the void between software developers and users.
Automation Tester
Software and other technological items are tested through the process of automation to make sure they adhere to tight standards. It basically serves as a test to ensure that the hardware or software performs its intended function. It examines a product's code for errors, flaws, and any other potential problems.
Although some testing methods, such as functional or regression testing, can be carried out manually, there are more advantages to automating the process. Automation tests can easily run overnight. The programme is examined using scripted sequences. The findings are then reported, which can be compared to results from earlier test runs. Automation developers frequently use programming languages, including C#, Java, and Ruby. The Java Training in Chennai will make it easy for you to learn and perform the automation testing tools effectively.
Salary Differences
The average Manual Tester Salary for freshers ranges from INR 2.0 to 2.5 LPA. The average Automation Tester Salary for freshers falls between INR 2.3 and 3.8 LPA. The void between the software tester salary for freshers per month of these two types of software testing is due to the varying demands in the industry. Many companies have chosen the automation testing type over manual testing due to its accuracy and rapid results. Yet, manual testing never goes out of the field as few tests have constantly varying data and can only be carried out by manual testers.
The Manual Tester Salary for freshers can be changed with constant efforts to gain technical skills. Python Training in Bangalore is inevitable as it is widely used in the software testing sector in its tests and tools. Further, this certification shows your dedication to attaining professionalism in the field, making you a desirable candidate for any interview.
Recent Post: Full Stack Developer - Skills, Roles and Responsibilities