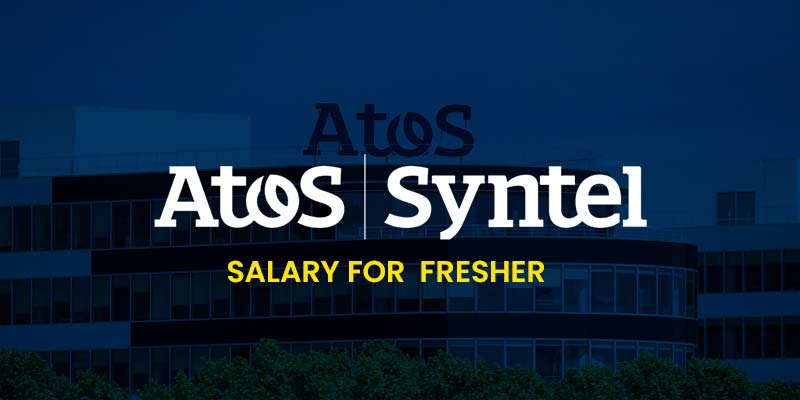 Atos Syntel, a subsidiary of Atos, is a global supplier of integrated technology and business services. The company was an acquisition of Syntel Inc. by Atos in the year 2018. The company has an exciting Atos Syntel Fresher Salary for young minds with creativity and dedication to bring new revolutionary changes into today's internet world. The company operates its services through four categories - Application Outsourcing, Knowledge Process Outsourcing, e-business and Team sourcing. The Atos Syntel Package for freshers in all the categories is discussed in this blog with ideal tactics to increase the package.
Eligibility Criteria to Join Atos Syntel
The following qualification requirements for various available roles must be met by applicants seeking a job role at Atos Syntel.
A full-time graduate with a B.E., B.Tech., BCA, or MCA degree is required.
Any degree with training in computer science, information technology, or computer applications or equivalent departments is qualified to apply.
The candidate must have earned a minimum Grade Point Average (GPA) of 60 across their academic career.
The candidate cannot have any sort of academic backlog.
Applications for Atos Syntel employment are accepted with a minimum one-year educational break or hiatus.
Apart from these, additional technical skills such as programming languages, Network security, DevOps, Cloud Computing, etc., will help elevate your chances of getting placed in Atos Syntel. If you haven't started learning them, start with the Python Training in Chennai and learn the all-purpose programming language of the IT industry.
Atos Syntel Fresher Salary based on Technical Roles
The payscale keeps changing for different job roles in a company. The more responsibilities shouldered, the more the package is structured by the employers. According to an online poll, different technical job roles at Atos Syntel receive different salary packages. Below is the visual representation of the difference in the Atos Syntel package for freshers.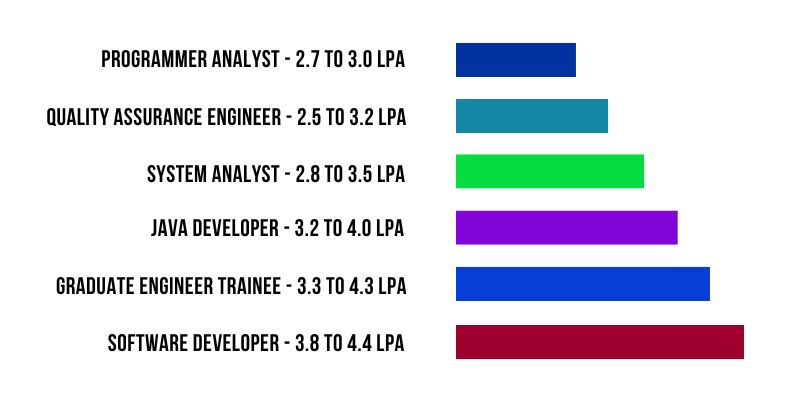 Join the Java Training in Bangalore and gain proficiency in the most widely used programming language in various tools and technologies of the IT industry.
Demanding Technical Skills at Atos Syntel
Earning certifications in one or more technical skills mentioned below would help increase the Atos fresher salary. You can also learn the other technical skills that tend to change along with the trends, technology and age. Learning and updating yourself every now and then is the foremost quality of an IT professional.
Network Security
Network security is crucial because it protects sensitive data from online threats and guarantees that the network is reliable and usable. Network security administration may encompass a wide range of hardware and software security technologies. As networks get increasingly complicated and businesses rely more on their networks and data to operate, security becomes more crucial. The goal of security enforcement measures should be to avoid breaches by reducing risk on the network as networks and attack techniques develop. Enrol yourself in the Cyber Security Course in Chennai at FITA Academy to gain comprehensive knowledge of security systems in all kinds of networks.
Cloud Technology
Similar to web-based email clients, cloud computing enables users to access all of the system's functions and files without storing most of that system on their own machines. Flexibility, data recovery, no maintenance, easy access, and increased security are a few major benefits of cloud computing in business.
In actuality, most people now use a range of cloud computing services without even being aware of it. Cloud-based programmes include Facebook, Instagram, TurboTax, Google Drive, Gmail, and more. People can utilise cloud computing for more than just storing their images and videos online. It is a component of a corporate strategy that is sweeping the globe.
Amazon Web Services (AWS) is the most important cloud platform that is now being used worldwide despite the size of the business. Taking up the AWS training in Bangalore will help you enjoy the Atos Syntel Package for freshers and get you placed in similar top IT companies.
Machine Learning
Machine learning is crucial because it aids in the development of new goods as it provides businesses with a picture of trends in consumer behaviour and operational business patterns. A significant portion of the operations of many of today's top businesses, like Facebook, Google, and Uber, revolve around machine learning. This shows the wide range of opportunities surrounding this certification along with Atos Syntel.
The most crucial component of machine learning is training. Consider carefully the features and hyperparameters to use. People make decisions, not machines. The most significant step in machine learning is data cleaning. Join the Machine Learning with Python Online Course to upskill your profile with professional skills in machine learning.
DevOps
DevOps increases business agility by fostering a culture of cooperation, clear communication, and integration among all international teams within an IT organisation. In such a positive DevOps environment, the pre-established boundaries based on responsibilities are becoming less important.
DevOps helps your teams achieve this by assisting them in concentrating on the customer experience, bringing teams together for quicker product shipments, streamlining the objectives of each release, introducing automation (which lowers errors and frees up developer time for other projects), and establishing a feedback loop that benefits the entire business.
DevOps is used in the daily operations of companies like Amazon, Target, Esty, Netflix, Google, and Walmart to boost productivity and shorten delivery times. You can easily become a DevOps engineer and enjoy the Atos Syntel fresher salary by earning a certification from DevOps Training in Chennai.
Artificial Intelligence
Artificial intelligence (AI) can automate repetitious work that was previously completed manually without growing weary or needing breaks as a human employee. By refining conversation bots or customer service menus and providing better product recommendations, it can make products and services smarter and more efficient while enhancing end-user experiences.
Additionally, it analyses data more quickly than people do, enabling it to spot patterns much more quickly and discover patterns that humans would overlook. Certification in Artificial Intelligence helps you with fetching a high Atos Syntel salary for freshers due to the disequilibrium of the workforce in this sector of the IT industry. Join the Artificial Intelligence Training in Bangalore without delay for a bright future.
Since AI can analyse complicated, multi-variate relationships more effectively than humans without pausing or making mistakes, it optimises the value of data. As a result, it is a vital tool for any organisation that relies on data and operates at scale.
In simpler words, AI improves key business processes of Atos Syntel by boosting the speed and accuracy of strategic decision-making processes, enabling firms to make better judgments.
Atos Syntel Fresher Salary based on Non-Technical Roles
A company cannot stand on its own without their non-technical employees. Atos Syntel goes by this fact and fairly pays well to their employees in non-technical job roles. Similar to the payscale differences in the technical job roles, the salary of non-technical job roles also keeps changing with the type of role. The Atos Syntel fresher salary based on non-technical job roles is given below in the chart.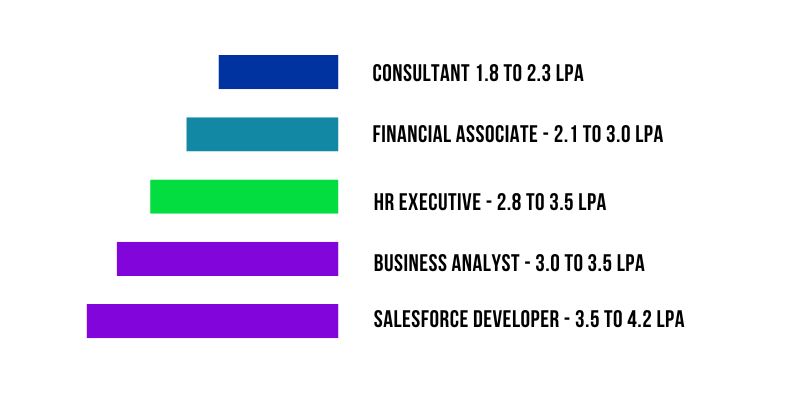 You can still get paid well at Atos without any technical skill. Enrol yourself in the Salesforce Training in Chennai and become a salesforce developer with the knowledge gained from the training.
Atos Syntel Job Roles and Responsibilities
Business Analyst
Business analysts are well-versed in both technology and business. Their primary duties include coordinating IT with the executive branch, enhancing the calibre of IT services, and comprehending business requirements. The following qualities are necessary for freshmen seeking this position to enjoy the Atos Syntel Salary for Freshers, IT management, analytical skills, technical skills, problem-solving, and solid interpersonal skills.
Responsibilities
Working closely with the IT division and the executive branch.
Serving as a link between divisions of the firm and a source of information.
Identifying crucial business needs and expansion plans.
Enhancing the level of information technology services and goods.
Examining the designed technological systems and commercial concepts.
Making sense of IT data for business purposes.
Examining the company's requirements.
Acquiring fresh business technology and implementing it.
Creating technical answers to fulfil business needs.
Providing information on the creation and use of applications.
Executing A/B testing and evaluating the outcomes.
Data analysis for the purpose of improving business decisions.
Consider taking the Digital Marketing Online Course and learn the new marketing strategies in today's business to stand up with the competitors. You can easily earn a certificate by staying back in the comfort of your home.
Software Developer
The brilliant minds behind all kinds of software and applications are software developers. While some programmers concentrate on a single app or programme, others build vast networks or underpinning systems that activate and fuel other apps. Applications software developers and systems software developers are the two main categories of developers.
Responsibilities
Work with programmers to create flowcharts and algorithms
Write clear, effective code in accordance with the standards.
Embedding software and third-party applications.
Verify and imply procedures and programmes in place.
Upgrade, debug, and troubleshoot current software.
Assemble and assess user feedback.
Make suggestions and direct them into action.
Publish technical documentation for use in reporting and references.
Enrol in the Full Stack Developer Course in Bangalore to learn the entire software development process. The course includes all three layers of software development - front end, back end and database.
System Analyst
An systems analyst in IT works to make sure that computer systems, infrastructures, and other systems are operating as effectively and efficiently in every way possible. In order to fulfil predetermined requirements, system analysts are responsible for conducting research on issues, identifying solutions, recommending courses of action, and working with stakeholders. They research a company's current systems, practices, and business processes before developing action plans in accordance with the guidelines provided.
Responsibilities
Identify needs, review and analyse current business and IT models, and map as well as describe interconnections between legacy and new systems.
Understanding the lifecycles of software development.
Maintain strong communication with internal and external clients and make proposals.
Incorporating client demands into detailed project briefs.
Choose viable solutions, and evaluate them for their technical and commercial viability.
Conduct a needs analysis and create detailed ideas for systems that will be changed or replaced.
Create remedies and launch product development.
Strong knowledge of the various operating systems is inevitable for a system analyst. Hence, enrol in the Linux Online Course and gain comprehensive knowledge from the training to increase your Atos Syntel salary for freshers.
Quality Assurance (QA) Engineer
Before a product launch, a QA engineer creates tests that reveal software flaws. These tests involve additional duties like creating and executing brand-new tests and communicating the results to stakeholders so they can work together to resolve any defects or issues with the application.
Responsibilities
Create guidelines and criteria for developers to adhere to in the process of software development.
Execute scripts for manual and automated tests.
Create and use automated testing.
To comprehend and clarify software requirements, and communicate with stakeholders.
Analyze test data to forecast user behaviour, spot errors, and fix to reduce issues.
Keep track of quality indicators and collaborate closely with the product development and testing teams to deliver the project on schedule.
Make sure the finished product complies with the criteria.
Analyze the product features and suggest improvements to make them more effective and user-friendly.
Keep abreast with the sector's most recent standards, laws, and advancements.
Expand your knowledge and strengthen your skills in the testing field by gaining exposure from the Selenium Training in Chennai. It helps you to learn the most important automation testing tool in detail.
Atos Syntel Fresher Salary based on Experience
The salary of a professional increases with the increase in their experience and exposure in a particular field. Atos Syntel package for freshers is only an entry-level salary offered by the company for fresh graduates. It increases with the number of years in the industry and the technical skills you gain over the time period. The difference in the salary based on experience is found in the below bar diagram.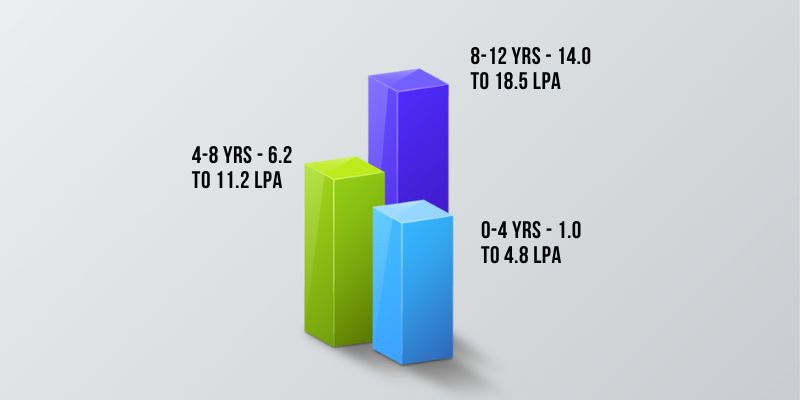 Employee Welfare Programme in Atos Syntel
One of the IT companies that provides the Work from Anywhere (WFA) option is Atos Syntel. It helped to lead in a new era of fresh perspectives, opportunities, and a distinctive labour force. The organisation has effectively adopted a work-from-home programme to help employees strike a healthy work-life balance.
Atos Syntel also offers its employees life and health insurance. It pays for hospital bills, therapy, prescription drugs, and the unavoidable fatalities that arise from disasters. Based on their motivation and performance, the company gives its employees financial incentives and raises in pay. The company also offers extra bonuses during the festival and other formal occasions.
As a multinational corporation with locations worldwide, Atos Syntel has the authority to determine whether to implement universal relocation for its employees. This procedure and set of rules are followed in carrying out this action. Gain access to all the advantages of moving to different international locations by taking IELTS Coaching in Bangalore. After finishing the course, you'll be qualified to work worldwide at any Atos Syntel location.
The company has a strong reputation abroad and seems to be a good fit for newbies. Any Atos Syntel employee has the potential to work for any worldwide company or IT market and has global merit. Due to the competitive nature of the IT job market, all Atos Syntel alumni are in high demand. In light of our research and analysis of Atos Syntel package for Freshers, we advise you to check out the wide range of employment opportunities and build a reputable IT career with the company.
Recent Post: Software Testing - Types, Concepts and Importance