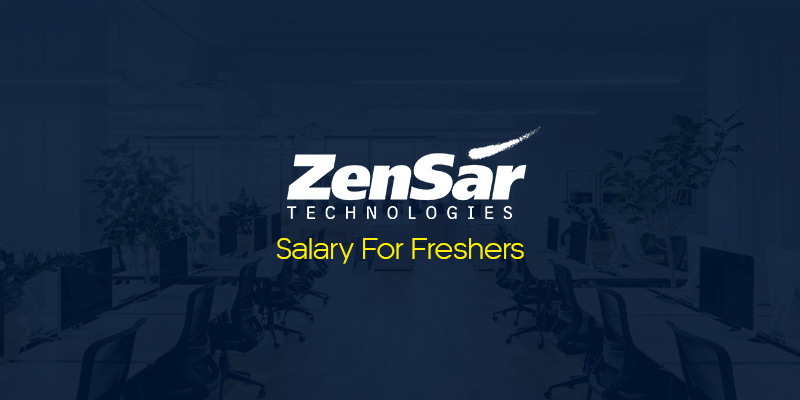 Zensar Technologies is a leading tech firm renowned for outsourcing I.T. consultant services. Among various IT technologies, it is one of the best consulting and service providers. This tech firm plays a vital role in the rapid growth of the high-tech and financial sectors. Due to their continuous progression in IT based services, the company plans to announce the availability of thousands of vacant positions with a competitive Zensar Salary for Freshers.
In this blog, we will discuss the company's overview, core areas to work, availability of job postings, eligibility criteria, application procedure, and average salary details.
Short Summary of Zensar Tech
Zensar Technologies is an Indian multinational company located in Mumbai. It is popular for providing services such as software engineering, marketing solutions, and management of digital products. The company accommodates more than 10,000+ employees across 130+ national and international offices.
Who can apply for Zensar Jobs?
Several blogs and articles provide qualification criteria as the primary qualification for job postings. But, here is our listing; we propose a few criteria which define the candidate's interest and eligibility to apply. Therefore, the preliminary criteria are as follows.
Enthusiast to drive digital technologies and consultant services.
Passionate to explore and utilize new technologies and digital suites.
Goal to pursue an IT career in the respective domains.
These are the preliminary criteria for IT Jobs. So, we advise candidates to develop the interest mentioned above before applying for jobs. Because a job without any motivation may discourage your effort and capability.
How to Apply for Zensar Open Positions?
Like all IT Companies, candidates can apply and get into this firm through two different options. It's either virtual interview mode or off-campus drive. For respective options, follow the below-mentioned guidelines.
Virtual Mode: Through this mode, the applicant needs to visit their official career page (https://www.zensar.com/careers) and search for available positions. If you find any respective job, click over the tab and apply.
Walk-in-interview Mode: This is nothing but the off-campus recruitment drive or walk-in-interview. This procedure requires preliminary registration online. After completion of registration, the applicant will receive the data, time, and venue for a direct interview.
Academic Qualification Criteria Needs
Freshers who are interested to apply for numerous job positions with a feasible Zensar Salary for Freshers are required to obtain the following academic criteria, which are:
The applicant must hold a degree from accredited universities or colleges. It may be a Bachelor's or Master's degree.
The applicant must have qualified in significant degree such as engineering, computer science, and information technology.
The applicant must have secured average marks of 60% throughout all the academic exams.
The applicant must not be a holder of any academic backlog.
Zensar Technologies Salary For Freshers
Recent graduates, as well as experienced professionals, receive a different range Zensar Technologies Package for Freshers. In addition, candidates who have gone through internships and industrial apprenticeships also have a great chance of receiving a good salary package. Based on the salary feedback provided by the previous employees, we have estimated an average package from the below-given chart.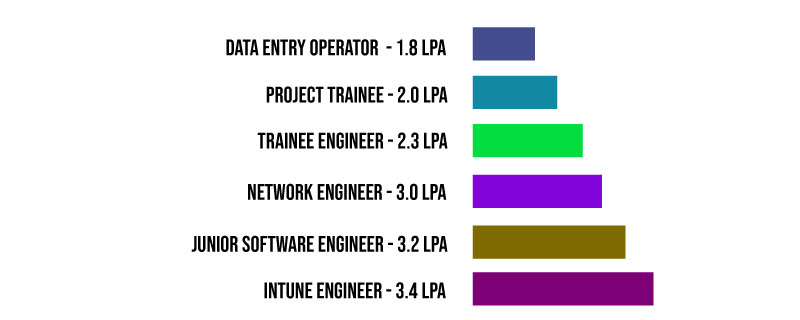 Are you looking for a higher salary package at entry-level? There is an option to expertise your skills and receive a salary hike, join Artificial Intelligence Course in Chennai at FITA Academy. This training and placement center is well-known for placing hundreds of IT candidates into reputed firms across India. Further, a certification in AI could attract your recruiters to increase your annual salary package due to global demand.
We have outlined the average salary structure, but it may vary according to the actual salary. Let's discuss about the essential responsibilities and the variety of skills required for each job role at Zensar Technologies.
Essential Skills and Job Responsibilities
Data Entry Operator
Data entry operators are concerned with entering all the company's data into online or computer databases. They also maintain the records and company files to gather information for future applications. The Freshers who want to earn a good initial Zensar Fresher Salary can try for this role. Before that, you need to acquire significant IT and professional skills to enter. Some of the essential skills are
Relevant experience in data entry and database management.
Expertise with Microsoft Office and Data Management Tools.
Ability to maintain confidential information.
Good organization skills and Project Management.
Computer Training Certification will be an additional asset.
Further, a data entry operator is responsible for accomplishing the following responsibilities, which are
Create and Manage Customer accounts in the company database.
Check and Validate the right information recorded in the database.
Review all data for inaccuracies and errors.
Create and Manage Reports and Implement backup operations.
Scan, Print, and Manage confidential papers.
Prompt response to client's queries and colleagues.
Ensure the functionality of office equipment without malfunctions.
In order to effectuate proper management of databases along with expert skills in Data structures, we encourage you to take up Data Science Course in Bangalore. The professional mentors will help you acquire the necessary skills in data science and advanced database management. It will be an additional asset to you if you apply for a data entry operator.
Project Trainee
Project trainees are freshers who undergo a series of soft-skill training programs to advance their job position in a company. They need to cooperate with senior and other job professionals to acquire knowledge and relevant experience in their chosen field. If you join as a project trainee, you may need to deliver presentations of your projects. Besides, the average Zensar Salary for Freshers is affordable for this role, and you can expect a reasonable increment within years. So, if you want to apply for this positions, you need to possess fundamental skills in basic software products, which are
Knowledge of Microsoft Office and other basic applications.
Fundamental understanding of coding with Java, C++, and Python.
Capability to learn and acquire new skills and project techniques.
Good interpersonal and leadership skills.
As a project trainee, you need to fulfill a wide range of tasks along with specific key responsibilities, which are
Work with assigned projects and submit them within deadlines.
Research, Assess, and Acquire new learning resources.
Collaborate with Senior staff and Leads.
Show adequate progress with your capabilities.
Project trainees are basic job positions in all IT Industries. Therefore, if you want to make you eligible for this role, we recommend joining Java Training in Chennai. Through this certification course, you can acquire and advance your basic programming skills apart from other technical skills.
Trainee Engineer
Fresh Trainee Engineers usually join to gain additional work experience in the appropriate sector. They are concerned with assisting staff, working with ongoing projects, performing basic research, and generating reports. The Zensar Salary for Freshers, especially Trainee engineers, ranges from 1.8 to 2.3 Lakhs Per Annum. Perhaps, this is a good package for beginners, so if you want to apply for this role, you need to possess essential skills, which are
Good Logical and Analytical Skills.
Capability to work with teams.
Strong Interpersonal and Communication Skills.
Basic Technical Skills in Software would be advantageous.
Trainee engineers are associated with the following tasks and responsibilities.
Complete all the assigned tasks effectively.
Observe and Improve their work strategies and techniques.
Perform research and data collection.
Attend workshops and client meetings to gain experience.
Submit all the necessary documents during the traineeship.
Freshers who are willing to join as Trainee Engineers need to acquire skills in engineering as well as basic software skills. Therefore, we suggest you join Python Training in Bangalore. As Python is the leading programming language, the recruiters will give your skills more preference during the interview assessment.
Network Engineer
Network engineers play an important role in the management of computer networks. Freshers who want to join for these positions with a competitive Zensar Salary for Freshers are required to possess fundamental skills in technical and networking field, which are:
Relevant knowledge and experience in networking concepts.
Skills in Local Area Network (LAN), networking, and network hardware.
Good troubleshooting capabilities and ability to resolve it.
Strong skills in networking software and applications.
A network engineer is associated with a wide range of duties. Some of the significant responsibilities are as follows
Monitor the performance of networks and their servers.
Configure and establish internal and external network connections.
Audit the network systems and IP addresses.
Troubleshoot and Improve the network for faster performance.
Collaborate with network architects for network improvements.
Are you eager to know more about networking concepts? Then, join the CCNA Course in Chennai. This course will explain advanced concepts in networking technologies, network servers, systems, and network management.
Junior Software Engineer
Junior software engineers are fresh graduates who are concerned with the development of software and their respective codes. They cooperate with teams to gain hands-on experience in coding, bug-fixing, and other related tasks. Freshers who want to become software engineers with a feasible Zensar Salary for Freshers are advised to acquire the following essential skills before applying.
Knowledge of primary coding languages such as C++, Javascript, and HTML5.
Strong Programming Skills in Python, Java, and R.
Management skills in email systems and Microsoft Office Programs.
Good collaboration skills with effective time management.
If you join as a junior software engineer at Zensar, you need to fulfill the following key roles and responsibilities, which are
Provide assistance in the development of software design and codings.
Learn and Improve your skills in coding databases.
Write and Review the programming codes and fix minor bugs.
Evaluate the technical performance of systems.
Collect feedback from consumers on the usage of software programs.
In order to become an exceptional software engineer, we recommend obtaining a certification in software testing would be beneficial. So join Software Testing Course in Bangalore because this course will provide you with all the fundamentals and approaches to test and validate software. It may help you to develop error-free applications or software products.
Intune Support Engineer
Intune Support Engineers play a significant role in providing technical assistance to clients. They also configure the systems with updated software and network systems. Usually, experienced professionals are chosen for this role. However, freshers willing to join for this job post with a reasonable Zensar Salary for Freshers need to acquire critical technical skills before applying. Some of the significant technical skills are as follows
Skills in WSUS, SMS, and SCCM
Expertise in Microsoft Intune and DNS Management System.
Strong understanding of Network Protocols, Network Devices, and SQL.
Skills in Operating System, Mobile Device Management.
Fundamentals of Microsoft 365 and other related applications.
Intune Support Engineers are associated with complex technical tasks and responsibilities, which are
Provide technical assistance to clients' feedback and queries.
Install and Configure new hardware, networking system, and software.
Diagnose, troubleshoot, and Fix issues concerned with hardware and networks.
Suggest effective solutions to complex problems.
Provide software training to juniors and other interns.
What are the advantages and benefits of joining Zensar Technologies?
Freshers are benefited with numerous opportunities, support from peers, and good salary compensations. Let's discuss in brief about the freshers benefits at Zensar Tech
A career at Zensar allows you to live a digital lifestyle in which you may express your talents and ideas through various social media platforms. Your Seniors or Peers will assist you in gaining comments, making ideas, and addressing technological issues.
Equal rights and work opportunities to a diverse group of people across nations.
Opportunities to work at various international offices through international relocation.
Work from Anywhere options to all employees in order to attract younger aspirants.
Annual vocational trips or team outings to keep you engaged with job assets.
Provides health and life insurance policies to compensate for medical expenses and treatments.
Favorable leaves during festive occasions, maternity, and paternity.
Yearly salary increment based on your performance and experiences.
Zensar has international opportunities to work. Do you want to become an immigrant? Then crack and obtain a scorecard in IELTS by joining IELTS Coaching in Chennai because this scorecard may fast-process your basic visa application to avail all the international benefits of relocating yourself.
Average Job Satisfaction rate at Zensar Technologies
The job satisfaction rate presented here is to provide employee satisfaction. Further, it will outline various satisfaction benefits to encourage freshers to join this company. Therefore, we have estimated an average job satisfaction rate by considering numerous advantageous factors. The factors include salary & benefits, work-life balance, career growth, work satisfaction, and job security. Perhaps, our estimation shows Zensar can afford a job satisfaction percentage of 70%, which is pretty good and comparable to other IT companies. So, freshers can doubtlessly approach and join this company for career benefits. Further, individual percentiles of the factors mentioned earlier are shown below.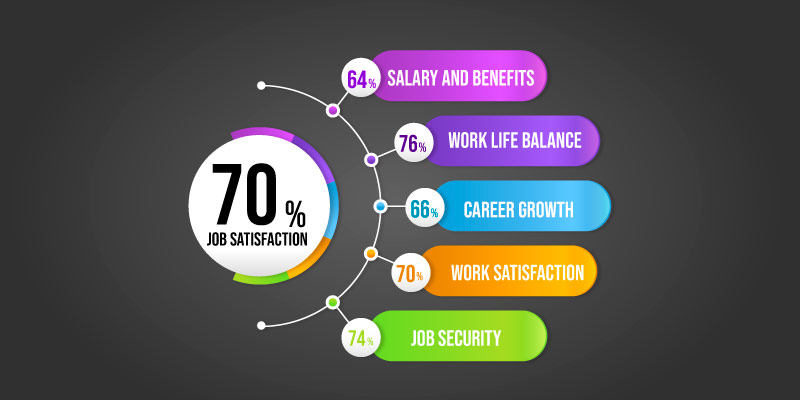 Zensar has worldwide recognition and is a career hub for numerous IT aspirants. Similar to other companies, Zensar affords an excellent Zensar Salary for Freshers. Besides, the company is looking for younger aspirants who are enthusiastic and keen to acquire digital skills. Therefore, we suggest utilizing all the professional opportunities updated on their career page. As per our study and career benefits at Zensar Technologies, we strongly encourage freshers to join this company to kick-start an incredible IT career.
Recent Post: UST Global Salary for Freshers