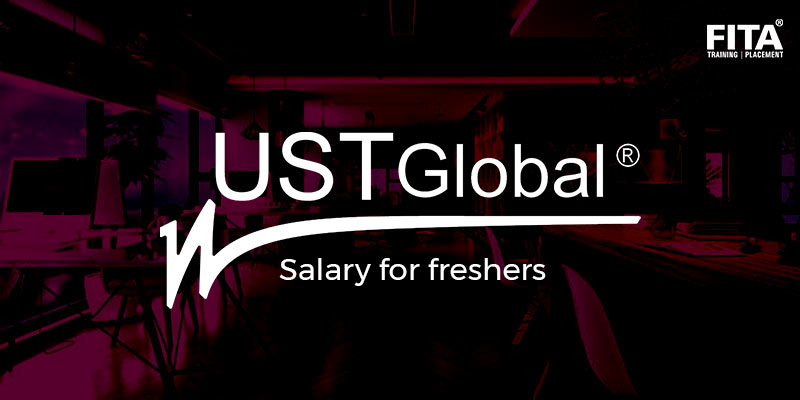 UST Global provides digital transformation services to emerging companies in the world. Its global engagement model has driven more international clients. Moreover , the company holds the top leading position against its competitors worldwide. The overall growth has opened numerous career scopes for younger aspirants. So, based on the company's development progress and career opportunities, we will discuss the eligibility criteria, application procedures, availability of vacant positions, job roles and responsibilities, and UST Global Salary For Freshers.
Who can apply?
The candidate's applicability can be defined based on their interest and passion for driving technologies. Apart from qualifications, we represent the following interested candidates for applying for UST Global.
Passionate about transforming digital technologies.
Keen about exploring and learning more about digital tools.
Interest in developing and providing user-friendly applications and digital services.
If any of these qualities match your interest, then UST Global is the right to get in. Let's discuss the application procedure and the site to explore vacant positions.
How to Search for Vacancies and Apply for Fresher Job Roles?
UST Global provides "search and explore" options to look for various open positions at the national and global levels. To do so, follow the below-given instructions.
Visit their official career page at www.ust.com/en/careers.
Search for desired positions with respect to job locations.
If any of the job positions suit your interest, proceed further to apply.
According to UST Global Services, more than 3800+ open positions are available. Besides, the major domains and their vacant statistics are shown below.
Software Engineering - 803+
Software Testing - 230+
Enterprise Solutions - 210+
Cloud Infrastructure Services - 144+
Delivery Management - 136+
SC Product Validation - 122+
As per the statistics, we can find that the role of software tester holds the second demanding position among all job roles. Therefore, we suggest joining Software Testing Course in Chennai to make you applicable for fresher job roles.
Application Procedure and Interview Process
Applicants can get placed through either online or off-campus placement. The procedures and selection process are as follows.
Virtual Mode - In this mode, the candidate will be interviewed and selected online.
Off-Campus Drive - UST Global also drives its placement cell to the nearest colleges or universities. The placement cell organizes an off-campus fair, where qualified candidates are interviewed and selected directly.
Don't miss any opportunity to get placed into UST Global. So, we suggest staying tuned to their official site for updates and vacant positions.
Candidate Selection Process
After successful submission of application, the shortlisted candidates will undergo a series of interview process, which are
Phase 1 - In this phase, the applicant needs to clear all the written examinations. The exam covers questions from analytical reasoning, quantitative aptitude questions, and non-verbal reasoning.
Phase 2 - This phase includes assessment of candidate's efficiency through word swapping, speed test, and key problems with dictionaries.
Phase 3 - In this phase, the candidate needs to participate in a group discussion with peers, where the communication and verbal skills will be assessed.
Phase 4 - This is the final round where the HR Manager will take over the direct interview assessment with the selected candidate. In this phase, you can expect questions from C/C++, SQL, DBMS, Data Structure.
Applicants who clear this final round will get selected for the UST Global Services. Then, they need to fulfill all the demands forwarded by HR for Offer-letter roll out.
What are the qualification criteria essential to joining UST Global?
Freshers willing to apply for multiple open positions at UST Global with a feasible UST Global Salary for Freshers are advised to possess the following educational qualification.
The candidate must obtain any bachelor's degree from accredited colleges or universities.
Post-graduation students with a background in engineering and computer science are eligible to apply.
The applicant must have secured 60% of aggregate marks in all academic semesters without any backlogs.
Further, in order to add more credits to your academic qualification, we refer you to join AWS Training in Bangalore because UST has fourth-demanding jobs in cloud-based infrastructure services.
What are the add-on skills required for freshers?
Like all the IT Companies, UST also considers some fundamental skills from freshers, which are essential for critical IT roles. Some of them are as follows.
Good technical and problem-solving skills.
Basic computing and coding capability.
Strong verbal and communication skills.
Logical and critical thinking skills, and
Flexible with work hours and good leadership qualities.
The verbal and communication skills of every candidate attract the recruiter's interest. So, we suggest enhancing your proficiency in English by joining Spoken English Classes in Chennai. This course will give you excellent interpersonal, positive attitude, and practical communication skills.
UST Global Salary Structure for Freshers
The annual salary package at UST Global differs from freshers to the experienced. Perhaps, based on the salary details provided by the company's alumni and present workers. We have estimated an average salary for freshers in the below chart.
Types of Job positions along with their required skills and responsibilities
We have well-defined the qualifications, interview selection process, and salary details until the last section. Now, we shall discuss the type of job positions along with their primary responsibilities and required skills.
Salesforce Intern
Salesforce Interns are trained with the strategies to develop applications for PaaS platforms. They are guided and introduced by junior and senior salesforce developers. In order to join as a salesforce intern, the applicant needs to acquire essential skills such as:
Knowledge of the Salesforce language called Apex.
Skills in Salesforce Pages and Lighting frameworks.
Basic skills in Angular JS and Customer Relationship Management (CRM).
Typically, Interns are concerned with limited job tasks and responsibilities because they undergo the preliminary stage of a full-time job. Some of the key responsibilities of a salesforce interns are
Attend meetings with seniors and managers.
Develop unique solutions for salesforce demand.
Develop and Deploy applications for the company.
Troubleshoot, test, and Validate the software products, and
Creating Drafts and Technical Documents for the company.
In order to make your application unique from all the job seekers, we suggest you obtain additional certification in Python by joining Python Training In Bangalore because this course provides a futuristic way to learn the leading programming language.
Validation Engineer
The validation engineer is responsible for testing the systems for the effective development of software applications. They ensure the system's performance for error-free usage. Freshers who want to join for this role with a feasible UST Global Salary for Freshers are required to acquire some basic skills, which are
System configuration and hardware skills.
Excellent Programming skills in Python, Java, and C++.
Knowledge of Matlab and other analytics tools.
Strong analytical and mathematical skills.
As a validation engineers, they have certain job roles and responsibilities from system testing to system validation; some of them are as follows
Ensure quality and performance of the system.
Follow testing protocols to test the quality of the system.
Record and Update the activity of testing procedures.
Troubleshoot and Resolve problems associated with the system.
Collaborate with internal teams and technicians on various projects.
We recommend joining Selenium Training in Chennai to become an exceptional validation engineer. This course will teach you advanced strategies to develop and validate a system.
AML Analyst
AML Analysts primarily monitor the financial activity of the company. They ensure regulatory compliance associated with businesses. This role requires additional experience rather than freshers. Therefore, freshers who want to join with a affordable UST Global Salary for Freshers are required to acquire the following skills, which are
Skills for proper understanding of the business sector.
Excellent oral and communication skills.
Good interpersonal skills for effective team management.
Skills in AML Cloud Infrastructure.
AML Analysts have various critical and notable responsibilities to monitor the business profits and financial services. Some of the crucial responsibilities are as follows
Do Research and Measure the risks associated with a company's financial activity.
Monitor and Provide support to higher-risk activities.
Report the status of threats and implement new strategies to overcome them.
Collaborate with compliance teams to meet AML requirements.
Review and Validate the AML Data for adequate growth.
Provide and Suggest mitigating risk regulations.
In order to improve your skill set and marketing experience for financial services, join Digital Marketing Courses in Bangalore which will enrich you with the necessary strategies for better business growth.
Software Engineer
Software Engineers are primarily known for developing and engineering software products and applications. This job role at UST Global expects a high level of skills from freshers to onboard them; some of the critical skills are
Good programming skills in Python and Java.
Skills in UI UX Development and PyQT5.
Strong in PySerial and Git.
Good communication and verbal skills.
Usually, software engineers have a variety of key roles and responsibilities to fulfill. Some of them are as follows
Test and Analyze the quality of new software products.
Develop and Ensure the software products meet ISO Standard.
Collaborate with teams to develop technical documents.
Provide internal assistance to all the teams.
Train and Guide supported groups associated with software engineering and development.
As a software engineer, you need to acquire additional skills in the development and operations of a software. So, we suggest joining DevOps Training in Bangalore at FITA Academy. This course will teach you Linux, Git and Jenkins.
Junior System Engineer
Junior System Engineer design and configure the company's networking infrastructure. They ensure the efficiency of network servers and resolve the issues concerned. Freshers expecting a good initial UST Global Freshers Salary can apply for this role. Before that, they need to acquire significant skills such as
Troubleshooting knowledge in Unix-based systems.
Scripting experience in Perl, Python, and Ruby.
Skills in Networking Technologies and network layers.
Good understanding of performance tuning and system configuring.
Good written and communication skills.
As a Junior System Engineers, they need to accomplish the following vital roles, which are
Install and Configure new networking infrastructure.
Monitor the existing networks for zero errors.
Install and Configure the operating systems.
Ensure the system security and enable backup options.
Detect and find possible solutions to potential issues.
Collaborate with IT support teams for a better configuring process.
Present the network development progress to clients and stakeholders.
Freshers Benefits at UST Global Services
UST Global Services provides a lot of benefits and bonuses to freshers as well as experienced professionals. These benefits also attract freshers to seek various job roles in this company. Some of the benefits are as follows.
The company organizes team outings to various national and international locations.
Freshers are trained before placing into work. Through this soft-skill training, freshers can enhance their talents and skill sets.
The company also affords health and life insurance for the well-being of the family.
The company also provides free snacks and beverages for employees refreshments during break-offs.
The company provides international transit options, where any employee can change their work location worldwide.
The company covers the financial compensations to provide quality education to employees' children.
International Opportunities for Freshers
UST Global has 15+ international offices across different countries. So, freshers are benefited from global relocation opportunities. UST serves across nations such as
The United States and Canada.
European Nations.
South Africa and Asian Pacific.
Are you interested in availing of all the international benefits at UST Global? Then, you need to crack and obtain an IELTS Scorecard. So, we suggest joining IELTS Coaching in Chennai would benefit you with excellent coaching. Through this course, you can enhance your English language proficiency and strong communication skills. The UST Global Salary for Freshers is excellent at various international locations. Therefore, we recommend to join and become an immigrant to multiple nations.
Job Satisfaction Rate
UST Global contributes to a total job satisfaction rate of 74%. The rate is the estimation of average of Salary and Benefits (66%), Work-Life Balance (80%), Career Growth (72%), Work Satisfaction (74%), and Job Security (78%). Overall percentage is far better compared to other companies. So it is a good place to kick-start a featured IT career.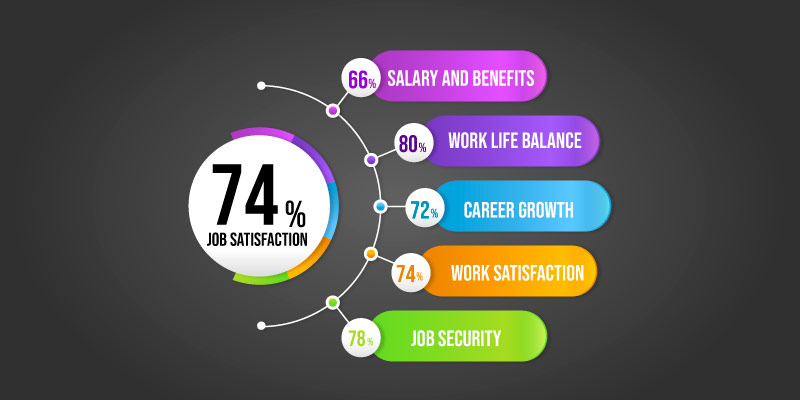 Like all the IT Companies, UST Global seems to be the best platform for beginners. The company has been encouraging freshers to apply for numerous job positions. Therefore, overviewing this demand, we have effectively provided useful information concerning the job roles, vacancies, application procedures along with UST Global Freshers Salary. Further, the company is best rated for work-life balance, and survival support. Moreover, an employee or alumni holds global merit and has unique recognition. Candidates who are willing to join another company are appreciated and given more preference due to the company's recognition. Therefore, we encourage freshers to approach UST Global services for numerous vacant positions for developing a featured career.
Recent Post: Hexaware Technologies Salary for Freshers