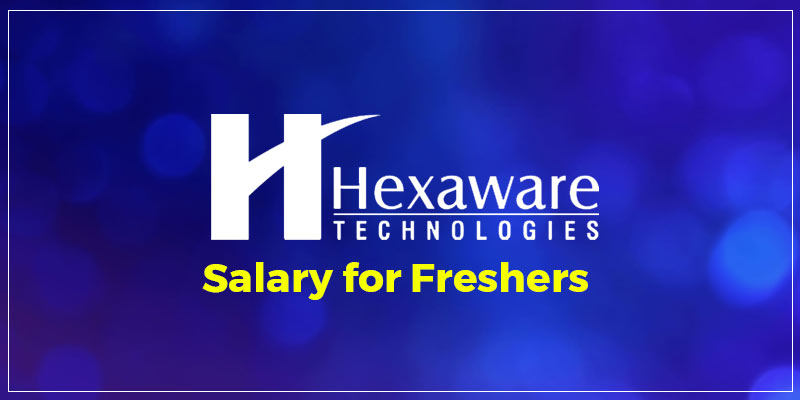 Hexaware Technologies is one of the leading software development companies in India. They offer a wide range of software development services, and their freshers are paid a competitive Hexaware Salary for Freshers. The company provides opportunities to work with top-notch clients and develop cutting-edge software.
This blog will provide you with a comprehensive and concise overview of Hexaware Technologies, including various workplaces, recruitment and eligibility requirements for freshers, as well as numerous job benefits and salary structures.
Who can Apply for Hexaware Jobs
Hexaware Technologies is looking for candidates with a background in information technology and management. Additionally, Hexaware Fresher job roles are available to candidates who are passionate about IT services, innovative, diligent, and hardworking. Besides, freshers having some hands-on experience in IT-related domains have a better chance of getting the job. In order to make you eligible for different job positions at Hexaware, we recommend enrolling into Python Training in Chennai would be beneficial. As this course has become more advanced and demanding in the current technological era.
Application Procedures for Hexaware Technologies
For a successful registration, candidates who want to join Hexaware with a competitive Hexaware salary for freshers should follow the procedures below.
To visit their career page, visit hexaware.com
Then go to the careers page and look for different job vacancies.
Once you have found the job role which matches your qualification, and apply for that role.
Fill out all of the basic information and submit it with your recently updated resume.
Finally, the qualified applicant will receive an email with a link to participate in a virtual interview. In the case of a walk-in interview, the candidate will get an acknowledgement email with the date, time, and location of the appointed interview.
Join Java Training in Bangalore to make your application stand out against all the competitors. Because this course is the second-most demanding and fastest-growing programming language in the IT field. And it will increase your career scope and eligibility.
Interview Process and Candidate Selection
Hexaware Technologies recruits freshers with a competitive Hexaware Fresher Salary through a series of the interview assessment process that includes the following:
Written or Aptitude Tests - In this phase, candidates are asked with a aptitude questions to check their fundamental understanding of acquired skills.
Technical Interview - Here, the Technical, logical thinking and fundamental problem-solving abilities are evaluated here.
Interview with Human-Resources Representative - This is the final round, where the HR representative will analyze the verbal and communication skills along with leadership qualities.
Are you afraid of attending the interviews? Want to know about effective interview preparation tips? Then follow the Best Interview Tips compiled for both beginners and experts.
Qualification Criteria for Hexaware Jobs
In order to apply for various job positions at Hexaware, the candidates must meet the following qualification criteria, which are
Bachelor of Computer Applications (BCA) and Bachelor of Science (B.Sc) in Computer Engineering are two bachelor's degrees that Hexaware considers.
The candidate must have secured an average percentage of 60% or above in all academic subjects.
Further, an academic gap of one or two year is acceptable.
The candidate should not have any backlogs at the time applying.
Additional qualification always holds merit. Therefore, learn about Selenium testing through joining Selenium Training in Bangalore at FITA Academy. Through this course, you will be able to learn more about automation testing, selenium testing, core java, oops concepts, and configuring selenium suite.
Additional Skills Required for Successful Candidate Selection
Hexaware Technologies is looking for candidates with exceptional qualities and skills. So, the candidates must obtained the following skills such as
Numerical and problem-solving skills.
Logical and mathematical thinking capabilities.
Data Science and Data Analytic skills.
Strong organizational and leadership qualities.
Excellent written and communication skills.
Basic computing or programming capabilities.
Freshers who are concerned about their annual salary package can pursue an add-on course in AI through joining Artificial Intelligence Course in Chennai. This course will teach you the introduction to data science using machine learning and python, python ranges and tuples, and dictionaries. This demanding course might increase the basic Hexaware Fresher Salary.
Hexaware Salary Structure
The basic fresher salary structure at Hexaware differs from non-experienced to experienced professionals. In addition, factors such as work experience and job location also determine the annual salary package. However, we have approximated the average salary of freshers at Hexaware in the below chart.

Freshers willing to earn an excellent Hexaware Technologies Salary for Freshers at entry level, we suggest enrolling with an additional certification in Data Science. Thus, join Data Science Courses in Bangalore to obtain skills in data structure, python-modded import and exporting, data manipulation, and scientific distributions.
Basic Skills, Job Roles and Responsibilities
Graduate Engineer Trainee
Graduate Engineer Trainees at Hexaware work closely with CAD Tools, Software projects, and technical documentation procedures. Freshers who want to earn a competent hexaware salary can apply for this position. Before applying, the applicant need to acquire fundamentals skills such as
Basic Programming skills in Java and Python.
Strong quantitative and analytical skills.
Excellent verbal and communication skills.
Ability to accept and resolve client's feedback.
As a graduate trainee, they are concerned with certain job roles and responsibilities, which are
Supervise the on-going project based on client's requirements.
Collaborate with Senior-staffs and provide assistance.
Provide suggestions and improvement plans for the company's prospects.
Monitor and follow the health and safety regulations.
Participate in meetings and take effective measures to start new projects.
Analyze the company's analytical data and create reports.
Keep track of records to show the business plans to client's and senior members.
Establish a good relationship with other professionals and colleagues.
Maintain professionalism and high interpersonality standards.
Executive
The role of an executive is best known for answering phone calls, welcoming clients, planning vocational trips, and making fundamental arrangements for all kinds of events. Freshers willing to join to this role at basic hexaware salary must acquire some basic skills, which are
Knowledge in Microsoft Azure, Microsoft Office, and Data Management.
Excellence in database and report management.
Good verbal and communication skills.
Excellent analytics and data structure management skills.
An executive have different job responsibilities, some of the significant job roles and responsibilities are as follows
Manage tasks related to financial statements, reports, bills, and letters.
Attend Calls and forward to appropriate authority.
Take care of the official file management system.
File reports, papers, and company records.
Do research and find resolution for presentations.
Gather data for monitoring company's growth progress.
Report the present company status to the board of directors, committees, and executives.
Manage and Record confidential meetings.
Work with word processing, spreadsheets, databases, and presentation files.
Report the purchase orders, bills, and other invoices to the admin.
Provide virtual and administrative assistant.
Analyst
An analyst uses analytics data to find business insights. They help companies spot trends for business growth and implement new strategies. The Hexaware Salary of an analyst is excellent due to their significance in fulfilling roles. In order to apply for this role, the candidate need to acquire some basic skills, which are
Fundamentals of Microsoft Products.
Programming skills in Java, Python, C/C++
Ability to handle large datasets.
Numerical and Problem-solving skills.
An analyst are associated with certain job responsibilities or duties that need to be fulfilled in cooperation with other teammates, which are
Gather and Analyze raw data to find business patterns, trends, and anomalies.
Implement new plans to increase the company's income, efficiency, and quality.
Collaborate with internal teams to develop new business plans.
Detects and Validates new data resources.
Present the results and growth of the company to peers.
Follow numerous procedures and policies to protect company's data.
Improve the efficiency, accuracy, and security of analytic data.
Introduce tools to assess and process the data.
System Analyst
System Analysts check the efficiency and performance of a company's system. Freshers seeking this job with affordable hexaware salary need to acquire the following key skills, which are
Knowledge in systems and its analyzing techniques.
Troubleshooting and Resolving Skills.
Excellent communication and verbal skills.
Fundamental knowledge in system hardware and software.
In Hexaware Tech, a system analyst is responsible for the following key roles and responsibilities, which are
Examine the capabilities of hardware, software, and network servers.
Communicate with management personnel to establish system requirements.
Detect and Resolve issues concerned with current systems.
Execute cost-effective system analyzing techniques.
Collaborate with IT teams to implement new plans.
Test and Validate the systems for error-free performance.
Record the profit and loss data of the company.
Generate system manuals for handling systems.
Follow new trends and updates with current systems.
Software Engineer
Software Engineers play a significant role in the modification and development of applications. They also remodify the existing applications to meet client's requirements. In order to become a software engineer, the candidate need to acquire necessary skills such as
Software Testing and Validation Skills.
Excellent programming and computing skills.
Expertise in Java, Python, Selenium, and Software Testing.
Knowledge on Software Tools and Software development life-cycle.
Good in management of scheduled time.
Basics of softwares and their applications.
A software engineer is responsible for the following key tasks and duties, which are
Develop and Introduce new software programs.
Test and Validate software products, tools, and other applications.
Document the process of software development and programming activities.
Analyze current software data to deploy new systems and upgraded applications.
Modify the existing applications to meet the client's requirements.
Are you passionate about becoming an exceptional software engineer? Want to acquire more skills in that? Then join a Software Testing Course in Chennai. This course will enrich you with topics like how to test and validate software applications, software testing methodologies, and application development approaches.
Freshers Benefits at Hexaware Technologies
Hexaware Technologies offers a variety of bonuses and perks to its employees. The following are some of the benefits and advantages
Free food and snacks at Cafeteria. It enables employees to participate actively in the workspace.
Freshers are provided with free-soft-skill training prior to job engagement.
Work From Home (WFH) opportunities for employees during emergency and critical situations.
The company covers health and life insurance policies.
It also covers accidental death and compensates with financial assets.
It also provides leaves for maternity, paternity, and other festive occasions.
International relocation opportunities for both freshers as well as experienced professionals.
It provides a free transportation system for easy movement between homes and offices.
It affords educational and financial assistance to employees and their childrens.
Candidates who want to be an immigrant to a worldwide location require an IELTS Scorecard. So, we recommend joining IELTS Coaching in Chennai would be of great merit. This coaching may improve your language proficiency with excellent communication skills.
Job Satisfaction Rate
We have estimated an average work satisfaction rate based on employee ratings and reviews. Besides, the work-life balance, job security, career growth, salary and benefits, and work satisfaction are some of the primary criteria we consider to estimate this satisfaction rate. The graph below depicts the average job satisfaction rate at hexaware which is 80%.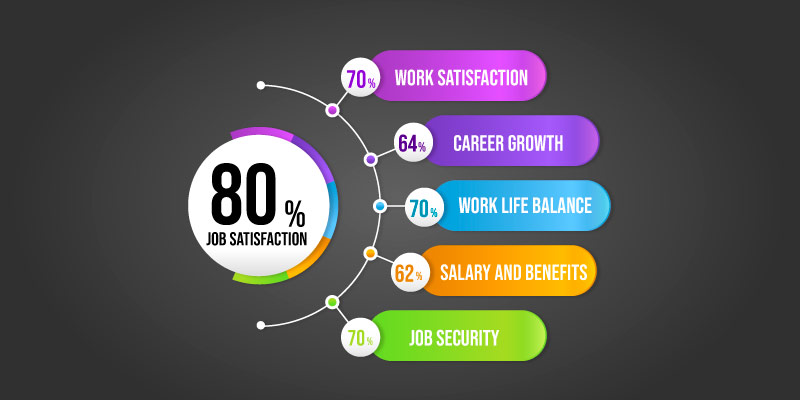 In this blog, we have discussed Hexaware's job posts, application procedures, the availability of vacant positions, job responsibilities, fresher benefits and perks, and worldwide opportunity. This company has a great international reputation and seems to be a perfect place for fresh candidates. Hexaware alumni are recognized and given more preference to new job positions. Therefore, we suggest you look and apply for various job positions at Hexaware Technologies as the company is offering excellent Hexaware Fresher Salary.
Recent Post: Qualcomm Salary for Freshers