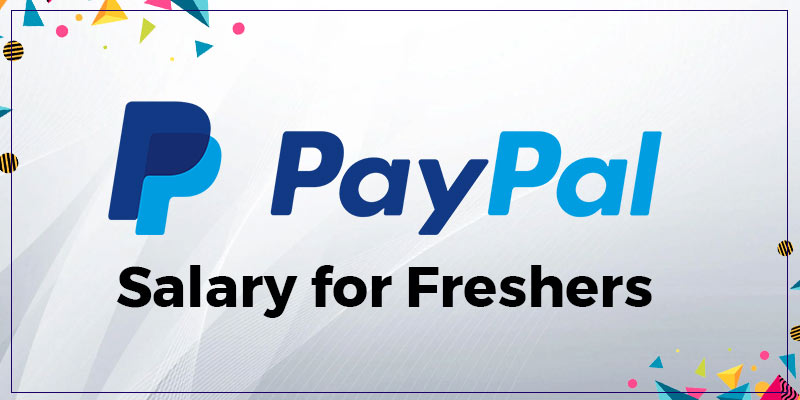 PayPal is an American financial company popular for international online transactions. It processes payments between online vendors and auction suites, and within various commercial users. The progress of business across overseas nationals created wider opportunities for freshers as well as experienced professionals with feasible Paypal Salary for Freshers.
This blog will outline and enrich you with all the fundamental information required for applying various job roles at Paypal. It will cover open positions, application procedures, job roles and responsibilities, employment benefits, and Paypal Fresher Salary.
Applicable Candidates for Paypal Freshers Jobs
Paypal is looking for aspiring candidates with interest in finance, accounting, online payment, account management, and banking services. In addition to these, PayPal looks for candidates who are bold, enthusiastic, ambitious, and intelligent students who can better improve the business. Then, the candidate must possess a strong understanding of mathematics, problem-solving, and quantitative assessment. As these are the primary skills essential for PayPal Freshers Jobs. Make your eligible through learning Digital Marketing Courses in Bangalore, as this course is concerned with numerous marketing strategy and business solutions.
Application Procedure for PayPal Jobs
Freshers willing to join Paypal with a good paypal salary for freshers are offered with two options to search for open positions. Jobs concerning categories and geographic location. However, applicants can apply for Paypal using the following steps:
Navigate to their recruitment portal and search for relevant jobs which meet your qualifications.
Just login and submit the application for further consideration.
Shortlisted candidates will be contacted through a company representative for further information.
Then, the candidates undergo a series of interview processes followed by selection of candidates for open positions.
Qualification Criteria for PayPal Freshers Jobs
Freshers looking for a comparable PayPal salary for freshers must meet the following educational qualification criteria for various job roles. They are as follows
The candidate must possess a bachelor's or master's degree in the following domains: engineering, technology, computer application, and general science.
The candidate must have acquired 65% or above in terms of academic percentile.
Similarly, in terms of CGPA, it must be greater than or equal to 6.5 (Cumulative Grade Point Average)
The candidate must not possess any kind of backlogs throughout the academic career.
Apart from educational qualification criteria, certain additional skills are also considered for freshers job roles at PayPal.
Earn additional qualification criteria through learning Data Science Course in Chennai, the leading course popular for identification of demanding customers through a series of data collection and assessment. So, this course might increase the probability of getting your application selected from the recruiter. Let's discuss the additional skills for PayPal freshers job roles
Additional Skills Considered for PayPal Job Roles
We have listed a series of additional skills which are significant for freshers job roles at PayPal which are as follows
Create and Deliver high quality analytic reports, documents, industry sectoral overviews through VMware.
Capability Receive, and Resolve the issue request delivered by the customers.
Ability to finalize the research methodology, types of data which need to be collected, and data sources.
Ability to study and understand the paypal datasheets on products and benefits.
Capability to utilize structural communication strategies to create key messages, industry drivers, and KPIs.
Ability to maintain and upgrade the internal tools, and repositories.
PayPal Salary Structure
The PayPal package for freshers differs from freshers to the experienced professionals; it usually ranges from 2.5 to 5.0 Lakhs Per Annum. However, the salary package varies in accordance to work locations and type of job positions. We have estimated a basic salary package for freshers in the below chart
Apart from the above mentioned job positions, there exists job postings for sanction investigator with 1.8 LPA and Customer solution specialist with 1.5 LPA of Paypal fresher salary. Learn and increase the chances of getting a high salary increment through pursuing Artificial Intelligence Course in Bangalore.
Basic Skills, Roles and Responsibilities
Risk Analysts
A Risk Analyst, also known as a Risk Assessor, is a business professional tasked with analyzing the probable repercussions of a company decision. Reading and analyzing financial data, building visual models to show probable outcomes, and providing reports regarding business decisions are among their responsibilities. Paypal expects their new applicants to possess various skills such as statistics, analytic tools, wider audience, problem-solving skills, and project management skills. Freshers seeking this job role with good Paypal salary for freshers must fulfill the following key roles and responsibilities which are as follows
Make risk-reducing recommendations, such as diversification, portfolio investment, and currency exchanges.
Calculate the risk of a decision using analytical software.
Consult with business decision-makers to learn about their data requirements.
Examine financial and commercial records to estimate the level of risk.
Make reports and foresee the consequences of particular business decisions.
Become an exceptional risk analyst through learning RPA Training in Chennai, as this course will teach you additional strategy and methodology to process the state of risks and failures.
Data Scientists
A Data Scientist is a person who collects enormous amounts of data using analytical, statistical, and programming skills. Paypal demands their applicants to possess the following skills: data mining, Java, C++, R Programming, SQL, Python, Hadoop, and Tableau. As a data scientist, they are concerned with the following key roles and responsibilities which are as follows
Identify and automate valuable data sources and collecting procedures.
Prepare structured and unstructured data for analysis Analyze vast volumes of data to find trends and patterns.
Create machine-learning algorithms and predictive models.
Ensemble modeling is a technique for combining models.
Data visualization techniques are used to present information.
Propose business-related solutions and strategies.
Collaborate with product development and engineering teams.
Enroll for an amazing and demanding course which plays a key role in analyzing and java scripting large sets of data. So complete and become a demanding data scientist through Angularjs Training in Bangalore.
Data Engineer
A Data Engineer is a data specialist that uses their programming and data engineering skills to build systems that collect, process, and transform raw data into information that business analysts can use. Freshers wishing to join paypal with excellent paypal salary for freshers are advised to possess the following skills: Proficiency in Java, Python, SQL Database, data models, data mining, and segmentation techniques. Usually data engineers are concerned with the following key roles and responsibilities to fulfill which are as follows
Analyze and organize unstructured data.
Create data pipelines and systems.
Examine your company's requirements and goals.
Analyze patterns and trends.
Conduct in-depth data analysis and provide a report on the findings.
Make data ready for predictive and prescriptive modeling.
Create prototypes and algorithms.
Combine raw data from a variety of sources.
Look for ways to improve the quality and consistency of your data.
Identify data-gathering possibilities.
Create analytical software and tools.
On numerous projects, collaborate with data scientists and architects.
Since the data engineer roles are similar to the data scientists, applicants who are comfortable with online classes, we urge you to pursue a Data Science Online Course which will provide you with emerging strategies to control various sorts of customer's transaction data.
Software Developer
Software developers are always concerned with development and modification softwares and applications. Freshers who want to join as software developers are advised to acquire the following skills: software development life-cycle, Full-Stack Development, and proficiency in Java and Python. As a software developer, they are always concerned with the following key roles and responsibilities which are as follows
Maintain the system standard through monitoring the technical issues.
Interact with any project programmers and write and test code, updating and rewriting it as needed.
study, build, and write new software programmes (e.g., commercial apps or computer games) and computer operating systems analyze the software and systems that allow computers and hardware to work alter existing programmes by analyzing and identifying areas for modification Produce technical specifications by integrating current software products and making incompatible platforms work together.
write systems to control job scheduling and access by users and distant systems interact with technical writers to create operational documentation.
Collaborate with other members of the team, including project managers, graphic artists, UX designers, other developers, systems analysts, and sales and marketing experts.
Consult with clients and colleagues about software system maintenance and performance, with the goal of writing or altering existing operating systems.
Look into new technologies and get updated.
Attending in-house and external courses, reading manuals, and accessing new apps are all ways to keep your technical knowledge and abilities up to date.
In order to become an exceptional software developer, learn Software Testing Course in Chennai at FITA Academy. This course will enrich you with numerous software testing algorithms to test and develop reliable software.
Software Engineer
Software engineer roles are closely related to software developers. Freshers seeking this role with a feasible paypal salary for freshers are advised to possess the following skills: proficiency in Java, Python, Selenium, and software development life-cycle. As a software engineer, they are associated with the following key roles and responsibilities which are as follows
Developing and coordinating validation and testing procedures for software systems
Our software programming projects are being directed by us.
Managing the documentation development process.
Communication of project statuses and proposals with clients and cross-functional departments.
Data analysis is used to plan the installation of new systems or the modification of existing ones.
The software development life cycle is managed.
Performance of the system is being monitored.
Providing critical project data to team members and fostering team cohesion.
Creating and carrying out project plans.
Problem-solving initiatives that incorporate mathematics and statistics.
Best practices and standard operating procedures are used.
Developing novel solutions to fulfill our company's technical requirements.
New software is being tested and issues are being fixed.
As the software world is concerned with various newer applications and testing strategies, we suggest you to pursue Selenium Training in Bangalore, because this course is closely related to software testing and has the probability of hiking your Paypal fresher salary.
Employment Benefits for Freshers at PayPal
Employees at Paypal are offered with numerous employment benefits and fresher perks which are as follows
PayPal offers affordable life insurance, including accidental death, health, medical, and other types of coverage.
Maternity, paternity, and other significant event leaves are available.
For free movement between the office and home and vice versa, free transportation and cab services are offered.
Employees who wish to work from home under unanticipated circumstances can use Work From Home (WFH) solutions.
All sustaining employees should have a financial, economic, and retirement plan in place to aid them financially during their retirement years.
PayPal also offers employee credit and discount certificates for their purchasing convenience.
It also benefits both children and professionals financially and educationally.
Thanks to international relocation offers and benefits, employees can shift their work locations and offices anywhere in the world. IELTS plays a key role in migrating to the European nations, therefore applicants who want to relocate their working office, they can go for IELTS Coaching in Chennai, where the course will help to score an optimal mark to process your abroad visa.
Job Satisfaction Rate
We calculated an average job satisfaction rate for freshers at Paypal based on the review, work experience, and employee feedback. The Paypal Fresher Salary, employment benefits, career progression, and work security are all considered while calculating this job satisfaction rate. Furthermore, Paypal employees have reported a job satisfaction percentage of around 80% (percent). The graph below depicts the average salary estimations.
The above mentioned job satisfaction rate and freshers engagement with various open positions at Paypal also influences the Paypal India Salary Structure.
PayPal's job open positions, application processes, multiple roles and responsibilities, employment perks, global opportunities, and fresher's benefits have all been discussed in this article. The organization has a strong international reputation and continues to be a good place for aspiring IT and retail professionals. Freshers who want to work for PayPal can take advantage of the environment's innovative and engaging atmosphere, which will help them advance in their careers. Based on our research, we strongly advise freshers to approach PayPal and apply for a variety of open roles. The applicant's professional knowledge and experience will make them a demanding candidate in a variety of IT firms. Henceforth, go to PayPal's official careers page to apply for a variety of positions with a feasible PayPal salary for freshers.
Recent Post: HP Salary for Freshers