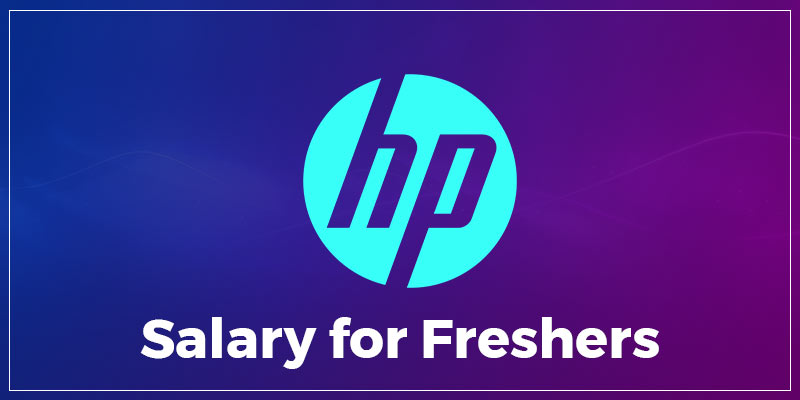 HP's sole objective is to improve technology that will improve people's lives. Through a variety of occupations and employment options, it helps aspirants recognise and understand their creative capability and potential. Students, educators, and other professionals looking for a good HP salary for freshers have been encouraged to join the corporation for a future digital generation. HP was indeed a pioneer in computer design, storage systems, and network interfaces, as well as software management and service execution. Among the company's major products are desktop computers, corporate and industry-standard servers, associated storage devices, network security systems, apps, and a variety of printers and other image goods.
So, in this blog, we will walk-through the various employment opportunities, application procedures, and interview stages, and employment benefits for freshers. Let's discuss the eligibility and application procedure in the upcoming section.
Applicable Candidates for HP Fresher Jobs
Candidates who are eager to accelerate their featured career with HP are encouraged to look for various job roles followed by application procedures. Also, applicants must possess specific fundamental skills and knowledge about the HP computers, storage devices, network interfaces, and other products. Besides, applicants who are passionate about information technology and digital services are appreciated to apply for HP job roles.
Application Procedure for HP Job Roles
Hewlett-Packard offers the easiest ways for freshers to apply for open positions through their career page. The following steps are as follows.
Application for Virtual Interview
Virtual Interview follows the below mentioned steps.
Fill in all the fundamental particulars and details of the applicant.
Upload recent or updated resume, photos, and signatures.
Check and Review the application followed by submission.
Application for Walk-in-Interview
Apart from the online application and virtual interview process, applicants can also go for a walk-in-interview at their nearest placement centres. For this application process, the candidate needs to register online. The following steps are as follows.
Submit and Register an online application form for a scheduled walk-in interview.
Upon successful submission, the candidate will receive an email with appropriate data, venue, and timing of the scheduled interview session.
Only shortlisted and selected candidates will receive an appointment letter or job offer letter for onboarding.
HP Recruitment and Selection Process
HP selects their qualified candidates through four or five technical rounds. Let's discuss in brief about the technical rounds below
Technical Written Test - The written round consists of three parts: a general aptitude test, a verbal ability test, and a technical test. A section on quantitative reasoning, a section on logic and reasoning, and a section on verbal talents compensate for the General Aptitude Test.
Technical Interview Rounds - Students who pass the written exam will be invited to participate in the Technical Interview. To pass this round, you must have a good understanding of the technical concepts. You should be familiar with data structures, database management systems, algorithms, operating systems, networking, and OOPs principles. Students in fields other than computer science should learn about the other two topics. Students will be asked to write codes during the interview. They also ask you questions about your resume. You may be asked to solve riddles in this round. To prepare for them, you can practise Interview Mock Tests or Tips Online.
Human-Resource Interview Round - Human-Resource round is always concerned with questionnaires about applicant introduction, reason for joining HP, and various career objectives.
Qualification Criteria for Freshers Jobs at HP
Freshers seeking various job roles at HP with excellent hp freshers salary must meet the following qualification criteria for freshers jobs. They are as follows
B.E/B.Tech in computer science, electronics, communications, or information technology is essential.
Students who have completed post graduation in M.E/M.Tech/MCA in computer science (CS) or information technology (IT) are eligible to apply.
The applicant must have a (CGPA) cumulative grade point average of 60 % in their degrees and academic schools.
In their current and previous academic careers, the applicant should not have any backlogs.
Increase your educational qualification through earning Java Certification thereby enrolling for Java Training in Chennai. The leading programming course in information and technology.
Additional Skills Considered at HP for Fresher Roles
HP is looking for recent college graduates with excellent interpersonal skills. Problem-solving, quantitative thinking, analytic capabilities, good organisational and communication skills, and basic computing or programming talents are all desirable qualities. Similarly, conscientious, creative, competent, eager, and adaptable applicants with business hours are more likely to get hired.
Freshers who are looking for a great salary increment for hp freshers salary, learn Artificial Intelligence Course in Bangalore at FITA Academy. This course may enhance the skill set to work efficiently at HP.
HP Salary Structure
At HP, the salary package for freshers varies depending on the role and years of experience. It also varies from freshers to experienced professionals. However, in the graph below, we have projected an average salary for freshers at HP.

Essential Skills, Job Roles and Responsibilities
Process Associate
Process associates are responsible for software package management, administration, billing, and invoice services. As a result, HP is looking for freshers who are looking for this post with excellent hp salary for freshers must have the following desirable skills: report production, IT services, document management, process optimization, data input, and software package management. During their tenure, they must fulfil the following major roles and responsibilities
Analysing the company's process for order delays, issues, and other barriers.
Supervising the process for increased production rates with minimum costs.
Review and Assess the process orders.
Maintaining and Repairing the production equipment for effective functioning.
Reporting the Quality Assurance information to the admin and teams.
Technical Support Engineer
A Technical Support Engineer is responsible for identifying, diagnosing, and troubleshooting issues reported by the customer, and attempting to resolve them in the timely manner. HP demands the following skills for this technical position: disaster recovery, incident management, knowledge of Linux, presales, remote and technical support, troubleshooting, analytical skills, configuration management, Unix and other operating systems, monitoring of technical device performance, and virtualization. As a technical support engineer, they are associated with the following key roles and responsibilities which are as follows
Detect, Resolve, and Maintain the issues raised by the consumers.
Identify, diagnose, troubleshoot, and resolve all the recorded issues and concerns.
Timely reporting of unresolved issues to the internal core teams for further actions.
Developing an excellent commercial relationship with global clients through adequate feedback.
Learn Ethical Hacking Course in Chennai to improve your skill set in securing the company's servers from black hackers and unauthorised data access.
Junior Process Associate
Junior Process associates work for manufacturing organisations to monitor and enhance production processes. Freshers seeking this position with an excellent HP hp package for freshers must have the following skills: general accounting and management; relevant experience in the spreadsheet; balance-sheet; processing invoices, receipts, and deposits; knowledge of Microsoft Excel, Outlook, Word, and VLookup based formatting tools; and knowledge of Microsoft Excel, Outlook, Word, and VLookup based formatting tools. As a senior process associate, they are responsible for completing the following important activities and responsibilities:
Processing the Purchase Orders and Payments.
Recording and generating the Invoices, Electronic Transfer Bills, and Cheques.
Reporting all the pending process and balance sheet reports associated with bank loans.
Generating monthly reports on imports and exports, expenditures, earning, and schedules.
Earn an additional credit for fast-processing your activity through learning RPA Training in Bangalore. This course may enrich you with robotic based automation techniques and processings.
Associate
A sales associate interacts directly with consumers to determine their needs, respond to questionnaire surveys, and recommend the best choices. Freshers seeking this role with a feasible hp salary for freshers are required to possess the following skills: fundamentals of sales and services, proficiency in Spoken English, basic maths, POS transaction, banking and management, customer relationship management, and great interpersonal skills. An Associate is concerned with certain roles and responsibilities at HP which are
Ensure high levels of customer satisfaction via giving excellent sales service.
Customers' needs are evaluated, and assistance and product information are provided.
Welcome customers to the business and provide them with explanations.
On a monthly, quarterly, and yearly basis, monitor and achieve the department's sales goals.
Maintain designated areas in stock and pleasant condition.
Seek out customers in the store and explain about the products.
Maintain a working understanding of the products available and discuss the various possibilities.
Processing the Purchases made at a POS (point of sale).
Improve the way of explaining the products through effective communication by completing Spoken English Classes in Chennai.
Business Analysts
Business Analysts play a key role between the users and project manager. They gather information about the company's businesses, products, and sales. Freshers seeking this job role at HP with feasible hp salary for freshers are recommended to acquire the following skills: consultative and interpersonal skills, information sharing, problem-solving, and quantitative reasoning skills, sharpness and detail-orientedness, organisational skills, understanding of the business structure, stakeholder analysis, engineering requirements, cost-benefit analysis, process modelling, and knowledge of networks, databases, and other types of technology. As a business analysts, they are concerned with the following key tasks and responsive duties which are as follows
Creating a report based on the company's business and sales.
Highlighting the problems, opportunities, and relevant solutions.
Budget forecasting for the company relative to the past.
Keeping an eye on and executing flawless business models into action.
Participation in an analysis of various business models through business data.
Pricing and informing clients about the HP products.
Reporting business models and their funding requirements to the leading stakeholders.
Drive your company' businesses to the hike through completing a marketing course by enrolling for Digital Marketing Course in Bangalore. The course affords numerous strategies for enhancing the company's business.
Employment Benefits for Freshers at HP
Employees at HP are benefited with numerous employment benefits and perks. We have listed some special benefits and additional bonuses
Complimentary transportation system for free movement of employees from their homes to workspaces and vice versa.
Free soft-training programs for freshers to enrich them with the company's standard skills and processes.
Refreshment spots or cafeteria to relax and reenergize workers for increased sustenance at workspaces.
Adaptable work from home opportunities for the employees who desire to work at home rather than offices. This option increases the ease of comfort and production.
HP covers the insurance and policies for accidental death, health, and medical care.
Annual Vocational Trips and Team Outings to engage their works.
Gymnastics and Sport grounds to make their employees fit and healthy.
Free meals, snacks, and energy drinks to all the employees during break-hours.
Child care centres to accommodate worker's children to support child care services.
Global or International relocation opportunities to desiring employees who want to work at any country across the world.
Pursue and complete IELTS Coaching in Chennai to learn about IELTS Scores, engage with, and take advantage of HP's international career benefits in a variety of locations worldwide.
Job Satisfaction Rate
Based on the review, work experience, and employees' report, we have provided an average job satisfaction rate for freshers at HP. This job satisfaction rate is estimated considering the HP fresher salary, employment benefits, career's growth, and job security. Besides, the approximate job satisfaction rate reported by HP alumni is about 78%. The below represented chart shows the average salary approximations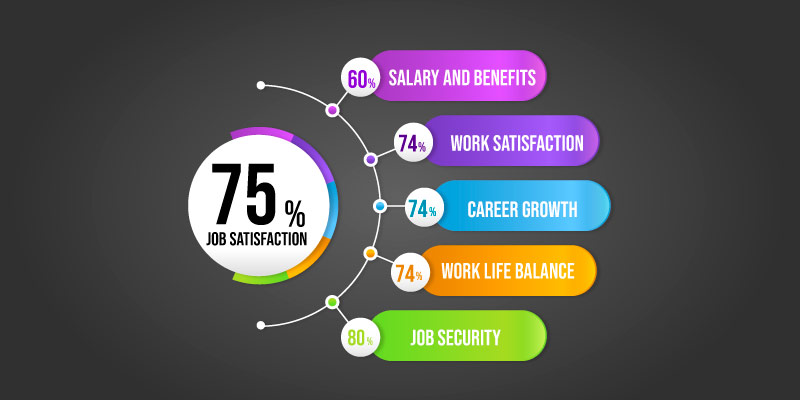 This article has covered and overviewed HP's Job postings, application processes, numerous roles and responsibilities, employment perks, global opportunities, and fresher's benefits. The organisation has an excellent international reputation and continues to be a potential platform for aspiring IT professionals. Freshers who are willing to join HP may benefit from the environment's creative and engaging atmosphere, which will help them achieve a distinguished and promising career. From our detailed study, we strongly recommend freshers approach HP and apply for numerous open positions. The applicant's professional expertise and experience will make them a demanding candidate across various IT companies. As a result, go to HP's official careers page to apply for a variety of positions with an affordable hp salary for freshers.
Recent Post: Walmart Salary For Freshers